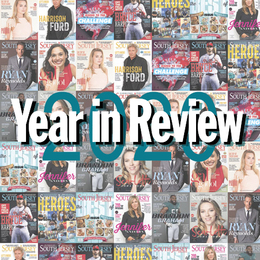 Year in Review 2020
Before we can fully close the books on 2020 and move on to what we hope are much brighter days ahead, we wanted to take our annual look back at the year that was. In the following pages you'll read memorable quotes from our many celebrity interviews as well as find a comprehensive roundup of South Jersey's top attorneys, dentists, doctors and realtors in addition to the best shops, food, beauty treatments and much, much more.
Memorable quotes from our best interviews of 2020:
"[The Sopranos] was very cinematic and it was also appointment television, where so many of us got together on Sunday nights to have dinner with family and friends and share the experience. So, that makes it more of a show; it's a memory of their life when they watched it." – Jamie-Lynn Sigler
"No time to be tired. I do feel incredibly motivated and completely inspired to do something special over the next couple of years. I don't think I can work at this pace indefinitely so there will certainly come a time when I have to slow down—just not yet." – Margot Robbie
"I think the older you get, unless you know the challenge is there, it's easy to start slipping into a situation where you just live in the present or the past. The secret to life and staying happy is to always be looking at the future." – Harrison Ford
"I want [my daughter] to see a strong-willed woman, and I want her to see kindness. That's not to say that I am trying to be perfect. I just want her to see that because I had that growing up. Having really great, caring parents has kept me in good stead, and I want to do the same for my daughter." – Amanda Seyfried
"To have that bond with the fans is the best part. … When we win, the fans win. When we lose, the fans lose. I love that. The little kids screaming after I make a play, those are the moments that you cherish. You owe them your best. Every time I run onto that field, it's for my teammates and myself, but it's also for that little kid in the front row and the whole city. We are in this together. We need them and they need us; it's all of us as one." – Bryce Harper
"
It's unbelievable, Jersey has stood so tall. We've lost [tens of thousands of] people, let's never forget that and let's never forget each and every one of them. But at the same time, New Jersey has been unbelievable, north to south, from one line of work to another. Clearly, heroic health care workers, first responders, N.J. Transit bus drivers, rail operators, essential retail workers, police, fire, longshoremen, warehouse workers; I mean it's unbelievable. And when you add to that everyone else that has done the right thing—we talk about the "knuckleheads," but there just aren't that many of them. Overwhelmingly, people have done the right thing and it's extraordinary and it's something that none of us should ever forget." – Gov. Phil Murphy
"No matter what kind of day I'm having or how stressful it has been, I come home and [my kids] start yelling "Daddy;" it makes it all the better." – Mario Lopez
"I'm so much happier with how I feel about myself and things in general and about where my life is going now than I was when I was in my 20s or early 30s. I have an inner peace and calm that has guided me over the years—it's really valuable to have that, even if it takes a while to find it." – Jennifer Aniston
"
I'm very happy because I've been through a lot in Philly and to have a play that helped win a Super Bowl, it was the best feeling. The fans, the real love that they show, you could feel that. The people that I've met, the stories I heard, what a Super Bowl meant to certain people, when you see how deep it really is, you have a little more appreciation of the situation. Over the years, I'm thankful to be able to hear some of the stories that came out of this. I know that the Eagles definitely mean something to this city." – Brandon Graham
"Every child fantasizes about going out into the world to do something incredible. It's totally unnatural for that not to be the case." – Scarlett Johansson
"I've been in Hollywood for 25 years. When I say in it, I mean working in it and I've seen so many make the mistake of allowing their lives, their home lives to become intertwined and consumed almost and, you know, life is hard enough without that kind of spotlight." – Ryan Reynolds
"I'm very grateful to have this responsibility of playing Wonder Woman. This is a very big character. It's important for women to have characters like that to give them confidence and develop high aspirations for what they want to be able to accomplish in life." – Gal Gadot
BEST OF THE BEST

106 reasons why there's no place like South Jersey.
BEST OF THE SHORE

A hall of fame list if there ever was one, these spots epitomize everything that we love about the Shore and it wouldn't feel like summer without them.

Click here
Our annual list of the leading lawyers in the South Jersey region as chosen by their peers and our readers.

Click here
Meet 92 of the Top Real Estate Professionals in South Jersey.

Click here
Featuring 299 doctors from 45 disciplines who are making a noticeable impact in the health care world.

Click here
The following list is full of names that were chosen for their skillful work and patient-focused care.

Click here
SUPER WOMEN

Recognizing 12 local women who inspire every step of the way.

Click here
Across our community people continued to show up for those in need, providing hope and support when it was needed most.

Click here
From the quaint main streets bustling with activity and sprawling parks crawling with families to the desirable school districts and picturesque neighborhoods where curb appeal comes easy; is there anywhere else you'd rather be?

Click here
Click here to subscribe to the free digital editions of South Jersey Magazine.

To read the digital edition of South Jersey Magazine, click here.

Published and copyrighted in South Jersey Magazine, Volume 17, Issue 10 (January 2021).

For more info on South Jersey Magazine, click here.
To subscribe to South Jersey Magazine, click here.
To advertise in South Jersey Magazine, click here.