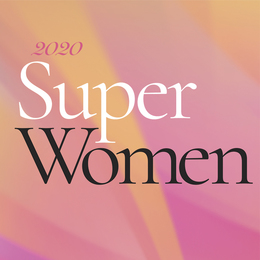 Super Women 2020
Recognizing 12 local women who inspire every step of the way.
On any given day, most women have several balls in the air, juggling family, career, community, and in 2020, they added the worries of a global pandemic to the mix. Yet women remain unstoppable, never faltering in their commitments and turning on a dime to adapt to the changes around us. This year's honorees reflect the countless ways women contribute to making our lives better in South Jersey and beyond. From health care heroes and community activists to philanthropists and leaders who are paving the way for the future of girls, these women continue to do it all for the benefit of all.
Felisha Reyes-Morton, Woman of the Year
At 31 years old, Reyes-Morton is the youngest member of the Camden City Council, and the second youngest in the city's history. The daughter of Puerto Rican immigrants, Reyes-Morton grew up in Camden and graduated from Camden Academy Charter High School in 2007 and holds both a bachelor's and master's degree from Fairleigh Dickinson University. Navigating the challenges of child care made her aware of the inequalities in the health and education of youth in Camden and how this can impact families that are just starting out, and her activism led her to become elected to the Camden County Democratic Committee, as well as vice president of Concerned Citizens of North Camden, of which her husband Bryan is president. She served as a board member of the Camden City School District where she launched a gifted and talented pilot program to build new STEM labs at several schools. Reyes-Morton and her husband also founded the North Camden Little League to bring year-round sports and educational enrichment activities to children in Camden, who are disproportionately affected by juvenile diabetes. In addition to working full time for the Camden County Police Department, Reyes-Morton is involved with the Girl Scouts of Central and Southern New Jersey and the Hispanic Family Center.
One hundred years ago women won the right to vote thanks to the sacrifices of suffragists, including South Jersey's Alice Paul. Since 1984, the Alice Paul Institute (API) in Mount Laurel has continued its namesake's legacy of fighting for gender equality through education and leadership development, much of it with the involvement of Beard, who began as a volunteer for the organization in 1994 and became executive director in 2012, overseeing operations and the strategic vision of API. Among her accomplishments, Beard created the Alice Paul Leadership Programs for girls, inspiring students throughout South Jersey to pursue leadership opportunities, and helped establish API as the epicenter for women's equality on the national stage, welcoming upwards of 5,000 visitors annually. As 2020 was to be a yearlong celebration of the 19th Amendment, Beard ensured programming continued on virtual platforms in response to the pandemic. She serves on the board of directors of the National Collaborative for Women's History Sites, and locally is a charter member of Kiwanis of Greater Mount Laurel. Beard recently announced she would retire at the end of 2020, but her contribution to Paulsdale will remain indisputable.
It's hard to keep up with Philipps with the many hats she wears. She's an attorney with Madden & Madden and is the first female partner in the history of the firm. While she is dedicated to her professional career, it's Philipps' commitment to her family and her community that is even more impressive. Her son, Shane, lives with a rare, genetic neuromuscular disease called spinal muscular atrophy (SMA), and the diagnosis did not come until after he lost the majority of his ability to move. Philipps is on a mission to make sure future babies and their families receive the diagnosis earlier by advocating for the passage of a bill that ultimately became law last January and required SMA to be added to New Jersey's newborn screening panel. She is also a member of the committee to establish a New Jersey Rare Disease Advisory Council. In addition to working full time and being her son's advocate, she is passionate about serving the community as a former board member of the South Jersey Young Professionals Association, with the organization donating over $250,000 to local charities during that time. With a goal of continuing to serve her community, Philipps is currently running for Haddon Heights city council.
Poole is considered an expert in the field of social services and child and youth development with more than 20 years' experience. It was her own personal challenges as a youth that served as a catalyst for her career as an advocate for women facing obstacles in shelters and prisons. She is the CEO and founder of Heart 2 Heart Services, a 501(c)(3) nonprofit organization which seeks to provide a home for victims of trauma, including victims of human trafficking. Heart 2 Heart Services provides in-home therapeutic services to children who have been sexually abused and are emotionally and behaviorally challenged, all of which are predispositions for being trafficked. Poole's ultimate goal is to open a transitional home for victims of trafficking for the purpose of developing the whole individual to surpass from being a victim to a survivor to a thriver, living a life complete with successful options and possibilities.
A partner at Charny, Karpousis, Altieri & Donoian, P.A. who has been practicing family law since 1992, this Voorhees resident is heavily involved in the local community. Although her professional accolades include being named to New Jersey's "Super Lawyers" since 2007 and in the Princeton Premier Leaders and Professionals Honors Edition registry, her commitment to community runs deep. Karpousis learned the importance of "paying it forward" from her family at a young age, and has volunteered her time for Rutgers University-Camden's Pro Bono Domestic Violence and Law School Mentoring programs and South Jersey Legal Services, Inc. She has been a volunteer judge for the William Allen Middle School eighth grade exit assessment, and for the Vincent J. Apruzzese High School Mock Trial Competition. Karpousis regularly supports the Alice Paul Institute and its mission for gender equality and is a major fundraiser for the Juvenile Diabetes Foundation. Along with her partners in law, she has made breakfast at the Ronald McDonald House of Southern New Jersey, as well as collected toys for Santa's Little All-Stars in collaboration with UNITY SME. Even in a year with a global pandemic, Karpousis participated in the Susan G. Komen Philadelphia More Than Pink Virtual Walk.
This Berlin resident has been on the front lines of the COVID-19 pandemic as a nurse at Virtua Health's Voorhees Hospital intensive care unit, where she started in March as it all began. Leone has 22 years of experience in area hospitals, and as a single mother of a teenage son, knew she needed to continue serving her community during this health crisis. Leone regularly visits as a volunteer speaker at area schools, and is a clinical nursing instructor at Rutgers, Drexel, Gwynedd Mercy and Holy Family. She is a 10-year veteran of the Navy Reserve, where she was a lieutenant commander in the Navy Nurse Corps, deploying to Afghanistan in 2015 and receiving the Navy Marine Corps Achievement Medal for outstanding service. This year, Leone was one of 25 finalists in the Ms. Veteran America competition, which raises awareness and funds for military women in need around the country. Leone advocates for homeless women veterans, contributing to causes that address this growing issue, including Ms. Veteran America. In her spare time, Leone also gives her time teaching tae kwon do at Team Leach Family Martial Arts in Voorhees.
A native of Lawnside, Hall is an environmental geochemist and farmer whose educational and professional pursuits have taken her from Howard University in Washington, D.C. and the Georgia Institute of Technology in Atlanta, to the faculty of West Chester University. After relocating to Philadelphia, Hall devoted the last 12 years to testing soil throughout the city and developing plans to mitigate the risk of lead exposure to residents. She now co-owns and operates Free Haven Farms in her hometown, along with her husband Micaiah Hall, where they grow high-quality, seasonal fruits and vegetables. Not only do they distribute weekly farm share boxes to over 200 families in South Jersey, Philadelphia, Newark/Jersey City and Brooklyn, but they facilitate educational programs such as a summer science camp and school garden clubs—much of which went virtual in 2020. While continuing to teach part time at West Chester, Hall has also launched a nonprofit called Free Haven Institute of Science and Agriculture, Inc., that will focus on training the next generation of scientists from underserved populations.
Born and bred in South Jersey, Barrett-DiLolle was a go-getter from a young age, working as a legal secretary right out of high school before graduating from La Salle University, carrying her then 2-year-old daughter in her arms during commencement. She climbed the professional ladder at a registered investment advisory firm in a male-dominated industry with grit and determination, working her way up to partner with the company that grew from $450 million to $2 billion in assets during her tenure before retiring at age 47. Barrett-DiLolle has enjoyed being busy since as part of many organizations. Currently, she is chairman of the board at Cornerstone Bank and treasurer at The Joseph Fund. Previously, she was a trustee at La Salle University for 10 years where she chaired the investment committee and was a member of the finance committee, and she previously served the Rotary Foundation of Philadelphia and the Ronald McDonald House. What brings the greatest joy though is mentoring the younger generation in the investment world while still enjoying the fruits of her labor.
In her role as director of external affairs with New Jersey American Water, Venuti Free oversees the company's community outreach and education initiatives, including participation in community events with the company's water education van, school and community group presentations, sponsorships of community initiatives and charitable donations to nonprofit organizations in the communities they serve. She also oversees the company's firefighter and emergency responders grant program, which awards over $40,000 in grants annually to volunteer fire and emergency response organizations in the company's service areas. Venuti Free is heavily involved with the Camden community outside of her professional role, as she serves on the board of the Salvation Army Kroc Center, where she is a member of the development committee and actively involved in fundraising, including the annual Red Kettle campaign. Additionally, she is also a member of the Camden Water Equity Task Force, which works to align the resources of the public, private and nonprofit sectors to advance equity and inclusion in Camden through smart water management.
After her husband was diagnosed with stage 4 cancer, Gilbert was inspired to create Ultra Care for Cancer Caregivers, a GoFundMe campaign that combines her running ultramarathons and raising money for cancer caregivers to provide them joy and respite during their difficult journey as a caregiver. The pandemic didn't stop the Voorhees resident from kickstarting her fundraising efforts over Mother's Day weekend—the coldest weekend on record in our area as she recalls—and she ran the virtual Dawn to Dusk to Dawn 24 hour 50K + Solo Challenge ultramarathon in her neighborhood where she logged 63.9 miles. Her husband is in remission as of May, but she's still running and showing support for all cancer caregivers. In June she began running 128 miles as part of the virtual Tip to Tip – The Great Florida Traverse to raise money and is planning on participating in the multi-day virtual Across the Globe 72-hour ultra-event in January to meet her goal of raising $10,000.
"It's not fair." Benjamin says this phrase was her motivation at 10 years old for starting Rebecca's Mission. She didn't find it fair that she had any book of her choosing available to her at home, but other kids only had what their school could offer, if anything at all. So she started a book drive and seven years later it's grown to a book mobile. Rebecca's Mission has not only donated thousands of books and raised thousands of dollars in donations, her organization has provided literacy opportunities to 11 different communities and established three libraries. After recognizing it's not just students who don't have access to books, the organization has expanded to helping the homeless, and during the COVID-19 pandemic, it has aided the entire community by reading books aloud over virtual platforms. Benjamin has done more at 17 years old than many people in their lifetime, and we can only imagine what this giving and generous young lady will accomplish over the next several years.
Ellie Koerner
Even at the young age of 4 while battling acute lymphoblastic leukemia at Children's Hospital of Philadelphia (CHOP) in December 2007, Koerner and her family knew they wanted to give back and pay forward to those who needed it. So, during her first two months of treatment, the family formed the Ellie Koerner Leukemia Foundation (EKLF). They began by supporting local pediatric oncology families staying at CHOP by providing them with weekly meals, as well as holiday gifts. EKLF also helped pay bills for families enduring financial hardships while their children were being treated. The foundation has been able to supply the CHOP oncology clinic in Voorhees with new computers, AirPods, games, blankets, beds and anything else they may have needed at the time for any particular family, and they support pediatric families as a Secret Santa at Christmastime as well. Koerner's goal is to go to college and attend medical school, so that one day she will be able to help heal others. She says: "I have been on that side before, but I am cured and ready to begin the fight on the other side."

Click here
to subscribe to the free digital editions of South Jersey Magazine.

To read the digital edition of South Jersey Magazine,
click here.

Published and copyrighted in South Jersey Magazine, Volume 17, Issue 7 (October 2020).

For more info on South Jersey Magazine,
click here
.


To subscribe to South Jersey Magazine,
click here.


To advertise in South Jersey Magazine,
click here.