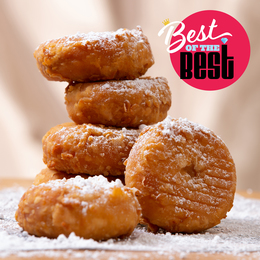 Best of the Best 2020
106 reasons why there's no place like South Jersey.

They say absence makes the heart grow fonder, and after the past few months, we'd say we're more fond of South Jersey than ever before.
Now that our favorite places are reopen(ing), it's the perfect time to dive into our annual Best of the Best, featuring the top spots for food, drink, shopping, health and beauty services, and more. Whether it's biting into a fluffy croissant, sipping your favorite local pint or treating yourself to a much-deserved spa day, this compilation of editors' and readers' picks is packed with things that make us feel normal—and these days, that's worth celebrating.
Burgers | Crust N Fire in Mount Laurel and Voorhees
Charboiled and made with 100 percent Black Angus beef, the bugers at this restaurant truly are on fire. Our suggestion: the Harvest Burger, which has avocado, honey ranch, pepper jack cheese and sweet potato fries on the side.
Monkey Bread | Two Sweet Boutique in Deptford
We often dream about pulling apart section after section of this sticky sweet pastry that's been expertly dusted in cinnamon and glazed to create a further sense of euphoria.
Ribs | Lumpy's BBQ in Blackwood
The wonderful char on these St. Louis-style pork ribs gives way to a beautiful smoke ring that lets you know these are the real deal. Get them lathered or seasoned with a highly addictive dry rub.
Brewery | Tonewood Brewing in Oaklyn
With a lineup of sought after IPAs, lagers and barrel aged stouts along with a demonstrated ability to push these popular styles into new dimensions, Tonewood is the toast of the South Jersey craft beer scene.
Bar Snacks | Towne Tavern in Riverside
With polished options like fried provolone wedges and short rib nachos on the menu, who needs wings and fries? Don't worry; they make elevated versions of those as well.
Scones | The Pie Lady Café in Moorestown
The delicate yet crisp exterior and the moist, tender inside make these scones that come in signature flavors like chocolate lime and strawberry pecan as irresistible as it gets.
Bagels | Sharky's Bagels in Blackwood
The thin, shiny crust coupled with the ideal amount of density and chew provides a textural balance that gives these bagels a distinct edge. Just ask the dozen or so people in line in front of you.
Hot Roast Beef Sandwich | Victoria's Bagel Bistro in Mount Laurel
Ribbons of grilled roast beef blend harmoniously with jalapeño cheddar cheese, caramelized onions and tomatoes on your choice of bagel that's been smothered with a horseradish cheddar spread.
Gelato | Reggina Gelato and Espresso Bar in Mullica Hill
The friendly faces you'll encounter here serve up heaping scoops of mouthwatering imported Italian gelato in a dizzying array of flavors. We're suckers for the tiramisu and the strawberries and cream.
Gourmet Pizza | Bricco Coal Fired Pizza in Westmont
All the pies on Bricco's menu are culinary works of art, but the cacio e pepe with buffalo mozzarella, pink peppercorns and finishing touches of pecorino and reggiano cheeses is an absolute must.
Chicken Meatballs | Bagliani's Market in Hammonton
We love this place for countless reasons, but the homemade chicken meatballs rank high on the list. Garlickly with fragrant herbs and spices, they are good enough to eat without sauce.
Noodles | Han Dynasty in Cherry Hill
This place prides itself on authentic Sichuan cuisine, which translates to plenty of heat. But from the dynamite dan dan noodles to the mung bean noodles in a black bean sauce, the spice is meant to enhance not overpower.
Mussels | The Blue Monkey Tavern in Merchantville
This refined gastropub serves up meaty mollusks in the traditional red or white, but they also step things up with offerings like the version in beer with slab bacon, gorgonzola and cream.
Pies | Zimmerman's Country Market in Washington Township
Divine blueberry pies with endless crumble. Sensational apple pies with buttery, flaky crust. Lemon meringue pies with a topping whipped to perfection. Do we really need to keep going?
Local Coffee | Royal Mile Coffee Roasters in Cherry Hill
What started in a backyard shed is now a full-blown roasting facility. Stop by on Saturdays for an up-close look at the roasting process while sampling the brews and enjoying plenty of coffee talk.
Cheesecake | Sunflour Bakeshop in Mount Laurel
These slices of heaven can turn an ordinary day into something special. Savor the original or salted caramel drizzle varieties year-round, but don't sleep on the holiday pumpkin flavor with candied pecans and gingersnap crust.
Cocktails | Train Wreck Distillery in Mount Holly
These handcrafted spirits go from barrel to glass under one roof, taking center stage in familiar old fashioneds, mules and martinis, as well as modern spins, like the Lavender Lemonade.
Crepes | Charlie's Crepes in Merchantville
From savory Southwest bison with poached eggs and asiago cheese or lasagna topped with Bolognese, to the sweet blueberry curd or peanut butter custard, you'll keep going back to see what Charlie has created next.
General Tso's Wings | Flying Crust in Pennsauken
Friday nights sometimes have us flipping a coin between Chinese takeout or Buffalo wings. Here, it's the best of both worlds with the tangy Asian-style sauce coated on top of the quintessential American favorite, putting any argument to rest.
Fried Zucchini | The Taproom in Haddon Township
Move over fried pickles, you have some competition. This crispy squash is heartier and less offensive than its pickled cousin, so the whole table can dive in without complaint.
Sweet Breads | The Station Coffee in Merchantville
Situated along a bike path through town, this cafe's pastries have us pausing our Fitbit to indulge, especially on these breads in a variety of flavors, including pineapple coconut, chocolate chip banana or the cheek-puckering lemon blueberry.
Food Market | Haddon Culinary in Collingswood
Helmed by a team of chefs, this downtown market is one-stop shopping, whether you want to dine in, grab a prepared dinner to-go or pick up locally sourced ingredients to craft your own culinary masterpiece at home.
Arepas | Que Ricas in Haddon Township
These fluffy, handmade corn pockets come filled with traditional Venezuelan fixings like shredded beef, chorizo and plantains, but for a twist on a Jersey staple, you can't beat the pork roll, egg and cotija cheese.
Chicken Cheesesteak | Pollo by the Shore at Yellow Submarine in Maple Shade
The Pollo by the Shore is a combination of tender chicken steak mingling with melty mozzarella, crisp spinach and an unexpected dash of sea salt brings our taste buds surfside while sitting nearly 100 miles inland.
Soup | The Soup Bar in Palmyra
Chef Ed McGaurn scours local farmers' markets to ensure his homemade soups have the freshest ingredients, and patrons can taste the difference in each spoonful.
Ice Cream | Alaura Kitchen in Pitman
This family-owned shop does all the traditional flavors well, but we recommend a walk on the wild side. Their creative spins on the summertime staple include watermelon jolly rancher, peanut butter and fluff, cinnamon toast crunch and strawberry jalapeno.
Water Ice | Sundaes in Berlin
Whether you pronounce it water ice or wooder ice, you'll want to get your hands on the unique flavors made on the premises here, such as bing cherry Bordeaux, Bailey's Irish crème and pumpkin.
Doughnut | Buttermilk Fried Doughnut at The Wing Kitchen in Washington Township and Glassboro
Chef and owner Timothy Witcher—a former champion on Food Network's Chopped—takes a glazed doughnut and deep fries it before adding powdered sugar and a side of salted caramel sauce that goes perfectly with the warm insides.
Slice of Pizza | Drunken Grandma at Brooklyn Pizza and Grill in Haddon Heights
Grandma-style pies have been all the rage lately, but nobody does them quite like the pizza pioneers at this shop. The Drunken Grandma substitutes vodka sauce for marinara, making for a rich and creamy slice you won't soon forget.
Specialty Sandwiches | Valente's Cucina in Haddonfield
Valente's recently transformed from a market to a sit-down restaurant but continues to offer all of its well-known sandwiches, such as short rib meatballs and roasted eggplant.
Hoagies | Aversa's Bakery in Washington Township
Chances are you've already tasted Aversa's famous seeded rolls at sandwich shops across South Jersey, but this beloved bakery also crafts its own delectable hoagies, including Italian, roast pork and chicken cutlets.
Chicken Sandwich | Fat Fil-A at Fat Tomato Italian Bistro in West Berlin
Leave the long lines and social media arguments to the fast food chains and pay a visit to the Adili family restaurant for the real deal chicken sandwich made with buttermilk fried chicken, fresh veggies and spiced honey glaze on ciabatta.
Cookies | Maria's Mom's Italian Cookie Cupboard in Marlton
Maria Ritter grew up baking cookies with her mother, and now her family bakery provides sweet treats for all of South Jersey. From biscotti to chocolate chip to coconut macaroon, everyone has a favorite.
Chocolate | Reily's Candy in Medford
Chocoholics from far and wide flock to this family candy shop—a staple in the community for more than 50 years—for unique gifts for every occasion, from chocolate bunnies to chocolate-covered blueberries, all made in-house.
Arancini | Giovanni's Arancini in Cherry Hill
Giovanni Gambino's arancini—which he first learned how to make as a boy in Sicily—range from the traditional variety to options like cheesesteak, buffalo chicken and seafood.
Roast Pork | DiNic's in West Collingswood Heights
Many people consider roast pork—and not the cheesesteak—to be the definitive sandwich of the Philly/South Jersey region. That's because they were raised on DiNic's, with its juicy pork, sharp provolone and either broccoli rabe or spinach on an Italian roll.
Afternoon Tea
| Mademoiselle Macaron in Mullica Hill
Make a reservation for an elegant afternoon of finger sandwiches and unlimited tea at this bakery that also dishes out a variety of French macarons, tartes and pastries.
Juices
| Animo Juice in Haddonfield
At this health food restaurant, you can strengthen your immune system and enjoy a sweet beverage all at the same time with juice blends like Hydrate Me, a mix of lemon, pineapple, cucumber and coconut water.
Mediterranean Food
| Blue Fig Cafe in Moorestown
Take in the sights and smells of traditional Mediterranean grilling at this cafe that serves authentic cuisine from Greece, Turkey, Lebanon and Egypt, with dishes like chicken shawarma and firestone flatbread.
French Toast | Amy's Omelette House in Burlington and Cherry Hill
This hash house plates up tall stacks of French toast. Try the Banana Caramel Crunch or the always classic Cinnamon Almond French Toast.
Wraps | Healthy Garden Café in multiple locations
May we suggest the Avocado Star Wrap (avocado, mixed greens, tomatoes, cucumbers, red cabbage, carrots, bell pepper and light house dressing) or the Grilled Cod Wrap (marinated cod, avocado, chickpeas, mozzarella and mixed greens).
Bread Pudding | Sweet Water Bar & Grill in Cinnaminson
Chef George's revered Bread Pudding is homemade and he changes the flavors often so you'll need to come back again and again to try them all.
Paninis | Medford Bagel Shop in Medford
The toasty sandwiches at this shop come in a myriad of tasty combinations including roast beef with fresh mozzarella, tomato, red onion and horseradish sauce; and turkey with bacon, cheddar, tomato and mayo.
Tarts | Sweet Eats Bakery in Marlton and Voorhees
Picture this: fillings like apple and cherry cream cheese streusel, or key lime (our favorite) in a cinnamon sugar crust, or chocolate oreo in a chocolate crust tart. Are you hungry yet?
Tacos | Mi Ranchito in Moorestown
With almost 20 different options (you read that right), you can have tacos every day of the week—not just Tuesdays—and the first on your list should be Cueritos—pork skin cooked in citrus and beer.
Bread | Boaggio's Bread in Mount Laurel
Even if you think your new baking skills developed during quarantine are up to par, you have nothing on Boaggio's Bread that's been around for a generation. Try the cheesesteak stuffed bread—you'll thank us later.
Salads | The Bistro in Haddonfield
Salads are anything but boring at The Bistro at Haddonfield. We're talking Bruschetta salad, pear spinach salad or the sensational crab portabella salad with a baked portabella mushroom stuffed with a jumbo lump crab cake.
Pastry Shop | Desserts by Design in Audubon
Pies, pound cakes and all kinds of various pastries—you name it, Desserts by Design makes it. We couldn't stop eating the puff pastry filled with custard topped with caramelized sugar.
Cupcakes | Cupcake Wish in Medford
From crowd pleasers like chocolate and red velvet to rotating flavors like Snickers, beer peanut brittle and maple French toast with bacon (more, please), everyone's sweet tooth will be satisfied.
Signature Sushi Rolls | Yokohama in Moorestown
If you have a kick for spicy food like we do, you have to try the Double Spicy Roll—crab meat, eel, cucumber, avocado, topped with spicy tuna, peanut powder and crunchy spicy salmon.
Cakes | DiBartolo Bakery in Collingswood
Famously known for being featured on Food Network, (and well-deserved we might add), DiBartolo Bakery whips up the most creative and delicious cakes for every occasion.
Cinnamon Buns | Randolph Bakery in Maple Shade and Marlton
There's nothing like warm, gooey cinnamon buns fresh out of the oven, and Randolph Bakery serves them hot and fresh every day of the week.
Haircut | La Reve Salon Barbershop in Cherry Hill
Whether you've been desperately waiting to break quarantine for a cut or in search of a new look, the knowledgeable stylists here will transform your locks into a work of art.
Barber Shop | The Main Event in Mullica Hill
Any well put-together man knows that a proper haircut goes a long way and no one understands that better than the expert team of barbers at this shop that perfectly blends old school tradition with a modern approach.
Blowouts | Caryn and Co. Salon & Spa in Moorestown
A great blowout is like a massage for your hair. Stylists' skilled touch adds volume while reducing frizz and split ends, leaving tresses looking and feeling rejuvenated.
Facials |
Artistre Salon and Spa, Mount Laurel
All the options at this salon—from the 30-minute mini facial to the signature Red Carpet treatment—leave our skin re-energized and absolutely glowing.
Hair Coloring | Christopher Moore Salon in Washington Township
Lighten up those dull locks with a trip to this salon that treats hair styling as an art. With more than 20 years of experience, Christopher Moore will make sure your hair looks its best.
Hair Treatments | Rizzieri Salon & Spa in multiple locations
Hair breakage? Dry scalp? Whatever your hair care issue, this third-generation family-owned business has a treatment to restore your tired tresses.
Day Spa | Spavia Day Spa in Moorestown
A day of relaxation awaits at this spa that features a range of invigorating services including deep tissue massages, deep cleansing facials, nourishing antioxidant wraps and more.
Massage | Tranquility Salon and Spa in Hainesport and Voorhees
Feel the stress melt away with Tranquility's signature massage, which starts with full body aromatherapy using special oils and moist heat and finishes with a hot lava mud treatment.
Mani/Pedi | White Lotus Nails in Marlton
Detailed nails always make us feel polished. So, getting our talons shaped and painted at this salon is a must.
Make-up | Moxie Blue Salon in Marlton
Whether you are getting ready for a big night out or simply want to brighten your face after being cooped up for so long, the experts at Moxie Blue will give you a fresh, natural look.

Personal Training | Smart Bodies Fitness in Marlton
The trainers here create workouts that will push you to the edge and then some, but the reinforcement they give you along the way lets you know that the only acceptable outcome is success.
Pilates | Framework Pilates in Mount Laurel
Highly trained instructors take you through calculated and dynamic movements to craft long, lean muscles, improve flexibility and strengthen your mind-body connection.
Barre | LaBelle Fit in Cherry Hill
A combination of small weights and pilates that incorporates a ballet barre (or chair if working out from home) and floor work, it's the ultimate workout to get your body toned from top to bottom.
Home Goods | Bespoke Home + Life in Collingswood
Break free from the cookie-cutter selection of home décor at national chains and instead choose from curated furniture, lighting, candles and a veritable jungle of house plants to create a space that is uniquely you.
Yarn Shop | Hooked in Haddonfield
Beginners and experts alike can shop a selection of yarns and accessories, troubleshoot or take a class in this local community that will have you, well … hooked.

Toy Shop | Happy Hippo Toys in Moorestown
From puppets and piggy banks to Jack in the Box and rocking horses, there's a lot of fun to be had at this store that specializes in iconic and original toys.
Women's Clothing | Tehen in Cherry Hill
From Hudson Jeans to Elie Tahari blazers, Tehen is the go-to boutique for fashionable threads that allow you to step seamlessly from day into night without skipping a beat.
High-End Menswear | Lee Newman in Cherry Hill
Whether you need to dress up or dress down, this clothier's selection of luxury brands like Canali and Armani along with other reputable names like Peter Millar and John Varvatos will have you dressed to impress.
Flower Shop | Abbotts' Florist in Washington Township
When the occasion calls for nothing but the best, these petal pushers know how to craft exactly the right arrangement full of gorgeous, vibrant flowers and stylistic flair.
Frame Shop | MFC Authentics & Framing in Cherry Hill
The friendly, knowledgeable staff at MFC can offer an appropriate solution whether you are looking to frame a piece of fine art or your college diploma, and they also have a wide selection of memorabilia for the sports fanatic in your family.
Fine Jewelry | DeSimone Jewelers in Haddonfield
Since every piece is custom made in-house with computer aided design, it is quite common for satisfied customers to get one-of-a-kind baubles at DeSimone and then return in the future for anniversary gifts, push presents and more.
215-625-320 | DeSimoneJewelers.com
Tailor | Moorestown Tailors in Moorestown
Richard DePasquale started in the business when he was a teenager, which means he knows better than anyone that the right tailor can make the world of difference between you looking your best or looking a mess.
Nursery/Garden Center | Platt's Farm Market in Clarksboro
Though it may not look like it from the roadside, Platt's is huge and their seemingly endless selection of high quality flowers, trees, plants and other garden necessities would please any green thumb.
Bike Shop | Mr. Bill's Bicycles in Palmyra
With a personable approach and decades of experience selling, repairing and talking everything bicycles, "Mr. Bill" continues to be the go-to guy when it comes to getting around on two wheels.
Bridal Jewelry | Haddonfield Fine Jewelry in Haddonfield
For the big day, we only trust the jewelers at this shop. Whether it be a pair of earrings or the all important ring, this should be your first stop.
Cocktail Dresses | Six Clothing in Haddonfield
Owner Erica Brand keeps all the latest styles from Fifteen Twenty, Nicole Miller and other couture labels that make a statement every time you walk outside the door.
Beauty Supply | Bluemercury in Marlton
In addition to offering innovative beauty products, this cosmetic store prides itself on sharing honest, expert advice with customers who are looking to achieve fabulous skin or find just the right shade of lipstick.


Bridal Boutique | Bridal Garden in Marlton
This shop sells not just bridal gowns from the top designers, but has every accessory to make you feel like a true bride, from beautiful veils and decorative belts to stunning headpieces that complete the look.
Mother of the Bride Dresses | Marlene's Dress Shop in Collingswood
While it may be the bride's big day, there will be plenty of eyes on mom, too. Thankfully, the stylish—yet appropriate—gowns here will turn plenty of heads.
Gift Boutique | Fond Memories in Medford
Whether you are shopping for yourself or purchasing a gift for a friend, you'll walk out in style with clothes, purses and jewelry from the top designers, and they even carry Vera Bradley face masks.


Children's Boutique | Melange in Haddonfield
Selling footie pajamas with time-saving magnetic fasteners (for easy nighttime diaper changes) and precious Sunday-best rompers, this children's clothier will have the kids looking stylish and cute.
Kids Parties | Sugarplum Studio in Cherry Hill
Little ones can embrace their inner pastry chef while creating whimsical cakes, cookies, cupcakes and doughnuts that are almost too cute to eat.
Bowling | The Big Event in Cherry Hill
With 36 lanes, interactive games and a lively atmosphere perfect for kids and those of us who are kids at heart, you don't need to be in a league—though they have those too—to enjoy this place.
Indoor Playground | Peekaboo Playground in Medford
When the weather stinks, we bring our little ones here so they can burn off some energy as they climb, jump and slide their way from one play area to another.
Playground | Frank Fullerton Memorial Park in Moorestown
This popular corner hangout with a castle-themed area has a plethora of slides, swings, rope climbs and more to appeal to kids of all ages.
Family Fun Center | The Funplex in Mount Laurel
The Funplex offers an entire day of fun, from water slides and mini golf to arcade games and bowling. An added bonus? Kids are sure to fall asleep early that night.
Children's Theater | Broadway Theatre in Pitman
Both entertaining and educational, the family friendly shows at this historic theater bring your children's favorite characters to life while also introducing them to the creative arts.
Arts & Culture | Perkins Center For The Arts in Collingswood and Moorestown
This culture center's initial venue is a historic 1910 Tudor home in Moorestown but it has since expanded to another location in Collingsworth. Both locations are host to art exhibits, concert series and educational programs.
Performing Arts Classes | Mainstage Center For The Arts in Blackwood
Learn to belt out a Broadway tune or dance a jig at this performing arts school that offers classes for children in kindergarten all the way through high school.
READERS' CHOICES
Brunch | Sabrina's Café, Collingswood
Candy/Chocolates | Aunt Charlotte's Candies, Merchantville
Ice Cream | Dot's Homemade Ice Cream, Woodbury Heights
Sushi | Akira, multiple locations | 856-802-3888 |

AkiraMoorestown.com
Water Ice | Diane's Water Ice, Voorhees
Cigar Lounge | Belvedere Cigar Lounge, Lawnside
Dance Classes for Kids | Artists in Motion Dance Studio, Cherry Hill
Prom Wear | Jan's Boutique, Cherry Hill
Facial | In the Village, Mullica Hill and Woolwich
Hair Styling | Anthony J. Salon, Sicklerville
Mani/Pedi | Louis Christian Robert John, Cherry Hill
Medical Spa | A Medical Spa at Rizzieri, Moorestown
Pilates | Pilates Plus a Restoration Studio, Marlton
Click here to subscribe to the free digital editions of South Jersey Magazine.

To read the digital edition of South Jersey Magazine, click here.

Published and copyrighted in South Jersey Magazine, Volume 17, Issue 4 (July 2020).

For more info on South Jersey Magazine, click here.
To subscribe to South Jersey Magazine, click here.
To advertise in South Jersey Magazine, click here.