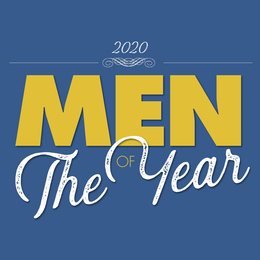 Men of the Year 2020
If there's one thing that didn't change in 2020 it's the resiliency of the human spirit. Across our community people continued to show up for those in need, providing hope and support when it was needed most. This year's list of 12 men represent the epitome of virtue and whether their resume of kindhearted acts goes back decades or is a newly acquired passion awakened within them, they are equally deserving of the recognition and serve as a reminder that good will always prevail.
Barney Corrigan, Man of the Year
This past March, Corrigan and his family moved into their dream home in Westville. One week later, the coronavirus pandemic brought the country to a halt and all jobs that this catering chef had lined up were canceled. Without a job, Corrigan had some extra time on his hands and had already witnessed food insecurity issues in his community. He put a small cabinet on his front lawn and filled it with some canned goods for neighbors to take, no questions asked. Within weeks, donations started pouring in from all over and Corrigan needed his garage to store it all. Beginning in April, he transformed his garage into a makeshift food pantry open to the public bi-weekly. Initially eight people came through, growing to 50 then approximately 250 every other week.
Corrigan's efforts gained national attention, from CNN and local radio and TV news outlets, to The Drew Barrymore Show, where he was presented with a check for $10,000 from Conagra Foods. Corrigan will also appear on an upcoming episode of the Facebook series Returning the Favor with Mike Rowe in which he is given a $55,000 mobile food pantry that will be used to visit senior housing and homeless shelters to supply them with everyday items that they would otherwise not be able to afford.
Barney's Place Food Pantry is now a nonprofit organization awaiting 501(c)3 status. Corrigan credits his wife, whose job security has allowed him to pursue this newfound passion. "Never in a million years did I ever think that the little pantry I built and placed out front would turn into such a massive operation," he says. "I can truly say that this has all changed my life and showed me what my purpose here is. I have seen firsthand the damage COVID has caused families across the country and the need for pantries like this."
There's no denying the impact that access to books has on a child's life. A Navy veteran and high school English teacher in Lindenwold, Abrams is using literacy to bridge the book desert gaps in New Jersey and Philadelphia—which have only become harsher as a result of the COVID-19 pandemic. Four years ago a simple call on social media asking for gently used children's books led to the creation of a network of big-hearted teachers and social workers for what would become a nonprofit known as BookSmiles. Before long, the garage-based operation outgrew the space and moved it into a warehouse in 2019, and BookSmiles collection bins—recognized by their colorful and creative designs—are stationed across the area, from Cherry Hill to the Main Line, contributing to the 20,000 to 25,000 books distributed per month. All told, the organization has donated a total of 400,000 books to educators and nonprofits working in underserved communities. Abrams says, "The ideas of equity and every child having a fair shot to become successful are very important to me. Books in the house can change and improve lives in so many ways."
Running is more than just a way to stay in shape for Rodio, who belongs to a group of fellow runners called run856. The group holds running events throughout the year, many of which raise money for people or organizations in need. Although the pandemic canceled race season and Rodio's planned marathon, it paled in comparison to the effects on students whose fundraising opportunities and memorable events were also being canceled. As a parent of a Collingswood High School student and another son who graduated from the school, Rodio wanted to help somehow and after talking with the principal he learned that not every student is able to afford a yearbook. He immediately knew what to run for. The goal was 20.20 miles for the class of 2020, all completed at the town's Knight Park, passing the high school on every lap with friends and students cheering him on. With the help of a shoutout from Gov. Phil Murphy himself, Rodio raised $7,200 in three weeks, which was used to purchase a yearbook for every senior. Rodio says if there were any year to have a yearbook, it would be 2020, and he hopes to do a similar fundraiser in 2021.
Fisher has spent the better part of his life in service to others. The Moorestown resident and former owner of Taylor Rental joined the town's Relief Engine Fire Company 312 in 1971 and continues to respond to calls nearly 50 years later, and currently serves as chairman of the board. As a member of the First United Methodist Church of Moorestown, Fisher represented the church on the board of trustees for the Moorestown Ecumenical Neighborhood Development (MEND), working to help low- to moderate-income families find decent and safe affordable housing. Since then, the organization has become close to his heart and he spent several years as director of the board of trustees. Along with his wife Beth, Fisher has traveled throughout the country and Latin America on mission trips, helping to build churches and residences in those communities. They also established a scholarship at Moorestown High School in their daughter Wendy's name after she was tragically killed in a car accident at age 19. Scholarships were awarded to students who exemplified Wendy's qualities of being hard-working and all-around good kids. All of this and more (like the fact that he donated a kidney to his daughter-in-law) made Fisher the unanimous choice for Moorestown's 2020 Citizen of the Year, chosen by the Service Club Council of Moorestown.
This Marlton resident is the owner of his own contracting business, and for the past five years he has used his platform to help special needs families in the Delaware Valley. Inspired and motivated by someone in his own family, D'Antonio began a "Day of Service" once a month, taking his crew to local homes to perform renovation needs for no charge, whether installing wheelchair ramps or fixing broken faucets, anything they may need to make life easier. He now documents these acts in an online streaming TV show called "Hometown Heroes for Special Needs" and has formed it into a charity organization. To thank health care heroes who have been doing so much during the pandemic, he even extended his efforts to help front-line workers by providing exterior maintenance to them. D'Antonio says he feels it is one of his purposes in life to make a difference.
Groark is a health and physical education teacher at Washington Township High School and one of his passions is working with food—particularly barbecue—which he began sharing on social media. After he and his wife suffered several miscarriages, it was an act of kindness from students that transformed Groark's passion into a business. A gift of Sixers tickets turned into a class field trip, covered by news outlets as far as California. He took the momentum and ran with it, founding Groark Boys BBQ (named for his two sons), using the business as a platform for spreading kindness and charity. He's raised money for the MS Society, Operation Smile and the Epilepsy Foundation, as well as Team Foster, an organization that helps veterans obtain service animals. Although the pandemic has stalled the business a bit, his social media presence has exploded, with over 1.2 million followers on TikTok. Through that outlet he helped raise nearly $6,000 in donations for a young girl in her battle with brain cancer. Currently, he's raising money for a WTHS graduate who just passed away from bone cancer at age 19. He ultimately gained the attention of Sam's Club and the company invited him to Good Morning America where they surprised him with a $10,000 grant.
Laughlin and his wife Jodi founded Noelle's Light, a nonprofit organization, after losing their infant daughter to complications from a rare fetal condition called hydrops fetalis in 2016. The grief they initially felt transformed into dedication to a mission of supporting families who are facing a life-threatening fetal diagnosis. Laughlin left his career to work full time on building and growing Noelle's Light, and in its first year it raised over $100,000, delivering support to more than a dozen financially distressed families in the U.S. and Puerto Rico. The organization has also partnered with the Ronald McDonald House and Children's Hospital of Philadelphia by covering travel expenses, uninsured medical costs, home and mortgage payments, and in heartbreaking cases, funeral costs. Laughlin and Jodi live in Riverton where they are raising Noelle's younger siblings, Lillian, age 2, and Alexander III, age 1. "Not only do we look to make a difference in the lives of families navigating a fetal diagnosis, but we hope to inspire our children and others to act with the organization's core philosophy in mind: that we all have a basic duty and obligation as citizens to help each other in our moments of need," he says.
For Sanfilippo, April feels like a lifetime ago, but it marked a major milestone in his life. The Moorestown resident and local doctor recovered from the coronavirus and was amazed by the way those around him stepped up to help his family while in quarantine. After that experience, salons and barber shops remained closed, so he let his son shave his head and posted on GoFundMe for others to follow suit, using money they would have spent on the haircut to donate to the South Jersey Food Bank. His original goal of $5,000 was surpassed, totaling over $25,000, which equated to upwards of 100,000 meals distributed to the community. Sanfilippo even heard from a man in California who was inspired to do something similar with his son for their own local food bank. "Just as important, it helped to raise awareness of the very real and growing issue of food insecurity," he says. "I have been blown away by various friends, family and others donating their time, money and effort in doing multiple projects to try and help those in need."
Brett Levin
Levin is the owner and vice president of MHS Lift, Inc., a company founded by his father which he and his brother, Andy, purchased in 2012. Community service is a core value of the company, with a committee dedicated to organizing food and supply collections for local nonprofits. In 2019, Levin and his brother pledged over $200,000 to establish the MHS Lift Scholarship at Rowan University, providing full academic support, complete with books, room and board for undergraduate students at Rowan who are also active members of the Boys & Girls Club of Camden County, an organization both brothers are involved in and have supported over many years. This year, a donation they made to the Ronald McDonald House of Southern New Jersey's Give 365 Program paid for the cost of two rooms at the Camden House for one year, allowing families to stay worry free while their children receive medical care. Levin was named to the organization's board of trustees earlier this year. A Medford resident, Levin is a volunteer for the Medford Youth Athletic Association (MYAA) and serves on its fundraising committee for the annual golf outing.
In March, Riesenbach, a Cherry Hill native and president of CMIT Solutions, committed to sponsoring two dinners for a local hospital and its front-line workers—feeding 50 workers each meal. He soon brought this idea to the CMIT Solutions corporate team who helped him turn this into a systemwide initiative. Riesenbach rallied more than 20 franchisees to donate meals and raise money in their local communities. In total, CMIT Solutions franchisees have donated more than 900 meals to front-line workers and raised more than $3,000 for various organizations.
Angel Santiago
Santiago is an elementary school teacher in Gloucester Township and was recently named the New Jersey State Teacher of the Year, marking the second straight year the title went to a Camden County educator. His passion for public service started when he was a student in the Vineland Public School System, where he became involved with The Gabriel Project, founded by retired Vineland teacher Mark Melamed. Not only did the project help raise funds for children in developing countries to have vital surgery, but it showed Santiago how service impacts a community and he became vice president from 2014-2016. His involvement continues to this day. Santiago has been instrumental in a group of fourth- and fifth-grade students called Young People of Character, which brings together students from all walks of life to serve their communities by participating in writing letters to veterans, cleaning up school property for Earth Day or volunteering. Santiago's ability to build firm relationships with students, colleagues and the surrounding communities has contributed to his recognition and he looks forward to sharing these strengths with the entire state.
Cantor Scott Borsky
Founder of Cantor Scott's Animal Rescue Center and a police chaplain for the Voorhees Police Department, Borsky is also a member of the Camden County Task Force. During the pandemic, Borsky has been in charge of answering all referrals to families and individuals needing pet food due to stay-at-home regulations, illness or unemployment, and each day he delivers pet food all over Camden County to residents. He has also rescued indoor and outdoor cats that have been left behind by individuals no longer able to care for them due to symptoms of COVID, unemployment or other illnesses. His animal rescue center currently feeds and provides shelter and medical care for nearly 200 cats daily. As a hospital chaplain for several South Jersey hospitals, Borsky's responsibilities have expanded to providing care in person and virtually during the pandemic. Additionally, he runs an organization called Synagogue Without Walls, and the charity has given financial and material support to families in need, including clothing, food, school supplies, education expenses, free religious schooling and veterinary bills.
Click here to subscribe to the free digital editions of South Jersey Magazine.
To read the digital edition of South Jersey Magazine, click here.
Published and copyrighted in South Jersey Magazine, Volume 17, Issue 8 (November 2020).

For more info on South Jersey Magazine, click here.
To subscribe to South Jersey Magazine, click here.
To advertise in South Jersey Magazine, click here.