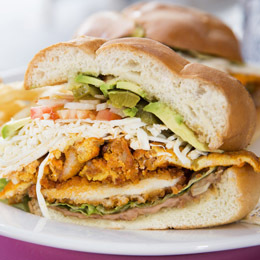 Superior Sandwiches
December 2017
Select photography by Alison Dunlap
It's been a handful of years since we last hit the streets of South Jersey in search of the best sandwiches in our area, so we decided it was long overdue. While we featured a lot of hoagies and cold sandwiches last time, this go_round we primarily focused on hot ones and covered terrain that included everywhere from fine dining establishments to neighborhood hot spots. What we found is that there is no shortage of worthy contenders, from the inventive and imaginative to the tried and true. And trust us when we tell you that they were all downright delicious. We hope you brought your appetite.
Tre Porcellini
CUGINI DELI IN MARLTON
The name translates to "three little pigs" and you may feel like the Big Bad Wolf after you devour this tantalizing combination of house-made pork, ham and salty pancetta. A mustard spread that packs a little punch further adds to this fairytale of a sandwich.
PFD
ANGELO'S PIZZERIA IN HADDONFIELD
Far from your run-of-the- mill chicken cutlet sandwich, this eye-popping delight consists of finely breaded cutlets nestled into a seeded loaf with fresh mozzarella, prosciutto, artichokes, pesto, arugula and finished with balsamic. You're going to need to stretch before this one.
Tailgate Ribeye
BAGLIANI'S MARKET IN HAMMONTON
Cheesesteaks—you can find one around every corner, but few are in a class like this mouthwatering offering that starts with ribeye that has been wet-aged for three weeks, seasoned well and then served simply and properly with fried onions and melted provolone.
Nonna's Veggie
PRIMO'S, MULTIPLE LOCATIONS
Veggie hoagies are often overlooked, but this favorite of ours deserves plenty of attention. Thinly sliced, breaded eggplant is the foundation while sharp provolone adds bite to perfectly complement the bitterness of broccoli rabe and the sweetness of roasted red peppers.
The Home Stretch
HOME STRETCH DELI IN CAMDEN AND CHERRY HILL
Think of this beef short rib sandwich as a sophisticated steak sandwich. A smoky tomato puree and roasted garlic aioli pave the way for the short ribs, which melt away in your mouth like a Listerine strip. Add on fresh arugula and frizzled onions and there's no denying each bite is a memorable one.
Hurffville Special
MELINDA'S GOURMET DELI IN WASHINGTON TOWNSHIP
We love this place because of the communal feel and dedication to quality ingredients used to create from-scratch items up and down the menu. This particular sandwich uses varying textures to provide depths of flavor, from the crispness of green apple that blends flawlessly with creamy brie and fresh homemade turkey on a light and airy croissant with honey mustard.
Bubba Luck
FAT LOUIE'S IN LOGAN AND WOODBURY
Fat Louie's is known for their larger-than-life sandwiches and this one is certainly not for the faint of heart. Chicken tenders, fries and fried pickles are stuffed into a roll slathered with honey mustard and topped with lettuce, tomato and onion.
Jim's Fav
THE APRON IN HADDONFIELD
We don't know Jim, but we like where his head is at when it comes to this roasted
chicken sandwich. Served with fried peppers, provolone cheese, a homemade zesty mayonnaise and drizzled with olive oil, what's not to love here?
Chicken Zucchini Steak
DIVELLO'S DELI IN CHERRY HILL
DiVello's takes the chicken steak to new heights by adding grilled zucchini, topping it with tomato sauce and freshly grated Locatelli cheese. It may sound simple, but the richness of the sauce and the sweetness of the vegetable add a certain level of complexity that is evident from the moment you sink your teeth into it.
Hot Smoked Salmon
DAVID AND SON'S IN SWEDESBORO
David and Son's dry rubs salmon before cooking it to perfection, leaving it charred, moist and glistening. The fish is then placed in a long roll and finished with a honeylime vinaigrette, chopped tomato and greens.
Fried Chicken Thigh
BRICKWALL TAVERN IN BURLINGTON
We would have been satisfied enough with the hearty portions of crispy fried chicken thighs, but when you put them into a griddled bun with tomato and blue cheese coleslaw, all we can do is tip our cap for a job well done.
DiGusto
LUNA ROSA BIAGIO LAMBERTI IN WASHINGTON TOWNSHIP
You'll want to make daytime reservations for this lunchtime-only menu item. Shrimp are seasoned with Cajun spices, sautéed and then placed in homemade panini bread with a walnutbasil pesto, lettuce and tomato.
Duck Confit
PARK PLACE RESTAURANT IN MERCHANTVILLE
This restaurant continues to turn heads with the Instagram- worthy plates coming out of the kitchen, but the fact that the food tastes even better than it looks is what is most important. The duck— cooked in its own fat—is superbly succulent and pairs nicely with bibb lettuce and French dressing, served on thick-cut rustic bread.
Spencer's Slammin' Pulled Pork
SABRINA'S CAFÉ IN COLLINGSWOOD
Roasted pork is bathed in a sweet-heat marinade using orange and chipotle and then coated—and we mean coated—in a mango-blueberry barbecue sauce. If that weren't enough, the addition of roasted red peppers, grilled red onions and a pickled cabbage and carrot medley puts things over the top.
French Onion Soup Melt
THE POP SHOP IN COLLINGSWOOD AND MEDFORD
This sandwich takes our favorite flavor profiles from the soup bowl—melty provolone cheese, caramelized onions, a dash of Worcestershire— and serves them up on rye bread with the addition of a tangy balsamiconion jam that has us licking our fingers … and that's not a bunch of crock.
Coconut BLT
HEART BEET KITCHEN IN WESTMONT
Though it may be hard to beat the "real thing" when it comes to bacon, even the most carnivorous among us has to hand it to this plantbased and food-allergy conscious establishment. Their coconut "bacon" is accompanied by avocado, tomato, arugula and lemon garlic aioli on toasted bread for a completely satisfying BLT experience.
California Crunch
KAMINSKI'S SPORTS BAR AND RESTAURANT IN CHERRY HILL
If a sandwich has the word crunch in its name, you know it better deliver. Here, Kaminski's takes tender chicken breast and coats it in panko bread crumbs before frying to the perfect crispness, then tops it with cheddar jack cheese, creamy avocado slices, lettuce, tomato and—for more crunch—bacon, with a hit of chipotle aioli served on grilled ciabatta.
Italiano Melt
DON FRANCO'S IN WASHINGTON TOWNSHIP
In a town with outstanding sandwich spots seemingly on every corner, it can be difficult to stand out. Don Franco's does with a diverse menu and selections like the Italiano Melt, which turns a traditional Italian hoagie on its head by toasting it grinderstyle and adding pepperoni to the mix of hot capicola, prosciutto and provolone.
Roast Beef's Best
PHIL'S DELI & MARKET IN CHERRY HILL
Owner Phil Hausler certainly has a creative side, judging by the amusing names and original food pairings on his list of 23 specialty sandwiches. Our go-to is the Roast Beef's Best, which takes tender, grilled roast beef and tops it with melted mozzarella, roasted red peppers, bacon and tomato on a hoagie roll.
Chicken Cutlet Diavolo
BOTTO'S ITALIAN LINE RESTAURANT IN SWEDESBORO
Botto's, which will celebrate its 20th anniversary this February, has always been the perfect spot for a romantic Italian dinner. But its Kings Lounge area is also a prime spot for a quick bite or to watch a game with your buddies. We recommend the Chicken Cutlet Diavolo—as the name suggests, there is plenty of spice, but it is not overpowering thanks to the addition of spinach and fresh mozzarella.
Shrimp Po'Boy
AMATO BROTHERS IN GLENDORA
Copious amounts of jumbo shrimp delicately fried and featured on a fresh-baked, foot-long roll make this sandwich worthy of any best-of list. But don't sleep on the coup de grâce—a Cajun mayo spread that adds just the right hit of spice and heat. "Geaux" for the Shrimp Po'Boy and thank us later.
Smoked Pastrami Sandwich
THE TAPROOM AND GRILL IN HADDON TOWNSHIP
Pastrami gets to be the center of attention in this smoked sandwich. Combined with smoked onion Sriracha mayo and topped with Cajun slaw and Swiss cheese, the salty meat is then sandwiched on toasted asiago ciabatta bread to make an all-around flavorful handheld.
Seared Ahi Steak Sandwich
YARD HOUSE IN MOORESTOWN
For a light, yet filling lunchtime sandwich, this is one of our go-to orders. Tuna steak is seared and cooked rare, topped with arugula, Swiss, tomatoes, caramelized onions and a peppercorn aioli and placed on two slices of grilled rye bread.
Roadhouse Stack
TURNING POINT IN MARLTON
Taking a twist on a childhood favorite, Turning Point's Roadhouse Stack transforms the classic grilled cheese into a creation all their own. A triple stack grilled cheese is made with three pieces of bread, smokehouse aioli, jack and cheddar cheeses, thick-cut crispy bacon, caramelized onions, avocado, tomato and baby spinach leaves.
The Vedge
BRICCO IN WESTMONT
Live on the "vedge" with this vegetarian-friendly creation, where homemade focaccia bread—freshly baked inside Bricco's coal-fired oven— and smashed cannellini beans are the star players. Inside this unique panino, you'll also find thick avocado slices, spinach and soft, crumbled goat cheese, giving it a meaty bite.
Top Shelf Bagel
CONSTELLATION COLLECTIVE IN COLLINGSWOOD
All bagel sandwiches meet their match with this bakery café's Top Shelf Bagel. Only available on Saturdays and Sundays, a housemade Montreal-style bagel—plain, everything or gluten-free— becomes a salty and sweet treat, as melted Brie, local arugula, smoked Tennessee bacon and handmade jam create a mouth-watering combination, leaving you wanting more long after it's gone.
Falafel Sandwich
NAF NAF GRILL IN MOUNT LAUREL AND MARLTON
Who ever said you can't have your falafel and eat it too? Here, lightly fried falafel— made of ground chickpeas, jalapeño, onion and cilantro—can be stuffed inside a warm and fluffy pita, topped with a chopped salad and a sauce or two of your choosing. Finish it off with Naf fries, lentil soup or basmati rice for a meal worth savoring.
Crab Portabella Melt
THE BISTRO IN HADDONFIELD
You don't have to travel to Baltimore to satisfy your crab cake craving—you can get them in Haddonfield, with a "meaty" twist. A generous Maryland style crab cake with sharp provolone cheese is served on top of a baked portabella mushroom on a toasted artisan roll, and their honey balsamic reduction adds a new dimension.
Pickled Steer
IRON HILL BREWERY, MULTIPLE LOCATIONS
Infusing their house-made beer to food items is common across their menu, and Iron Hill uses two of their staple beers in this dish where all the flavors marry together in every single bite. It starts with thinly sliced prime rib, Swiss cheese, fried onion strings, horseradish sauce, and is rounded out with peppers that have been pickled in a blend of lager and IPA brews and served on a French loaf.
BBQ Mac n Cheesesteak
STEVE'S GRILLED CHEESE AND QUESADILLA COMPANY IN GLASSBORO
Our mouths started watering just waiting in anticipation for the sandwich to arrive, and we weren't disappointed. The cheesiest mac and cheese smothered in barbecue sauce combined with tender cheesesteak meat in the middle of a melted grilled cheese sandwich is without a doubt, culinary wonderment.
Eggplant Parmigiana
LUDOVICO'S IN HADDONFIELD
We can't get enough of their eggplant parmigiana— Italian-style eggplant, mozzarella and parmigiana cheeses and their homemade tomato gravy—and it tastes even better between an Italian-seeded roll pressed on a panini grill.
Cubana
EL MARIACHI SAN LUCAS IN VOORHEES
This isn't your typical Cuban sandwich, but it may be even better. Filled with everything but the kitchen sink— breaded chicken breast, chorizo, scrambled egg, ham, avocado, Oaxaca cheese, refried beans, onions, tomatoes and lettuce—it can appear daunting, but it's wildly fulfilling.
Published (and copyrighted) in South Jersey Magazine, Volume 14, Issue 9 (December, 2017).

For more info on South Jersey Magazine, click here.
To subscribe to South Jersey Magazine, click here.
To advertise in South Jersey Magazine, click here.