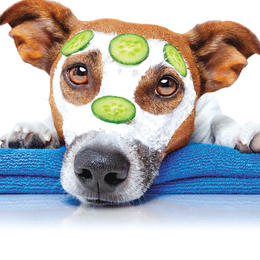 The Secret Life of Pets
It's no secret that dog and cat owners alike are a special kind of breed. While the two may not see eye-to-eye on which pet is more beloved, they can agree that their four-legged animals are so much more than pets—they are family. And just like with any family member, we always want what is best for them and to provide them with the highest level of care possible.
South Jersey Magazine caught up with a few of the area's pet experts to talk about the wide variety of medical treatments available to our pets, took the time to highlight some profound services available and even found a way to give back and pamper your beloved pets.
Paging Dr. Fido
It may be surprising to learn that our pets go through a lot of the same medical issues that we as humans do like heart diseases, reproductive issues and even behavior problems. But what is even more surprising is the vast amount of medical services on the horizon to help your pet maintain their health.
Maple Shade's NorthStar VETS offers an array of medical specialties to help care for pets including a blood bank for those healthy pets that are willing to volunteer. Medical Director Dr. Kimberly Hammer says, "We diagnose aging diseases [like heart disease] in dogs and cats, but then can also diagnose congenital diseases, diseases that kittens and puppies are born with that can often be corrected surgically," says Hammer.
Having two cardiologists on staff who come to the office three times a week and looking to hire a full-time cardiologist, NorthStar can perform minimally invasive procedures, cardiac interventions and even insert pacemakers into dogs who have irregular heartbeats.
They even have a reproductive specialist who is board certified in reproduction, which in the veterinarian world is called theriogenology. The reproductive specialist looks at sperm samples, sperm counts and even sperm viability to determine why a female dog isn't getting pregnant. They also work with owners who want their dog artificially inseminated and even have a method that can inject the sperm directly into the uterus using an endoscope to maximize pregnancy.
Pets even sometimes need behaviorists the way a human might need a psychologist. "The behaviorist consults with pet owners on various issues; the most common thing in cats is inappropriate urination which is a real hardship for people. And then dogs, the main things are aggressive behaviors and fears and anxiety," says Hammer. "The behavior appointments are really long and complicated … it's not just dealing with addressing the behavior of the animal, but it's addressing everything that is going on in the home and all the dynamics of the home including other pets and with people and everything that goes on."
Dr. Ashley Barton, medical director at Red Bank Veterinarian Hospital in Mount Laurel, who is also an anesthesiologist and pain management clinician, says she works mainly with dogs and cats when she performs acupuncture as a way to relieve pain for pets using the Chinese medicine method.
"What acupuncture is intended to do is restore normal flow and balance of qi [flow, meaning natural energy,] and when that happens your body begins to move normally and naturally and releases the pain as it has manifested in the body and promotes general wellness to the animal and people," says Barton.
While the majority of her patients are geriatric, Barton says acupuncture can treat orthopedic diseases like arthritis and even some neurological disturbances. But the dry needle method that is portrayed in most movies and TV shows is not the only form of acupuncture.
"The main type of acupuncture I do is called electro acupuncture and basically sends very well intensity electrical currents right under the skin," says Barton. "It is a light tingling sensation that helps promote the body's natural healing by releasing neurotransmitters and natural pain-killing substances in the brain and that also helps as a way of pain modification."
As acupuncture is a great way to relieve pain in pets without the use of prescription medication, Dr. Judy Morgan takes that a step further at her Clayton Veterinarian Associates practice by practicing holistic medicine. "By having things like acupuncture, chiropractoric, cold laser therapy, it just gives me a lot more tools in my toolbox," says Morgan. "We are encouraging the body to heal itself and not using the medications; we don't have the side effects and have long term healing and not constant Band-Aids."
Performing a lot of chiropractic care, Morgan says owners notice their pets will be moving slower and not as great as usual and will seek out a session. "For most people, we go to the chiropractor and they [say] we will see you three times a week every week for the next eight weeks. The good news is, animals don't need it that often so when we do a chiropractic adjustment, the animal will keep that adjustment for a much longer period of time," says Morgan.
Morgan's practice even has a food therapy program dedicated to creating whole food diets that can cure a number of medical issues. "People will come to me with a pet with a medical issue and I will actually design a whole food-based diet to heal what they have going on," says Morgan. "We have dissolved tumors, we have treated cancers and we use it to treat arthritis, chronic infections, skin disease, ear infections, bladder infections, bladder stones, heart disease and diabetes."
Another huge component of the medical field, even for humans, is stem cell research. Lucky for pets of South Jersey, Saint Francis Veterinary Center is home to the region's first canine-validated regenerative medicine laboratory. This allows pets with injured tissue to be able to use their own stem cells to regenerate and heal. In addition, Saint Francis uses this method to create a new blood supply and decrease inflammation, among other things.
Going a step further past medicine, V-Crest in Moorestown has a temperature- controlled underwater treadmill for dogs to exercise their muscles if they have difficulty holding their own weight. While this sort of thing may be ideal for those in a post-operative circumstance, it will even help dog athletes who are training and those pets who have enjoyed one too many scraps of table food.
Purrfect Pampering
Once we have our pets feeling their best in terms of health, why not let them look their best too while boosting their spirits? Halo House Animal Resort, with locations in Franklinville, Deptford and Sicklerville, makes it their mission to let your pet experience a spa day.
General Manager Kathy Tanguay says people don't want just baths for their dogs anymore, they want the works.
"We have a whirlpool that is a specially built tub that has eight jets in it. We have special doggy bubble bath [soap] that we put in there to help soothe the skin," says Tanguay. "[For] the old dogs, it feels great with the warm water just like it would for a human; the jets make them feel like a million bucks."
But it doesn't stop there.
"We do blueberry facials with antioxidants that helps clean the face better and gets rid of the tear stains that a lot of dogs get in the corners of their eyes and under their jaws," says Tanguay. "We even have Dead Sea mud baths like they have for people, it softens their skins and for those with dry skin it works wonders."
Dogs can even enjoy a 30-minute massage followed by a pawdicure—that's right, a doggy pedicure—where they can have their nails cut, smoothed and painted with sparkles, French tips or even designed to look like candy corn.
It may seem like pet owners are going to extreme lengths to provide top notch care to their furry friends, but to us it's just making sure another family member is being properly taken care of.
Published (and copyrighted) in South Jersey Magazine, Volume 14, Issue 5 (August, 2017).
For more info on South Jersey Magazine, click here.
To subscribe to South Jersey Magazine, click here.
To advertise in South Jersey Magazine, click here.