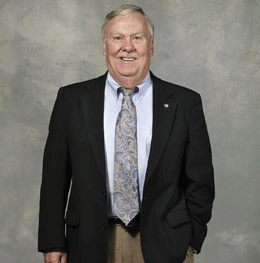 Men of the Year
It's been said before that, with so much work to be done, one should never be content to sit on the sidelines—and this year's careful selection of South Jersey Magazine's Men of the Year embody that. Whether they're dedicated to making health care more affordable for residents of one of America's poorest cities, preventing homelessness among some of the most vulnerable, or volunteering countless hours with local nonprofits that aid the elderly, the sick and at-risk, these businessmen, community leaders and philanthropists are proving that our region is rife with men who truly take that sentiment to heart and are willing to put in the time and make the sacrifices needed to make change happen. Here, we present 17 such men, including this year's Man of the Year—Paul Blackstock.
Val NUNNENKAMP
As a real estate agent, it is important for Nunnenkamp to have a thumb on the pulse of the communities he serves. But to simply say he knows what's going on around town would be an understatement, considering all he's involved in. Currently a board member of the Alzheimer's Association Delaware Valley Chapter, he is also involved with the American Red Cross as a previous board member, an active participant in the annual MS Walk, and a recipient of the 2012 Luminary Award from the Little Rock Foundation, a Voorhees-based group focused on improving the lives of the blind and visually impaired that he has helped raise more than $25,000 for in recent years. He has also fundraised for the Alicia Rose Victorious Foundation, another Voorhees-based charity enhancing the quality of life for teens with cancer and other life-threatening illnesses, and every year he holds a gala benefiting a different local charity.
Joe NJOROGE
For most of his professional career, Njoroge has not just supported nonprofit organizations, he has led them. During the past 10 years, he has served as director of operations for both Habitat for Humanity and The Partnership CDC (Community Development Corporation), and as chief financial officer for the Food Bank of South Jersey, which is his current role, where he also serves as chief operating officer. In addition to his work at the Food Bank, Njoroge also sits on the board of the Mwamba Foundation, a local organization that helps students in Africa complete their high school education by assisting them with their schooling fees and other expenses and providing them with opportunities to hone their professional skills by conducting annual workshops on skills, presentation and workforce integration. He is also involved with Ride For Kids, which he says combines his love of motorcycles and the fundraising outreach to raise awareness and support for pediatric brain cancers.
Lou BERMAN
A single parent to a severely autistic child, Berman has become what he calls an "amateur expert" in areas he never dreamed he would. From child support to insurance claims and everything in between, Berman says any parent with a child with a disability knows how difficult it can be to navigate their world. So that's why the vice president of sales and marketing for Collision Care Auto Body Centers decided to start the non-profit Louie's Voice, named after his son, to benefit autistic children and their families. "Our mission is to help families go down the roads I have gone," he says. "Whether they're hiring attorneys or battling school districts or need help with referrals, we're the place to go to when your child is in crisis." Children with special needs around the South Jersey area benefit from the services Louie's Voice provides, including those at Bancroft in Haddonfield, who Berman hopes to throw a Christmas part for this year.
Doug DIAZ
When asked why he believes it is important for people to volunteer, Diaz has a straightforward answer: "Stated simply, because it's the right thing to do." Raised in a Jesuit educational environment which he says was "not always, if ever, easy," Diaz says he was taught the importance of helping others, and believes "it's easy to forget in the 24/7 lives we tend to lead that there are others less fortunate than us and who have more serious and significant problems." A partner at Haddonfield's Archer and Greiner law firm, the Cherry Hill resident has found his way to help others as the vice president of the board of directors of the Hispanic Family Center of Southern New Jersey, which provides a variety of health and other social services to individuals and families in need. He is also involved with the Pancreatic Cancer Action Network, the Tri-State Human Resources Association and the Chamber of Commerce of Southern New Jersey.
Mario DINATALE
As deputy mayor of Voorhees, as well as branch manager for Konica Minolta Business Solutions U.S.A., Inc., in Mount Laurel, DiNatale has his hands full serving his community on the local level. But after his daughter lost her battle with cancer in 2002, and he and his wife started the nonprofit Alicia Rose Victorius Foundation in her name, he has helped make an impact on the lives of families across the country, as well. Through what started as a small program in their basement that is now housed in the Voorhees Town Center, DiNatale and his wife have helped build lounges for teens suffering from cancer in 58 hospitals across the country, and they have raised thousands of dollars to further benefit those affected by the disease. "Our mission isn't helping to fund the research," he says. "It's just trying to make their time while they're being treated as pleasant as possible."
Bruce MAIN
At the young age of 25, when most young people are still trying to figure out exactly what they want to do with their lives, Main established a summer camp where youth from the troubled streets of Camden could go to enjoy themselves. Today, 26 years later, the camp known as UrbanPromise has evolved into a non-profit organization offering a variety of programs and activities for children who may not otherwise have the chance to enjoy such opportunities, with satellite locations in Trenton, Wilmington, Del., Miami, Toronto, Ontario, Vancouver, Copán, Honduras and Lilongwe, Malawi. When asked why he feels organizations like UrbanPromise are so important to communities, Main says they are what truly make a community thrive. "The anthropologist Margaret Mead said, 'Never doubt that a small group of thoughtful committed citizens can change the world; indeed, it's the only thing that ever has.' I believe the statement," he says. "I've seen first hand the impact of committed people."
Sidney HARGRO
Helping raise funds for those in need is not just a pastime for Hargro, it's also his job. As the executive director of Community Foundation of South Jersey (CFSJ), Hargro takes very seriously the organization's mission to "increase the level of philanthropic investment in southern New Jersey to create thriving, equitable, and livable communities for all." In fact, since he joined CFSJ in 2009, the foundation has grown from approximately $300,000 to more than $11 million in assets and contributed more than $1 million in grant investments throughout the region. In addition to working for CFSJ, Hargro also works with the United Way of Greater Philadelphia and Southern New Jersey, the Council of New Jersey Grantmakers, Creating the Future, and Mill Creek Urban Farm in various capacities, and serves as co-chair on the Camden Funders Affinity Group. "Organizations cannot create change without the power of people who care," he says.
Jeremy SHACKLEFORD
Banking is Shackleford's day job—he's the senior vice president for the Burlington and Camden County region of Susquehanna Bank—but his dedication to the community extends beyond the 9-5, whether it's fostering business growth or learning how to be a community ambassador for the FBI. Along with serving on the Southern New Jersey Development Council's Economic Development Committee, Shackleford is chairman of the Camden County Regional Chamber of Commerce. In addition, he serves on the board of the United Way of Camden County, where much of his time is focused on the Resource Development Strategy Committee, which helps guide the nonprofit's yearlong fundraising initiatives. Also, he is a trustee and Youth Investment Council member of the Camden County Workforce Investment Board, where he helps address services needed for at-risk youth to be successful both in school and the workplace. Recently, the Washington Township resident was among several leaders to take part in an FBI Citizens Academy class, a program aimed at building strong partnerships with civic leaders to help the FBI stay attuned to the needs of the community.
Rob CURLEY
Curley is a respected businessman for many reasons, but there are two that jump out: He's climbed the ladder from being a teller at what was then Commerce Bank while he attended Penn State in 1989, rising through the ranks until eventually being named South Jersey president of TD Bank in 2008; and then there's the fact that his local roots play a large role in his life in and outside of work. Well-known for philanthropy, Curley received the Corporate and Community Leadership Award earlier this year from Bancroft due to his role in TD's support of the Haddonfield-based nonprofit for kids and adults with special needs. He also received the 2012 Corporate Champion Award from the Alicia Rose Victorious Foundation for his support dating back to 2003, and the Volunteer of the Year Award in 2011 from the Boys and Girls Club of Camden County. The Marlton resident also serves on the Samaritan Healthcare & Hospice Board of Trustees, is campaign chair of the United Way of Camden County, chair of the Archway Programs Foundation, and a trustee of the South Jersey Chapter of the Juvenile Diabetes Research Foundation.
Dr. Jeffrey BRENNER
Fragmented health care is a problem in many urban areas due to multiple hospitals located close together that do not necessarily communicate with each other. In Camden, a city where more than half of the residents visit the ER in one year, Brenner saw an opportunity to bridge that gap and help reduce skyrocketing costs. As the head of the Institute for Urban Health at Cooper University Hospital, Brenner founded the nonprofit Camden Coalition of Healthcare Providers in 2003, which brings professionals together—from health care executives to nurses and social workers—and uses a database of patients at all area hospitals to practice preventive care and reduce the amount of re-admissions. From this system, hospitalization information is sent to members of Care Management Teams, made up of an RN, LPNs, a health coach and social worker, to support and coordinate care for patients with complex and often social needs. And his work is getting noticed. In September, Brenner was named a fellow of the John D. and Catherine T. MacArthur Foundation, giving him access to a $625,000 genius grant. On top of that, the coalition received a $2.8 million grant last year from the Center for Medical and Medicaid Services to help it expand its services and hire an additional 14 health care workers.
Jack FANOUS
When Fanous' childhood friend was killed by an IED in Iraq, he honored him by co-founding the G.I. Go Fund in 2006 simply as a way to provide comfort for veterans in the days following their return home. However, the Marlton resident soon realized their needs were much more long-term. Seeing that 14 percent of the homeless population across the U.S. is made up of veterans, the nonprofit has grown to provide assistance in finding employment, acceptance to college, housing, navigating GI benefits, and more. Job fairs are sponsored across the state, including a recent one in Mount Laurel that attracted 400 vets and one in Atlantic City that drew in 3,000. In Newark, a unique city partnership has seen many accomplishments including a class of fire department graduates made up entirely of veterans. With national attention including being highlighted on an episode of ABC's Secret Millionaire, Fanous' organization has grown significantly and plans include expanding to Baltimore, Washington, D.C., and Philadelphia. Earlier this year, he earned the organization $25,000 when he won the Russ Berrie Award for Making a Difference at Ramapo College.
Doug STANGER
Stanger is a prominent bankruptcy and corporate law attorney—he serves on the United States Department of Justice Panel of Trustees—but he's also known for dedicating the past 25 years to serving on the executive board of the regional office of the Anti-Defamation League. In this position, Stanger takes the lead role in organizing events in South Jersey for the local civil rights chapter. He also serves as chair of the Atlantic/Cape May County Steering Committee. Both he and his wife, Gail, were honored earlier this year by the ADL at its South Jersey Centennial Celebration for their efforts. A shareholder for Flaster/Greenberg, which has New Jersey offices in Cherry Hill, Linwood and Vineland, Stanger has also received the New Jersey State Bar Association's Young Lawyers Division "Service to the Community Award." This past September, he completed a 100-mile ride—and helped raise $2,500—in the 11th Annual Battle Against Hunger Bike Ride, a benefit for the Jewish Family Service Food Pantry. He's done similar rides in the past to benefit the American Cancer Society and the National MS Society.
Troy SINGLETON
Singleton is a past board member of Rowan University, the Boys & Girls Club of Camden County, the Garden State Arts Foundation, and more, but since being elected to the State Assembly in 2011, he has focused in on the needs of veterans in our communities. The Palmyra resident has sponsored some 26 bills aimed at helping veterans find employment, such as the Veteran Empowerment and Training Act, which, among other things, created a Helmets to Hardhats program to help them find jobs in the construction industry. For his efforts, Singleton—who works for the Northeast Regional Council of Carpenters—was named State Assemblyman of the Year earlier this year by AMVET–New Jersey. He was also recognized as Legislator of the Year by both The Arc of New Jersey and the Constitutional Officer's Association of NJ. Currently, Singleton also serves as a commissioner on the Burlington County Bridge Commission, which oversees the Tacony-Palmyra and Burlington-Bristol bridges, as well as economic development and regional planning in the county.
Rich TITUS
When Titus and his family moved from Vermont to South Jersey in 2004, he says it was a big change of pace from a quiet small town to a bustling suburbia where people were always on the go. At first, they didn't feel the sense of the community they had in New England, but then they found Burlington County 4-H. The Titus family—both he and his wife and their two daughters—grew up around horses, so joining made sense, but just having his daughters participate wasn't enough for him. Titus himself became very involved, helping set up, break down, direct and announce at horse shows, and then becoming a member of the horse advisory board for 4-H where he served the last four years as president. Titus' volunteer, career and home life blend together a bit. He works as assistant manager of the nonprofit Gleneayre Equestrian Program in Lumberton, which offers riding programs for children facing social or academic challenges. And at the end of the day, it's no surprise that Titus goes home to Medford—to his horse farm.
Jonathan JERNIGAN
A graduate of the Restaurant School of Philadelphia, Jernigan worked as a private caterer as well as general manager for a number of local restaurants before bringing his talents to Camden's Cathedral Kitchen in 2008. Acting as not only executive chef for the city's largest soup kitchen, but also chef instructor for Cathedral's culinary arts training program, Jernigan has helped train former drug addicts, convicts and others in the art of cooking, and has helped them to go on and find related jobs. In fact, since 2009, 129 students have graduated the program, and 75 percent of them were able to find jobs. "I have been fortunate enough to share my knowledge and skills with people who have been through some tough times," the Willingboro resident says. "It is gratifying to know that my work not only motivates others, it gives them a chance that they otherwise may not have."
Jay CIPRIANI
Cipriani may be in the business of building houses, but he has a major focus on helping people, especially those less fortunate, make those houses homes. For the last few years, Cipriani and his company, Cipriani Remodeling Solutions, have donated thousands of dollars in products to Habitat for Humanity's ReStores, nonprofit home improvement stores and donation centers that sell new and gently used furniture, home accessories, building materials and appliances to the public at a fraction of the retail price. As an advisory board member for the stores' parent company, Cipriani also helps the nonprofit organization address various issues such as how to keep volunteers safe while building the homes, selecting locations to build new homes, and what type of products or installation techniques could be used on job sites. Cipriani also sits on the building committee of the Boys and Girls Club in Gloucester County and, while the project is in its final stages of completion and will soon open, Cipriani says he appreciates the opportunity the project has given him to "make a difference in the lives of the children that need us most."
Man of the Year: Paul Blackstock
One could say that volunteering is in Paul Blackstock's blood. And they would be right. After all, it was his father—an inspiring WWII veteran who was so badly wounded on the battlefield that he spent seven years in a hospital recovering—who showed him the rewards of giving back by dedicating his life to helping others after all the assistance he received following his time in the war. "[My father] volunteered for everything. I kind of picked up on that," says Blackstock (pictured).
Today, Blackstock and his equally impressive wife Bernadette are the folks behind the People for People Foundation, a nonprofit organization that started out as a Rotary project to help self-sufficient people experiencing hardships avoid the "grasp of poverty," whether providing food and clothing or keeping someone's heat turned on in the winter. All of this is accomplished using private money and no government funding whatsoever. The response during the past decade has been eye-opening for Blackstock. "Our initial goal was to help 12 people a year," he says. "Now, we help at least 1,000 people a year."
Calling himself a "doer" rather than a "check writer," Blackstock is fully engrossed. "We are healing someone. We are not giving them a handout, we are giving them a hand up," he says. "Everything I do is volunteer." And he's not exaggerating. People for People has grown so exponentially that he left his insurance business behind to concentrate full time on his desire for helping others. His thousands of hours volunteering has led to him (along with his wife) being recognized with the President's Lifetime Achievement Call to Service award.
His one-on-one approach to giving back has produced countless success stories. It's also opened up many new projects to further make an impact. People for People is the lead agency for the Heart of Gloucester County, a collaboration effort of six area nonprofits that team together to try and take a family with children and keep them away from relying on government assistance. They track the family for a year, providing everything from cooking courses to rent assistance. "We are there to make sure they don't slide backward," Blackstock says. After they are on their feet, they still keep monthly tabs, ensuring a support system for years to come. Then there's the coat drives, the work with Comcast to provide families in need with computers, the Gloucester County Veterans' Picnic which drew 1,500 people this year, the life skills classes, teaching people how to write a résumé, how to set up a checking account and budget, and much, much more. Blackstock's group also recently set up Hands Across the County, a database of more than 450 help provider networks. "If we have a need that we can't solve, I'll send it out to 450 different people" to get the assistance.
Listening to Blackstock talk about all the various causes he takes part in, his passion is clearly evident. But, it's his willingness coupled with that passion that make him so admirable. "I sleep well at night. I finally grew up and am doing what I want to do," he says.
Published (and copyrighted) in South Jersey Magazine, Volume 10, Issue 8 (November, 2013).
For more info on South Jersey Magazine, click here.
To subscribe to South Jersey Magazine, click here.
To advertise in South Jersey Magazine, click here.