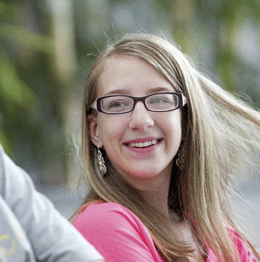 Driving Force
Exactly one year after a tragic accident almost took her life, a Mount Laurel teenager is behind the wheel once again and making a difference in South Jersey.
This past July 3, while many South Jersey residents were gearing up for another lively Fourth celebration, Alyssa Lesher spent the morning with her father Sean and mother Lisa at Cooper University Hospital in a bit more of a Thanksgiving mood. It was, after all, one year to the day since Alyssa found herself in the hospital's trauma unit while a team of surgeons scrambled to save her life.
On this day, Alyssa and her family were there to reflect on where the past year has taken them, and later that night, retreat back to the comfort of their Mount Laurel home where they'd be surrounded by family and friends and celebrate the fact that Alyssa is alive today.
It was just two days after her 16th birthday—July 3, 2012—when Alyssa got behind the wheel of a car for her first driving lesson with Anthony Guerrera, the instructor and a teacher at Lenape Regional High School. When her parents didn't hear back from her around the time the lesson should have ended, they began to worry. Sean Lesher says he happened to be watching the news and there were reports of a fatal accident on Route 70 in Southampton.
"I had a sick feeling in my stomach," Sean recalls. Lisa called her daughter's cell phone and someone at Capital Health Regional Medical Center in Trenton answered. All they would tell them was that their daughter was alert and that they needed to come up there, but when they got there, they were soon faced with a parent's worst fears.
Alyssa and Guerrera had been driving west on Route 70 when another car that was headed east struck the vehicle in front of them, crossed into oncoming traffic and hit the car Alyssa was driving head-on.
The two were unconscious, had to be cut from the car and were flown to Capital Health. The driver of the eastbound car—20-year-old Elizabeth Hynoski of Toms River—was likely distracted, the family believes. She died at the scene.
Both of Alyssa's ankles and feet were broken, and fluid—later learned to be blood—was filling up around the cavity of her heart, which had been punctured. Because of the extent of her injuries, including collapsing lungs, Alyssa was transferred from Capital Health to Cooper. Her father came with her in the helicopter as her mother and aunt drove.
Once at Cooper, the family learned from Dr. Nicole Fox that Alyssa would require open heart surgery, and later surgery for her feet. "Why her? Why our family?" Sean Lesher recalls thinking. "It's a tough thing to get through."
Having to relay the tough news and seeing the parents' reaction is never easy for Fox. "I never forget that that's someone's little girl on the table," she says. In this case, things were complicated because Alyssa's injuries were "particularly rare." "It's rare to do open heart surgery on a 16-year-old girl. ... I still worried about her every single day until she walked out of the hospital," says Fox.
Soon the long journey to recovery began. Alyssa spent 11 days in the intensive care unit—some of them on a ventilator, where her parents stayed with her around the clock, working in shifts—and three more days in a pediatric unit before finally being sent home.
Life was far from normal for the 16-year-old girl who had just concluded her sophomore year in high school. "You take a lot of things for granted," Sean says—like her being in her own room, in her own bed, being able to take a shower by herself.
During those months spent at home and in between the doctor visits and rehab appointments, Alyssa became motivated to try to put an end to distracted driving. "I wanted to do something so that other teens wouldn't get in the same situation," Alyssa says. She reached out to her teachers and, with their help along with her parents, started a campaign called Just Drive.
During school—she returned in September in a wheelchair with a special one-on-one aide—she sold T-shirts to raise money for the campaign. In April, after selling nearly 400 shirts, she presented a check for $3,000 to Cooper University Hospital, earmarking the money for the ICU. "They saved my life," Alyssa says, frankly. "They deserve it."
While distracted driving has taken the spotlight in a number of campaigns, the family believes most of them focus on texting and driving, ignoring other factors that may cause a driver to lose attention: Putting on makeup, reading, drinking, playing with the radio.
Even Fox admits to using her phone on the road, prior to Alyssa's accident. Now, she says, she puts her phone in her purse and ignores it until she gets home. "It was such a wake-up call to me," Fox shares. "Nothing can be that important [that it can't wait]."
Alyssa's close friends have been quick to catch on to her mission, and so has Guerrera, who was also critically injured but made a full recovery and returned to school last September. But there are others that are still distracted. According to Distraction.gov, the government's official website for distracted driving information, 3,331 people were killed in crashes in 2011 involving a distracted driver and 387,000 people were injured. Eleven percent of all drivers under 20 years old involved in fatal crashes were reported to be distracted at the time, according to the statistics.
Even though drivers on the road today may still be distracted, it hasn't deterred Alyssa. When she was ready to get behind the wheel again, her mother took her to empty parking lots to practice. Alyssa doesn't remember much from that day last summer, but still, Lisa treads carefully with anything that might jog her memory. "I'm afraid of something setting off a flashback," she says. But her daughter is both brave and strong, two words that hang from a charm around her neck that her parents bought her after the accident.
Recently, Alyssa completed the remaining four hours of driving time she needed for her permit, and now that she's 17, she'll be going to take her driver's test this November. Life is starting to return to normal, albeit a new normal. Before heading back to school for her senior year this fall, Alyssa plans on shadowing some of the nursing staff at Cooper. It's the field she wants to study when she applies for college this coming year. "I enjoy taking care of people," says Alyssa. "It makes me happy."
Published (and copyrighted) in South Jersey Magazine, Volume 10, Issue 5 (August, 2013).
For more info on South Jersey Magazine, click here.
To subscribe to South Jersey Magazine, click here.
To advertise in South Jersey Magazine, click here.