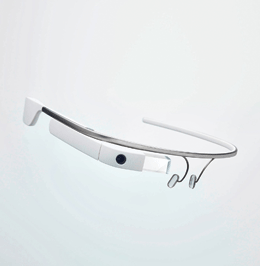 Through the Looking Glass
Cherry Hill man gets unique opportunity to test Google's latest technology.
It's day three of Dan Fischbach's Google Glass experience and the 26-year-old game developer from Cherry Hill is decidedly excited about the potential uses for the wearable computer, which he's getting a sneak preview of months before it becomes available to the general public.
The fact that Fischbach is legally blind hasn't hindered his ability to use the high-tech specs; in fact, it's part of the reason he was selected as one of 8,000 "Glass Explorers" from around the country to test out the latest in buzzworthy technology.
"It's exciting to be part of this," the affable self-described computer geek says. "It's an opportunity to be part of something I think is going to make a huge impact on a lot of levels."
So, what exactly is Google Glass? The easiest way to describe it, Fischbach says, is a wearable miniature computer with a head-mounted display that includes a five-megapixel camera that can shoot stills and videos on command. Displaying information in a hands-free format, Glass can perform Google voice searches and show the results on a little square screen in front of the user's right eye. Commands are made by voice or by tapping and sliding your finger along the touchpad on the side.
"It takes a little getting used to, but it's pretty amazing," Fischbach says of the highly buzzed about product, which is expected to be available to the public in 2014. Fischbach—like the other Glass Explorers—was chosen to get a Google Glass sneak preview via a contest that ran for one week last winter. Contest applicants had to post a message online explaining what they'd do if they could test the device. Fischbach wrote that he'd like to use Google Glass to develop programs "to help the visually impaired, as I am visually impaired myself." A month later, he got word that he was in on the action, but would have to shell out $1,500 for the prototype.
"I read something recently that said 'If someone offers you a seat on a rocket ship, you don't ask what seat—you just get on.' This was kind of like that for me … a once-in-a-lifetime-opportunity, so I went for it," he says.
Fischbach is no stranger to risk-taking—and certainly no stranger to taking on challenges. Born three-and-a-half-months early in 1986, the Cherry Hill native entered the world weighing only 1.5 pounds. His eyesight was severely compromised due to his prematurity; in infancy, he underwent an experimental cryosurgery procedure which preserved some sight in his right eye. Classified as legally blind, Fischbach cannot drive, has no depth perception and can't see 3-D images. None of that, however, stopped him from earning an undergraduate and master's degree, as well as forging a career as a game developer.
"I don't really use any visual aids in my day-to-day life; I just get really close to things," Fischbach explains. In fact, people sometimes don't realize that he has a vision problem "until they see me reading up close or I take off my glasses and they're like 'Wow, those are really thick lenses.'"
Mainstreamed into regular public school classes at a young age, Fischbach grew up using a monocular (similar to what a jeweler uses to examine gemstones) to help him read the blackboard. By high school, he'd graduated to a vision-enhancing device called a JORDY, which looks similar to a virtual reality headset. Despite his vision impairment, Fischbach took part in many "regular" school activities, including archery ("Don't ask," he jokes), and graduated as a member of the National Honor Society from Cherry Hill West High School in 2004.
Always enthralled with computers and video games, he was unsure as to whether the video game industry "would have a place for me as a programmer," so Fischbach decided to pursue a college degree in informational technology, with a concentration in multimedia, at the New Jersey Institute of Technology in Newark.
After graduating cum laude in 2008, Fischbach pursued his master's at the Florida Interactive Entertainment Academy, part of the University of Central Florida in Orlando (UCF/FIEA). He's been a freelance game developer ever since, landing some high-profile gigs such as serving as project lead on "Frantic Frog," a mobile game created by Woodbury-based Island Officials.
"I kept pestering the CEO, Ryan Morrison, because they were in South Jersey and were certified Nintendo developers, and Nintendo has always been my first love when it comes to video games," Fischbach says. In addition to becoming an adjunct professor at Camden County College's Technology Center, where he teaches Internet Tools & Techniques, Fischbach has also worked closely in recent years with a team of game developers in Colorado. It's the same team Fischbach hopes to work with on creating a platform to help the vision impaired using Google Glass.
"Applications could be as simple as the camera in Glass combined with some software to read small text aloud so I don't have to get so close to it," Fischbach says. "Other applications could be edge detection—depths for stairs and curbs—as well as a crosswalk aid."
The community of Glass Explorers from around the U.S. is avidly communicating with one another via message boards and blogs as they get used to wearing the high-tech glasses. "Glass is really a team effort that will result in a better product for everyone," Fischbach says.
It's the potential of Glass that has Fischbach most interested in its future. "Who knows yet what it could end up being able to do in terms of helping people with impaired vision?" Fischbach asks. "I think it has amazing potential and I'm thrilled to be a part of this."
Published (and copyrighted) in South Jersey Magazine, Volume 10, Issue 5 (August, 2013).
For more info on South Jersey Magazine, click here.
To subscribe to South Jersey Magazine, click here.
To advertise in South Jersey Magazine, click here.