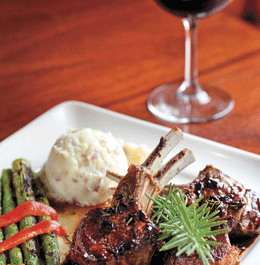 Rode's Fireside Restaurant
In Good Taste: Rode's Fireside Restaurant
533 Kings Highway
Woolwich Township
(856) 467-2700
3.5 forks
Driving through the Gloucester County farmland to Rode's Fireside Restaurant, I was becoming more intrigued. What would a restaurant stuck in the middle of a stretch of open fields possibly have to offer? But, I thought, there had to be a reason so many people had suggested I stop by Joyce and Dave Rode's 20-year-old establishment.
The recently renovated dining room still smelled faintly of fresh paint, and was inviting. It really was like sitting fireside: a room of warm colors and dark woods accented best by the crowd of families and friends sitting around enjoying their company and their meals.
Somewhat surprisingly, the appetizer selection featured a heavy selection of bites you may find at your local watering hole: think Buffalo wings and onion rings. That's not to say that the Buffalo wings aren't satisfying. Particularly, the garlic Parmesan wings were juicy with a nice, crispy skin, and a mild Parmesan flavor. But deep fried finger foods and white table clothes don't often mix. It felt disjointed from the entrée options, as if a bar menu was stuck in the middle of it all.
Still, the order of four jumbo shrimp wrapped in bacon that arrived to our table was surprisingly refined, featuring meaty, juicy shrimp and a nice salty bite of crisp Applewood smoked bacon. Flavors exploded when dipped in the accompanying spiced apricot chutney sauce, which featured a hint of horseradish, blending heat with the sweet. Every component seemed to complement the other just right, and left me wanting more.
Rode's crab cakes were incredibly meaty, so full of lump blue crab that I wondered how they managed to stay together when broiled. The meat was soft and packed with flavor, just lightly seasoned as to highlight the crab's natural sweetness. And the portion size was enough to leave even the hungriest diner satisfied. When it comes to shellfish dishes, this plate stands out, although sides fell flat. The serving of rice was over-seasoned with dried herbs that left a strong and unpleasant taste on my palate, and overcooked asparagus could have used some more attention and a bit of butter.
Crab cakes weren't the only mouthwatering option to pop up on the menu. An impressive selection of seafood—Atlantic salmon and Ahi tuna steak—was listed along with French-inspired chicken dishes and American standards such as pot roast and meat loaf. It seems like nothing is off limits at Rode's, including a Frenched rack of lamb, which arrived with three generous cuts that were cooked to a perfect, juicy medium rare and served in a pool of pomegranate and red wine reduction, a sweet and smooth sauce that mellowed out the slight gaminess of the lamb. But once again, the sides needed something more. Smashed potatoes were gluey and had no flavor, and the aforementioned asparagus made another appearance here.
Having been so pleased by both entrées, I was eager to dive into the dessert menu, which featured a heavy selection of house-made sorbets, cakes and pies. The Oreo-crusted chocolate mousse pie was advertised as a light option, and seemed like an appetizing pick after a heavy meal. But what arrived was a tower of heavy mousse, with the same consistency as a cheesecake—certainly not the light, airy pie that was promised. Some more crunch from the Oreo crust would go a long way here.
When I walked through the door at Rode's, a fine rack of lamb and lump crab cakes were not necessarily on my mind, but leaving the restaurant I couldn't stop thinking about them. As South Jersey's food world continues to grow, it's great to know that you can still find hidden gems hiding in plain sight.
Published (and copyrighted) in South Jersey Magazine, Volume 10, Issue 5 (August, 2013).
For more info on South Jersey Magazine, click here.
To subscribe to South Jersey Magazine, click here.
To advertise in South Jersey Magazine, click here.