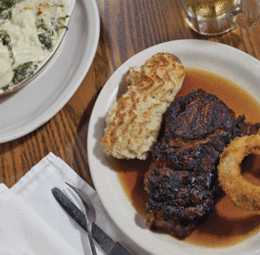 The Pub
The Fan Favorite: The Pub
7600 Kaighns Ave. Pennsauken (856) 665-6440 3 forks
How does a restaurant become a South Jersey landmark? For an answer to that complex question, locals and visitors alike should look no further than The Pub. Even its massive three-letter sign sitting on its roof right off Route 130 is iconic, if not outdated.
The Pub has been serving steakhouse-style dinners almost continuously since 1950, with a brief hiatus in 1960 to rebuild after a fire burned the entire building to the ground. It's been known to seat upward of 500 guests on a Saturday night in the dining area alone, and the bar is constantly packed to capacity on most nights of the week. But how does a steakhouse surrounded by the newer, flashier South Jersey eateries survive for more than 60 years?
Their consistency might be the main key. For one, the interior and exterior of the entire building hasn't changed since its re-opening in 1960. And dishes continue to be served as they always have, with the menu expanding but still serving its original 14 items. It must be why, on any given night, you're likely to find tables of senior citizens with their grandchildren seated next to top local attorneys and their clients. They know what to expect when they sit down for dinner here and there's a lot to be said for that.
Inside, the massive dining room appears to once have been designed around a medieval theme, with bronze statues of knights and soldiers collecting dust next to faded old deer heads. Large round tables were filled with guests, but you could see the words "King Arthur's Round Table" varnished into the wood to further push the theme into your mind. The back wall is lined with six roaring charcoal ovens with addicting smells wafting around the entire evening, and where chefs in beaten down chef's toques and French-inspired neck scarves work for all to see.
It's clear that guests come for the entrées but revel in the free salad bar, as I joined a lengthy line of guests in filling a bamboo plate with gratuitous starters. The selection was standard, but the fine attention to details shined through like fresh-baked zucchini bread and just-fried bacon, still warm from the pans.
An appetizer of char-broiled hickory smoked shrimp came out with the salads, served with cocktail sauce in plastic cups with matching lids. While the presentation may have been no frills, the generous serving of shrimp was briny and perfectly smoky, but slightly overcooked and chewy.
The main event was the steaks, wheeled out to the table on a cart by our waitress. Slow-roasted prime rib, one of the The Pub's longstanding specials, arrived in its au jus with Yorkshire pudding and a baked stuffed potato. Large parts of the cut were dreadfully overcooked and had to be cut away, and it would have benefited from much more au jus, but the soft center was as flavorful and decadent as a prime rib should be. The Yorkshire puff, a bread baked in the drippings of the meat it's served along, was generally flavorless, but the twice-baked potato was creamy and well-seasoned, and didn't survive long on the plate.
I could find no flaws in the 16 oz. rib eye, still crackling from the charcoal grill. The exterior was crispy and salty, and the inside was tender and bursting with natural beef flavor. We selected a side of creamed spinach to accompany the steaks, which didn't quite measure up to the oh-so-succulent meat and potatoes.
For the grand finale, I feasted my eyes on the turtle cheesecake spinning in the diner-style glass display case in the foyer. It was a monstrous slice of creamy cake, drizzled with caramel and chocolate sauces and finely crushed pecans, and was as decadent and rich as a slice of cheesecake should be.
As we were leaving The Pub, I could understand what kept this institution standing so resolutely: a tireless attention to tradition and details that will always be appreciated. And when you've got such a good thing going, why make a change?
Published (and copyrighted) in South Jersey Magazine, Volume 10, Issue 5 (August, 2013).
For more info on South Jersey Magazine, click here.
To subscribe to South Jersey Magazine, click here.
To advertise in South Jersey Magazine, click here.