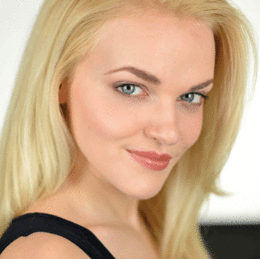 Pageant Queen-Turned Prisoner
One former Pitman woman is trading the crown for cuffs in Netflix's gritty new series.
Critics and fans alike have been raving about the newest original series on Netflix, Orange Is the New Black, written and directed by Weeds creator Jenji Kohan and starring Jason Biggs and Laura Prepon. The comedy-drama follows urban aristocrat Piper Chapman through a 15-month sentence in a federal women's prison as she tries to survive harsh conditions, struggling outside relationships and strange cell mates. Netflix released the entire first season for registered users in July as part of their new collection of original shows that are earning Emmy nominations and plenty of nods of approval from critics across the country.
One of the characters is Tricia Miller, played by 21-year-old Madeline Brewer, a former Miss Pitman who made her on-screen debut in OITNB. Brewer plays a young misfit with cornrows, tattoos and a crippling heroin addiction who is struggling to keep the relationship with her prison girlfriend alive. Not the typical role for the blonde beauty, but a dramatic part that led to a major turning point in the show's first season (the show has already been renewed for a second).
We talked with Brewer to hear her thoughts on this new medium for original programming and the challenges of the role.
SOUTH JERSEY MAGAZINE: You have experience in pageants and on stage. Why the switch?
MADELINE BREWER: I've been doing theater my whole life and went to school for musical theater, and my first audition just happened to be film, and it just so happened to be for Orange is the New Black. I love that I can play a new character at any time on film. In a play, you research the parts that have been played before, but in TV you are creating all on your own. I love being able to create a character and figure out who they really are. It gives you the freedom to discover.
SJM: What was your first experience on camera like?
MB: The first day, I went in and got my hair and make-up done and right away I met Jason Biggs and Laura Prepon. I was totally star struck. Seeing how it works, and how you make a TV show, it's really incredible.
SJM: Netflix's original streaming shows are still a pretty unique concept. Was that a draw for you?
MB: I think it's a fantastic idea personally. They pick some real winners, and I think it's great for users. And it's so convenient, I love being able to watch 30 episodes of a show if I want to.
SJM: Did you audition for the part of Tricia? Why did you choose to pursue that particular character?
MB: When I read the breakdown, it said that she was tough and a real, hardened criminal and I thought, "What on earth are they doing to me?" It was the longest shot in the world, and this was my first on-camera audition, so I had no idea what I was doing, but I gave it my best shot.
SJM: Do you see any similarities between you and your character?
MB: You wouldn't even believe. ... As I progressed and the show developed, I began to learn about Tricia and her relationships and her girlfriend in prison. I learned that she has so much love to give, and that's what I love about her. You think of these women in prison as hardened criminals, that don't have the capacity to love, and they really, really do.
SJM: How did your family and friends react when they saw you in full costume for the first time?
MB: Everybody was in shock. They see me in the cornrows with this giant neck tattoo and say "No way, that is not you." The make-up is incredible, everybody has that same reaction. It takes people back; everybody that's known me my whole life, especially through my work with pageants and musical theater, they'd think I'd be more likely to play Elle Woods in Legally Blonde, but this is the total opposite. I love it.
SJM: How do you find a way to relate to a character that seems to have such a different background than your own?
MB: It was of course an experience that I've never been in, and I never plan to be in it, but I feel like every character is relatable. As actors, we're essentially creating these characters as we go along, and I tried to bring myself into it as much as I could. ... Personally, I've never really been that in touch with my emotions; I had a wall up, and I really had to dig deep and open up because Tricia is so open to love. It was a really incredible experience for me.
SJM: Are you interested in playing parts like Tricia Miller in the future, or do you want to go in a different direction?
MB: I'm not closed off to doing anything. I want to experience everything, especially things as different as Tricia. It was such a different time for me and now I could go for the complete opposite. I wouldn't mind a little glitz and glamour after spending the last six months in khakis and cornrows.
SJM: So what's next for you?
MB: I audition a lot, just like every other actor. I'm living in Harlem, but I spend every weekend back home in Pitman. I'm a small town girl at heart.
Published (and copyrighted) in South Jersey Magazine, Volume 10, Issue 5 (August, 2013).
For more info on South Jersey Magazine, click here.
To subscribe to South Jersey Magazine, click here.
To advertise in South Jersey Magazine, click here.