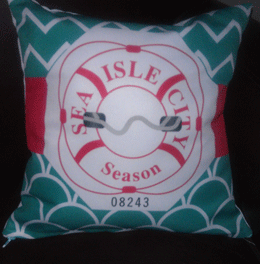 Southern Exposure: August, 2013
…From the pages of South Jersey Magazine…
Go Figure
$1,000,000: Price of the winning Powerball ticket sold in Newfield for the drawing on July 13.
50,000: Number of pavers, in square feet, used at the Statue of Liberty from EP Henry in Woodbury. The historic landmark, along with Ellis Island, has been closed since Superstorm Sandy hit, and EP Henry helped reopen the area for July 4.
228: Number of employees that will be out of work when three Pathmarks in the area—in Cherry Hill, Camden and Edgewater Park—close at the beginning of September.
3: Number of cars involved in a wreck on the White Horse Pike in Galloway after a woman abruptly stopped to allow a turtle to cross the road in front of her car.
TWO: Number of drivers that sustained minor injuries. The turtle escaped unscathed.
$35,000,000: The cost of Atlantic City's Resorts Casino's Margaritaville, a Jimmy Buffett-themed restaurant featuring a tiki bar and beachfront dining options.
2: Cape May's national ranking out of 20, according to the CheapHotels.org list of the most expensive hotel rooms of the summer. Only Provincetown, Mass., was considered more expensive.
$204: The least expensive hotel room available in Cape May, per night, from July 1 to Aug. 30.
4: Placement, in the state, for men in Burlington County and women in Camden County in an obesity study conducted at the University of Washington.
$1,400,000: The amount of funding issued to the Battleship New Jersey in Camden by Governor Chris Christie and the state Department of Environmental Protection, which will be used to pay for its utility and tourism operations.
Hit or miss
Flyers head coach and Voorhees resident Peter Laviolette was selected as the Team USA assistant coach for the 2014 U.S. Olympic men's ice hockey team for this winter's games in Sochi, Russia.
The Collings at The Lumberyard began work on a new 70-unit, five-story apartment building in Collingswood. The apartments are expected to be available for rent in the summer of 2014.
Solar Impulse, the solar aircraft that became the first aircraft to fly fuel-free for a full day and night, and pilot Andre Borsheberg, took a detour and crossed over Atlantic City while on the cross-country journey from San Francisco to New York City.
Atlantic City's Trump Taj Mahal has announced it will open the country's first strip club in a casino this August. The $25 million complex will be located on the casino's second floor.
A Deptford woman is recovering from severe sunburn, jellyfish stings and dehydration after she drifted into the Caribbean Sea for 16 hours. The 20-year-old was collecting coral samples during a swim in Honduras for studies with the New College of Florida when currents pushed her out to sea. She eventually made her way back to land and into medical care.
Cherry Hill's Yale Academy has been forced to change its name to Y2 Academy after they were sued by Connecticut's Ivy League school Yale University. Yale University officials stated the name was confusing to students from Asia.
Home Grown: Tag, You're It
Jersey Shore-goers are raised with beach tags. Whether collecting different years' tags from your favorite Shore, or inventing new ways to dodge those pesky tag inspectors all summer, they're synonymous with our local beaches.
When South Jersey native JoAnn Vecchio noticed the increasing appeal and popularity of beach tags—known as beach badges to anyone north of LBI—she helped create Beach Badge Bling, a company that specializes in unique home wares designed entirely around beach tags from years' past.
In recent times, teens and adults have begun collecting their tags over the years as a souvenir and a way to savor their Jersey Shore memories. "Kids are collecting, selling [the tags] and they have become so big," Vecchio says. "We wanted to capitalize on this so [we] created a line that highlights the tags."
The company's newest line features various items that are emblazoned with vibrant beach tag facsimiles. On BeachBadgeBling.com, you'll find products like pillows, wine holders, doormats and even onesies. All come with beach tags from various Shore spots: Sea Isle City, Cape May and Avalon, to name a few. "We all have our favorite beach towns and with that comes years of buying and wearing beach tags," Vecchio says. "We have created a way so that they are not for summertime only."
Not only will Beach Badge Bling's products help preserve your seaside memories as the summer winds down, but they also do good, with a portion of the proceeds benefiting the Hurricane Sandy Relief Fund. Summer may be winding down, but it's easy to keep the Shore memories alive until next season.
Street Level
Camden County
Waterford: A local physician was sentenced to two years in prison for health care fraud. The doctor repeatedly submitted false claims of services to elderly patients out of her Hammonton location.
Burlington County
Mount Laurel: Two Maple Shade boys were arrested following an incident at the East Gate Square Dick's Sporting Goods. They allegedly hid in the store until it closed, then attempted to steal merchandise. They also broke into the ammunition cabinet and shot arrows through the store, causing more than $1,200 worth of damage.
Book It: Clearing the Air
Philadelphia sports fans love a good, clean fight. But the one they've been waging against the national media for decades now has been anything but fair.
While Philly fans have certainly earned—and often embraced—their reputation for being tough, the notion perpetuated by the so-called experts that boorish behavior only takes place in our ballparks and arenas is simply not true.
Woodbury's Joe Vallee decided enough was enough and chose to take the fight to the national media. Vallee, a graduate of Bishop Eustace Prep and St. Joseph's University, came up with the idea for the book A Snowball's Chance: Philly Fires Back Against the National Media, in which he and coauthors Dennis Bakay, Matthew J. Goldberg, Ryan Downs and Billy Vargus call out the press for their mistreatment of Philly fans.
The book attacks long-held stereotypes, such as local fans driving away the town's superstars or always being drunk, loud and obnoxious during games. It also discusses such incidents as Santa Claus getting booed and pelted with snowballs at an Eagles game, which is where the book's title comes from. Vallee calls it "the single most overblown incident of sports fandom in history," and gets the perspective of Frank Olivo, who was actually in the Santa suit that day at Franklin Field.
A Snowball's Chance features interviews with such well-known Philadelphia sports personalities as Dan Baker, Merrill Reese, Ray Didinger, Mike Missanelli and Howard Eskin. It also gets insights from former players like Bernie Parent, Mike Quick and Larry Bowa, with final remarks from former Phillies closer Brad Lidge.
Names to Know
Local people making a difference in South Jersey and beyond
Glendora's Christopher Britton is using his past experience with lung disease and asthma to benefit others as he braves a 3,400-mile bike trek across the country. Britton created a fundraising campaign with the American Lung Association for his six-week-long ride from New Jersey to Washington, with the hopes of spreading awareness and raising funds for breathing and lung-related disorders and diseases.
Gloucester County College head baseball coach Mike Dickson was named the winner of the Skip Bertman National Coach of the Year Award. Dickson has coached the Gloucester County College Roadrunners for eight years, leading the team to two NJCAA National Championship titles, including one this year, and five NJCAA World Series tournaments.
Highland High School chemistry and physics teacher Ted Schoening, a Philadelphia Phillies vendor during the summer, was selected as Citizens Bank Park's All-Star vendor honoree, and featured at Major League Baseball's 2013 All-Star Game at Citi Field last month. Schoening was selected as the only vendor to represent Philadelphia for his hard work and continuously positive attitude during his seven years at Citizens Bank Park.
Joseph W. Devine has been named President & CEO of Kennedy University Hospital. A 27-year veteran of the Kennedy organization, Devine will take over as President & CEO of the Kennedy Health System in October, when outgoing Health System President & CEO Martin A. Bieber retires.
Cherry Hill's Lisa Kosteleski, a student-athlete at Burlington County College, was awarded the National Junior College Athletic Association Award for Superior Academic Achievement. Kosteleski was the only student in Burlington County to receive this national award, which is given to student athletes with a GPA of at least 3.80.
Dr. Christopher Olivia has been named the new president of Continuum Health Alliance in Marlton. Olivia previously served as the president and CEO of Cooper Health System in Camden before moving to Pittsburgh to serve as the president and CEO of the West Penn Allegheny Health System, and returns to South Jersey to oversee initiatives for Continuum.
Published (and copyrighted) in South Jersey Magazine, Volume 10, Issue 5 (August, 2013).
For more info on South Jersey Magazine, click here.
To subscribe to South Jersey Magazine, click here.
To advertise in South Jersey Magazine, click here.