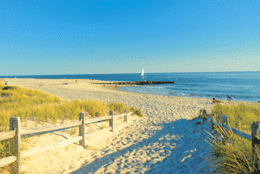 Best of the Shore
111 Things That Make Our Summer … Plus What's New
After Sandy hit our coastline last fall, many wondered if the Shore as we know it would still exist. And while much of the destruction was seen in the northern part of the state, our area certainly wasn't spared completely. Ask anyone with a house on LBI about the emotions they felt the first time they were able to navigate their cars down sand-blown streets littered with houses that had foundations ripped apart like pieces of a napkin. Or the rescue workers in Brigantine that borrowed skiffs from the local rowing club so they could float down main roads in an effort to bring stranded residents to safety. By now, you've likely seen the advertisements touting the Jersey Shore as being "stronger than the storm." While certainly a ploy to lure tourists to our beaches, it also speaks true to those of us who have a much deeper connection. Communities have banded together to bring back a sense of normalcy. Things may look a little different and there's still work to be done, but the Shore is very much alive and kicking.
For our annual Best of the Shore roundup, we decided to reflect upon the things that make a trip down the Parkway so great. So join us as we count the reasons why the Jersey Shore has become our home away from home. We'll see you on the beach!
No. 1
AAAA Bike Shop. Whether you're looking to buy some new wheels or just rent for the day, the staff at this Ventnor wheelhouse knows their stuff and are overwhelmingly friendly and ready to assist.
No. 2
The Anglesea Blues and BBQ Festival. This street festival cranks up the tunes and brings plenty of lip-smacking goodness to North Wildwood over the course of a weekend (this year from July 12-14), drawing barbecue champions from across the country that attract hungry crowds lining up down the block.
No. 3
The Annual Stone Harbor Arts and Crafts Show. One of the most well-attended events at the Shore, vendors file into the Stone Harbor Recreational Field to sell all types of wares.
No. 4
Arancini from Azzura Pizzeria and Ristorante. This casual Sea Isle restaurant is well known for their pizza, but we can't resist these delectable rice balls with a side of marinara sauce.
No. 5 Art exhibits at Ocean Galleries. Renowned artists, including local favorite Peter Max
and Graham Nash (yes, of Crosby, Stills and Nash) showcase their works this summer at locations in Stone Harbor and Avalon.
No. 6
Baked Jersey Tomato Soup at the Varsity Inn. This Ocean City delight puts one of the Garden State's finest products front and center for your taste buds to devour.
No. 7
The Bar Menu at the Sea Grill. From prime rib sandwiches to roasted red pepper and tomato salsa, this menu makes eating at the bar a treat whenever we're in Avalon.
No. 8
The Barnegat Bay Yacht Racing Association. This group of 14 yacht and sailing clubs around Barnegat Bay took some hits last fall when many of the areas were devastated by Sandy, but they have shown great resolve to restore the fleets just in time to mark their 100th anniversary.
No. 9
Boardwalk Rides. From the thrills along Morey's Pier to the family fun atmosphere on the Ocean City boardwalk, it's just one of those rites of passage.
No. 10
The Blackened Mahi Mahi Wrap at Bobby Dee's Rock'n Chair. Charred fish with a salsa of black beans and corn, tomatoes, lettuce, onions and both a chipotle sour cream and a chimichurri sauce. Need we say any more?
No. 11
The Bookateria Two on Asbury. Used books rule at this Ocean City literary haven, which is just what you need when you're down the Shore and looking for a beach read or two. The best part of this story? You can trade in books for store credit.
No. 12
Booze in Cape May. Between Cape May Winery and Vineyard and Cape May Brewing Company's local brewery, there are some great local libations being concocted here. Take a tour (self-guided at the winery) and enjoy some samples all while supporting local business.
No. 13
Bread from the Bread and Cheese Cupboard. More than just a place for pastries, this Stone Harbor bakery cranks out some great bread for lunch, dinner or your next party. Think loaves like cheddar and asiago or garlic and herb baguettes.
No. 14
Breakfast in the Sky. You might have been on Morey's Piers Ferris wheel before, but chances are you haven't eaten breakfast on it. Now you can enjoy the first meal of the day complete with white linens and china—the whole nine yards. It gives a whole new meaning to sunny side up.
No. 15
The Breakfast Sandwiches at McGowan's. The Junkyard Dog (scrapple, pork roll, bacon, eggs and cheese on a long roll) and the Big Country (eggs, ham, cheese, home fries, fried onions and peppers on a long roll) are just a few of the options at this Sea Isle outpost where breakfast is served all day.
No. 16
Brunch at The Gables. Outsiders may not know this Beach Haven spot for their brunch, but the locals are plenty familiar. Smoked salmon benedict, goat cheese quiche and ricotta lemon blintzes are just some of the coveted dishes here.
No. 17
BYOB Tuesdays and Sundays at Tomatoes. While we love the modern bar here, we relish the chance to pair our own choices with the Margate restaurant's favorable menu.
No. 18
Cannolis from Aversa's Bakery. We love the local locations, so we're thrilled to be able to find the same terrific homemade Italian pastries in Margate. Made fresh and perfect for dessert after Sunday dinner.
No. 19
The Cape May County Zoo. Perfect for the kids, but entertaining enough for the adults, too, with more than 200 species to behold. Not to mention that ADMISSION IS FREE.
No. 20
Cape May Crab and beer festival. This annual festival (Aug. 10 this year), combines local brews with local food for a one-of-a-kind summer event.
No. 21
The Cape May Whale Watcher. This ship leads guests on a journey across the water where you can opt for a whale and dolphin watching excursion. If you haven't done it, it's one of the more underrated experiences along the Jersey Shore.
No. 22
Catching the Game at Stone Harbor Bar and Grill. With 20 HDTVs, all the sports packages, billiards and some arcade games, this is the perfect place to catch all the action while snacking on above average pub grub.
No. 23
Cheesesteaks at Dom's Drive-In. For more than three decades, this Beach Haven go-to spot has been serving up as authentic a Philly cheesesteak you can get outside of South Philly.
No. 24
Chicken Nancy at Concord Café. This casual foodery in Avalon specializes in memorable bites, like this chicken steak with sautéed spinach topped with fresh tomatoes and mozzarella cheese.
No. 25
The Chicklet at Baja Blend. This Sea Isle sandwich is slow-cooked chicken, a layer of hummus, cheese, shredded carrot, tomato, onion, greens and house dressing.
No. 26
The Chocolate Souflee Torte at Fuze Italian Ristorante. This decadent dessert is rich, satisfying and the perfect way to end a romantic dinner for two at this Avalon eatery.
No. 27
Cinnamon Buns from Ward's Pastry. Famous along the Jersey Shore and beyond, this Ocean City bakery has been cranking them out for more than 75 years. And they ship!
No. 28
The Clam Bake for 2 at The Lobster House. When we're at this Cape May institution, we skip the inside and head straight to the dockside for the atmosphere and boat watching. But if we want to relax at home, we order up this to-go masterpiece of lobster tail, shrimp, clams, mussels, corn and potatoes. A true taste of summer.
No. 29
Clam Chowder at Smitty's Clam Bar. New England or Manhattan, it doesn't matter; order up a bowl at this Somers Point mainstay. In fact, order up both.
No. 30
Coffee from Avalon Coffee Co. With locations lining the coast, this place is a franchise with a family focus. They roast some pretty mean coffee, too.
No. 31
Concerts at Ocean City's Music Pier. From chart-topping acts to up-and-coming talent, these shows are some of the most well attended all summer, thanks to a fabulous venue where the whole family can gather.
No. 32
Cookies From Crazy Susan's. There's a reason why the Food Network, Rachel Ray and scores of Ocean City residents love their cookies in flavors like mint chocolate chip, Butterfinger and oatmeal cherry coconut.
No. 33
Crab and Rock Shrimp Cavatelli at The Back Yard. One of our favorite menu items in all of Stone Harbor, the pasta and seafood blend together with a yellow tomato "butter."
No. 34
Crab Feast Friday's at Keenan's. Start the weekend off on the right foot at Peggy's Crab Shack within this popular Irish pub in North Wildwood with half-priced crabs and other specials.
No. 35
Crepes at Ma France Creperie. From sweet options like Nutella with fresh fruit and dark chocolate with coconut flakes to the savory choices like bacon, garlic, sautéed potatoes and Swiss cheese, this is a little slice of France in the heart of Ocean City.
No. 36
Crispy Skin Barrumundi at Café Loren. We're so thankful this fine dining restaurant was able to renovate after Sandy dumped nearly 30 inches of water into the space. Had it not, we wouldn't be able to eat one of our all-time favorite entrees that comes with a Jersey clam cake, grilled zucchini, red onion marmalade and scallop emulsion sauce.
No. 37
Custom Martinis at Martini Beach. A can't-beat price ($5) that comes with a can't-miss view of the Cape May beach from the second deck seating. And we love that the special runs seven days a week, from 3 to 5 p.m.
No. 38
Dinner and a Show at Cape May Stage. This theater, where Anne Hathaway's mother is known to hit the stage, partners with some of the best restaurants in town for a one-of-a-kind shore experience.
No. 39
Donuts from the Fractured Prune. Fancy, and we mean fancy, donuts are all this Ocean City bakery knows, like lemonade, peppermint patty or French toast. You can even create your own from 11 toppings and 15 glazes.
No. 40
The Doo Wop ­Motel District. There's plenty of neon along this retro strip in Wildwood, but it also has great history to those Wildwood Days Bobby Rydell used to sing about 50 years ago.
No. 41
Dream Makers Concierge Service. This LBI concierge service does it all, including delivering towels and chairs to you on the beach, even groceries delivered to your front door. They'll personalize any package, even lining up the essentials so when you arrive, your time spent is stress free and not in the supermarket check-out line.
No. 42
The Duck Duet at Union Park Dining Room. Refined dining in Cape May at its best. Seared duck breast and duck confit hash with an arugula and pear salad with sherry drizzle.
No. 43
Endless Summer at Steve and Cookie's. We hang 10 at this refined Margate restaurant by the bay on Tuesday nights. With happy hour specials from 5 p.m. to close in the oyster bar as well as live music and classic surf films on the big screen, it's totally awesome.
No. 44
Fettuccini Alfredo at Ristorante Luciano. At this Stone Harbor restaurant, the key to this dish is the pasta is homemade, so you can taste the freshness with every savory bite.
No. 45
The Flower Power Drink at The Whitebrier. What do you get when you combine Sam Adams Summer Ale, gin and elderflower liqueur? An amazing drink that will have Avalon buzzing all summer long.
No. 46
French Onion Soup at The Chatterbox. No trip to Ocean City is complete without a meal here. Try their French onion soup—no matter how hot it is outside—served in a big crock, with plenty of melted, gooey cheese on top.
No. 47
Fresh, Hot Bagels from Hot Bagels and More. With locations in Somers Point, Brigantine, Northfield and Margate, this bagel shop serves up hand-rolled, New York-style bagels in many varieties, including unique favorites like trail mix, jalapeno and super whole wheat, and spreads like apple cinnamon and bacon horseradish.
No. 48
Fried Olives Veniziana at Fresco's. We head to Cape May to get a taste of kalamata and green Sicilian olives which are lightly breaded and pan fried.
No. 49
Full Moon Parties at the Sea Shell Resort and Beach Club. People go wild for these parties in Beach Haven that in the past have included everything from drink specials and live entertainment to photo booths, a mechanical bull and palm readings.
No. 50
The Gardens at Herefort Inlet Lighthouse. Picturesque, private and serene. This half acre of blooming beauty in North Wildwood is the perfect place to get away from the busy Shore life and enjoy some alone time.
No. 51
Garlic Clams from Ship Bottom Shellfish. Broiled in garlic butter and served with crab meat (optional), this is a fan favorite.
No. 52
Gelato Milkshakes at Aunt B's. We flock to Brigantine for these sinfully sweet beverages.
No. 53
Ghost Hunting Tours in Ocean City. Did you know that spirits haunt this Shore town? Time to grab a flashlight and investigate during a nightly tour.
No. 54
Gluten–free Options at Arlene's on Asbury. For those suffering from this allergy, breakfast rarely includes pancakes or French toast. But Ocean City's Arlene's has a full menu of gluten-free options including pancakes, cinnamon raisin French toast with fruit toppings, and muffins.
No. 55
Grilled Lamb Lollipops at Marie Nicole's. A renowned spot in Wildwood, we love the tender beef that comes with an apple and dried cranberry chutney for a hint of sweetness.
No. 56
The Hamburger Menu at Woodie's Too. This L.B.I. burger joint offers 37 varieties, including one with, ahem, peanut butter. No frozen patties here either; the meat is brought in fresh every day.
No. 57
Hank Sauce. Like your food with a little kick? Then this is the stuff for you. Those who frequent Sea Isle are keen to the stuff already, as well as their restaurant in town.
No. 58
Happy Hour at Baia. With live music seven days a week and three waterfront decks, this Somers Point joint is happening. That goes double on Reggae Sundays, when festive island rhythms may put you in the mood to skip out of work on Monday.
No. 59
Healthy Food Options at Green Cuisine. From their countless salads, hummus and pitas, to their menu of smoothies and chilled juice to order, this Stone Harbor restaurant is the perfect place to detox.
No. 60
Hoagies from Brady's Hoagie Dock. Hoagies rule at this casual Avalon space. We're partial to the turkey, featuring fresh-roasted meat and available in their classic 24-inch "humongous" size.
No. 61
Homemade Lasagna at Marabella's. It may not be your kitchen, but when you visit this family restaurant in Stone Harbor and close your eyes, you can envision all the love that goes into this home-cooked meal.
No. 62
Hot Dogs. From the good old-fashioned grilled dogs at Junior's in Margate to the weird yet wonderful combinations at Maui's Dog House in North Wildwood to the inventive options at Hot Dog Tommy's in Cape May where vegetarians can nosh on the carrot dog (a grilled carrot that can be topped with any of their hot dog toppings).
No. 63
Huevos Rancheros at The Red Store. This former general store in Cape May cranks out some great lunch and dinner options, but it's also a must-visit for breakfast. Here, pulled pork that has been smoked in-house is mixed with black beans, a house-made biscuit, cheddar cheese, over easy eggs and fresh Mexican crema.
No. 64
Juan Pablo's Margarita Bar. Wildwood's Juan Pablo's makes the best margaritas down the Shore, including their Cozumel margarita: Patron Silver, Grand Marnier, and orange juice garnished with a Tequila-soaked pineapple. Cheers!
No. 65
Jumbo Lump Sweet Crabmeat at Sofia. Served as a raw bar dish at this Mediterranean-influenced Margate restaurant, it's all crab and certainly no filler. Karaoke at theBoiler Room.
No. 66
This cramped club inside Cape May's Congress Hall has a basement feel complete with plenty of bare walls and raw metal. But there's something about the intimate vibe that makes the karaoke more exciting than any American Idol finale.
No. 67
Langosta Tacos at the Taco Shop at Quahog's. It's take-out only at this extension of the popular Stone Harbor seafooder, but it may be hard to make it all the way home without diving into these tacos of grilled lobster with avocado and a Mexican mayo that packs the right amount of heat to go with sweet pineapple.
No. 68
Learning to Surf with LBI Surfing. This surf school will teach individuals or small groups how to catch their first wave or learn to paddleboard. These local experts not only know where the waves are, but their special HD surfboard cameras will catch all the action so you can take the memories home.
No. 69
Limoncello Blueberry French Toast at George's Place. It's hard to single out George's in Cape May just for breakfast, but this popular plate will have you thankful you didn't skip the most important meal of the day.
No. 70
Live Music at Carney's on the Beach. If live music is your thing, look no further than Carney's in Cape May. This lively spot has bands performing every night of the summer except Mondays and Tuesdays.
No. 71
Lobster Caesar at the Ebbitt Room. Nothing at Cape May's Ebbitt Room is ordinary, so why should the Caesar salad be any different? The classic menu item is elevated thanks to the addition of premium protein and a truffle Caesar dressing.
No. 72
Love the Cook. This Cape May foodie heaven has it all for the gourmand who prefers to cook their Shore meals from scratch. From utensils to cookbooks, house-roasted coffee and loose leaf teas.
No. 73
The Margate Community Farmers Market. Held every Thursday from 8:30 a.m. until 12:30 p.m., it's the perfect way to stock the pantry for the weekend.
No. 74
The Mimosa Menu at Mad Batter. From the traditional to offerings like pineapple, pomegranate and another with Grand Mariner. We come to this Cape May hotspot for the breakfast, but after a late night, this cures what ails you.
No. 75
Moonshine Mojito at Cattle and Clover. Your typical mojito gets a kick thanks to the white whiskey shaken with muddled mint, limes, and topped with a splash of lemonade and soda at this Wildwood steakhouse with plenty of Irish flair.
No. 76
Moules Frites at Salt Ayre ­in Ventnor. The LoBianco family may have packed their bags and left Collingswood a few years back, but luckily you can still get a taste for their cooking with this mouthwatering appetizer of steamed PEI mussels with fennel, leeks, basil and tarragon in Belgian beer with a side of handcut fries.
No. 77
The Mozzarella Garlic Bread at Voltaco's. Garlic and mozzarella heaped onto a perfectly baked hunk of Italian bread—what's not to love about one of the specialties on the menu at this cozy Italian O.C. favorite?
No. 78
Make your Own S'mores Hibachi at Phillipe Chin French-Asian Bistro and Deck Bar. Over in Som­ers Point, it's an interactive dessert that features Belgium chocolate, marshmallows, candied ginger or raspberry guimauve.
No. 79
Nightlife Options at the Princeton. With three distinct bars, it's a hit with Avalon crowds young and old, but the best part may be the free shuttle that will pick you up at your house and bring you home after you've danced the night away.
No. 80
The Ocean City Dog Park. Open seven days a week, from dawn till dusk, this is the perfect place to let Fido roam with his friends. If your pup was well behaved during your visit, stop by the Animal House in town for some toys or treats.
No. 81
The Omelets at Hannah G's. With 13 options—from cheese, peppers, onions and potatoes to Swiss cheese, broccoli, bacon, mushrooms and tomatoes—this Margate favorite is a hit come breakfast time.
No. 82
Offshore Fishing with Over Under Charters. This group offers everything from 10-hour shark excursions to 22- and 46-hour tuna charters, not to mention striped bass fishing, deep-sea fishing and countless other ways to spend some time on the boat.
No. 83
PAT Sliders at Braca Café. This Sea Isle café puts a clever twist on the classic BLT. Here, the bacon is replaced by its Italian cousin, pancetta, and the iceberg is gone in favor of arugula.
No. 84
From Lucy the Elephant in Margate, to The Whale Mural on the Boardwalk in Ocean City, to the postcard-esque Wildwoods sign on its Boardwalk and the Victorian charm of Cape May. The landmarks down the Shore are plentiful and make for lasting memories.
No. 85
Pig Roasts at Okie's. This longstanding Surf City butcher shop will make your next backyard get-together a hit. They roast the pig on the spit; all you have to do is come pick it up.
No. 86
Pizza at Panzone's. Sam's vs. Manco and Manco's. Everyone has an opinion; everyone is a winner. But this pizzeria with locations in Surf City and Beach Haven shouldn't be overlooked, especially for their specialty pies that come extra thin by request—just don't overload the toppings.
No. 87
Pollo Ruscello at Basilico's. This Sea Isle go-to serves a prosciutto-wrapped chicken breast stuffed with spinach and golden raisins, then plates it atop a saffron risotto, sundried tomatoes and peas.
No. 88
The Pool at the Windrift. This outdoor heated and zero-entry pool located inside Avalon's trendiest hotel features a full wait staff and beautiful surroundings. It's good enough reason to book a room on its own.
No. 89
The porch at the Virginia Hotel. This historic Cape May site has a great porch that overlooks Jackson Street (people watching, anyone?), where guests can sip on inventive signature cocktails and nosh on a refined small plates menu.
No. 90
The pork chop at La Spiaggia. Italian cuisine that shines in Ship Bottom, and not just for the pasta. This plate showcases a 14-ounce grilled pork chop, both sweet and spicy peppers, roasted garlic, caramelized onions, and a balsamic drizzle to cap things off.
No. 91
Private Tastings at the Seaside Cheese Company. This West Cape May locale carries a wide range of artisanal cheeses, so what's the best way to try them all? Grab some friends, a few bottles of wine and schedule a private sampling. Don't worry, it takes place after closing, so you'll have the place to yourself.
No. 92
The Prix Fixe Menu at Pacific Grill. Wildwood's Pacific Grill does a fantastic fixed menu for the early birds. From 5 to 6:30 p.m., you can choose three courses for $24. Flavorful options include gazpacho, kobe beef and pot de crème.
No. 93
Retail Options for Women in Avalon. From names like Tory Burch and Alice + Olivia at Tiger Lily and Per Lei Boutique to other gems found at Close Boutique, Boutique Bellissima and Boutique Ciao Bello; it's clothes shopping at the Shore that is so much more than flip flops and cover-ups.
No. 94
Riding a Boat During Night in Venice. Many travel to Ocean City just to view this spectacle from dry land, but there's nothing like being right on the water. Want a unique experience? Charter the Sea Dragon, a pirate voyager in town where you can put on some face paint and a bandana and transform the family into pirates for the evening.
No. 95
The Rotating Special Flavors of Ice Cream at Springer's. Pumpkin pie with pieces of pumpkin cookies in it, Girl Scout thin mint, and Jersey peach just to name a few. This place's legend extends far beyond the beaches of Stone Harbor.
No. 96
The Safari Menu at Island Grill. Forget the regular menu when visiting this Ocean City spot. Be adventurous and sample the gamier options that rotate. Past ones have included kangaroo, antelope, wild boar and blowfish.
No. 97
The Sea Wall in North Wildwood. There's nothing like starting your day with an early morning jog or stroll with the pup along this 6,000-foot stretch of concrete overlooking the ocean that was constructed to protect North Wildwood from impending storm damage. Fun and functional.
No. 98
Shipwreck Diving off the Coast. American Diving Supply not only trains military and commercial divers, but they will certify you and take you under the sea to uncover some of the many old shipwrecks around Atlantic and Cape May counties. It's an underwater history experience you won't soon forget.
No. 99
Shore-House Wares at Armadillo, Ltd. From "eclectic to eccentric," this Avalon décor store has plenty of artistic wares to fill your shelves and line your walls.
No. 100
Sixers Beach Bash. The Sixers haven't won a championship since 1983, but thankfully each summer you can still celebrate with them at this annual party in Avalon.
No. 101
Snagging a Seat at Louisa's Café. This tiny, we mean tiny (like 14 seats) Cape May restaurant is a hit with the locals for their fresh food on the handwritten blackboard. Don't miss the crabcakes; and if you don't have a reservation, please show some patience.
No. 102
Stand-up Comedy Nights at The Surflight Theatre. Known for great stage shows, this Beach Haven theater also hosts some pretty big names in comedy throughout the summer. Ray Romano is known to pop in while vacationing and this summer's lineup already boasts the likes of Jim Breuer, Colin Quinn, Caroline Rhea, Kevin Meaney and Mario Cantone.
No. 103
The Steamers at Twisties Tavern on the Bay. Grab a beer while you sit outside and enjoy the fresh seafood at this tough-to-find bayside retreat in Strathmere.
No. 104
Stuffed Maine Lobster at Mike's Seafood. Mike's is a must visit in Sea Isle. Our advice is to order this special that boasts more than one pound lobster that's been steamed, cracked, split and filled full of fresh Maryland jumbo lump crabmeat and served with baby red potatoes and corn.
No. 105
Sushi at Yama. Amazing sushi chefs transport you from Ventnor to Japan as they create high-end rolls with amazing finesse that are as artistic as they are appetizing.
No. 106
The Tiki Bar at Ventura's Greenhouse. Just a few steps up from the sand in Margate, this outdoor bar has good food, good drinks and a great place to catch an afternoon Phils game.
No. 107
Trivia Thursdays at the Deauville Inn. This popular Strathmere setting has a great happy hour, but stick around for their weekly test of knowledge. Just remember, no cell phones allowed.
No. 108
Uncle Mike Sandwich at Tony Luke's. The old-style Philly sandwich king has a place in Wildwood Crest, too, that serves this creation of sharp provolone, sweet and hot peppers, red gravy, fried onions, spinach and broccoli rabe.
No. 109
Unwinding at the Sea Spa. From facials and massages to mani/pedis (for guys too), this Cape May refuge is the place to refresh after a tough weekend in the sun.
No. 110
Whatever's on Tap at Goodnight Irene's. Wildwood (and the Shore's) largest craft beer selection features a tap wall that has something for everyone. And not just the usual suspects, some rare craft kegs that don't even make it to Philly appear here for their loyal customers.
No. 111
Yoga on the Beach. Just because you're down the Shore doesn't mean you have to cheat on your fitness schedule. In Sea Isle and Ocean City, you can stretch out right on the sand, or opt for a night yoga session with renowned trainer Teri O'Connor.
What's new
AVALON
Following severe damage from Superstorm Sandy, the Townsend Inlet Bridge connecting Avalon and Sea Isle City has reopened.
CAPE MAY
In Diamond Beach, Hotel Icona takes over the space formerly known as Pier 6600. The hotel features an in-house restaurant, Coastal Blue, with both indoor and outdoor seating. Hotel Icona offers poolside drink and food service, as well.
LONG BEACH ISLAND
After a lengthy renovation process, The Flow House in Beach Haven has reopened, enabling surfing enthusiasts to test their shredding skills without ever having to step foot in the actual ocean.
From June 14 to 16, Long Beach Island will host a free "reopening party," LBI Thank You Fest, packed with concerts, dancing and delicious festival foods, among other surprises. It's also a celebration of gratitude to first-responders for bailing out LBI during the chaos of Superstorm Sandy.
OCEAN CITY
The new Moorlyn Family Theater in Ocean City has opened, bringing major motion pictures back to the boardwalk. The new theater will focus on family films, so nothing R-rated on these screens.
Ocean City brought in sand to help widen their beach and you'll also notice a remodeled downtown area.
Gillian's Wonderland Pier has added Dark Ride Haunted House for thrill seekers ages 12 and up.
MARGATE/VENTNOR
Construction is expected this summer in Ventnor. The former Monaco hotel will make way for new upscale luxury townhomes.
The Sandy-ravaged firehouse in Margate has reopened its doors along Ventnor and Washington avenues.
SEA ISLE CITY
Sea Isle City's marina district has a new waterfront boardwalk and amusement park.
The city also welcomes a new outdoor band shell and entertainment complex, located at the downtown beachfront area.
The Beach-to-Bay project has been completed. The major dredging project deepened the water for boat traffic. They are also in the final stages of a new 800-foot well to supply the town with fresh water.
STONE HARBOR
Visitors to Stone Harbor and Avalon will be able to hop aboard the brand new jitney system running through the towns, offering public transportation on weekends from 6 p.m. till 2 a.m. for the duration of June and then running every evening come July.
The Reeds at Shelter Haven, a new boutique hotel opening mid-June in Stone Harbor, will also house The Sax Lounge and Restaurant. The menu is said to "reflect the chef's American contemporary cuisine specialties." Expect entrees like free-range chicken and beef, crab cakes and desserts using locally sourced ingredients. The property will also be the location for the Water Star Grille, a 175-seater overlooking the bay.
WILDWOOD
Morey's Piers is debuting artBOX this summer, a 10,000-square-foot interactive artists' village crafted from 11 repurposed shipping containers. The space will also house a museum shop that carries Jersey Shore memorabilia, as well as a café serving sushi and coffee.
What's new: Food
AVALON
After suffering nearly 30 inches of water damage, the owners had to completely renovate Café Loren. The restaurant reopened its (new) doors in early May.
CAPE MAY
The Blue Pig Tavern inside Congress Hall in Cape May recently renovated its patio area and chef Jeremy Einhorn has introduced a new farm-to-table menu featuring items from Blue Plum Farm.
The Carriage House Café and Tea Room in Cape May is newly renovated with a new menu.
The Cape May-Lewes Ferry is now home to a new outdoor bar and grill, On the Rocks, located at the water's edge at both terminals. Featuring local beers and signature sandwiches and a wonderful view of the bay, live entertainment is featured throughout the season.
The Washington Inn in Cape May has debuted The Wine Bar—"a new, hip, relaxing and comfortable meeting place before dinner, after dinner or for dinner." There are over 40 wines by the glass, flights of wine, small plates menu, open daily 5 p.m. to midnight.
A local beekeeper and sous chef at The Washington Inn named Douglas Marandino has opened Cape May Honey Farm on Sunset Boulevard in West Cape May along with his wife, Andriana. In addition to selling their own honey in flavors like blueberry blossom and buckwheat, they also carry plenty of other varieties.
LONG BEACH ISLAND
The Maine Course, a New England-style seafooder, has moved into the Schooner's Wharf location in Beach Haven after losing their previous location to Sandy.
After suffering tremendous damage due to Sandy, the ever-popular Chicken or the Egg is up and running, serving up its menu round the clock, 24 hours a day.
Uncle Will's Pancake House is back to cooking up pork roll and other assorted breakfast delights after a long winter of storm repair.
OCEAN CITY
Ocean City will bring coffee chain Starbucks to town in late summer, likely August, at 11th and Asbury avenues.
Baia in Somers Point has done some renovations and updated their menu.
Sal's Café, featuring a coal-fired pizza oven, replaced the former Fitzpatrick's in Somers Point, which moved across the street to a larger space.
MARGATE/VENTNOR
After suffering major damage to Sandy, the folks at Margate Dairy Bar didn't want to miss out on their regular customers, so they set up temporary shop in a nearby trailer all winter and spring. Just in time for Memorial Day, their newly renovated building reopened.
Memories in Margate is a "brand new club." Wiped out by Sandy, the entire club had to be redone, including a new stage, bars and bathrooms. Open Wednesday through Sunday, with a happy hour from 4-8 p.m., featuring sandwiches from Philly's Peter McAndrews, owner of several Italian restaurants and Paesano's sandwich shop. And on Sundays, they will have traditional Italian dinner (meatballs, sausage, spaghetti, etc.) complete with plenty of Sinatra, Connie Francis and more playing in the background.
JoJos in Ventnor will reopen this year as JoJos Wood Fired Pizza and Grill, reopened by Vincent Cannuscio after his brother closed it last year. The business has been in the family for more than four decades.
The LoBianco family has opened Stella, a new Italian concept in the former Vincent's at 7303 Ventnor Ave., just down the street from their Salt Ayre Bistro. The namesake location in Margate has been shuttered.
Megu Sushi, with locations in Cherry Hill and Moorestown, welcomes Shore-goers to their third spot in Ventnor.
Johnny's Café in Margate has expanded the bar area from nine seats to 30, also adding 30 seats to the dining area. On the same block, the owner has taken over a former Rita's Water Ice with the debut of John's Steaks, a takeout cheesesteak and sandwich joint.
SEA ISLE CITY
BBQ Willie's Wings has been replaced with the brand new Mako's American Grille. Serving breakfast, lunch and dinner, you'll find plenty of seafood entrees from jumbo lump crab stuffed tilapia to shrimp gorgonzola.
Andrew Steiner, the former sous chef at Braca's in Sea Isle City, bought Claude's in North Wildwood and rebranded the restaurant as a farm-to-table concept named The Establishment at 100.
STONE HARBOR
Although it's in its second season, officially, Sweet Nectar Cupcakery has completed its post-Sandy renovations and is now serving some of the Shore's most sinfully delicious cupcakes. Our favorite? The banana split.
Bradley's Steaks and Hoagies has relocated. Same great Buffalo chicken cheesesteaks, onion rings and other Jersey Shore delicacies, only in new digs at the intersection of 83rd and 3rd.
It's Sunday morning in season. You're in search of fresh produce, seafood, baked goods, etc. Where do you go? Stone Harbor Farmers Market at 95th and 2nd Avenue.
WILDWOOD
Sofia's Italian Restaurant debuts this summer in Wildwood. The menu features gourmet pizzas and other authentic cuisine, including fresh crepes. You can also expect live jazz bands, comedians and other music nightly.
The Amish Market of North Wildwood will bring locals fresh breads, pies, doughnuts, whoopee pies and other baked goods daily. It also includes a salad bar with 45 toppings, and an on-site barbecue pit.
The joke's over. The Casbah Comedy Club in Wildwood is no longer. It is currently under renovations to become a brick oven pizza joint from the owners of the Pink Cadillac and Marvi's diners in town.
The owners behind Wildwood Crest's Marie Nicole's have experienced a reinvention of sorts, with a new, expanded bar area featuring new food and drink options. They've also restyled the entrée menu to include more options like rigatoni with sausage and broccoli rabe and fettucine Bolognese.
The Virginia Hotel's Ebbitt Room in Cape May is hitting the beach this season with a new Gourmet To-Go Cart that brings guest's meals right to the sand. The Ebbitt Room's new chef Anthony Micardi packs a gourmet picnic basket using locally sourced produce, and guests are transported to the beach via golf cart to enjoy a blanketed picnic on the beach.
Published (and copyrighted) in South Jersey Magazine, Volume 10, Issue 3 (June, 2013).
For more info on South Jersey Magazine, click here.
To subscribe to South Jersey Magazine, click here.
To advertise in South Jersey Magazine, click here.