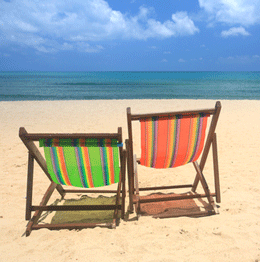 Jersey Shore: Open for Business
This summer, Sandy is gone, but not forgotten
On a frigid March day in Atlantic City, Gov. Chris Christie stood inside an auditorium at the Golden Nugget casino and touted New Jersey's state record $40 billion haul in tourism revenue. And considering that more than half of that figure comes from the Jersey Shore, the governor made sure to quell any doubts about its status for the summer. "These communities are ready to go," said Christie. "They have rental communities and their businesses are ready to go."
Such a notion seemed very much in doubt several months before, when Hurricane Sandy barreled up the Atlantic Ocean and set its sights on Jersey's famed beaches.
Images of decimated boardwalks and miles and miles of flooded Shore towns dominated the news. The question lingered for interested viewers and recurring visitors alike: Would the Jersey Shore ever be the same?
Local businesses and realtors have the answer to that question. "We want people to come down here for themselves and see that we're fine," says Frank Shoemaker, general manager for Berger Realty in Ocean City. The Shore towns themselves haven't been shy either about proclaiming that fact; Sea Isle City put up a billboard outside the Lincoln Tunnel declaring "We're Ready!" while even Long Beach Island, the hardest hit in our region, shot a commercial titled "LBI is Alive," with the island's websites all proudly declaring they're back open for business. In fact, according to Joseph H. Mancini, mayor of Long Beach Township, the hardest hit area of the island, only one business closed due to the storm. The state itself unveiled an advertising blitz leading up to Memorial Day with the slogan "Stronger Than The Storm."
Towns in North Jersey and New York suffered catastrophic damage and are still building their way back. Meanwhile, the majority of beach towns in the southern part of the state—thanks to preparations, a working dune system and the fickle path of the storm—escaped a similar fate. But because the Shore is often viewed as one large entity, "[that perception] has done a disservice to the entire Shore," says Holly C. Rennie, a licensed realtor with Ferguson Dechert Real Estate in Avalon. "People think the entire shoreline is in bad shape, and that is just not true, and it hasn't been true. But I don't think that message is getting out."
Realtors in places like Avalon, Sea Isle City and Ocean City say that the rental business is faring equally well as in previous years, but they are still dealing with questions about availability and residual damage. "We still get phone calls, 'Is the boardwalk still there? Is the Ferris wheel out of the ocean? Are there any beaches?'" says Shoemaker, whose agency rents out up to 3,500 properties. "But if anybody has been to Ocean City in the past few weeks or months, they'll realize it's all still here."
That isn't to suggest these towns avoided all damage. Many areas incurred considerable flooding, causing dozens of businesses to work feverishly for months to repair and renovate their properties to be open in time for the busy summer season. The damage was devastating, the work was trying, but the goal was the same: to be open when it mattered most.
Cafe Loren in Avalon, for example, endured 27 inches of flooding that toppled kitchen equipment and ruined carpet and walls. "It was twice as much water as we've ever seen," says co-owner Patty Rutledge, who experienced smaller floods at the restaurant in 2000 and 2009. "We couldn't prepare for it because we prepared for what we thought would be the worst." In 31 years, she and husband Mark had never entertained the idea of renovation, but the choice became apparent after seeing the scope of the damage. A "depressing" winter of constant work has led to a sparkling new décor and a successful re-opening on Mother's Day weekend. "The response when customers walked in the door the first day was amazing and uplifting," she says. "It's a major weight off my shoulders."
At Dalrymple's Card & Gift Shoppe in Sea Isle City, much of the shelving and inventory, including Christmas merchandise, was lost. "The first day we walked in, I just wanted to leave," says owner Charles Dalrymple. "It was like, what do we do?"
The next day they got to work. The store closed for seven weeks and missed out on the holiday season. With new racking in place and the help of many generous friends, the shop is ready for a strong summer. "They were there for me," Dalrymple says of the people who helped. "You don't realize the goodness in somebody's heart until something like this happens. That really touched me."
"It was an absolute disaster," remembers Casey O'Hara, owner/manager of Uncle Bill's Pancake House in Stone Harbor, which ended up taking on 30 inches of water.
The vital equipment had been saved but booths had been moved, and mold and mildew was everywhere. Summoning the motivation to fix what was new, the restaurant was completely redone from ceiling to floor to open in early May. "We're looking forward to summer," says O'Hara. "It's been a long winter, that's for sure."
Memories in Margate, the longtime dance club run by Rock and Roll Hall of Fame inductee and local legend Jerry Blavat, was completely decimated. It's now a "brand new club," according to Blavat. "We got wiped out by Sandy, the entire club had to be redone… new bars, new bathrooms, new stage," he says. Despite the damage done, Blavat remains as energetic as ever when it comes to his outlook on the summer. "We're back," he states simply, a feeling that echoes up and down the coast.
Despite the trying months, there is a quickening pulse of optimism about the potential number of visitors who will frequent the beaches this summer. Not only is it a testament to the hard work of the townships, businesses and volunteers, but it speaks to the vacation tradition that loyal visitors refuse to let go. "It's a tradition that has spanned multiple generations," says Rennie. "As my age group has grown up and raised our children, there are more people here. The generations that were raised here are now raising their children here."
The Skinny on Rentals
The Shore is back. But will your favorite beach house be available this year? And will it cost more? Jersey Shore realtors have the answers to your questions.
What's availability like for rentals this summer?
Realtors say that rentals have been faring comparatively well to previous years, and they expect a strong summer. Don't expect to have your pick of houses if you want to book only a week in advance. "Of course, there have been cases where there are a few lucky individuals who get a good last-minute rental," says Grace Curran, owner of Grace Curran & Family Real Estate in Sea Isle City, "but if you are looking for a great vacation, I would make that call now to guarantee you get exactly what you want."
Will there be an influx of visitors from North Jersey and New York?
The common wisdom is that the devastation suffered in those northern seaside towns will cause its traditional visitors to flood into South Jersey. But realtors report that inquires from up north have been inconsistent. Plus, North Jersey beaches won't be totally bereft of visitors. "Realtors are looking at anywhere from 85-95 percent of their housing stock to be available for rental this season," says Jeanne DiPaola, tourism director for Ocean County, which runs from Long Beach Island to Point Pleasant.
Can I expect to pay more for rentals this season?
A decent majority of homeowners and realtors are holding the line on rental prices, as they've done so for years. But given that the cost of maintaining houses has not gone up and the strength of the tourism market, "if you were going to increase your rates, this was the year to do it, forgetting the fact that Sandy happened," says Holly C. Rennie, licensed realtor with Ferguson Dechert Real Estate in Avalon. This year or next year, don't be surprised if you have to pay a little more.
Published (and copyrighted) in South Jersey Magazine, Volume 10, Issue 3 (June, 2013).
For more info on South Jersey Magazine, click here.
To subscribe to South Jersey Magazine, click here.
To advertise in South Jersey Magazine, click here.