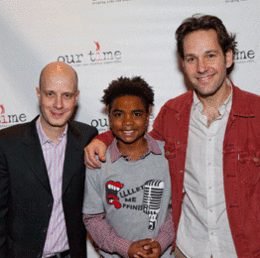 Speaking Out
Voorhees teenager Saadiq Wicks doesn't let stutter prevent him from getting his message to millions.
Imagine if it was difficult to say your own name. If, for example, you were at Chik-Fil-A, and as per the restaurant's custom, you had to give the cashier your name when you were ordering—but you didn't want to because it would be too hard for you to say. While the scenario may seem relatively far-fetched, for Saadiq Wicks, and millions of others like him, finding it hard to say his own name is reality.
"One of the hardest things for a person who stutters to say is their name," explains Kimberly Garvin, Wicks' mother. "Saadiq hates going to Chik-Fil-A because of that. Sometimes he just wants to say his name is Bob, just to make things easier."
Stuttering is a communication disorder that often includes disruptions in a person's speech, and affects nearly 70 million people worldwide. While some people who stutter struggle on every word they try to say, others can speak freely with very little disruption. Although there is no cure for the disorder, people who stutter can learn techniques and tricks to help them speak more freely. A few years ago, Wicks, a rambunctious 11-year-old from Voorhees, may have given in and said "Bob," but these days, he is taking charge and won't let his stuttering control his life.
"His focus is saying what he wants to say when he wants to say it, and not to have to change his words to do so," Garvin says, adding Wicks also often has trouble saying words that start with the letter "h." Wicks' inspiration to rise above his stuttering is due in part to attending Camp Our Time, a summer camp in North Carolina that promotes confidence and communication skills among young people who stutter. The camp is put on by Our Time, a New York City organization that provides speech and therapy programs to those who stutter. Garvin says before going to the camp for the first time two years ago, Wicks thought he was the only person in the world who stuttered.
"He met a lot of kids who reminded him of himself when he was there," Garvin says. In addition to making new friends at the camp, Wicks grew immensely that first summer.
"Saadiq has always been quiet and not repeated himself because of his stutter," she says.
"When he came back from camp that first year, his stutter was 10 times more obvious, given his quiet nature prior, but he was 100 times more audible and confident. I'll take audible and confident over being quiet because of his stutter any day."
Camp Our Time's motto is "Dream Big and Live Courageously," a statement Wicks has taken to heart. Last year, he created "LLLet Me Finish," an organization with the goal of empowering other young people who stutter to take control of their lives, as well. Through LLLet Me Finish, Wicks and Garvin have been giving presentations at schools and raising money for scholarships to send other kids to Camp Our Time, all in the name of educating people about stuttering.
In light of his positive experience at camp, and in the hopes of inspiring others like him, Wicks is hosting his own summer camp this summer at Nexxt Level Sports in Voorhees called Camp LLLet Me Finish. From July 15-19, children ages 6 to 11 years old affected by stuttering will be able to participate in character awareness activities, theater workshops and sports-themed events, all with the expectation they will learn to be more confident and comfortable with their stutter. Registration for the camp is open until July 7, and Wicks encourages children who may be intimidated to sign up. "We're going to do a lot of activities," he says. "We'll keep you busy."
If things go well this summer, Wicks hopes to start a camp in another country, perhaps China. "I want to start my own camp in another country because I know that kids stutter in different languages," he says.
Garvin adds that if China is where Wicks wants to head next, she has no doubt he will make it happen. "I don't take anything he says lightly anymore," she says, noting it was Wicks himself who came up with the idea to start LLLet Me Finish and ran with it. "He's been talking about another camp in China for a while now. We could be there next summer, or winter, or whenever. Who knows with him?"
Such ambitious undertakings are admirable for a youngster, and his actions have not gone unnoticed. Last year, Wicks was named a national spokesman for Our Time, and LLLet Me Finish was named the official educational, anti-bullying and awareness building program of the organization. In April, Wicks was recognized with a leadership award from Our Time for his efforts.
Despite the attention, Wicks, who has aspirations to be an NBA star, has not let the celebrity overwhelm him. He knows how important it is to have his story heard, and help others who have gone through the same difficulties he has. "Kids who stutter aren't different than any other person," he says. "We should all be treated the same."
For more information about LLLet Me Finish, or to sign up for Camp LLLet Me Finish, find them on Facebook at Facebook.com/LLLetMeFinish or call (856) 952-4375.
Published (and copyrighted) in South Jersey Magazine, Volume 10, Issue 3 (June, 2013).
For more info on South Jersey Magazine, click here.
To subscribe to South Jersey Magazine, click here.
To advertise in South Jersey Magazine, click here.