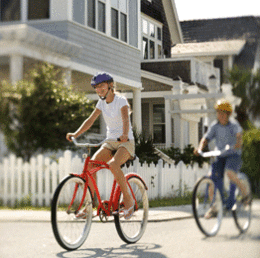 Bolting for the 'Burbs
Countless South Jersey residents left the city years ago and never looked back.
Six years ago, Jess and Alicia Lomba came to a realization: Living in the city just didn't make sense anymore. Their compact rowhouse in Phila­delphia's Fishtown neighborhood would soon be barely able to contain their two high-energy sons, and when it came to schools, they weren't happy with the options. Plus, there were the small inconveniences that were taking a daily toll: "In the city, you can't take a shopping cart out of the supermarket, so how do you get the groceries into the car safely?" Jess Lomba says. "You can't carry five bags with a kid."
They began crunching numbers—doing intensive research on property values, tax rates, elementary-, middle- and high-school performance stats—and the decision became clear. In 2007, they bought a house in Haddon Township, and their lives changed forever.
"Everything is just easier in New Jersey. It's nice to have parking spaces, to have a driveway, to have a bigger house, to have a little more of a sense of security than we had in the city," Lomba says. "In the city, there's an underlying sense that anything could happen at any time, which we don't feel here."
While the majority of Philadelphians who leave the city end up in Pennsylvania suburbs, more than 4,000 people per year move from Philly to Camden, Burlington and Gloucester counties, according to Internal Revenue Service migration data analyzed by Pew's Philadelphia Research Initiative in 2010. Overall, New Jersey is still losing households to other states, recent studies have found. But a 2009 analysis prepared by a University of Georgia professor for the New Jersey Association of Realtors found that those moving to New Jersey have 29 percent higher average incomes than those leaving, 26 percent higher homeownership rates, and 52 percent higher median home values. And then there's what isn't captured in the statistics—why they come. They do so for a variety of reasons: greater square footage, better schools, more ready access to nature, a more gracious lifestyle. For some, it is initially a gut-wrenching choice, but many say that, these days, they wouldn't live anywhere else.
Take Valerie DiGiacomo: She says moving to Washington Township from South Philly back in 1994 was "not a tough decision. In the city, yards are a yard—as in 3 feet. And now it's more like an acre, which is nice. We have a swimming pool and a deck, compared to 4 feet of cement slab."
On a recent Saturday afternoon in spring, DiGiacomo couldn't help but comment about how much the move was paying off. "On a beautiful day like today, being able to go sit outside in the yard with my husband and have a cup of coffee, it's nice and quiet. Even though my neighbors aren't that far away, it feels like you're alone. With the trees, it's slightly secluded, as opposed to in the city, there's everybody everywhere. You sit down in the yard and 5 feet away is somebody else's house."
DiGiacomo says about half the people she knew from the old neighborhood also fled for the 'burbs in search of garages and pools and better schools. She chose South Jersey because other family members had already moved here. At first, she admits, the sense of solitude was an adjustment. "It's very quiet compared to the camaraderie of the city. And everybody around here is very quiet and to themselves," she says. "But we don't plan on leaving."
Lomba agrees that abandoning the rowhouse mentality took time. In his old neighborhood, there were always neighbors sitting out on the stoop, chatting and socializing. "In South Jersey, it's more secluded. Even though there's people in the houses, people don't hang out," he says. But his family has found new social structures. "Once our kids hit school age, which was this year, then the sense of community came back. And we were able to make a whole new set of adult friends and to socialize again." Of course, how they socialize is different from their Philly days.
"We do suburban things, like have a barbecue in the backyard or go bowling … classic suburban sitcom stuff."
Some people who make the move think of it as temporary: They imagine they'll spend a few years, take advantage of the schools and then head right back over the bridge. Tommy Palestino is a testament to the fact that that notion often changes once new arrivals get used to the South Jersey lifestyle.
Palestino grew up in South Philly but moved to Jersey in 1983 for what he thought was a short-term career move. "I wound up getting a girlfriend, got married and had kids, and I wanted to put my kids in these schools," says Palestino, who now lives in Washington Township but owns Mi-Pals Deli & Caterer back in the old neighborhood.
He says he felt South Jersey offered better value than other suburbs he considered. "We could have gone out that way, to the Main Line. But we'd have had to pay more, and we'd probably have higher taxes. And there are a whole lot of good schools in this area—that's one thing I'll never complain about." He says those schools have paid off: One of his kids is in college, and the other graduated and is working in Washington.
"Here's what I did love about New Jersey, and still do: A parking space is always available for you. No loud noises, no neighbors screaming at you. Except for the taxes are so high, what can you not say good about it?"
Andrea Mihalik of Haddonfield thought she had a few answers to that question. A lifelong Philadelphian whose "husband had to drag me kicking and screaming across the bridge," she did not think of herself as someone who'd enjoy the suburbs. And in fact, she's created an urban-suburban balance in her life by keeping a studio for her upholstery business, Wild Chairy, in Philly's Spring Garden neighborhood. But in the end, she had to admit that her husband was right.
"I do really love it because of the high-quality schools," she says. "My son is a senior in high school and just went through the college application process, so I really came to appreciate that." Likewise, Al DiCriscio moved out of South Philly to Cherry Hill for his kids—in order "to give my children a better place to grow up, a place to play besides the streets, more choice of schools." But that was 40 years ago. Now, at age 72, there's nothing keeping him here except for the fact that it has become home. He says he likes feeling safe, the quiet and convenience. But he feels his lifestyle wasn't much altered by his move to Camden County.
Lomba says one day, when his kids are grown, he imagines he might want to move back to the city, get a condo and park the car for good. But then again, maybe not. He says, "The kids are the deciding factor."
Published (and copyrighted) in South Jersey Magazine, Volume 10, Issue 3 (June, 2013).
For more info on South Jersey Magazine, click here.
To subscribe to South Jersey Magazine, click here.
To advertise in South Jersey Magazine, click here.