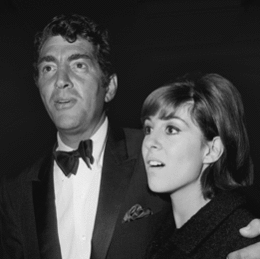 Memories Are Made of This
Deana Martin shares songs and stories from life with her legendary father.
Atlantic City wouldn't be what it is today without its storied history centered around the likes of Rat Packers Frank Sinatra, Sammy Davis, Jr. and, of course, Dean Martin. These performers wrote themselves into the city's vast memory in front of sold-out crowds during some truly unforgettable performances. That's what Martin's daughter, Deana holds so near and dear to her heart when she grabs the mic at the Jersey Shore.
Martin followed in her father's famous footsteps from a young age, singing, acting and dancing her way onto stages and screens across the globe. She first sang on The Dean Martin Show as a teenager, and has since created her own big-band show, recorded three albums and penned her own novel, the best-selling "Memories Are Made of This," about life under her father's wing.
Martin spoke with South Jersey Magazine before a recent gig at Caesar's in Atlantic City and talked about her non-stop lifestyle, growing up around music's most influential performers , and honoring the legacy of her family name.
SOUTH JERSEY MAGAZINE: What was it like growing up in the Martin household?
DEEANA MARTIN: For one thing it was a lot of fun. I had lots of brothers and sisters and lived in a big beautiful home. But my dad was so fun. What you saw on TV was how he was. He was sweet kind and funny, so that was great.
SJM: There are tons of pictures of you and your family out and about with celebrities, but what was life like when the cameras were off?
DM: There were lots of us kids, so imagine seven children with friends over in one house. We were lucky enough to have a nice big pool and tennis court, and dad loved to shoot pool. He was home every night for dinner. If he wasn't performing he was usually home, and he loved to be home. His favorite thing was to get up early and go play golf. It was homey and a great atmosphere. But imagine the friends. It was Uncle Frank [Sinatra] and Uncle Sammy [Davis, Jr.] We'd sit around on Christmas Eve singing Christmas carols with Rosemary Clooney. And when I sing her songs now I think, 'My gosh I was actually singing with her.' It's remarkable.
SJM: Having grown up around this lifestyle, could you ever imagine a life out of the spotlight?
DM: I'd go to visit my dad on his show, [The Dean Martin Show], and everyone was on that show. I was lucky enough to be on too, which was always fun. And I'd get to visit Ella Fitzgerald and Peggy Lee... We'd just hang out in dad's dressing room on Sunday afternoons. He'd play golf in the mornings then put on his tux and do the show. It was an amazing life. My parents' friends were Lucille Ball, Desi Arnaz, and Frank Sinatra, and I went to school with Desi Jr. and Nancy Sinatra. It was just natural, those were our friends. We were all in the same boat, and we were very lucky. They were amazing entertainers and artists and that's what they did. For me to go to Las Vegas when I was a very little girl and watch my dad with Frank Sinatra and Sammy Davis it was mesmerizing. People around me would gasp when they saw him, but he was just dad in a tuxedo for me.
At what age did you know you wanted to follow in your father's footsteps?
DM: I recorded my first song when I was 17 years old, and I knew I wanted to do it. And lucky for me I was given piano and dance lessons, and I always tell people that a lot of the Martin children have always been hams. I always remember just wanting to perform.
SJM: What's your performance on-stage like?
DM: I'm on the road about 280 days a year, and travelling constantly. Lots of packing and unpacking. I'm all over the place singing this fabulous music. And I'm working on my fourth album. All the people I grew up with, like Peggy Lee and Bobby Fitzgerald and of course my dad, that was all in my DNA. I grew up with that and absorbed it. I like to go a little bit jazzier than my dad was, and it's wonderful to me. For me to stand in front of a big band with the horns going is remarkable. It's a lot of hard work, and I had no idea. My dad made everything look so easy. But you get up there and it's really hard. It takes a lot of time and studying, but it's all so worth it.
SJM: And how are plans with the movie going? Do you have any characters lined up?
DM: Bonnie Hunt is writing the screen play, and Joe Mantegna is helping me direct, and the beautiful Jennifer Love Hewitt is going to play me. I was doing a show at Feinstein's in New York City and I got around to talking about the movie and I said to the audience, "I'd love Jennifer Love Hewitt to play me." Then from the audience I heard "Okay I'll do it." And there she was. We met after the show and talked about it. It was really meant to be. But it's very difficult to find a Dean Martin, someone who's tall, dark, handsome, cool, and funny with a gorgeous voice. I want this to be a really, really good movie based on a really good book. And it's not something I'm taking lightly and I'm not in a rush, but it will be great.
SJM: Do you want to make a cameo in the film?
DM: I hadn't even thought about that, but I think that might be fun.
SJM: Atlantic City was an iconic location for your father. Does the city hold a special place in your heart?
DM: I've been going there for years and years, and used to go when I was a little girl. I would watch my brothers perform and my dad, and there's so many wonderful memories there.
SJM: Is there pressure in continuing your family's legacy?
DM: It can be a daunting task when you think of it. It's Dean Martin! But I'm trying to bring back that magic. He had great arrangements and wonderful timing. And people dressed beautifully. It was elegant, classic and timeless. I'm really looking forward to it because it's so much fun to me.
SJM: So what's next for you?
DM: More shows, a new album, and adding new songs to my performance. There are so many incredible songs out there. My husband and I have written one that we're going to record. I'm just getting out there and doing it. It's wonderful hard work that I love and it keeps that memory alive, and it's worth that hard work. There's a lot of things going on in this petite little head.
SJM: What do you think your dad would say if he could see you on stage today?
DM: He would hug me and say "That was wonderful." He was a hugger: big hands, big heart and always so sweet. He loved to keep life light.
Published (and copyrighted) in South Jersey Magazine, Volume 10, Issue 3 (June, 2013).
For more info on South Jersey Magazine, click here.
To subscribe to South Jersey Magazine, click here.
To advertise in South Jersey Magazine, click here.