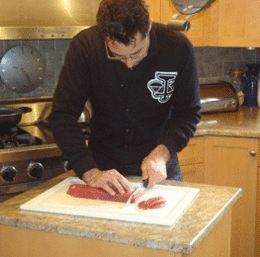 Southern Exposure: June, 2013
Did You Hear?
"I never told my mother that she could have my personal property, let alone consign it for sale by public auction. In fact, several years ago, while visiting my parents' home in Philadelphia, my wife and I specifically requested that my mother return the property to me so that I may give it to my own children. My mother never returned those items to me."
Los Angeles Lakers' Kobe Bryant, in a recent statement about his mother's decision to auction his sports memorabilia at a West Berlin auction
Hit or Miss
The New Jersey Senate unanimously approved legislation that will make Oct. 2 Steve Sabol Day, in honor of Mount Laurel's founder of NFL Films, who passed away from brain cancer in September 2012.
The season finale of CBS's hit show How I Met Your Mother finally revealed the long-awaited mother and love interest to main character Ted Mosby, a plot nine seasons in the making. The part has gone to actress Cristin Milioti, a Cherry Hill native.
The Philadelphia Eagles' Cheerleaders shot their annual calendar at iconic spots along the Jersey Shore in May, with proceeds benefiting the Hurricane Sandy New Jersey Relief Fund.
Assemblyman Paul Moriarty was dismissed of DWI charges by the Superior Court on May 14. The Washington Township officer who issued his original July 31, 2012, arrest has been indicted on 14 charges related to the incident, including official misconduct.
Internet celebrity Caleb Lawrence McGillvary, famously known on YouTube as "Kai the Hatchet- Wielding Hitchhiker," was arrested in Philadelphia last month and charged with a Union man's murder. While police searched for the 24-year-old, he was spotted around Haddonfield and Glassboro.
Both Camden and Gloucester counties received a score of "F" in the American Lung Association's State of the Air national air quality rating. No county in the state received above a "D" rating.
Delran's Lori Stilley pled guilty to theft by deception in court last May. Stilley gained national attention after she was caught collecting funds through a fake bladder cancer scheme she created in 2011.
Go Figure
$10,100,000: The winning bid by Cherry Hill Land Associates to purchase Cherry Hill's Woodcrest Country Club. The group plans to reopen the country club as a semi-private course.
29: Number of New Jersey bars that were found, during a year-long investigation by the New Jersey Attorney General's office, to be replacing premium liquors with well brands and over-charging customers
4: Number of bars from Gloucester, Camden and Burlington counties to make "Operation Swill's" list
4: Number of South Jersey schools that experienced emergency evacuations or lockdowns in the last 30 days. Lenape High School was evacuated on April 25 after school staff discovered suspicious graffiti in a bathroom, and on April 26 Cherry Hill East and Burlington County College's Physical Education Building were both evacuated after threats were made to the schools. Cinnaminson High School was locked down on both May 13 and May 14 following two separate bomb threats.
22: Years that one Pennsauken man hid his father's death from officials, while he continued to collect his Social Security checks. He was caught and pled guilty in April.
3: Number of 2013 Tony Award nominations for Joe Robinette of Richwood's A Christmas Story, which was adapted into a musical at the end of 2012
$77,449: Total raised by Wawa employees for the Food Bank of South Jersey during the company's Check Out Hunger campaign in stores across Burlington, Camden, Gloucester and Salem counties
$117,000,000: The grant issued by the state to Rowan University as part of $1.3 billion in funding that was issued to public universities across New Jersey
$56,000,000: The amount issued to Rutgers-Camden, which will go toward a new nursing building
Street Level
Marlton
A local couple is facing laundering, theft and conspiracy charges after allegedly collecting more than $700,000 through false travel deals they were offering to customers.
Pennsauken
One mother has been charged with theft and endangering the welfare of a child after she convinced her 9-year-old son that he had cancer, then convinced family and friends to donate more than $3,500 to her through Facebook.
Golf: Under Par
Golf is regarded as a "gentleman's game," with a history as rich and old as some of its most devoted players. But the sport is actually becoming more and more popular with the younger crowd, and one South Jersey professional is doing his part to make golf available and enjoyable for area kids.
Brad Hare, the head pro at Medford Lakes Country Club, will once again be running the South Jersey Junior Tour this summer. Entering its fifth year, the tour is a series of tournaments at local public and private courses for kids between the ages of 7 and 18.
Hare has also taken a unique approach to youth golf this year with the PGA Junior League Golf, a national program for children between 7 and 13 which he brought to this area for the first time. Think Little League baseball on the golf course, with teams consisting of 10 to 12 kids and a coach. The five local teams from this inaugural season have practice on the driving range and play matches against other squads in a nine-hole, scramble format.
"It's the first time it's ever been done for golf," says Hare, a Marlton native who starred on the golf team at Cherokee High School in the early '90s. "I think it could be potentially gigantic once word gets out."
For a $200 registration fee, each player in the league receives a uniform golf shirt, golf balls, a bag tag, practice time and five regular-season competitions running through mid-June. "It's very, very beginner-friendly," Hare says. "It's a great entry-level thing. ... Some of the kids have never touched a club before and some are already pretty good."
Home Grown: From Lawyer to Lawless
Voorhees native Matt Tolnick (pictured) has taken his long-lasting love for beef jerky and turned it into a full-time career, trading his California lawyer lifestyle for a new culinary craft launching out of South Jersey this summer.
Tolnick fell for jerky while attending Duke University and looking for a new source of protein post-workout. "My roommate and I ate lots of jerky. Some people papered their dorm room walls with used cases of beer; we did it with jerky bags." He bought a food dehydrator with some friends- which dries out beef and other food in a clean and fast environment- and the rest was history.
Over time, Tolnick's basic beef jerky flavors evolved into new and tasty concoctions, like Thai chili, honey chipotle BBQ, and pork-free bacon salt and pepper. His hobby followed him through college and law school, and even into his career as an attorney until he made the leap and ditched the corporate life to pursue his artisan craft full-time.
So Tolnick launched an online campaign through Kickstarter.com, which allows people to pitch creative projects and receive financial help from interested fundraisers, or "backers," across the planet. He started with the goal of $12,000 in 30 days, and reached that number by the end of the first night. At the end of the month, Tolnick had received a grand total of $31,777 from jerky lovers all over the country.
With the Kickstarter campaign wrapped up, Tolnick has gone pro, setting up shop back home in Voorhees and launching Lawless Jerky LLC and LawlessJerky.com, where he plans to market and sell all his products. He's also working with the flavors that some of his larger Kickstarter backers suggested to create more unique options. Products will be available for purchase this July, and while he refuses to pick a favorite flavor, Tolnick says there's something for everyone.
"I will say that my first flavor, Japanese Curry, has a dear place in my heart," he says. "It's the first flavor I ever perfected, and it's the only Japanese Curry beef jerky out there. The most popular flavor right now might be the Thai Chili, since the sriracha craze is becoming a coast-to-coast phenomenon. Honestly, each flavor is someone's favorite."
SOUTH JERSEY MAGAZINE: How did you get into the hobby of making beef jerky? MATT TOLNICK: As a sophomore in college, my roommate and I ate lots of jerky. Some people papered their dorm room walls with used cases of beer; we did it with jerky bags. For me, jerky was not only about great taste; it was the rich protein source that I needed following my workouts. And it gave me a break from protein shakes and bars. One day, some fraternity brothers and I left campus for a field trip to the local Wal-Mart. We all chipped in and bought our own dehydrator. I was the only one who ever cared to perfect the sweet science of jerky making. It was then, in 2002, that my jerky odyssey began.
SJM: What's your favorite flavor? MT: This such a common question that I'm asked, and I won't answer it. It's like asking a parent to pick a favorite child. But I will say that my first flavor, Japanese Curry, has a dear place in my heart. It's the first flavor I ever perfected, and it's the only Japanese Curry beef jerky out there. The most popular flavor right now might be the Thai Chili, since the sriracha craze is becoming a coast-to-coast phenomenon. Honestly, each flavor is someone's favorite.
SJM:What's the most challenging part of the jerky making process?
MT: Perfecting the recipes and the tenderness of the jerky are the hardest. You need to be really scientific about the process. Measure everything, record everything, get friends' and jerky lovers' feedback on the flavors…it is a process, and it's one that I really enjoy.
SJM: You nearly tripled your Kickstarter funds, how do you think you got such tremendous support?
MT: A couple things worked in my favor. First and foremost, many friends and family had the chance to try (and love) my jerky even before I launched the Kickstarter campaign. They were all great advocates of the project, sharing my Kickstarter page on Facebook, Twitter, and g-chat. I shamelessly emailed and Facebook messaged basically everyone I knew, and I launched on my 30th birthday. This generated a lot of support, so much so that we raised our $12,000 goal in our first day. What a 30th birthday present that was! And after that, Lawless Jerky became a "Popular" project which brought many fans of Kickstarter into the fold as well.
SJM: Was the positive reaction national, or did you see a large reaction from certain areas?
MT: At this point, I've still not received my Backers' mailing addresses, so I'm not sure the geographical breakdown of support. My hunch is that it's pretty national with a skewed emphasis on the east and west costs.
SJM: So what do you plan on doing with the new found fame and funds? MT: When you're getting a business off of the ground and working at it full-time, every dollar is crucial. I've recently formed Lawless Jerky LLC and will be tirelessly working on getting Lawless Jerky into retail distribution channels (in addition to sales on LawlessJerky.com).

SJM: Are you planning on keeping Lawless Jerky in South Jersey? If so, where do you plan to open up?
MT: We have no plans to open a brick-and-mortar store at this time. Operating largely online will allow me the flexibility to live and work where I want. Having grown up in South Jersey (Voorhees) and having spent much of the last decade in Southern California, I'll be spending time on both coasts getting the word out about Lawless Jerky.

SJM: Do you have any new flavors you're testing?
MT: As part of the Kickstarter campaign, I offered $600 levels where Backers (in addition to jerky) would receive their own custom recipe. My Backers are ridiculously creative and have challenged me with flavors like Rendang (a popular Indonesian dish), Pho (Vietnamese), and a special Masala (Indian) based heavily on chilies, garlic, and turmeric. The Rendang and Pho have been phenomenal and phenomenally complex, with over 20 ingredients in each recipe. Getting "back in the lab" has been tons of fun, but these flavors might be too complex for commercialization. We'll see!

SJM: Where will customers be able to find your beef jerky?
MT: Starting in July, Lawless Jerky will be available for purchase at LawlessJerky.com. The opportunities for greater distribution include gourmet specialty food stores, festivals, farmers markets, national grocery store chains, Amazon.com, airport kiosks, and other online premium food vendors.

SJM: What makes Lawless Jerky stand out from other jerky?
MT: Our motto "A Braver Flavor" says it all. Our flavors are more complex and intense (not necessarily very spicy/hot) than other jerky. We draw from the spices of the world to bring new flavor experiences to jerky lovers. Lawless Jerky has minimal preservatives, no nitrates/nitrites, no added MSG, all of our flavors (BBQ flavors notwithstanding) have no high fructose corn syrup. Unlike other premium brands of jerky that sell in two-ounce bags, we sell in three-ounce bags. And all of our jerky is handmade in small batches.

Names to Know
Local people making a difference in South Jersey and beyond

The Burlington County College Board of Trustees has sworn in Burlington's Natalie A. Collins as their newest member, hand-selected by Gov. Chris Christie. Collins serves as the deputy director of research for the New Jersey General Assembly Republican Office and will join the Board of Trustees in administration and educational matters.

Lenape High School senior Alec P. Shah was one of the select few chosen to attend DECA's 2013 International Career Development Conference in Anaheim, Calif., a contest that challenges high school and college students in competition based on marketing, finance and management. Shah won four individual awards during competition, and was named in the Top 10 during the business finance series.

Medford's Steven Vasturia, a senior at St. Joseph's Preparatory School in Philadelphia, captured his school's all-time scoring record in basketball during his final season. With a total of 1,567 points, Vasturia glided past the former 1,566 record set by Reggie Redding in 2006. He has committed to play at the University of Notre Dame next season.

Justin H. Brown, an attorney with Flaster/ Greenberg PC in Cherry Hill, was selected as one of the 50 corporate leaders to join The National Multiple Sclerosis Society Greater Delaware Valley Chapter's Philadelphia's MS Leadership Class. In joining the MS Leaders Circle, Brown joins other local professionals in organizing fundraising campaigns aimed at helping those living with multiple sclerosis.

Cooper Health System's Senior Vice President and Chief Operating Officer Adrienne Kirby has a new title to add to her name, as chief executive officer of Cooper University Health Care. Kirby got her start in medicine as a nurse more than 30 years ago and will oversee the day-to-day operations for the health care system.

Broadcast journalist and Rowan University professor Candace Kelley debuted her off-Broadway play Supernatural: The Play in New York City. The play, which Kelley wrote and produced alongside two other women, explores the journey of black women and their lives with natural hair. This is Kelley's second play, which has already been shown in New Jersey and in Los Angeles, but premiered in New York for the first time in May.

Dr. Merrick J. Wetzler, an orthopedic surgeon with Voorhees' Advocare South Jersey Orthopedic Associates, has been selected as the medical chairman for Team USA in the 2013 World Maccabiah Games. Wetzler will travel to Israel in July to oversee the trainers and physicians who care for the 900 athletes representing the United States in the international competition. It's the third largest athletic competition in the world, bested only by the Olympics and the Pan Am Games.

Do you know a local person who is doing great things? Let us know by e-mailing Erica@SouthJersey.com.

Published (and copyrighted) in South Jersey Magazine, Volume 10, Issue 3 (June, 2013).
For more info on South Jersey Magazine, click here.
To subscribe to South Jersey Magazine, click here.
To advertise in South Jersey Magazine, click here.