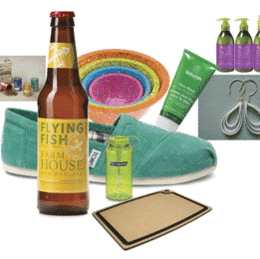 It's Easy Being Green
With all the recycled and sustainable products available these days, we can't help but embrace the benefits of green living. And in South Jersey, that's easier than you might think. We've rounded up some of our favorite organic, eco-friendly and sustainable items from shops all across the area to help you on your path to a greener future.
1. Go Green Tea. Teavana stocks their walls with the most original and unique organic teas, like this new international set. Moroccan Mint, Spiced Mandarin Oolong, Javavana Mate and Golden Mojito teas give tasters a full range of flavors from across the globe. And 1 percent of every purchase at Teavana benefits their Equal Trade partnership with CARE, which works with tea-producing nations like Sri Lanka to help combat poverty. Global Treasures Tea Gift Set, $79.95 at Teavana, 1750 Deptford Center Road, Deptford, (856) 384-0246, Teavana.com
2. Drink Up. Not only is Flying Fish beer local, but it's also entirely sustainable. That's because their new Somerdale location, which opened last year, uses approximately 460 solar panels and a series of solar light tubes to reduce the use of artificial light while sustaining solar power within the brewery. The brewery also gives all spent barley used during the brewing process back to the community to feed local dairy cows, and they run brews through high-tech brewing equipment designed to reduce water loss. Their seasonal Farmhouse Summer Ale is perfect for warm summer nights, and makes enjoying a cold one a little more eco-friendly. Flying Fish Farmhouse Summer Ale, $8.69 per six-pack at Traino's Wine & Spirits, 100 Church Road, Marlton, (856) 983-0056, TrainosWine.com
3. Mixed Up. These mixing bowls are made from recycled melamine, a strong plastic used in other household products. When restructured and formed into the bowls seen, it becomes stronger, creating not just a fun design, but a durable, dishwasher-safe and long-lasting kitchen necessity. Zak! Designs Confetti Nested Bowls, $39.99 at Kitchen Kapers, 1341 Nixon Drive, Moorestown, (856) 778-7705, KitchenKapers.com
4. Carbon footprint. TOMS are not just comfortable—they also stand for a good cause. They are Earth-friendly: made from recycled, vegan and sustainable materials to reduce your carbon footprint with every step. And for every purchase a consumer makes, a pair of shoes is donated to a child in need. TOMS Green Women's Earthwise Vegan Classics, $54 at Danzeisen & Quigley, 1720 Route 70 E., Cherry Hill, (856) 424-5969, DAndQ.com
5. Bottles Up. The average person uses 167 plastic water bottles annually, according to the National Bottled Water Association. If we all had a reusable bottle like the one Nalgene offers, think of all the space and money we would save by not having to dispose of the plastic ones. The Nalgene bottles are also BPA free, which means no exposure to harmful chemicals, so you can drink those recommended 64 ounces of water a day worry free. Nalgene 32 oz. Everyday Bottle, $9.95 at Eastern Mountain Sports, 400 Route 38, Moorestown Mall, Moorestown, (856) 234-3030, EMS.com
6. Chopped. Epicurean takes an eco-friendly approach to cooking with an entire line of recycled wares, all handmade in the United States. Alongside their cutting boards made from recycled milk jugs, their wood boards are made from all natural wood fibers and a food-safe resin that has been certified by the Forest Stewardship Council, meaning all tree-based components are responsibly used and managed. Epicurean Gourmet 20x15 Natural Cutting Board, $74.95 at Sur La Table, 500 Route 73 S., Marlton, (856) 797-0098, SurLaTable.com
7. Fresh Faces. If you're like us, the winter months have done some serious damage to your skin. So when looking for an all-natural rehab solution, we go for Skin Food, a lotion made from botanical plant extracts created for seriously dry skin. It uses the organic benefits of plants like chamomile, pansy and calendula to heal and restore cracked, dry skin without any mysterious chemical additives. Weleda Skin Food, 2.5 oz, $19 at Whole Foods, 940 Route 73 N., Marlton, (856) 797-1115, WholeFoodsMarket.com
8. Kid-Friendly. Kevin Gatto has taken green living to new heights with Verde, an entirely eco-friendly salon. The structure itself was built with energy-efficient lighting, bamboo flooring and recycled furniture, but the natural hair products like their Little Green line for babies and kids are what really caught our attention. Little Green hair care goods are free of parabens, sulfates and allergens to give your little one a pure, all-natural clean. Little Green Kids Shampoo & Body Wash, $6; Nourishing Body Lotion, $7; and Conditioning Hair Detangler, $17 at Verde Salon, 4 Powell Lane, Collingswood, (856) 858-0911, VerdeSalon.com
9. Re-Use. All of the Twice Creations jewelry found at Creative Genius is made from recycled materials and found goods. Take these earrings: Artists use recycled milk jugs to create the teardrop style and recycled sterling silver for the metal. Every piece is handcrafted locally with an eco-friendly final piece in mind, and the goal is to raise awareness of plastic waste in the community. Milk Jug Earrings by Twice Creations, $24 at Creative Genius, 32 N. Main St., Medford, (609) 714-1131, TwiceCreations.com
Published (and copyrighted) in South Jersey Magazine, Volume 10, Issue 3 (June, 2013).
For more info on South Jersey Magazine, click here.
To subscribe to South Jersey Magazine, click here.
To advertise in South Jersey Magazine, click here.