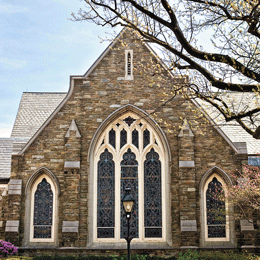 2013 Top Towns
Our annual list of South Jersey's best places to live is one of the most anticipated features we put out each year, and we must say—we feel pretty darn lucky that people look forward to the bragging rights that come with this list. It means there's civic pride here that rivals all other parts of New Jersey, and it stems from a strong community spirit that, for many, is generations-strong.
It wasn't easy to formulate this list. Splitting it between towns over and under 10,000, we pored over the latest figures on average property values, taxes, crime incidents reported per 1,000 people, and high school performance (which took into consideration SAT scores, the number of AP classes offered, and the rate at which students passed the statewide proficiency test). This year, we've chosen to highlight five towns, not based on where they fall, but on the fact that they represent the epitome of why this is a great place to call home. You'll find a town that seemingly has it all, from quiet residential neighborhoods to booming commerce and everything in between; the one with small-town charm that seems straight out of a 1950s TV series; the one that provides endless recreational opportunities for every member of the family; and also ones that, although right under noses, have been a little more modest in the spotlight—until now.
Remember, this is only one way to rank our municipalities. No matter where a town falls, they all form one large region that's worth being proud of.
Top Towns
(over 10,000)
1. Haddonfield
2. Medford
3. Harrison
4. Moorestown
5. Voorhees
6. Marlton
7. Woolwich
8. Bordentown
9. Lumberton
10. Burlington
11. Delran
12. Florence
13. Cinnaminson
14. Cherry Hill
15. Mount Laurel
16. Mantua
17. Southampton
18. Haddon Township
19. Washington Township
20. Monroe
21. Collingswood
22. West Deptford
23. Waterford
24. Gloucester Township
25. Franklin Township
(under 10,000)
1. Chesterfield
2. Shamong
3. Medford Lakes
4. Mansfield
5. Tabernacle
6. Wenonah
7. North Hanover
8. East Greenwich
9. Eastampton
10. Barrington
Washington Township: The Comeback Town
The last time we saw Washington Township was in 2010 when it ranked 22nd. Despite not making the overall list since then, it's remained a contender in top Gloucester County towns, and has also been recognized among the tops for school performance; so we're as surprised as you by the two-year break. But now it's back, and with plenty of reason. With two large areas of commerce—one centered on the Hurffville-Cross Keys Road region and the other on the Route 42 stretch—the township has the ratables to support its booming population and powerhouse of a school district. A bustling business area yet family-centered town, "Township"—as it's affectionately dubbed—is home to the TD Bank Arts Center, drawing acts such as B.B. King and Willie Nelson, as well as Washington Lake Park, a serenely wooded recreation area complete with an open-air, 2,200-square-foot stage amphitheater.
Between the popular senior center, a new, state-of-the-art 20,000-square-foot library, and access to Kennedy University Hospital and surrounding health care facilities, we won't be surprised if Washington Township continues to climb the list.
Don't just take it from us either: In 2008, Township was named by Money Magazine as No. 58 on their list of 100 Best Cities to Live in the United States. And while it may have had a slight case of identity crisis back in the day (it switched from Gloucester to Camden County and back again in the 1800s), it takes seriously its role to balance growth and open space and is firmly rooted as a popular destination to raise a family. If you have any doubts, just stop by their annual Super Saturday festival on May 11, which this year is appropriately themed "Our Town."
Washington Township By the Numbers
This Year's Rank: 19, Large Towns
2012 Rank: Not on the list
Average Residential Value: $128,814
Average Residential Taxes: $6,808
6: Number of different zip codes claimed by Washington Township residents
277: Age of the township's Olde Stone House, considered a local landmark and site of several annual events
Early settlers include the Heritage family, who later started Heritage Dairy, in the 1700s; and the Bell family in 1899, the founders of General Mills, Inc., for whom Bells Lake and Bells Elementary School are named.
Medford Lakes: A Recreation Haven
It should come as no surprise that a borough originally developed as a summer resort would be known for its recreation, but there are other towns in South Jersey that were formed for similar reasons and none can really compare to Medford Lakes. With 21 lakes and five private beaches nestled in the stillness of the Pine Barrens—and on only 1.2 square miles—it's no wonder their slogan is "The Year-Round Summer Playground."
More than 150 log cabins, built from the 1920s on, help make up the rustic community of nearly 1,500 homes, and the proud residents claim it's the highest concentration of log cabins in the world. While restrictions on the types of homes that could be built in the borough eased up quite a few decades ago, there are still many solid reminders that this isn't your typical small town—just one being that each street here is called a trail; there are no "roads" other than the ones that lead out of town. Not that there's much reason to leave besides commuting to work.
There's the swimming, fishing and hiking opportunities provided by the lakes and trails, and there's also the 18-hole Medford Lakes Country Club circa 1929. And don't forget about the playgrounds, ball fields and tennis courts maintained by the Medford Lakes Colony, which is more than just the typical homeowners association here. They put on some of the most popular annual events in the region, such as the Colony Sprint Triathlon, marking its third year this August, and the Canoe Carnival, a weeklong event of activities culminating in a parade of canoes-turned-floats down Lower Aetna Lake. That will be celebrating its 82nd year.
The local athletic association also adds a unique recreational element; along with the standard youth offerings, it includes programs for adult softball leagues and, yes, beach volleyball.
Medford Lakes By the Numbers:
This Year's Rank: 3, Small Towns
2012 Rank: 7
Average Residential Value: $287,647
Average Residential Taxes: $8,006
2,000+: Crowd expected at this year's Canoe Carnival on Aug. 3
1931: The year both the Medford Lakes Log Cabin Hotel (which later became the Settler's Inn) and the Cathedral of the Woods log cabin church was built
Wenonah: Small Town Charm
In terms of age alone, Wenonah is a relatively young town. Before 1870, it wasn't much more than a stop along the West Jersey Railroad; but it was around that time when businessmen from Philadelphia came by rail in search of a break from the city.
That draw of the fresh air they discovered along the Mantua Creek—and the potential that came with it to find an unspoiled slice of suburbia—is still very much alive today.
One would be surprised driving through the borough, where the original railroad depot still stands and the quaint municipal building is built to replicate a turn-of-the-century station, that it's one of the "newer" towns around. But with a founding rooted in peaceful seclusion, not much has changed since its early days, as the borough has managed to escape the sprawl all around it. Not only does the population sit just under 2,300—and only 829 households—but it has decreased slightly in each census since 1990. There's just one school—Wenonah Elementary—that serves some 250 students through sixth grade before sending them to Gateway Regional. And in the latest newsletter to residents from its six-member police force, traffic congestion near that school and the local dance studio were the No. 1 concerns. Certainly not crime.
It's no wonder Wenonah is known for its abundance of family-friendly events, such as its Fourth of July parade—once named one of the top 10 small-town parades in the country. It's an event that pulls out all the stops, where the whole world outside of Wenonah ceases to exist for that one day. In the last five years, it's even included a popular pie-eating contest reminiscent of those county fair events from the early 1900s. Combine that with drinking hot chocolate and singing carols around the annual Christmas tree lighting—and the fact that it's so small they can hold an annual boroughwide yard sale to benefit the local Girl Scout troop—and it's plain to see it truly is the town where everyone knows your name.
Wenonah By the Numbers:
This Year's Rank: 6, Small Towns
2012 Rank: Not on the list
Average Residential Value: $308,297
Average Residential Taxes: 9,204
Though Wenonah is made up of barely one square mile, there's more than six miles of hiking trails and 40 bridges weaved throughout its waterways.
1883 — The year Wenonah was incorporated, taking its name from a poem by Hendry Wadsworth Longfellow
Top Towns
(by county, over 10,000)
Burlington County
Medford
Moorestown
Marlton
Bordentown
Lumberton
Burlington
Delran
Florence
Cinnaminson
Mount Laurel
Camden County
Haddonfield
Voorhees
Cherry Hill
Haddon Township
Collingswood
Waterford
Gloucester Township
Winslow
Bellmawr
Pine Hill
Gloucester County
Harrison
Woolwich
Mantua
Washington Township
Monroe Township
West Deptford
Franklin
Glassboro
Woodbury
Deptford
Marlton: The Quintessential Community
Between the tranquility found in the Marlton Lakes and Kings Grant sections of town, the downtown vibe of the village of Marlton, and the crowd-drawing economic corridors of routes 70 and 73, Marlton is just about as diverse as it can get. Complement that with a huge population (after all, it's the largest municipality in Burlington County), and you have a town that seems to represent the best elements of South Jersey.
It's a town that is just as much a place to commute to as it is to commute from. There are more than 1,800 registered businesses, ranging from the mom and pop on Main Street to the high-end chains of the Promenade and corporate business parks on the main highways. But for those working beyond their hometown's borders, there's easy access to Philadelphia and everything up and down I-295. Either way, the convenience makes it just a little bit easier to catch the kids' games after work at Memorial and Savich fields.
Marlton used to be so large that it included all of what's now Medford and Mount Laurel. Now the town is a melting pot in its landscape due to the influence of those surrounding communities as well as Cherry Hill. Homes are nestled away in the edges by Medford (and the Pine Barrens), where business is scattered, with both becoming much more dense in the direction of Camden County, building a shopping mecca that rivals nearby competition. And in between are numerous recreation areas, single-family neighborhoods, condos and senior living communities.
Despite being such a large town—just under 30 square miles—residents are able to experience a small-town atmosphere thanks to a strong focus on community. The nonprofit Evesham Celebrations Foundation helps with that, putting on events like the Bike Evesham 25-mile ride, the popular harvest and winter festivals, and the annual Taste of Evesham—which showcases dining options in town that are just as diverse as its economy.
Marlton By the Numbers:
This Year's Rank: 6, Large towns
2012 Rank: 20
Average Residential Value: $271,873
Average Residential Taxes: $6,801
10,000+: The growth in Evesham's population since 1990
23 percent: Amount of the town's population that actually live in the village of Marlton, despite the fact that most residents refer to it as their hometown
1973: The year Two Guys opened in the space now occupied by Kohl's, which helped lead to the economic boom at the Route 70/73 exchange.
Cinnaminson: The Town with its Eyes on the Future
This well-manicured river town has been on our list for several years, but it slipped a few notches to No. 24 last year. Now, it's safe to say it's on the rebound—and for good. One look at the developments of the last few years shows why. Cinnaminson is taking the lead in transforming the image of the Route 130 corridor.
While the town is home to the 113-year-old Riverton Country Club—a traditional club rich in history—and the surrounding meticulously maintained Victorian and Tudor-style homes, it's also joined with 11 other towns along the highway that have dealt with outdated and vacant stores; but the town has a plan.
In 2008, the vacant lot at Route 130 and Cinnaminson Avenue was completely redeveloped into the pristine 300,000-plus-square-foot Shoppes at Cinnaminson, taking advantage of the some 60,000 cars that drive through the economic passageway each day (and the average $85,000 income found in a three-mile radius). It marked the beginning of a new phase of business opportunity, and similar plans are now underway for a mixed-use shopping center on the northern gateway to town.
Just this past March, the Department of Community and Economic Development was created. Among their goals are to rebrand Route 130. Dining establishments have already been showing heavy interest—evidenced by restaurants such as Friday's, Chili's and P.J. Whelihan's reportedly looking into opening up shop. The only thing stopping them is a lack of available liquor licenses.
There are other significant examples of progress—such as the expansion of the world headquarters of Sea Box, Inc. But eyes are clearly set on more, namely the industrial park along Taylors Lane and the Azalea Farms area.
These plans are getting Cinnaminson some well-deserved attention. The regional efforts have been recognized with awards from PlanSmart New Jersey, the Walt Whitman Preservation Forum, Southern New Jersey Development Council, and more.
And the Route 130 success is seen in the numbers: Since 2005, companies have invested more than $2 billion in this 17-mile stretch of roadway, now dubbed the River Route.
Cinnaminson By the Numbers:
This Year's Rank: 12, large towns
2012 Rank: 24
Average Residential Value: $289,555
Average Residential Taxes: $6,768
355,000: Estimated population within a five-mile radius, making Cinnaminson prime economic real estate
1860: The year Cinnaminson was incorporated, taking a portion of Chester Township and naming it in honor of the Lenape word Senamensing, meaning "sweet water."
Longitude 75 Degrees West, Latitude 40 Degrees North: One of only four confluence points in New Jersey, found right on the 4th fairway of the Riverton Country Club
Top Property Values
(over 10,000)

1. Moorestown
2. Haddonfield
3. Medford
4. Voorhees
5. Harrison
6. Lumberton
7. Cinnaminson
8. Evesham
9. Bordentown
10. Collingswood
11. Burlington
12. Florence
13. Monroe
14. Haddon Township
15. Delran
16. West Deptford
17. Mantua
18. Maple Shade
19. Gloucester
20. Southampton
21. Glassboro
22. Deptford
23. Woolwich
24. Winslow
25. Mount Holly
Top Property Values
(under 10,000)
1. Chesterfield
2. Mansfield
3. North Hanover
4. Shamong
5. Wenonah
6. Tabernacle
7. Riverton
8. Haddon Heights
9. Medford Lakes
10. Eastampton
Lowest Property Taxes
(over 10,000)
1. Winslow
2. Pine Hill
3. Mount Laurel
4. Mantua
5. Glassboro
6. Waterford
7. Gloucester
8. Woodbury City
9. Burlington
10. Monroe
11. Lumberton
12. Bordentown
13. Delran
14. Cinnaminson
15. Haddon
16. Evesham
17. Washington Township
18. Collingswood
19. Harrison
20. Cherry Hill
21. Medford
22. Woolwich
23. Voorhees
24. Moorestown
25. Haddonfield
Lowest Property Taxes
(under 10,000)
1. Tabernacle
2. Woodbury Heights
3. Barrington
4. East Greenwich
5. Haddon Heights
6. Riverton
7. Shamong
8. Medford Lakes
9. Chesterfield
10. Wenonah
Lowest Crime Rate
(over 10,000)
1. Woolwich
2. Florence
3. Harrison
4. Medford
5. Bordentown
6. Southampton
7. Evesham
8. Mount Laurel
9. Waterford
10. Delran
11. Burlington
12. Haddonfield
13. Franklin
14. Winslow
15. Monroe
16. Mantua
17. West Deptford
18. Maple Shade
19. Willingboro
20. Washington Township
21. Voorhees
22. Cinnaminson
23. Cherry Hill
24. Haddon Township
25. Lumberton
Lowest Crime Rate
(under 10,000)
1. New Hanover
2. Chesterfield
3. Medford Lakes
4. Wenonah
5. Barrington
6. North Hanover
7. Shamong
8. Mansfield
9. Bordentown City
10. Swedesboro
Top High School Performance
(over 10,000)
1. Haddonfield
2. Moorestown
3. Voorhees
4. Cherry Hill
5. Medford*
5. Mount Laurel*
7. Washington Township
8. Southampton
9. Marlton
10. Harrison*
10. Mantua*
12. Lumberton*
12. Mount Holly*
14. Franklin*
14. Woolwich*
16. West Deptford
17. Haddon Township
18. Waterford
19. Florence
20. Bellmawr*
20. Gloucester*
22. Cinnaminson
23. Burlington
24. Delran
25. Bordentown
*indicates tie
Top High School Performance
(under 10,000)
1. Berlin
2. Shamong
3. Chesterfield*
3. Mansfield*
3. North Hanover*
3. Tabernacle*
7. Medford Lakes
8. East Greenwich*
8. Logan*
8. Swedesboro*
*indicates tie
Published (and copyrighted) in South Jersey Magazine, Volume 10, Issue 2 (May, 2013).
For more info on South Jersey Magazine, click here.
To subscribe to South Jersey Magazine, click here.
To advertise in South Jersey Magazine, click here.