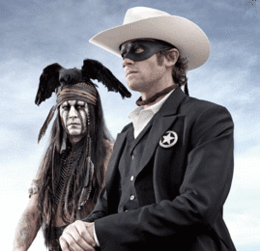 Action!
KYW's Bill Wine runs down this summer's lineup of potential blockbusters at the box office.
As in most years, thrillers—especially those featuring comic book-inspired franchise characters—and comedies will dominate the movie menu.
But there's room for high-profile science fiction, drama, Western, action, horror and animated offerings, as well. Sequels will, as always, pop up to take advantage of the built-in audience that predecessor attractions have created. And many of the warm-month attractions will be available in the recently resuscitated 3-D process.
So here are the theatrical movies that are most likely to be successfully beckoning moviegoers from multiplex marquees this summer. As always, each title gets four stars out of four. That is, until we actually see it.
WESTERN
The Lone Ranger
(July 3)
Johnny Depp reunites with his Pirates of the Caribbean trilogy director, Gore Verbinski, in this Western. The film resurrects the popular title character, a masked ex-Texas ranger who rode the range on radio and television way back when, making the William Tell overture, its theme music, a household tune. But Depp plays the Native American sidekick, Tonto, while the masked-man protagonist, actually named John Reid, is played by Armie Hammer, best known for playing the Winklevoss twins in The Social Network. Will "kemo sabe" re-surface as a catch phrase? Stay tuned.
ACTION
Iron Man 3
(MAY 3)
This high-profile threequel kicks off the summer movie season, just as the escapist thriller Iron Man did in 2008 and the sequel Iron Man 2—bigger but not better than its predecessor—did in 2010. The wittily charismatic Robert Downey Jr. returns as billionaire inventor Tony Stark to fight terrorism in this Marvel Comics-inspired, action-adventure, sci-fi thriller with both gravity and levity, as villains Ben Kingsley and Guy Pearce join returnees Gwyneth Paltrow and Don Cheadle. We'll settle for more pedal to the metal.
Fast & Furious 6
(MAY 24)
The prospect of a sixth installment in an action franchise would normally be yawn-worthy at best. But it just so happens that Fast Five, the fourth sequel to follow 2001's The Fast and the Furious, was by far the best of the bumpy bunch, a turbocharged, go-for-broke action thriller. In entry No. 6, series stalwarts Vin Diesel and Paul Walker welcome back returnees Dwayne Johnson and Tyrese Gibson for more vehicular warfare for the gassed and the curious.
Man of Steel
(JUNE 14)
Superman, last seen emerging from a telephone booth—remember them?—emerged from DC Comics to become a film and television icon, as well. This superhero thriller, directed by 300's Zack Snyder, is essentially a reboot of the film series that starred the late Christopher Reeve in four movies, and takes Superman back to his roots. Henry Cavill takes over the title role as well as alter ego Clark Kent, and he's joined by Amy Adams as Lois Lane, Laurence Fishburne as Perry White, Russell Crowe as Jor-El, Diane Lane and Kevin Costner as the Kents, and Michael Shannon as supervillain General Zod.
The Wolverine
(JULY 26)
The anti-heroic Marvel Comics mutant Wolverine appears for a sixth time in this sixth installment in the strong and popular X-Men series. Once again, the W-Man, a dark knight with sharp edges, is played by Hugh Jackman, coming off his recent Oscar nomination as Best Actor for Les Miserables. In this fantasy adventure, set after the events of the earlier outings, the half-human outcast travels to modern-day Japan, where he hopes not to have to take advantage of his escape claws.
COMEDY
The Hangover Part III
(MAY 24)
The popular 2009 original, a rowdy and raunchy lark about a bachelor party gone kablooey, was a popular, overrated hit. The 2011 followup was an unmitigated disaster that made its predecessor seem a lucky accident. The franchise's threequel brings back the ensemble—Bradley Cooper, Ed Helms, Zach Galifianakis, Justin Martha and Ken Jeong—as well as co-writer and director Todd Phillips. No wedding or bachelor party this time around, but the boys end up back in Vegas.
The Heat
(JUNE 28)
Melissa McCarthy, coming off her comedy hit, Identity Thief, in which she played opposite Jason Bateman, turns up in another promising pairing of comedic personalities. Here she co-stars with Oscar-winning Best Actress Sandra Bullock (for The Blind Side), who plays a rigid, by-the-book FBI agent working with McCarthy's brash, out-of-control detective as the mismatched partners attempt to corral a Russian mobster in Boston. Paul Feig, who directed McCarthy to an Oscar nomination for Best Supporting Actress in Bridesmaids, is at the helm of this raucous buddy comedy.
This Is The End
(JUNE 12)
How's this for an unusual premise? While attending a party at James Franco's house, a large group of celebrities is faced with the global apocalypse. And who plays the celebrities? Why, celebrities, of course, portraying fictional versions of themselves. The cast includes Franco, Paul Rudd, Jonah Hill, Seth Rogen, Emma Watson, Jason Segel, Michael Cera, Mindy Kaling, Danny McBride, Kevin Hart and Jay Baruchel in a comedy about friendship and redemption from veteran screenwriters Rogen and Evan Goldberg, who also make their debut as co-directors.
The Internship
(JUNE 7)
Vince Vaughn and Owen Wilson, who co-starred so hilariously in 2005's Wedding Crashers, play salesmen who have struggled in the contemporary digital world and are feeling more or less obsolete. So they finagle their way into a coveted college internship at Google, where they have to compete with brilliant, tech-savvy, matriculating college students. Writers Vaughn and Jared Stern, director Shawn Levy and producers Vaughn and Levy collaborated last year on the supernatural vigilante comedy, The Watch, which qualified as a guilty pleasure.
R.I.P.D.
(JULY 19)
A recently slain cop on a team of undead police officers, working for the Rest in Peace Department in the ghost world, heads up an investigation aimed at solving a murder—his own. Ryan Reynolds, Jeff Bridges and Kevin Bacon head the cast of this supernatural action-adventure comedy based on the low-profile Dark Horse comic book, Rest in Peace Department. The deceased police officers have corporeal avatars, which is how they appear to the living. It's still a buddy comedy, even though the buddies are no longer alive, in a lively summertime romp trying to avoid an R.I.P. critical reception.
Star Trek Into Darkness
(MAY 17)
The 12th Star Trek movie is also a sequel to 2009's Star Trek, the reboot that was directed by J. J. Abrams, who returns to the director's chair for this followup. Also returning is his ensemble cast, including Chris Pine, Zachary Quinto, Karl Urban, Zoe Saldana, Anton Yelchin, Simon Pegg, John Cho and Bruce Greenwood. Whether this one will go where no manned sequel has gone before and still live long and prosper is anyone's guess.

After Earth
(MAY 31)
Originally titled 1000 A.E., this science fiction thriller, co-written and directed by M. Night Shyamalan, features superstar Will Smith and his real-life son, Jaden. It's 1,000 years since humanity was forced to flee Earth and rebuild society by settling light years away on the planet Nova Prime, but this soldier father and his 12-year-old son are forced to crash-land on the hostile terrain of this dangerous abandoned planet. With Shyamalan's stock seemingly down since The Last Airbender, but Smith's long string of mostly hits on the line, it will be interesting to see how the collaboration between two icons with local ties fares at the box office.
THRILLER
White House Down
(JUNE 28)
The year's second terrorists-seize-the-president action and suspense thriller—following March's Olympus Has Fallen—stars Channing Tatum and Maggie Gyllenhaal as Secret Service agents who must rescue the U.S. president, played by Jamie Foxx, when paramilitary mercenaries take over the White House. Director Roland Emmerich has previous vicarious White House experience—he famously blew it up in Independence Day—and his supporting cast includes Oscar nominees James Woods and Richard Jenkins as, respectively, the head of the presidential detail and the Speaker of the House.
DRAMA
The Great Gatsby
(MAY 10)
We've been hearing about this project for a long time and it finally arrives. Aussie director and co-writer Baz Luhrmann, distinctive stylistic creator of Moulin Rouge! and Strictly Ballroom, brings his adaptation of the classic F. Scott Fitzgerald novel about the idle rich in the 1920s to the movie screen. Leonardo DiCaprio plays the Jazz Age title character, a mysterious Long Island millionaire played in earlier versions by Robert Redford and Alan Ladd, and leads a cast that includes Tobey Maguire, Carey Mulligan, Joel Edgerton and Isla Fisher.
HORROR
World War Z
(JUNE 21)
The zompocalypse is upon us in director Marc Forster's post-apocalyptic horror thriller, based on the best-selling Max Brooks novel of the same name. Brad Pitt, also the producer, stars as a United Nations agent searching the globe for information that can halt a worldwide zombie pandemic that is threatening to defeat armies and destroy nations. These undead are a new breed, not just reanimated corpses. They move quickly, for one thing, and they swarm like ants, plus they seem to be exhibiting a form of intelligence. Let's hope the movie does as well.
ANIMATION
Monster University
(JUNE 21)
The cheerful animated adventure, Monsters, Inc., was a technical dazzler, a frighteningly funny and funnily frightening artistic triumph featuring lead voices Billy Crystal and John Goodman as, respectively, a one-eyed green whatchamacallit and a giant blue fur ball. They're scarers in Monstropolis, a city facing an energy shortage because it's fueled by children's screams and they're getting more and more difficult to petrify. With Crystal and Goodman reprising their roles as Mike and Sulley, the prequel tells the story of how these college rivals became best buddies. This one just might scare up some business.
Published (and copyrighted) in South Jersey Magazine, Volume 10, Issue 2 (May, 2013).
For more info on South Jersey Magazine, click here.
To subscribe to South Jersey Magazine, click here.
To advertise in South Jersey Magazine, click here.