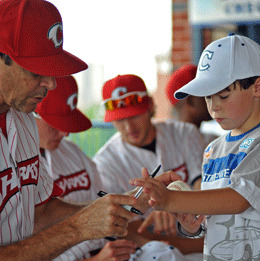 Home Field Advantage
The Camden Riversharks are succeeding at drawing in fans with quirky promotions and intimate, family-style entertainment.
Steve Milano and his 3-year-old son excitedly rushed past the carnival games, weaved their way through the lines of people waiting for pizza and cotton candy, and headed for the main attraction of the night, for them anyway—the merry-go-round.
While this memorable father-son moment might sound like the story of a boy's first trip to the Ocean City boardwalk, in fact it occurred much closer to the Milanos' Blackwood home. It was at Campbell's Field, home of the Camden Riversharks—and it wasn't the younger Milano's first experience at the Jersey Shore; it was the first baseball game he ever attended.
"It's Opening Night and I decided to bring him to his first game," said Milano on the April night of the Riversharks' home opener. "It's great; I love the field. There's a lot to do, it's family-friendly, and there's not a lot of crazy baseball fans."
Adam and Jamie Johnston of Carneys Point brought their two youngest kids to their first Riversharks game on the same night, and it was also the first time each of them visited Campbell's Field. Like the Milanos, they were enticed by inexpensive tickets and attractions for the children.
"He's getting into T-ball and he wanted to come to a game," Adam Johnston said of his 5-year-old son. "This is a little more inexpensive than going up to Philly. … We'll probably be back. We'll see how they enjoy it."
Adam Lorber hopes many more families feel the same way this summer. The Riversharks general manager wants to win just as badly as his coaching staff and his players, and it bothers him that his team hasn't had a winning season since 2007 or gone to the playoffs since 2008. Ultimately, though, the success of the franchise depends on the entertainment value it can provide the people of South Jersey. In that regard, the Riversharks are hitting a home run—or at least a ground-rule double.
A unique ballgame experience
Thanks to affordable prices, fan-friendly players and an endless list of quirky promotions, the Riversharks—now in their 13th year—have found their niche in the area. Attendance has been steady if not spectacular, with the team averaging 3,462 fans per game in 2012, and the front office believes the best is yet to come.
"I actually think we've only scratched the surface," says Lorber, in his ninth year with the team and fifth as GM. "People are becoming more and more accustomed to coming to the Camden waterfront as the aquarium does better and the Susquehanna Bank Center attracts more people.
People are getting in the habit of coming to the Camden waterfront to be entertained. Obviously, we have to deal with the stereotypes of Camden, but because of the success of the other venues, that's going to be an afterthought."
There are many reasons for fans to visit Campbell's Field, the ballpark itself being one of them. With the Ben Franklin Bridge as a backdrop, the park offers amazing views of Philadelphia and is one of the most unique venues around, counting both minor-league and major-league stadiums.
"I can't wait till the lights go out," Jamie Johnston said before the home opener. "I want to see the bridge all lit up."
But don't expect to see many star players crushing balls toward the Delaware. The Riversharks, as part of the independent, eight-team At­lantic League, are not affiliated with a major-league team, so you're not likely to find any stars of the future, either.
Sure, occasionally old Phillies or other major-leaguers will find their way onto the roster. Pedro Feliz, who drove in the World Series-clinching run for the Phillies in 2008, played with the Riversharks in 2011 and 2012. Von Hayes, another former Phillie, was the team's manager for a few seasons.
Roger Clemens made two appearances last year, at age 50, for the Sugar Land Skeeters, while former MLB stars Vladimir Guerrero and Dontrelle Willis of the Long Island Ducks are notable members of the Atlantic League this season.
For the most part, however, the players in the league—including those on the Riversharks—are career minor-leaguers.
"We all come from different walks of life and have different levels of experience, but we're all here for the same goal," says Brett Bonvechio, a former Riversharks player who is now the team's bench and hitting coach. "One, to win, but also to get guys back to affiliated ball. If you go out on the field and take care of business, you're gonna get back to where you want to be.
That kind of attitude is what we want our players to portray on the field each and every day. You never know who's watching you in terms of scouts and what they may say to each other. All of the guys are happy to be here and are happy for the opportunity."
A sense of community
The Camden players are encouraged to share their love for the game with the fans. Before every Sunday home game, fans can come on the field for autograph sessions with the entire team. In an event prior to the season, players and coaches held a meet-and-greet at Chickie's and Pete's in South Philadelphia. And while Phillies stars like Chase Utley might not be the most approachable, members of the Riversharks try to always make themselves accessible.
"Mostly the fans want to know what it's like to be a professional ballplayer," says Bonvechio.
"The kids look up to these players, and the players get a sparkle in their eyes talking to the kids. They remember what it was like when they were that age and got to interact with minor-league or big-league ballplayers. To be able to do that and give back to the community is a great thing."
Sometimes the players themselves have ties to the area. Former Washington Township High School standout Billy Rice was with the team last season before being signed by the Chicago White Sox. This year, former Cherokee High School and Rowan University star pitcher Ryan Kulik joined the team after spending four seasons in the St. Louis Cardinals organization, and former major-league catcher and Pennsville native Chris Widger is the pitching coach.
Local players like Kulik, who are hoping to find their way back to affiliated ball, are thrilled for the chance to play in a competitive league close to home.
"I told myself that if I'm going to play independent ball, I want it to be local," says Kulik, who lives in Haddonfield and is back in baseball after sitting out 2012 while recovering from surgery.
"Camden is local to me; it's only a half-hour away. If I would've had to go play independent ball real far away, I don't think I would've done it. I have a wife, so being able to stay at home and play baseball, I can't ask for more than that. The league is great, too. I hear a lot of great things about this league and a lot of guys get picked up [by major-league teams]."
Not that games at Campbell's Field are all about baseball. Even for those who can't tell Ryan Kulik from Ryan Howard, there are still plenty of reasons to attend, especially for families. Minor-league teams have always had a reputation for unusual and entertaining promotions, and the Riversharks are no different.
They have fun ideas for every day of the week, including Character Wednesdays, when kids can get autographs and pose for pictures with some of their favorite television or movie characters, such as SpongeBob (May 22), Dora the Explorer (June 19), Yo Gabba Gabba (July 17) and Buzz Lightyear and Woody (Aug. 21).
The Riversharks also have fireworks after every Friday and Saturday home game, and on Sundays, fans can enjoy postgame ice cream on the field and play catch in the outfield. For every game, there is the carousel and boardwalk-style games on the concourse.
"Very few of our fans really care about winning," says Lorber. "They care about the fireworks, they care that every Sunday we have ice cream on the warning track. We have catches in the outfield; we have four sleepovers a year. … That's why they come; they come for the entertainment value.
"Baseball is secondary. I really want to win, and it's been a while since we've been in the playoffs. But last year, we really didn't have a great team and our attendance increased substantially. The amount of people who actually sit in our seats has gone up over the last four years."
More for the money
Bob Howard of Westampton was one of those fans at this year's home opener, and he plans to become a regular at the ballpark this season.
"I was at a game in the Riversharks' first season and then a few years ago I was here," Howard said. "But we're gonna start going more this year. It's Opening Day, it's a good time to start." Howard's friend, Craig Schumacher of Mount Laurel, often attends Phillies games with his 11-year-old son, Alex. But sometimes they like to switch it up and visit Campbell's Field, which they like for its intimacy.
"I was only at one Riversharks game last season, but my son has been to a few," Schumacher said. "He came with a summer camp for one of their trips and he also made it out to a couple more. You come out here and you realize you're not looking at this huge stadium. You're right here [on top of the action]."
The ticket prices are affordable, with the most expensive seat—$14 for the lower level—costing the same as a standing room-only ticket at Citizens Bank Park. The Sharks also have $5 tickets in the family section, and for season tickets, the prices for a 15-game plan range from $128-$195. A 14-game plan for the Phillies will run you between $224 and $608.
Of course, Lorber doesn't even consider the Phillies as competition. With the Phils experiencing an impressive run of success lately, particularly their two World Series appearances in 2008 and 2009, Lorber believes it's had a positive impact on his franchise.
"When I first came down here, I thought this area was a football and hockey town," says the North Jersey native. "As the Phillies got better, it became a baseball town. And when the Phillies do well, we do well, because baseball is on the front pages of the sports section.
"Now, it can be expensive to go over the water, and it's also a long day. You take a 7-year-old to the Phillies game, and they get tired by the fourth or fifth inning. You take them to a Riversharks game and it's only $5 a ticket, so you get more of a value if they get tired and you have to leave early."
Those two aspects, value and family, are really what Lorber believes the Riversharks represent. There is a lot of competition in this area for family entertainment, but he believes going to a Sharks game is one of the best ways to spend a summer night.
"Our fans come and they don't have to worry about their economic situation, they don't have to worry about their jobs or family or anything else," Lorber says. "They can come and enjoy three hours, or more, of baseball and having fun with their family and friends."
Riversharks tickets
Highest price: $14 (100 level)
Lowest price: $5 (family section, 218)
Full season: $525-$700 (70 games)
15-game plan: $128-$195
Phillies tickets
Highest price: $80 (infield, first six rows)
Lowest price: $14 (standing room)
Full season: $1,316-$5,335 (81 games)
15-game plan: $224-$608
Published (and copyrighted) in South Jersey Magazine, Volume 10, Issue 2 (May, 2013).
For more info on South Jersey Magazine, click here.
To subscribe to South Jersey Magazine, click here.
To advertise in South Jersey Magazine, click here.