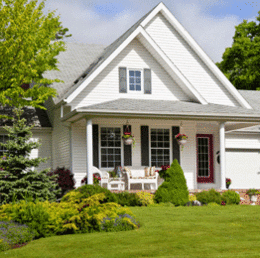 A Fresh Perspective
If you're moving on or adding on, there are plenty of options to update your home and get it noticed—whether it be the neighbor's or a buyer's attention you want.
Whether to stay in an existing home or move somewhere else is not a new question that home­owners face. But the state of the housing industry has certainly changed the answer. We spoke to a number of local experts to weigh in on the trends they're seeing.
There are a number of reasons people decide to move, one of them being that their current home is no longer suiting their needs. Perhaps it's too small or out of date. But Janet Cantwell-Papale, a realtor with Long & Foster, says homeowners who love their location—and their school district—are finding that renovations are the way to go. "If you're already in a great location and you are in the school district you want to be in, then maybe you just want to renovate," she says. "A lot of people buy for location and, if you already have that, you can always fix the home."
The trends in the banking industry appear to back this up, as well. Jeremy Shackleford, senior vice president and retail executive, Central New Jersey Region, Susquehanna Bank, reports they're seeing more mortgage refinancing on current homes than home equity loans. "For us, it appears most homeowners are staying put and more are doing improvements like redoing bathrooms or kitchens—especially if they are able to refinance."
Eric Meller, CEO, M. Rosenblatt Roofing, also believes many homeowners are choosing to stay in their current homes and renovate them to their liking. "If you have the right contractors, you can do amazing things to an existing home," he says. "There's no reason to move."
Choosing to stay
Renovations to existing homes do appear to be on the rise. "We are finding that many homeowners are choosing to stay in their current homes when they love their neighborhood, aren't relocating in the near future, and want to stay local," says Cindy Cipriani, of Cipriani Remodeling Solutions, Inc., in Woodbury. "We have added additions, updated kitchens, and renovated bathrooms for families who thought about moving but, once they looked around, decided to stay put."
Many homeowners who are staying are still interested in the "staycation" trend (creating a vacation at home). That may mean updates to the backyard to extend living space outdoors and capitalize on the trend of "outdoor living environments." "People who are staying in their homes want to make them more enjoyable," says Mike McCool, general manager, Swim-Mor Pools and Spas in Mount Ephraim. "A pool is a great way to do that. The pools we're building today have a lot more bells and whistles—things like sun shelves, water features and spas. There's also a lot more attention on design. Everything is custom-shaped and customized to exactly what they want."
Dan Young, owner of Young's Landscape Management in Lumberton, points out that outdoor living environments do more than boost curb appeal—they afford the homeowners increased square footage. "A tiered patio, full kitchen or sitting area can create a beautiful, relaxed and comfortable outdoor living space for family and friends to enjoy, holding immeasurable value in extending time together and vacationing right at home."
A good way to get that backyard vacation is Young's Y-Turf installed synthetic lawn surfaces, which are a good complement to natural plantings and manmade hardscapes. "Our experts understand the meaning of fun and are skilled at designing one-of-a-kind sporting environments. Ideal for golfers of all levels, synthetic turf provides authentic greens with unparalleled quality, durability and performance regardless of the season. The clean and safe surface is also a perfect play area for kids and pets."
When it comes to outdoor space, it's important to call in the experts to configure just the right way to utilize the area.
Christopher Kendzierski, landscape division manager of Eric's Nursery & Garden Center in Mount Laurel, adds that it's a common mistake to think that just because there is a large open area on a property, that there is space. "When it pertains to outdoor living, space is not space until it is defined for a purpose," he says. "Working with natural patterns and topographic features at the concept level of design is the start of maximizing outdoor living space. Design synthesis will refine the shapes for each area and the masterplan will then provide the details within each space. Landscape architects use these tools to generate the personalized plan for your needs."
Exactly which rooms indoors are selected for updates often has to do with the needs of the current homeowners. Of course kitchens and bathrooms are always popular, but some homeowners may require extra space for the kids to play, making a finished basement a value-added renovation. Master bedroom suites that include a master bath are also a frequently requested large improvement project. "Why enjoy that spa bathroom only once or twice a year on vacation when you can have it every day at home?" Cipriani says.
Preparing to go
But on the other hand, despite these rising trends, not everyone is staying put, as a lot of homeowners are choosing to move because they view this market as a strong opportunity for them. "The interest rates are incredibly low, allowing many people, who might not have bought in the past, to now buy at such great rates," says Jeanne "Lisa" Wolschina, a realtor with Keller Williams Realty. "Especially for families who are ready for their next bigger home, this is a great opportunity."
Some of those who are staying in their current homes are interested in getting their properties "resale ready." Renovating is worthwhile not only in making the home more functional or enjoyable to the current homeowner but also to make the home more valuable for resale down the road. Most experts in the field say updating a kitchen or bath will get you the most value. "Not only is it where the family is most of the day, but it's also where everyone congregates during a party," says Wolschina. "The kitchen is the heart of a home and, therefore, very valuable to most buyers."
If you do have future resale in mind, it also makes sense to update your exterior. After all, it's the first thing people see, points out Todd Morganti, division manager with Champion Windows in Pennsauken. "Updating your siding and your front door are two things that people see right away, so it automatically adds to curb appeal," Morganti says. At Champion, along with windows, projects also include sunroom additions—which add square footage as well as value to any home—and roofing.
Morganti says it's imperative for homeowners to be mindful of the roof, ensuring there are no leaks that can threaten the integrity of the home.
A new roof is always a smart investment, Meller agrees. "People don't want to move into a new home and be worried about the roof," he says. "A new roof has tremendous curb appeal and it automatically gives potential buyers a good vibe. But the reverse is true, too. If you see a 'beater,' it puts a damper on the whole experience."
An outdoor living environment also offers a great return on investment, says Young. "Homebuyers are drawn to curb appeal—a welcoming walkway amid lush, colorful plantings. Landscapes complemented by custom hardscapes including patios, fire pits and outdoor kitchens—plus accent lighting and water features—further boost its attractiveness in a highly competitive real estate market."
It's also becoming evident that the days of the "McMansion" may be going to the wayside. Cantwell-Papale says buyers aren't always interested in the biggest homes anymore. A home that's finished and move-in-ready may actually take precedence over size. "If a house is in really good shape, they will take a smaller home," Cantwell-Papale says. "People are also adding value in different ways these days, such as converting to solar."
The bottom line
As you decide to stay or to go, try to avoid rushing the process. When looking for loans, Shackleford says to allow for plenty of time to shop for the best price before beginning any construction or renovation projects.
For homeowners moving, Shackleford says to be more than budget conscience. Be budget savvy and shop around for mortgages that suit your needs. "Get comfortable asking a lot of questions."
Home Solutions
…Special Advertising Section from the pages of South Jersey Magazine…
Whether your decision is to move your family to a larger home, stay put and renovate, or perhaps downsize when it comes time to retire, you can turn to these trusted professionals to help make the choice just a little bit easier.
Banking/Financial Services
Susquehanna Bank
Serving South Jersey
(800) 311-3182
Susquehanna.net
Deck and wood repair
Deck Restoration Plus
Don't try to seal and stain decks on your own to save money. Trust an expert.
Serving South Jersey
(866) 440-DECK (3325)
DeckRestorationPlus.com
Garden Centers
Green Lea Garden Center
Voorhees
(856) 768-4413
GreenLeaGardens.com
McCloskey's Garden and Hearth
Glassboro
(856) 307-9652
McCloskeysGardenandHearth.com
Home Remodeling
Cipriani Remodeling Solutions
Woodbury
(856) 853-8398
CiprianiRemodelingSolutions.com
Landscaping/Hardscaping
Core Property Service Inc.
Serving South Jersey
(856) 429-4911
corepropertyservice.com
Eaise Design and Landscaping
Increasing your outdoor living space will increase your home value. They develop solutions that are tailored to meet your needs. Let their friendly, certified landscape professionals design and build stately courtyard layouts, quality interlocking concrete patios, water displays and unique lighting systems.
Serving South Jersey
(856) 428-7769
(856) 740-2900
Eaise.com
Eric's Nursery and Garden Center
Mount Laurel
(856) 231-0444
EricsNursery.com
Young's Landscape Management
Serving the Delaware Valley to the Jersey Shore
(609) 654-5441
(856) 303-2828
YoungsLandscape.com
Legal
Weir & Partners
The central focus of Weir & Partners practice is business, banking, consumer and commercial litigation and transactions. A substantial portion of its practice is the representation of financial institutions in the areas of complex business disputes, loan documentation, bankruptcy, insolvency, creditors' rights, lender liability, negotiable instruments, real estate transactions, environmental matters, regulatory work, consumer compliance and general litigation. The firm also has experience with the False Claims Act and other federal regulatory issues.
Cherry Hill
(856) 662-1018
WeirPartners.com
Pools & Spas
Swim-Mor Pools and Spas
Serving South Jersey
(856) 456-3332
SwimMor.com
Realtors
Janet Cantwell-Papale
Long and Foster Real Estate, Inc.
(609) 760-0776
JanetPapale.com
Jeanne "Lisa" Wolschina
Keller Williams Realty
Cherry Hill
(856) 261-5202
LWolschina@KW.com
Roofing
M. Rosenblatt Roofing
Serving South Jersey
(856) 751-1536
Since1929.com
Windows
Champion Windows
Serving South Jersey
(856) 324-1441
GetChampion.com/Philadelphia
Window Treatments
Creative Windows Unlimited
Serving South Jersey
(856) 783-2050
CreativeWindowsUnlimited.com
Published (and copyrighted) in South Jersey Magazine, Volume 10, Issue 2 (May, 2013).
For more info on South Jersey Magazine, click here.
To subscribe to South Jersey Magazine, click here.
To advertise in South Jersey Magazine, click here.