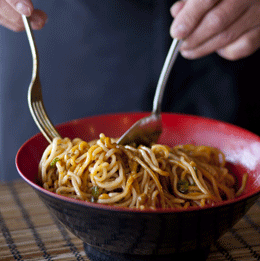 Han Dynasty
Hot Spot
Han Dynasty
404 Route 70 E.
Cherry Hill
(856) 428-0088
4 forks
When Sichuan spice master Han Chiang opened another outpost of his popular Han Dynasty, I couldn't wait to visit. As a bit of a self-professed heat seeker, visions of peppercorns and slow-burning flavors came to mind, awakening memories of the punishingly spicy dishes I used to down in college.
But it also gave me pause: As the restaurateur expands his mini-dynasty for a sixth time—other spots are spread as far as Exton and Manayunk—would his commitment to serving authentic, flavorful Chinese food hold up at his first Garden State location? And is South Jersey ready for what Han's throwing down?
The sleek dining room at this young BYOB is spacious and clean, decorated in tones of yellow and red that almost mimic the food. Dark wood four-tops take up most of the room, with plush banquettes lining a wall that ends with a large picture window. Service was punctual and polite throughout the evening, with each dish arriving barely after we'd finished the preceding one.
There was no sign of Han—usually a vibrant, rotating fixture at the various Philadelphia locations—during my two recent visits, but his presence was still unmistakable. The owner's well-known frankness is perhaps passed down to the management, who asked just two questions when we arrived: "Is this your first time here?" and "Do you like spicy food?"
He could have also asked, "Do you know what you're getting into?" At Han Dynasty, the spice levels are arranged from 1 to 10 on the menu, though only the most masochistic diners should attempt anything at the top end of the scale. But it's one thing to make food spicy; it's another to make it hot and flavorful.
Thankfully, Han Dynasty does that well, taking pride in the pursuit of authentic Sichuan cuisine, full of the richness of flavor and pungent spices typical of that region of southwest China. Chilies, peppers, garlic and ginger make appearances in most dishes.
To start, our server suggested an order of crisp spicy cucumbers, a chilled appetizer dressed in a deep red chili oil. We enjoyed the refreshing snaps with each bite of the pointed cucumber spears, and the slightly sour, slightly sweet sauce that gave our taste buds a tingly numbness that would last the rest of the meal.
Everything is served family style, with enough to share between several people. The chili oil returns to bathe an order of pork and ginger dumplings, where spoonfuls of the tangy ground meat are pressed between thin sheets of pasta and given a light sprinkle of sesame seeds. They're easily one of my favorite appetizers, always eaten as quickly as my chopsticks will allow.
I'd be remiss not to recommend the signature dan dan noodles, a tangle of pliant flour-based noodles tossed with preserved Chinese vegetables and ground pork. Servers toss the thick and stringy noodles tableside, unearthing a cocktail of bold flavors: sesame, peppercorn, chili, garlic and soy sauce. The sauce is reminiscent of cold sesame noodles, with a hint of nutty sweetness, but so much better than your average take-out.
For entrees, the menu prompts you to pick a protein and cooking style, from cumin-crusted stir fry to a "dry pot" style served in a sizzling mini-wok. Our choice of garlic-style chicken tasted like exactly what you wish strip-mall Chinese tasted like, but never does. A thick sweet and sour sauce coated chunks of sautéed chicken, bamboo shoots, bell peppers and exotic wood ear mushrooms, which have the consistency of roasted eggplant and a near-black coloring. Though the spice level was only a three, we found the heat level to be just right, building slowly without overpowering.
Dry fry pork, however, was almost too hot to enjoy, with an unbalanced spiciness that masked the real flavor. It's a beautiful dish to behold: Triple flash fried strips of pork, just barely crisp on the edges, are tossed with colorful ribbons of green peppers, celery, bamboo shoots and blackened dried chilies. The entire dish is studded with pepper seeds, which makes it pretty to look at but difficult to eat. The flavors are clearly there, but the ratio of meat to chilies needs to be addressed to appeal to local palates. Take away my spice-lover ID card if you must.
The salt and pepper shrimp, however, were so good that I ordered the dish twice in one week. Nearly a dozen jumbo shrimp, delicately fried in a light tempura batter, sit atop a bed of minced peppers and onions with a smattering of crunchy noodles. These crustaceans were perfectly cooked and still juicy in their salty, battered coating, pairing nicely with the fresh vegetables.
As the plates cleared, we hoped for something sweet to take the edge off the heat that had been steadily building all evening, but Han Dynasty doesn't delve into dessert—not uncommon for traditional Chinese restaurants, but it would be nice to see a steamed bun or fruit dish added to the menu.
It's difficult to expand upon a successful concept while still maintaining the quality standards you're known for, especially across state lines. But Chiang is on to something with this move to New Jersey. And it's only just starting to heat up.
Published (and copyrighted) in South Jersey Magazine, Volume 10, Issue 2 (May, 2013).
For more info on South Jersey Magazine, click here.
To subscribe to South Jersey Magazine, click here.
To advertise in South Jersey Magazine, click here. .