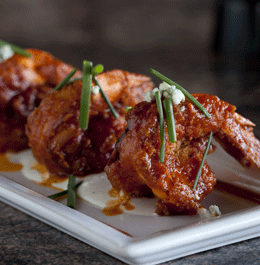 Redstone Grill
Crowd Pleaser
Redstone Grill
500 Route 73
Marlton
(856) 396-0332
2 1/2 forks
Even with the impressive list of restaurants around South Jersey, finding a table midweek is never too difficult. But that's never been the case at the Promenade's Redstone Grill, where a reservation is always recommended thanks to crowds packing the bar and dining areas every evening. Since its opening in 2006, locals have made this chain a designated South Jersey hotspot, known for its exciting nightlife and high end—and high priced—menu options.
A beautiful Tuesday night matched my expectations, and with a reservation waiting, we battled the happy hour crowd to the entrance. A live band positioned right outside the front doors along the al fresco dining area was a bit jarring, and finding a spot at the outdoor bar was out of the question thanks to dazzling early spring evening weather, but the inside was a pleasant change: same energy, less noise. Patrons nestled around the long bar that greets you like a welcome desk, and rows of booths and sectioned-off seating offered a bit more privacy.
Too bad for us, we ended up back outside, though this time at a table set away from the outdoor bar along the small Promenade ponds. As the sun set on the water, it was hard to believe Route 73 sat just feet from our table.
The Buffalo shrimp appetizer, one of the restaurant's signature dishes that's earned a big reputation, was already on my mind before walking in the door. Five giant rock shrimp arrived coated in a crispy breading on a bed of blue cheese dressing. It was as messy as a typical Buffalo wing, but successful and worth the extra napkin. The spice from the Buffalo sauce clung to the breading, while the meat of the juicy shrimp was light and, when combined with the dressing, mellowed out the heat.
Next came the jerk chicken fondue, marinated grilled chicken breast, sourdough croutons, grapes and green apples served alongside a cast iron pot of melted gouda. The apples, bread and grapes were especially addicting when dipped in the mild and creamy cheese, so much so that the overly charred chicken felt unnecessary. Any spice from the chicken was masked by a layer of cheese, while the other components played off of each other's flavors.
The perfectly seared exterior of the Asian-inspired sea bass was bursting with big flavor. Each forkful began with a crisp bite of brandy-garlic crust, along with hints of ginger and sesame which perfectly complemented the moist, flaky center. Accompanying sides were somewhat lacking, however, and considering the steep price, one might expect a larger serving of actual fish. Stir-fried vegetables were mostly one note but added a nice crunch, while the mountain of basmati rice pilaf took up far too much of the plate and didn't add any extra flavor. But through it all I kept coming back to that mouth-watering fish. If only there was a little bit more.
New York strip steak, on the other hand, was more than generously portioned and came from their selection of hand-trimmed, 28-day-aged steaks, served medium rare with a side of mashed potatoes and grilled broccoli. It was a juicy cut of steak cooked to the perfect pinkness, but the pool of melted butter sitting on top was overwhelmingly salty.
Russet potatoes mashed up until creamy with the skins still on were rustic and familiar, and the creative spin on the broccoli—grilled on the stalk and lightly salted, with a light char—transformed the typically boring side dish.
The dessert selection was confidently standard with offerings of cake, pie and ice cream. But we took our waitress' advice and went with the warm chocolate chip cookie sundae, a massive cookie baked into a cast iron skillet, then topped with a scoop of vanilla ice cream, covered in fudge sauce and sprinkled with candied pecans. It was rich and warm, but not overly memorable.
There were some high and low points to the whole evening, but through it all one thing was clear: Redstone is an easy escape from the midweek stressors. The energy seems overwhelming at first, but I found myself laughing, listening to the music, and simply enjoying the South Jersey spring. It wasn't hard to see why people continue to make this a ritual after-work spot. More than anything else, it was a fun place to be, and a quick getaway from the daily grind.
Published (and copyrighted) in South Jersey Magazine, Volume 10, Issue 2 (May, 2013).
For more info on South Jersey Magazine, click here.
To subscribe to South Jersey Magazine, click here.
To advertise in South Jersey Magazine, click here.