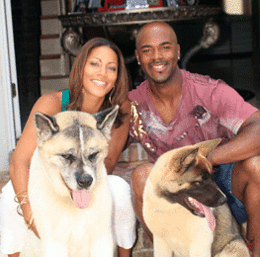 A Hometown Win
Jimmy and Johari Rollins join forces with their hometown vet to create new opportunities for injured animals.
Philadelphia Phillies shortstop Jimmy Rollins has earned a reputation for stealing bases and swinging for the bleachers, but at home in Woolwich Township he's a different kind of hero. That's because the World Series champion and four-time Gold Glove winner and his wife, Johari, have teamed up with their local Saint Francis Veterinary Center, which has treated both of their Akitas, Kato and Kayla, to create a safe space for animals in need. The couple opened the doors to the Johari & Jimmy Rollins Center for Animal Rehabilitation last month, a revolutionary new space designed to give injured animals the chance they need for a full recovery.
Jimmy and Johari experienced a new kind of rehabilitation up close last summer when their 9-year-old Akita, Kato, who passed away in October, faced injuries that left him unable to walk on his own. Through rehab at the Saint Francis Veterinary Center, the two saw a change in the dog's quality of life that led them to explore a full-time center for South Jersey animals. The state-of-the-art rehabilitation room features an underwater treadmill, therapeutic lasers, and some of the same equipment you might find in the Phillies' training room, all for animals and owners hoping to return their pets to a normal quality of life.
South Jersey Magazine talked with the Rollins family about their new personal venture, their growing family (the Rollins' daughter, Camryn, just turned 1 this month), and life at home in South Jersey.
SOUTH JERSEY MAGAZINE: How did the idea for the Rollins Center come about?
JOHARI ROLLINS: We live in this area and the relationship we had for years is great. This is our local vet. We trust them and they are part of our family.
JIMMY ROLLINS: It was a long road, we've been bringing our dogs here since I've moved back here and unfortunately our dog Kato had to go through rehab at the end of his life, but it was a great rehab for him. … He went from not walking to running around. So we know the work and dedication that goes into the animals, and the way they treat the animals, care for the animals. So when they came to us with the idea, it was a no-brainer. We wanted our name to serve a special place.
SJM: Did your experience in physical rehabilitation help steer you toward opening up a rehab center for animals?
JIMMY: I've been through rehab and I knew treatments that we had for human beings and I thought "Why can't they do this for animals?" [St. Francis Veterinary Center] was already on top of their game; they had the laser treatments and the balance balls. Just knowing they were actually getting work done, not just using medicine to cover up the pain, but to try and heal and get the animal back to normal, was a great thing to go through. … I know about rehab unfortunately, but hopefully I won't need any more. But for animals that need it, this is a great place; they're going to get high-tech and quality care.
SJM: What changes did you see in Kato through the rehab treatments?
JOHARI: He went from limping in severe pain to being able to walk normally and run like his normal self. Kato was very prideful and you could tell when he was home and he wasn't feeling well; it was depressing. And then we also saw him regress a lot when he missed one session or a week. All the therapy was really beneficial for him.
SJM: What is the relationship like at home between your daughter, Camryn, and your Akita, Kayla?
JIMMY: Kayla's a little rascal. She just recently learned how to jump gates. That's a problem, we just found that out. Other than that, she's a sweetheart of a dog. Camryn loves her. Camryn wakes up every morning and she's looking for her. And when she sees her, Kayla's actually running from her.
JOHARI: It's important to be able to expose children to animals and dogs and not to be afraid of them. They have a great relationship, and it will be cute watching Camryn get older and being able to walk Kayla instead of Kayla walking her.
SJM: Would you say you have settled into South Jersey?
JIMMY: I moved back in 2004 and have been here since and I like it a lot. It's grown a lot; I've seen a lot of houses and not as much farmland, which I used to appreciate. I liked watching the deer and foxes run around, but it's always nice to have people around, especially having people for our daughter to eventually play with.
SJM: So what do you two like to do around South Jersey when you have some free time?
JIMMY: She goes for walks, I stay in the house.
JOHARI: We go out to eat, too.
JIMMY: Yeah we do. We just went to Tavro 13. They're good, I had the pork belly sandwich. I have to say, it was pretty good.
SJM: What's next for the Rollins family?
JIMMY: What's next? The championship would be great, but watching [the veterinary center] blossom is great, too. I've said it before but hopefully we can make this place like a pet resort, so instead of having to go way over the bridge to take our dogs out when Johari comes on road trips, we can go right down the street. Knowing the type of care that they provide, it would be awesome if everyone could bring their dogs for their weekends away.
Published (and copyrighted) in South Jersey Magazine, Volume 10, Issue 2 (May, 2013).
For more info on South Jersey Magazine, click here.
To subscribe to South Jersey Magazine, click here.
To advertise in South Jersey Magazine, click here.