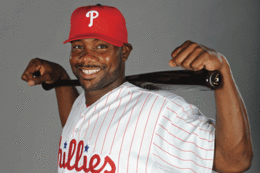 The Big Piece
Ryan Howard is injury free and motivated to lead the Phils back to the postseason.
Ryan Howard entered a critical spring training for himself and the Philadelphia Phillies in February looking like a new man, and not all of it had to do with baseball.
Sure, baseball was his main concern, specifically getting back to 100 percent after his health problems of 2012 and regaining the stroke that made him one of the most feared sluggers in the game between 2006 and 2010.
But while he was determined to get back to his superstar status at the plate, off the field he was already the happiest he's ever been.
That's because Howard added a second ring—a wedding band—in the offseason to go with the bling he picked up when the Phillies won the World Series in 2008. The 33-year-old Howard married Krystle Campbell in Maui on Dec. 1. Campbell, a former Eagles cheerleader, and Howard were together for three years before tying the knot.
"She's one of the greatest things that ever happened to me," Howard says. "What you look for is to marry your best friend. She makes me a better person in every facet. It's cool. It definitely changed my life. I just want to be around her and hang out with her. When you find that and understand it, you just know."
The couple chose Hawaii for a destination wedding to give family and friends a reason to get away and enjoy themselves in a tropical setting. About 100 people turned out for the event, including several of Howard's current teammates and a couple former ones, such as Ben Francisco and the Flyin' Hawaiian himself, Shane Victorino.
"We just wanted to do something for everybody to get away, have a great time and make a vacation out of it," Howard says. "Sometimes everybody gets lost in the everyday grind of work and you don't stop and smell the roses, so we wanted to force everybody to smell the roses."
As for his own everyday grind, Howard was back at it this spring in Clearwater, Fla., the Phillies' spring training home. While the Phils entered the spring with several troubling issues, most notably the health of star pitcher Roy Halladay, Howard set out to prove that he wasn't one of them.
One game against the Toronto Blue Jays early in the spring went a long way in telling Howard's comeback story.
With the Phils trailing 4-3 in the fifth inning, Howard came to the plate with two runners on. He took a short, quick swing and the ball jumped off his bat like a missile launched into orbit. He stood in the batter's box for a second to admire the mighty blast, walked two steps toward first base, and then started a slow jog around the bases.
The ball easily cleared the fence in right field and kept going. It sailed over the "1980 World Champions 2008" sign sitting atop the wall, rose high above the palm trees behind the lawn seating area in the outfield, and continued right out of Bright House Field before landing onto Route 19.
If there was any lingering doubt that Howard has returned to his old form after tearing his left Achilles' tendon on the final swing of the Phillies' 2011 season, that majestic home run should help convince the skeptics.
He's back, and it's not because he hit a nearly 500-foot drive in a meaningless spring training game. Howard has clubbed a few balls even further during his career. But it's how he did it that was most impressive to his longtime manager Charlie Manuel.
"I like to see him be more aggressive and quicker in his swing," Manuel says. "I think over the course of the last couple years, he used to carry a donut (on his bat), and he used it in batting practice just kind of nice and easy to hit the ball. I think sometimes when he gets in the game, I'd like to see him be a little bit quicker with the bat, more aggressive. Not overswing, but be quicker."
Howard's heard the chatter about his lack of success against left-hand pitching. The key to success, according to him, is doing his own thing. After all, that worked for him early in his career. Howard was the National League Rookie of the Year in 2005 and NL Most Valuable Player in '06.
"It's a combination of listening to the noise and trying to please people," Howard says, attempting to explain why he's struggled in recent years. "People say, 'Oh he can't hit lefties.' I have to show them I can hit lefties.
Obviously, to get to the big leagues you have to hit lefties and righties. It's putting all that stuff aside and just trusting my abilities. I know I can hit lefties. It's just a matter of being relaxed."
Howard is finally learning to ignore outsiders, especially critics. But he sought advice this spring from the greatest player in franchise history.
"We've chatted over the years about hitting," says Hall of Fame third baseman Mike Schmidt, who serves as a guest hitting instructor for the Phillies each year. "I've always been a Ryan Howard fan, but he's picking my brain a little bit more. He looks good. He's doing some of the things we talk about. It's not going in one ear and out the other. He's taking it all in."
Schmidt has a different explanation for Howard's poor numbers against lefties. He says you can't discount the pitchers he's facing. "I think he probably gets 50 to 70 more tough at-bats every year than every other player in the division," Schmidt says. "In other words, he's stuck in a game situation against the best pitcher, one of the best left-handers in the league, probably 60 to 70 times more than any other hitter in the league is. There're 20 left-handers that wouldn't be in the major leagues if Ryan Howard weren't in the Major Leagues."
Besides Schmidt, Howard has two new voices in his ear this year. The Phillies joined the growing number of teams that are using two hitting coaches. They hired former major leaguers Steve Henderson and Wally Joyner to work with their hitters, replacing former coach Greg Gross.
"It's been fun," Howard says. "We've been working since early January. We've been having a lot of fun, going in there, keeping it loose and being relaxed." After winning five straight NL East titles, including the 2008 World Series, the Phillies finished 81-81 and third in the division last year. Of course, they were missing Howard and Chase Utley for half the season.
"I think just having them around is good for us," Manuel says. "I remember last year, when Utley showed up in Arizona, we got a little kick. Everything was a little different. They are a big part of our team, as far as their talent and leadership roles and the fact of who they are on our team. Knowing that we can play Utley and Howard, that's a big jump on our offense; that's a big jump for our team. They're our 3 and 4 hitters in the lineup. Take those guys out of the lineup and we're losing a lot of offense."
Howard was responsible for quite a bit of damage back when the Phillies used to outslug teams early in their playoff run. He had one of the best sophomore seasons in history in 2006 when he hit 58 homers with 149 RBIs and a .313 average. Over a four-year span from 2006-09, he averaged 50 homers and 143 RBIs per season. But Howard's numbers dropped to an average of .265, 32 and 112 in 2010-11. He batted just .219 with 14 homers and 56 RBIs in only 71 games last year.
Of course, he was nowhere near close to 100-percent health last year, thanks to the disastrous ending to the 2011 season.
The Phillies won a franchise-record 102 games that year and cruised to their fifth consecutive division championship. They had the best starting staff in the majors led by Halladay, Cliff Lee, Cole Hamels and Roy Oswalt. Anything less than a World Series title was unacceptable for fans, players and everyone in the organization. They were built to win, expected to win and had to win.
But the lasting image of that magical season was Howard down on the ground, grasping his leg in agony after making the last out in a 1-0 loss to the St. Louis Cardinals in the decisive Game 5 of the NL Division Series.
Howard ruptured his left Achilles' tendon running out of the box and had to be helped off the field while the Cardinals celebrated an upset victory. It turned out to be a serious injury that forced him to miss the first 84 games last season. Even when he returned, he was still playing hurt.
"When I came back, there was obviously still a limp," Howard says. "I tried to do what I could. Having this offseason to work out again and build up strength in my leg, my Achilles is a non-factor. It was really a non-factor when I came back last year, but it was more about building up the muscles in the rest of my leg again.
"It's one of those things where you're just not 100 percent confident in it. You can't do the things you normally could do. Sometimes you might try to make a cut and you might feel something. There is always going to be that fear in that it might do this or it might rupture again." Howard showed up to camp way ahead of where he was last spring.
"My left leg feels phenomenal compared to this time last year, compared to where it was when I came back," he says. "It's not even a second thought in my mind. When I came back, it was always right there in the back of my mind. There was a little bit of hesitation, either putting weight on it or just doing some of the things I would do cutting-wise. Now I don't even think about it."
With rehabbing his Achilles no longer on his mind, Howard can focus on greater pursuits, like hanging out with his new wife and his 12-year-old son, Darian.
He is also passionate about his many charitable causes. In 2011, he received the Phillies Community Service Award and was nominated for the prestigious Roberto Clemente Award, and last year he helped raise more than $50,000 for the Police Athletic League and hosted kids from the program through his ticket foundation, Howard's Sluggers.
This summer, Howard will host his Celebrity Servers event for the fourth straight year. He and his teammates and other celebrities become waiters for the day at Morton's The Steakhouse in Philadelphia, with proceeds benefiting the Ryan Howard Family Foundation.
With all of that going on, Howard is clearly a happy, but busy, man. The three-time All-Star will be even happier if he can ride the momentum from his hot spring into the regular season and become a dominant hitter again.
"For me, it's continuing to go up there with a game plan. Being relaxed," Howard says. "At times, I would get so caught up in what I'm doing and try to be so technical about my stance and swing instead of thinking about that guy on the mound and what he's going to do. Hey, your swing is going to be what your swing is, as long as you have an approach against this guy and know what he's trying to do. It's putting your focus on that instead of, 'Oh, you have to put your foot here and your hands there.' At times I would get lost in that."
For Howard, baseball is a lot like everyday life.
"You have to continue to make adjustments," he says.
Published (and copyrighted) in South Jersey Magazine, Volume 10, Issue 1 (April, 2013).
For more info on South Jersey Magazine, click here.
To subscribe to South Jersey Magazine, click here.
To advertise in South Jersey Magazine, click here.