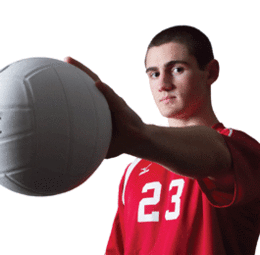 Reaching for the Stars
These eight local high school student athletes are scoring big in more ways than one
After a fantastic winter sports season for South Jersey high school athletes, it's time to head outdoors for the spring – except for the volleyball players, of course. With the warmer weather comes one final scholastic season for many local seniors, while the underclassmen look to emerge as the area's next stars. In the following pages we profile eight South Jersey athletes sure to have an impact this spring.
Lauren Thomas
Cherokee High School Lacrosse
The senior midfielder has been a varsity player since her freshman year and a starter since her sophomore year. She was second-team all-conference last season and will continue her career at Coastal Carolina.
SOUTH JERSEY MAGAZINE: Have you given a lot of thought to the fact that your time at Cherokee is almost over?
LT: It hasn't really hit me yet. After our first scrimmage, I started to realize that this is my last season. I think it kind of hit me after my last season of club lacrosse ended, but it hasn't all set in yet.
SJM: Have you accomplished everything you wanted to at the high school level or is there something you're really focused on this season?
LT: I just basically want to give it all I've got. Definitely try to get more goals, do more on the defensive end, force more turnovers.
SJM: Have you always been a midfielder?
LT: No, I was recruited as a defender for college and I played defense for club. Ever since I was a freshman playing varsity (at Cherokee), they always wanted me in the midfield, with my speed and shooting they wanted me for offense and defense. But all my life I was always an attacker and I always took the draw.
SJM: What age were you when you started playing lacrosse?
LT: I was in second grade. My mom played in college at the University of Maryland-Baltimore County. I was a softball player but I was always complaining that I was bored, so she said, "Try this, you might like it." My brother plays lacrosse at Drexel, and he always told me I should try it out. So I tried it and I ended up loving it. I wanted to run around and not just stand around in the outfield.
SJM: Did you and your brother work a lot on lacrosse together while you were growing up?
LT: Yeah, we were always in the backyard playing. He takes the faceoffs at Drexel, so we were always helping each other out with that, timing each other.
SJM: Your mom went to school in Maryland, where lacrosse is very popular. Do you feel like it's getting bigger in South Jersey?
LT: Oh yeah, definitely. … From New Jersey's aspect, it's definitely growing and it's getting a lot more competitive.
SJM: What's your favorite part of the game?
LT: I like the competition. I don't enjoy playing teams that aren't giving it their all. I like the competition going back and forth, I like nail-biter games.
SJM: You've had some experience with national competition too. What has that been like?
LT: Yeah, I was selected in the Philly Showcase (All-Star Game) and I was also on the National Brine Classic team. It was so much fun. I was on Team New Jersey, obviously, and they had every other state there and they also had the boys there. It was a really big honor. We had to play Maryland, and we fought, but they're obviously always strong. It was just nice to see the different states and people from all over the country compete at the highest level.
SJM: Is it true that you do a lot of volunteering at the youth lacrosse level?
LT: Yeah, I help with the younger girls and I also had the opportunity to coach a camp in Philadelphia. It's for girls in Philly who aren't fortunate to get the teaching or go to camps, we run a camp for them in August. I basically just set up the offense, defense and midfield and do basic training. I work with them for a week and that's probably one of my biggest accomplishments to date. Just going out there and teaching girls who aren't privileged and really don't know the game as well. In Philadelphia it's definitely starting to grow and it's starting to get more competitive with the inner city schools. I'm going to do that this year before I leave for school too.
SJM: What has been the reaction from the girls you're teaching?
LT: A lot of them are my age but they look up to me. They just want to learn the game. I know two of them have committed to colleges after coming to the camp, and that was an awesome thing to hear. A lot of them are really excited and after camp they got further training. They've contacted me and told me how much they've improved. They're all working really hard and it feels good to help them along the way. I've told them about my recruiting process and if they ever have any questions I'm here to help, because I know that recruiting can be really stressful for a lot of girls.
SJM: Speaking of that, how was the recruiting process for you?
LT: It was a little stressful in the beginning, because once one girl commits you feel like you have to commit, but at the same time you know you have to take your time and fall in love with the school. Where I committed, they didn't have a team yet, so I really couldn't connect with the girls. But I loved the coaches and I knew it was the school for me.
SJM: Coastal Carolina is playing its first season this spring. Is it exciting to be part of a new program?
LT: Yeah, that's something I was looking for. I was also looking at older programs, but I kind of wanted to be part of something new. Start a new tradition, start a new rivalry. The people are really excited to see lacrosse down South and it's definitely starting to grow with High Point and all the major Division I lacrosse schools. It's really exciting to see them get amped up about lacrosse. Hopefully they get a men's program too, right now they have a men's club team.
SJM: What do you think you're going to miss about home being pretty far away?
LT: I'll definitely miss my mom and brother. My brother's right over the bridge but we don't see him that much. The thing I'll miss the most is probably Wawa. I'll definitely miss the Jersey food, but that's about it. I'm really excited, I love down South, I love the beach and I'm really excited to get down there.
SJM: Do you know the girl from Moorestown, Alicia Geiter, who has also committed to Coastal Carolina?
LT: Yeah, she's on my club team, so that will be nice to have her there.
SJM: So before you get to college, what are you envisioning for your final season at Cherokee?
LT: It's definitely going to be a rebuilding year, we lost a lot of great seniors. But we also have a lot of great younger girls – incoming freshmen and sophomores who are stepping up. So hopefully we get to playoffs and do big things when we get there.
Reed Hofmann
Lenape High School Lacrosse
The senior attack is already the leading scorer in school history with 118 career goals. Last year, he had 42 goals and 29 assists on his way to all-South Jersey honors.
SOUTH JERSEY MAGAZINE: This is your last season at Lenape. Is it strange to hear that?
REED HOFMANN: Well, right now I'm just taking it one step at a time. It will definitely get a lot more real toward the end of the season. I'm just trying to focus on the task ahead, the season and the playoffs, and worry about the weird feelings of this being my last year after we're done. I'm just trying to keep my head in the game and forget about any outside distractions.
SJM: What would be an ideal ending to your career?
RH: I would say for us to win the division again. That would be nice, because for our senior class that would be three times out of four years. We'd like to go further in the playoffs this year. The ideal situation would be to make it to states and do well there. I just want to have a successful season and get the most out of our team.
SJM: You shared the division championship with Eastern last year. Do you see the Vikings as the main competition again?
RH: I see all the teams as competition, you have to take each team individually. Obviously, there's going to be changes from last year. You just have to keep your head in it and take every team as a threat.
SJM: Do you know a lot of the guys from around South Jersey, is the lacrosse community a close-knit one?
RH: Yeah, there's a few summer club teams in South Jersey and I've played alongside a lot of the kids in the area. Before or after games, it's nice to see them and talk to them. It's a lot closer than it used to be.
SJM: Who is somebody from another team who you really respect as a player?
RH: I would definitely say Jake Dean from Shawnee. I played with him over the summer and he's a workhorse. I'd also say Tyler Schulte, he's an attackman from Seneca, and Dan Willis, a goalie from Moorestown. I've always loved playing against Dan because he's one of the best in South Jersey, one of the best in New Jersey. It's always nice to play against a good goalie because you have to step up and take your game to the next level. It challenges you, makes you a better player.
SJM: When did you start playing and how did you get involved?
RH: I started playing in fifth grade. I used to play baseball, and one of my friends' fathers was the coach and commissioner of Mount Laurel Lacrosse, Tim Leonard. He asked me to give it a shot and play. I decided to try something new and ended up falling in love with it. Right when I picked up the stick and gloves, I knew that this is what I was going to continue to do and I was going to put as much effort into it as I could.
SJM: Were you a natural? Did you have success right away or did it take some time?
RH: Like anything else, you start off a little awkward. But I've been told that I'm a pretty athletic person, that's one of the reasons why he wanted me to play. I picked it up at a pretty good pace, but at first there were some challenges.
SJM: Have you been a goal scorer from the beginning?
RH: I've always kind of had the knack of putting the ball in the back of the net and getting myself in certain positions or situations where I'd be able to score.
SJM: You certainly have some impressive career numbers at Lenape. Do you think about those and do they mean a lot to you?
RH: It's nice to kind of think about and reflect on when you're not in season. But once the season starts, you have to get all those numbers out of your head and get the past out of your head and just worry about what you're doing now.
SJM: What do you enjoy more, scoring a goal or setting somebody else up for a goal?
RH: My philosophy is that it doesn't really matter which one I do as long as the ball goes into the back of the net. I like both of them the same just as long as our score keeps going up.
SJM: What did it mean to set the school career scoring record last year? Can you describe the play?
RH: It was against Seneca in a night game. It was kind of an emotional feeling. It started off as a faceoff win from Justin Holl, who sent a quick fast-break pass to Andrew Streilein, who passed it to me. The fact that I was able to share that moment with my whole team and my coaches, and that other people helped me get into that spot, was just amazing.
SJM: Do you hope it stays as your record for a while, or would it be OK if someone comes along and breaks it in the next couple of years?
RH: It would be nice for it to stay for a little bit, but in the long haul, looking at it from Lenape's perspective, it'd be nice for somebody else to come along and break it. That means they have a successful offense and successful scorers, so I'd like to hear about that.
SJM: Have you made a college decision yet?
RH: Yeah, I'm going to Widener University. I checked out a few schools and I just felt that Widener was the best place, I'm going there for physical therapy. I talked to the coach a lot and he was one of the deciding factors in my decision to go there. He showed me around, he made me feel welcomed. They have a very good record, they're a strong team and I'm excited to go there.
SJM: What do you feel like you have to work on to get ready for the college game?
RH: There's always something I can work on. I can work on different shots, different dodges, making myself more of an all-around player. Just training harder than I've ever trained before and pushing myself to get better.
Nick DiVito (pictured)
Cherry Hill East High School Volleyball
The senior outside hitter was a first-team all-conference selection last year when he recorded 273 kills and 46 aces. He led the Cougars to a 16-7 record.
SOUTH JERSEY MAGAZINE: Not only is this your last season at Cherry Hill East but it's also the last season for long-time coach Karl Moehlmann, who has over 300 career wins. What's it like to be part of his final team?
NICK DIVITO: He has had a great run. We really want to send him off with a good season. I know he had a successful soccer season in the fall and we want to continue it for him in the spring. I've absolutely enjoyed (playing for him), I think he's a very good coach.
SJM: Do you ever have trouble understanding him with that thick German accent?
ND: (Laughs). It's kind of hard sometimes, but you can understand him most of the time. He gets his point across by saying it louder if you don't hear it the first time.
SJM: When did you start playing volleyball?
ND: I started playing freshman year and I really liked it. I played baseball in middle school, but I transferred to volleyball because I found it more fun. I started to love it after that and I started playing in the winter too (for a club team).
SJM: Did you feel like you had a natural talent for volleyball?
ND: I do feel like it came pretty naturally to me. The arm swing I knew from baseball, because it's a very similar motion. It just came to me, I guess.
SJM: When you think of South Jersey volleyball, there are a few programs that come to mind and Cherry Hill East is definitely one of them. What's it like to be part of a program with a great tradition?
ND: Yeah, that's great. You always want to be part of something where you know the program has had success, where a bunch of players before you have been really good. You feel obligated to continue that success. I know Cherry Hill East under Moehlmann has never had a losing season. I think that's a great accomplishment and something that our whole program should be proud of. I love playing for a school with a winning tradition.
SJM: Eastern took the division championship from you last year. Do you feel like you have the team to make a run this year and take it back?
ND: Yeah, I think we're going to have a very strong team this year because we return four of the seven starters. We have a couple kids who played club over the winter and are looking very good. Overall, we look very solid.
SJM: You lost to Southern last year in the South Jersey semifinals, and the two years before that you lost to that school in the South Jersey finals. Is this the year you can get back at them?
ND: I know that our team has gotten better from last year, I don't know how Southern is looking or how we stack up against them. We've ended our season in their gym three years in a row by losing in the playoffs. They're not necessarily our rival since we only play them once a year, but they're a team I would love to beat.
SJM: Is there anybody in South Jersey who stands out as a player you admire?
ND: I know the one kid from Southern is real good, Mike Gesicki. From Cinnaminson, Kyle Faber and Zack Palin are both very good, I play club with them.
SJM: You talked about sending your coach off with a great season, but what about yourself? What are your personal goals this year?
ND: I wouldn't really say that I have individual goals. I obviously have the goal to be the best player I can be, but I don't look at kills in a game or anything, I just look at the team winning. I know that sometimes I'll get set more than other people, and sometimes the stats are based on that and not necessarily based on who's the best player.
SJM: Do you take pride in the defensive aspect of the game?
ND: Absolutely. I think defense is the most important part in any sport. In any sport that I've ever played – football, volleyball, baseball, wrestling, anything - I truly believe that defense wins games. I think defensive stats, those are the hard things to do in volleyball in my opinion. I think the front row is based more on athleticism, and the back row is the volleyball part of volleyball. That's the hard part. A good libero can really make a team better.
SJM: Serving is a big part of your game, right?
ND: Yeah, serving is definitely a big part of my game, I think that's one of my best areas. I've always been pretty good at jump-serving.
SJM: Have you made a college decision yet?
ND: I haven't made a decision yet but I have an option between the United States Military Academy and the United States Naval Academy. I'll be visiting both of them and I'll make my decision after I stay overnight and go through a daily routine at each of them. I'm heavily leaning toward the Military Academy at West Point, but I'm not going to make that decision until I've visited both of them and given both of them a fair chance.
SJM: Do you want to play sports there?
ND: I'm most likely going to play volleyball. They just have club teams and I've heard they're pretty good.
SJM: Do you come from a military family? How did you decide to take this path?
ND: I wouldn't say it's in my background. My uncle's in the Air Force and both of my grandfathers were in the military, but none of my immediate family has been in the military. I just decided because it seems like something I really want to do. I'll be serving my country and doing something important, something that's worthwhile. That's something that's very important to me.
SJM: How do you want to finish up your time at Cherry Hill East?
ND: I definitely want to have some success in my last season. It's the last time I'm going to be with these kids in high school, so I want to do it right.
Madison Tiernan
Eastern High School Softball
The senior second baseman was an all-state second-team selection last year, when she helped the Vikings win the Group 4 state championship. She will play soccer at Rutgers University in the fall.
SOUTH JERSEY MAGAZINE: So this is your last season of softball since you'll be focusing on soccer in college. Is that a weird feeling?
MADISON TIERNAN: It's exciting. It's weird, definitely, knowing that this is it. We're looking for a big year, especially coming off our state championship.
SJM: How long have you been playing softball? Do you think you'll ever find your way back to the sport in the future?
MT: I've been playing since second grade, since I was 8 I guess. I'm probably closing the door on softball after this season, because I'll be focusing on soccer in college and hopefully after college.
SJM: I know you lost a lot of girls from the state championship team, but do you feel like you can make another run at a state title?
MT: I actually think we can. We have a lot of young talent, a lot of freshmen who are coming in to fill those holes. We're going to miss Steph (Vuono) as our pitcher, but Megan Parker is stepping up and she's going to fill that role really well.
SJM: Does your role change at all as one of the veterans coming back?
MT: I'm definitely more of a leader as a senior. We have to make sure the younger girls are working hard and stay on top of them.
SJM: Your coach, Jamie McGroarty, calls you the best leadoff hitter in South Jersey. What does it mean to you to hear that from someone who knows you so well?
MT: Yeah, that's awesome. He's definitely a huge part of my game, he's a great support system, he always has my back. It's really good to hear him talk good about me.
SJM: Have you always been a leadoff hitter and what is the most important part of that role?
MT: Yeah, ever since I can remember. I think you have to make contact. It doesn't matter how you get on base, you just have to get on. A big thing is speed and I'm lucky to have God-given speed. I do what I can to get on, I know that's my role.
SJM: What other players do you like to watch in South Jersey?
MT: Actually, one of my really good friends from when we were younger, Carly Todd from Gloucester Catholic. She plays shortstop and she's a stud. She's one of the best to watch. We played ASA softball together since we were 12 and she's playing softball at Rutgers, where I'm playing soccer. That's really cool, I'll get to watch her play.
SJM: What was it about Rutgers that made you decide to go there?
MT: First off, the biggest reason is that I play for PDA (a Mount Laurel club team), and the big thing is to keep the Jersey girls in Jersey. I'm a Jersey girl, so it's a perfect fit for me. You know when you go somewhere and it just feels like family. I can't wait to be a part of something up-and-coming, especially moving into the Big Ten (Conference) my sophomore year. It's going to be great exposure. I'm really excited.
SJM: Was it important for you to stay close to home so your family and friends could easily see you play?
MT: My family is obviously a really big factor in my sports, they come to every single game, even my grandparents. Staying close to home, knowing that they can come to at least half of the games, was a big part of my decision.
SJM: And you'll be joined by two close friends from South Jersey on the Rutgers soccer team, right?
MT: Yeah,Tori Prager from Lenape and Erin Smith from Shawnee. I'm actually rooming with Tori, she's my best friend from my club team. You wouldn't think the Eastern-Lenape rivals from soccer would be close, but we're going to be roommates. It's great going there with them, we're keeping some of the club girls together and the chemistry is going to be awesome.
Shannon Nugent
Shawnee High School Lacrosse
The senior attack was all-South Jersey last year, when she scored 62 goals and led the Renegades to the South Jersey Group III final. Nugent and her twin sister Glade have both committed to USC for lacrosse.
SOUTH JERSEY MAGAZINE: Is it a bittersweet feeling playing your senior season at Shawnee?
SHANNON NUGENT: It's definitely sad that it's ending, but we should have a really good season this year. I'm excited to share it with all of my teammates.
SJM: You kind of had a young team and still reached the South Jersey final last year. Does that raise the expectations for this year?
SN: Yeah, we only graduated a few seniors from the starting lineup and we have a lot of returners this year.
SJM: Do you think about the loss to Moorestown in last year's South Jersey final?
SN: It's definitely motivation. We know that we're in contention for a South Jersey championship and we hope to get it. It helps for the motivation side – we know what we want and we're going to work hard to get after it.
SJM: Do you find yourself in more of a leadership role as a senior?
SN: Yeah, I think so. You have to make sure everybody is keeping their head up and keep the team positive.
SJM: Last year was kind of a breakthrough for you as far as the scoring numbers you put up. Did you surprise yourself with that performance?
SN: I guess before the season I was hoping for a good season, but I wasn't expecting it. I just worked hard every game, hoping that things would work out.
SJM: Weren't you more of a defensive player growing up?
SN: When I played for SJS (South Jersey Select), I played the defensive wing. I still played attack, just not low attack like I played last year. I love playing midfield, because I can be part of both the offense and defense.
SJM: USC played its first-ever women's lacrosse game earlier this year. Are you excited to get in on the ground level of the program?
SN: I'm really excited to be part of something new. The school is an incredible school all-around, academically and athletically. The coaches are phenomenal and I can't wait to be part of the whole program. I think it's going to be really special.
SJM: Were you always looking to go so far away from home?
SN: The only school I was looking at out west was USC. I was looking at the East Coast, but when I visited USC I just fell in love with the school, I fell in love with everything about it. I knew it was the perfect fit.
SJM: So I guess it was sunny and 85 degrees when you were there?
SN: (Laughs). Yeah, it was beautiful weather. I don't have any complaints about that.
SJM: Does it make it even more exciting knowing your sister will be with you?
SN: Yeah, I'm so happy we're together. I think it will help with the transition to college. We're together 24/7, so being apart would just be weird. I'll always have her for support, whether it's running or training or studying. On the field, we have that twin telepathy. I'm definitely happy we're going to school together.
SJM: I heard that initially you were looking to stay close to each other, but not necessarily at the same school.
SN: Yeah, like I was looking at Penn and she was looking at Villanova. We were looking at schools that were right around each other, so if we ever wanted to visit we could just hop on a bus or something. But it ended up we're going to the same school, so that's even better.
SJM: Aside from family and friends, what do you think you're going to miss the most about South Jersey?
SN: Yeah, obviously my family and friends. But I guess because I've grown up here my whole life, it's going to be weird not being in a familiar place. But I'm excited to experience a whole different part of the country.
SJM: Is there a certain part of your game that you're working on to get ready for college lacrosse?
SN: I would say all aspects of my game, honestly. You can never stop improving, offensively and defensively. There's always going to be someone better at some aspect.
SJM: And what would be the dream ending to your high school career?
SN: Definitely a state title. Hopefully a South Jersey title and then on to states.
Joe Russo
Washington Township High School Golf
Russo accomplished a lot as a sophomore in 2012, winning the Gloucester County championship and taking second in the prestigious Carl Arena/Al Rifkin Tournament. He's looking to ride that momentum into an even better junior campaign.
SOUTH JERSEY MAGAZINE: You set the bar pretty high for yourself last year. Does that increase the pressure for you this season?
JOE RUSSO: I always want to do better the next year. Last year, I played pretty good. But my standards are high this year. My main goals are to win Carl Arena and for us to make it to states.
SJM: You really played well in the big tournaments last year. Was it surprising to do that at such a young age?
JR: Carl Arena was at (Running Deer Golf Club) last year and I was a member there at the time. It was my home course, so I knew what shots to make. I expected to play well, but not necessarily to place as high as I did. That was kind of a shocker to me. (The county championship) at Pitman, I was really happy to win that.
SJM: You've been playing golf since you were really young, right?
JR: Yeah, since I was 2. I played with plastic clubs.
SJM: I know your dad is a very competitive golfer and won the Gloucester County Amateur Championship last year. How has that impacted you?
JR: He's basically taught me everything that I know. Without him, there's no way I'd be able to do what I do now. He's been supporting me my whole life and it's been good to have him behind me for every tournament.
SJM: Do you guys have similar games?
JR: He's better than me. I think I've beaten him three times. He still kicks the snot out of me whenever we play, but I can give him a little more competition now. He competes in amateur tournaments and I think he's ranked like 101 in the country. That's tough to beat.
SJM: How often do you guys play together?
JR: We play every single weekend together, even in the winter. As long as there's no snow on the ground, we're out playing golf, no matter what. It could be negative five degrees, we're still out there.
SJM: So golf is the only sport you play?
JR: I used to play baseball, but once I got to high school I had to choose between baseball and golf and I chose golf. Now it's the only sport I play.
SJM: Which course do you play the most?
JR: I belong to Laurel Creek now. We play there all the time.
SJM: What would you say is the toughest course you've ever played?
JR: Trump National, it's unbelievable. It's non-stop up-and-down hills. You have to hit the fairways. It's an impossible course to walk, because you've got football fields in between each hole. I think I was 3-over par going into the back nine but I was beat. I think I shot 6-over or 7-over on the back nine and didn't finish so well. It's an unbelievable course, you can't miss shots there or it's going to cost you. And it has an awesome view (of Philadelphia), you can't beat it.
SJM: Do you ever travel to play golf?
JR: This year I'm thinking about starting because junior year is when the colleges come along. So I'm probably going to start going to out-of-state tournaments. I have before, but only to places within a couple hours away.
SJM: What would be the dream course to get on?
JR: Augusta National. The Masters is my absolute favorite tournament to watch.
SJM: Do you have a favorite professional golfer?
JR: I would probably say Luke Donald. He's got such a pure swing, his putting is unbelievable and his short game is awesome. He's always consistent and he's the kind of guy you want to be like.
SJM: You mentioned this being a big year for college recruiting. Have you thought about where you want to go?
JR: I would have to say the main college I'd want to go to is Florida State. It's a great school, a great program. Obviously, it's down south so you can play golf year-round.
SJM: How about team-wise this year - you guys have a lot coming back, are your expectations high?
JR: I think we're going to have a great team this year. Mark and Matt Graziano, I think they're going to be coming on strong this year. They've shown a lot of improvement, I play with them a lot. And Justin Elwell should be really good, so we're going to be solid.
Ryan Dickerson
Moorestown tennis
Dickerson burst onto the scene last year as a freshman, as he was the first Moorestown rookie since 1999 to play first singles. He posted a 33-4 record and won the South Jersey Invitational.
SOUTH JERSEY MAGAZINE: I know you've been playing tennis for a long time and brought a lot of experience into last year, but did you still surprise yourself with how well you adjusted to the high school game?
RYAN DICKERSON: I had never played for a team before, so it was a lot to get used to. But I loved playing high school tennis, especially in competitive matches, because your team just gets behind you. They cheer for you and go crazy pulling for you to win. I like it a lot better than just playing individual competition.
SJM: What were your expectations for your first season?
RD: I actually didn't know what to expect. I just wanted to do the best I could for my team, just contribute as best I could. I knew there was a lot of good competition but I didn't know how I matched up against them. I didn't know a lot of the other kids at first. I was just trying to compete really hard and contribute to the team's success.
SJM: You were the first Moorestown freshman in 13 years to earn the first singles spot, and you beat out a really good player in Pierce Cooper for that honor. What did you learn from playing with a senior like Pierce last season?
RD: Pierce was our captain last year and he was a really good leader. This year, I've taken some things from him. We get in huddles before matches and he would pump up the team really well. He was our biggest cheerleader. He was a good team leader. We were both good players, but he didn't hold any grudges with me beating him out. He was real nice to me and cheered for me just as hard as everybody else.
SJM: After losing Pierce and some other solid players, does the team have what it takes to win the South Jersey championship again?
RD: Well, of course he was a huge asset and we lost a lot of good seniors. But our players worked really hard in the offseason and I think we're going to pick it up in certain areas. We'll be just as good, I feel like.
SJM: Your head coach, Bill Kingston, has been at it a long time and has had a lot of success. What do you like about playing for him?
RD: He's a real good leader just like Pierce was. He has a lot of knowledge about the game and he's not one of those coaches who will get on you. He likes to work with you and he asks you what you think, he doesn't just demand his way or the highway. He's a real players' coach.
SJM: And your dad is the JV coach (for the last eight years). What's it like having him in the program?
RD: Up until I was 11 or 12, he was my primary coach. It's real helpful to have him around, especially when we go to play the really good schools in North Jersey. It's nice having him on the sideline.
SJM: Was it your dad who really got you interested in tennis?
RD: Yeah, he played in high school and he played in college at (UC-Santa Barbara). He's been a coach since he got out of college. He really likes the game and he has a lot of passion for tennis. I always see him reading books about tennis and he has a high tennis IQ.
SJM: So what age did you realize you had a talent for the game?
RD: My dad says when I was 7, because that's when I started playing tournaments. I started playing when I was 3, but I couldn't really hold a racket. We just did hand-eye coordination drills, we'd throw a ball in the backyard. But when I really started playing and hitting, I picked it up really fast, and that was about when I was 7.
SJM: What kind of instruction do you have aside from your high school team?
RD: Basically the only teaching I did up until I was 12 was with my dad, and now I go to Arthur Ashe (the Legacy Youth Tennis and Education Center in Philadelphia). When I'm not playing high school tennis, I go there five days a week. I do two hours of tennis and one hour of fitness on the weekdays, Monday through Thursday. On the weekends, I do Bikram yoga – it's this yoga at like 110-degree temperatures. Then I play for two hours, then I do match play in the afternoon.
SJM: Do you feel like your game has improved greatly since you started training at the center?
RD: Yeah, definitely, because we focus a lot on fitness. … Fitness is such a big part of tennis. When I was working with my dad we didn't work on it too much because we didn't know that much about it. But at Arthur Ashe they really stress it.
SJM: Have you grown at all since last year?
RD: Yeah, last year I was 5-3 or 5-4 and now I'm 5-7. I grew a few inches and gained a little weight, 10 pounds maybe. Last year, because I couldn't really overpower my opponents, I didn't even try to. I used to just grind out all my matches. Now that I'm stronger and I hit the ball harder, I can play a little more aggressive than I used to.
SJM: Do you see your serve improving as well?
RD: Yeah, I definitely picked up a few (miles per hour). It's just a part of me growing and getting stronger.
SJM: What are your individual goals for this year?
RD: I'm going to work as hard as I can and hopefully do the same thing as last year. There's a ton of good competition, a lot of great players in South Jersey and North Jersey. I'm going to try and be the best teammate I can be and give it my all every time I play.
SJM: How well do you think you can do in the state singles tournament?
RD: To be honest, I'm starting to play really well. I know there's a ton of good competition, but at the best of my game I feel I can beat anyone. On any given day, there's a lot of players who can take me out. But if I'm playing well, I feel I have a good shot. I think I can go far in the state tournament this year.
SJM: Is there anyone in South Jersey or the state who you really respect as a player?
RD: I really respected a lot of the guys last year, like (state singles finalists) Jonathan Carcione and Tom Caputo. I like watching a lot of the No. 1s play, like Kenny Zheng or Justin Kang from South Jersey. I don't know if he's playing this year, but Nate Perrone is an up-and-coming player from Lenape. Like I said, there's a ton of good players and I like watching all of them play.
SJM: Who do you enjoy watching at the professional level?
RD: My favorite player is Andy Murray. I like how he competes and he works really hard at it. I like his game, he mixes up the pace really well.
SJM: Have you ever been to a Grand Slam event?
RD: Last year was my first time being at the main draw for the U.S. Open, I always went to the qualifier. Mostly because it was free, but also because there were a lot of good players there. Last year I got a ground pass for the first round. I saw a lot of good players like Milos Raonic, Fabio Fognini, Richard Gasquet, guys like that.
SJM: If you could go to one tournament in the world, which would it be?
RD: Probably Wimbledon, because I feel like it's the most prestigious tournament in the world. Players like playing there the most. I view that tournament very highly.
Emily Carson
Haddonfield Memorial High School Track and Field
Last spring, the senior claimed a state championship in the long jump, placed third at the Meet of Champions and competed in the New Balance Nationals. Also a standout sprinter, she will continue her track and field career at Notre Dame.
SOUTH JERSEY MAGAZINE: After the way you performed last year, are you excited to see what you can accomplish as a senior?
EMILY CARSON: I'm very excited. There's nothing like coming into your senior year, and we have so many other great seniors coming into their final year. It will be a lot of fun. Our team has great chemistry, so we should do really well. But it will be bittersweet too, the last time running in a Haddonfield singlet. I expect some big things, I have some goals I'd really like to hit, so we'll see what happens.
SJM: Track is one of those sports where you're competing on an individual basis and a team basis at the same time. How do you keep both interests in mind?
EC: They kind of go hand in hand. When I hit my goals, it's good for the team, no matter what. Sometimes my coach and my teammates don't understand why I get so hard on myself if I'm not achieving what I want to achieve. But when the season wraps up, everything seems to fall into place like a puzzle. It's kind of like this winter track season. I started off slow, I really wasn't running as fast as I wanted to and I was kind of upset. But the last few weeks, it all came out of nowhere, all my times dropped significantly. The middle of the season is always hard, because you're still training and you're not peaking yet. Typically you don't peak until the end of the season, you just have to stay focused until you get there.
SJM: Is the winter season harder than the spring anyway because you're coming off soccer season?
EC: Yeah, it's different. When I come off soccer I'm in a different shape. I have really good endurance, but it's so much different from sprinting and having those quick, really powerful bursts of speed in a short amount of time and then having long periods of rest. In soccer, it's 80 minutes of continuous jogging. Also, the weather is miserable and you're running in the snow. I can't complain, I had a really good season, but I'm looking forward to the spring.
SJM: What personal goals have you set for yourself?
EC: I definitely want to qualify for Penn Relays this year (in the long jump), which I think I have. My goal for the end of the season is to jump around high 19 feet, because I closed out the season last year at 18-9. So with some hard work, if I can jump around 19-7, it would not only put me in a good position for college but I would also score well in sectionals, states and Meet of Champs, and nationals if I get there. In the 100, hopefully I can run sub-12 (seconds). I talked to my coaches, and the way my 55 times were in the winter, we definitely think it's possible.
SJM: What's your favorite event?
EC: I would say the long jump is definitely my favorite, but the 100 is a close second. The long jump has always been my best event, ever since I started track in sixth grade. I don't want to say it takes less effort than the other events, but I don't get nervous for it, I'm confident and it just comes naturally, I guess.
SJM: So you knew you had a talent for the long jump from the beginning of your career?
EC: Yeah. I always knew I was fast, but when I started long jumping in sixth grade it was just so easy. In middle school, I would jump 15-something and everyone would be like, "How did you do that?" It amazed me that they thought it was so hard because it came easy to me.
SJM: You're going to continue your career at Notre Dame. Is that the college you've been dreaming of attending for a long time?
EC: Notre Dame kind of runs through my veins. My dad went there, all of his siblings went there, my older sister is a freshman there now. I've had cousins that have gone through there too. I've always grown up with Notre Dame as a place that I've lived at for half the year, because I've gone up for football games or to visit people. I always knew I wanted to do a sport in college because I've always been an athlete, or what people would call a tomboy. When I realized that I actually had some potential in track and field, I set my sights on Notre Dame.
SJM: I've been to Notre Dame but I've never been to a football game there. What's the experience like?
EC: A football game at Notre Dame is crazy. When I went on my official visit, it was a night game against Michigan and it was unlike anything I'd ever seen before. It was a lot of fun. I feel like Notre Dame is one giant family. Everyone knows each other, they're all giving high-fives and screaming and heckling the other team.
SJM: So how many times have you seen Rudy?
EC: (Laughs). The movie or the actual person?
SJM: The movie.
EC: I've seen it at least 10 times. It's probably one of my dad's favorite movies, so we watch it often.
SJM: You come from a pretty special place considering how the Haddonfield community supports its sports team. What do you like about growing up in a town like that?
EC: I just feel like everybody is so close and friendly. I've known all my friends since elementary school. I'm not just friends with people in my grade but people below me and above me. At some of the big schools, they don't even know everybody in their grade, but I can probably name everybody in my grade and I'm sort of friends with all of them. Also, I feel like a lot of the parents in this town grew up here. My dad grew up here and he had some of the same teachers I have, which is weird but also kind of comforting. Haddonfield has a tradition of excellence in academics and athletics that's been going on for a long time. To say that I've made a pretty good indent, at least in track and field, is pretty cool.
SJM: Notre Dame is a pretty far car ride away. Do you think it will be hard being so far from Haddonfield?
EC: At first it will be tough because I have so many great friends here and I'm really close with my family. The first few weeks will be tough adjusting to everything new. But after a while I'll get to know my team because I'll be seeing them everyday and I'll make friends in my classes. Plus, I have a cousin who will be a junior there and my sister will be a sophomore, and my other cousin will be a freshman with me hopefully. So I don't think it will be too bad.
SJM: Getting back to this final season of high school, do you think Haddonfield can repeat as South Jersey Group II champions?
EC: Oh yeah, for sure. We had some awesome seniors graduate, a really good thrower and a high jumper and some girls in between. But overall, some of our strongest competitors are still here. We've got some fantastic distance girls and a lot of sprinters. If we all just compete the way that we know we can and we hit all of our marks the way we should, by the end of the season I think we can repeat what we did last year.
Star watch
Burlington County
Cody Dazen, St. Augustine golf
As a junior, the Shamong resident was named the South Jersey Golfer of the Year. He became only the second player ever to win the Carl Arena/Al Rifkin Tournament and the Cape-Atlantic League Tournament in the same year.
Jarret DeHart, Shawnee High School Baseball
The senior outfielder hit .383 with a school-record 21 stolen bases and was named all-South Jersey. He will continue his career at national power LSU.
Sean Kelly, Cherokee High School Baseball
The senior ace, a Rutgers recruit, was a first-team all-conference pitcher in 2012. He led the Chiefs to a 23-6 record and the South Jersey Group IV championship.
Jackie Pezzato, Shawnee High School Softball
The Renegades senior pitcher was all-South Jersey second-team last year. She led Shawnee to a 22-4 mark and a berth in the South Jersey semifinals.
Justin Kang, Shawnee High School Tennis
The junior posted a 19-2 record and was all-county first-team in 2012.
Ian Patel, Lenape High School Tennis
As a junior, he went 19-7 at third singles and was named all-county second-team.
Dan Willis, Moorestown High School Lacrosse
Perhaps the best goalie in South Jersey, Willis will continue his career at Villanova.
Tyler Schulte, Seneca High School Lacrosse
The senior attack had 66 goals and 30 assists last year, helping Seneca to a 13-6 record.
Kyle Borbi, Shawnee High School Lacrosse
A Notre Dame recruit, the junior midfielder was all-South Jersey a year ago. He recorded 36 goals and 29 assists.
Marie McCool, Moorestown High School Lacrosse
The junior midfielder scored 28 goals last year, helping the Quakes to a perfect 26-0 record and the Tournament of Champions title. She has already committed to the University of North Carolina.
Caroline Shinske, Shawnee High School Lacrosse
The junior midfielder was first-team all-conference after scoring 41 goals and adding 18 assists in 2012.
Sean Kirsch, Moorestown High School Volleyball
An all-South Jersey second-team choice last year, Kirsch should have the Quakers in the hunt for a division championship in 2013.
Natalia Ocasio, Lenape High School Track and Field
Last spring, this senior took second at Group IV states in the 1600 and third in the 800. She is coming off a winter season in which she anchored the distance medley relay which set a South Jersey record and took first at the Eastern States Championships.
Jess Woodard, Cherokee High School Track and Field
The senior is looking to put the finishing touches on an outstanding career. Last spring, she was a national champion in the shot put after placing first in the discus and second in the shot at the Meet of Champions.
Courtney Foster, Cherokee High School Track and Field
The senior is coming off a tremendous indoor season in which she placed second at the Meet of Champions in the 400 with a school-record time of 57.37 seconds.
Sidney Ruffin, Moorestown High School Track and Field
The senior placed second in South Jersey Group III and fourth in the state last year in the long jump.
Camden County
Mike Shawaryn, Gloucester Catholic High School Baseball
The senior pitcher missed most of last season with an injury but is back to 100 percent for the Rams, who have won three straight state titles. Shawaryn is expected to be a high draft pick in this summer's Major League Baseball First-Year Player Draft.
Zac Gallen, Bishop Eustace High School Baseball
The senior pitcher has a 90-mph fastball and will continue his career at the University of North Carolina. He went 4-3 with a 2.93 ERA last year and earned the win in the Joe Hartmann Diamond Classic final.
Mike McLaughlin, Haddonfield Memorial High School Baseball
The junior outfielder/pitcher was an all-South Jersey second-team selection last year. He hit .348 with five home runs and 30 RBIs.
Carly Todd, Gloucester Catholic High School Softball
A Rutgers recruit, Todd was the team MVP in 2012, when she hit .448 and led the Rams in steals and runs scored.
Susan Wysocki, Camden Catholic High School Softball
The senior pitcher was an all-South Jersey player last year, when she led the Fighting Irish to a berth in the South Jersey Non-Public A final. The Marlton native has signed with South Floida.
Sierra Machinski, Cherry Hill West High School Softball
The shortstop was an all-conference first-team choice as a sophomore, when she hit .342 and knocked in 25 runs.
Max Oberholtzer, Haddonfield Memorial High School Tennis
As a sophomore, Oberholtzer posted a 39-8 record and won the Camden County championship. He helped Haddonfield claim the South Jersey Group II title and reach the state final.
Steve Jackson, Gloucester Catholic High School Lacrosse
The senior attack scored 50 goals last year and was named first-team all-conference.
Kristen Kelbon, Bishop Eustace High School Lacrosse
As a sophomore, the attack scored a team-high 51 goals and was chosen all-South Jersey second-team.
Connor Goodrich, Gloucester Catholic High School Golf
He enjoyed a remarkable freshman season in 2012, winning the Tri-County Conference Tournament and taking second in Camden County.
Anthony VanDervort, Haddonfield Memorial High School Golf
The junior was an all-Group I first-team selection and took third in the Colonial Conference Tournament. He helped lead Haddonfield to the Tournament of Champions.
Mikhail Micheaux, Eastern High School Track and Field
The junior was the South Jersey Group IV long jump champion and took third in the state. He is also an accomplished sprinter.
Gloucester County
Billy Grubb, Washington Township High School Baseball
The senior pitcher went 7-1 on the mound with a minuscule 2.16 ERA in 2012 and was all-South Jersey.
Taylor Coroneos, Washington Township High School Softball
The senior shined in the circle and at the plate for the Minutemaids a year ago. She posted a 2.17 ERA while hitting .438 with 37 runs scored in an all-South Jersey campaign.
Conor Beers, Kingsway High School Lacrosse
The senior goalie is a two-time all-conference selection. He helped the Dragons post a 15-6 record and win the Gloucester County championship last season.
Sara Kramer, Clearview High School Lacrosse
The senior defender/midfielder was all-conference in 2012 as the Pioneers won their first-ever South Jersey championship. She will play college lacrosse at Michigan.
Evan Carey, Washington Township High School Volleyball
The senior outside hitter is the leader on and off the court for the Minutemen. He was an all-South Jersey second-team player in 2012.
D.J. Salvatore, Kingsway High School Volleyball
The senior was named best libero at the Moorestown Tournament last year and was chosen second-team all-conference.
Justin Elwell, Washington Township golf
The senior played well on the big stage in 2012, shooting in the 70s at three major tournaments. He took second at the Gloucester County Championships.
Anthony Averett, Woodbury track and field
The senior is coming off a dominating junior season in which he won his second straight long jump title at the Meet of Champions and added South Jersey crowns in the 100, 200, high jump and long jump. He will play football at Alabama next year.
Kyle Leonard, Washington Township track and field
The senior placed second in the Olympic Conference in the 1600 and second in Gloucester County in the 3200 and will chase titles in both meets this year.
Published (and copyrighted) in South Jersey Magazine, Volume 10, Issue 1 (April, 2013).
For more info on South Jersey Magazine, click here.
To subscribe to South Jersey Magazine, click here.
To advertise in South Jersey Magazine, click here.