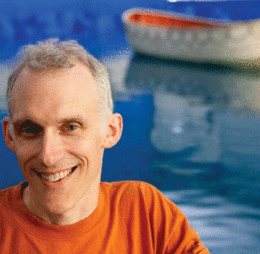 All in the Family
Steve and Tim Squyres have forged impressive careers in the worlds of science and entertainment, but they'll always consider South Jersey home.
They're not household names, but brothers Steve and Tim Squyres—who grew up in the small Gloucester County town of Wenonah—are probably two of the science and ¬entertainment worlds' brightest stars. ¬
Dr. Steve Squyres, 57, is a professor of astronomy at Cornell University, and principal investigator of the Mars Exploration Rover Mission (MER). As such, he divides his time between classroom teaching and hands-on research, which has included spending weeks undersea off the Florida Keys and Antarctica in work environments that simulate outer space.
His younger brother, Tim, meanwhile, is a twice Oscar-nominated film editor, known for his stellar work on Ang Lee's films (including the recent visually dazzling Life of Pi, which tells the allegorical story of a shipwrecked Indian boy lost at sea with a Bengal tiger).
So how did these two Gateway High School grads—class of '74 and '77, respectively—make their way from South Jersey to the pinnacle of their chosen fields? In chatting with the Squyres brothers, it becomes evident that their passion for their work, coupled with an unending quest for professional excellence, has propelled them each continually forward.
The Squyres brothers—along with Tim's twin sister, Pam—are the children of Arthur and Felicie Squyres, who met as college students in Boston. Arthur Squyres, a chemical engineer, moved to South Jersey after taking a job with DuPont in the 1950s. The Squyres kids enjoyed a typical childhood in the 'burbs, where they excelled in academics, sports and music—all the while encouraged by their parents to try new experiences and activities.
Both brothers left South Jersey when they headed off to college in the 1970s, but both still consider Wenonah "home," despite the fact they've traveled the world—and, in Steve's case, have lived for weeks under the sea.
In recent months, it's been Tim Squyres who's found himself in the spotlight—figuratively and literally—as Pi garnered 11 Academy Award nominations, including one for himself as film editor. (He was also nominated for an Oscar for his work on Lee's 2000's Crouching Tiger, Hidden Dragon.) The role of a film editor, Tim Squyres says, is unique in that "you're involved in telling the whole story, as opposed to doing your part and then passing it along to the next person."
"I've worked with Ang for a long time and I have tremendous respect for his artistic vision," he says.
"For a job that requires mostly sitting by yourself in a room, you need good people skills to work as a film editor. As work on the film progresses, I'm side-by-side with the director during the editing. Ang and I have different abilities, but we complement each other." Squyres has also worked with many other directors, too, including Stephan Gaghan on Syriana, Robert Altman on Gosford Park, and Jonathan Demme on Rachel Getting Married.
While Tim Squyres thought for many years he would have a career in astronomy or physics—finding his passion for filmmaking ignited in college—Steve Squyres knew from the time he was a young boy that he was destined for a career in science: "I viewed myself as a scientist at 6 years old … I just wasn't a good one at that point, but I was a total science geek from a very young age." So much so that younger brother Tim can still recall being part of his science experiments, including one that involved mirrors, prisms and goggles to show how the brain's visual system works. He also recalls the brothers watching a meteor shower in an open field and tracing the movements on their star charts "when we were still pretty young."
Introduced as a youngster to what would become a lifelong passion for mountain climbing, by high school Steve Squyres was an all-around achiever: trumpet player in the concert and jazz bands, an athlete excelling in track and field, and president of the National Honor Society. He even scored the lead role in the high school senior class play, The Fantasticks. Tim, meanwhile, followed a similar path: Like his older brother, he played a musical instrument (the trombone), ran track, and excelled academically.
Steve Squyres says being selected to take part in a three-month-long glaciology expedition in southeast Alaska the summer he graduated from Gateway was "a transformational experience for me. ... I was able to combine science with mountain climbing, my two big passions. Here I was, still a teenager, working with a dozen university professors. It was amazing."
"The next step was always clear," he says. Fascinated with the idea of exploration—of "going somewhere no one has been before and seeing things no one has seen before"—Steve Squyres set off for Cornell University in Ithaca, N.Y., assuming he would have a career in science "somewhere out in the mountains." But a course during his junior year about the Viking Mission to Mars turned his focus from the earth to space exploration.
"After that, I was hooked on Mars. It was just this great unknown, planetary exploration, and I became completely enthralled with it," Steve Squyres recalls. Continuing on with graduate studies at Cornell—Squyres earned his doctorate in astronomy/planetary studies in 1981—he worked closely with the famed Carl Sagan. Squyres—recipient of the 2004 Carl Sagan Memorial Award and the 2009 Carl Sagan Medal for Excellence in Communication in Planetary Science—spent five years as a postdoctoral associate and research scientist at NASA's Ames Research Center in California before returning to Cornell as a faculty member in 1986. At Cornell, he teaches several introductory science courses, including a favorite on the history of exploration.
"We cover a lot in that class—everything from Polynesians in dug-out canoes to the Mars Rovers to Cook and Magellan and Robert Peary," he says.
Steve Squyres' ongoing research has focused on the robotic exploration of planetary surfaces, the history of water on Mars, and planetary gamma-ray and X-ray spectroscopy. Over the years, he's participated in several planetary spaceflight missions. From 1978 to 1981, he was an associate of the Voyager imaging science team, and was a co-investigator on the Russian Mars 1996 mission.
Tim Squyres followed his brother to Cornell, also expecting to end up working in a science-related field. The two, he says, looked alike and he would often be mistaken for his older brother. While studying physics, Tim Squyres—a movie buff from childhood—found himself enthralled with films via the college's cinema screening program. A basic course in filmmaking he took during his junior year took his passion for movies to a new level. Suddenly "there was this thing happening that I could do 20 hours a day and not eat or sleep or even worry about doing homework for my other classes."
By the time he graduated from Cornell, Tim Squyres was working as a teaching assistant in filmmaking classes and had already learned how to edit, and was working at a local cable TV station. His early career included working as a camera operator for everything from MTV to educational films for the state of New York.
"I worked on hundreds and hundreds of various films projects, always doing more and more editing," Tim recalls. In 1991, he met Ang Lee, who—more than five years after graduating from NYU Film School—was working on his first feature, Pushing Hands.
"He needed a film editor and someone told him he knew a good editor who could work for cheap—Ang didn't have any money at that point," he says. A combination of "dumb luck and talent and hard work" resulted in what is now an A-list career in Hollywood films.
"My science background has been very helpful in my work as a film editor, because editing is both highly technical and artistic," Tim Squyres says. "Editing a scene is a complicated puzzle that, like science, requires a process and analysis."
A married father of two daughters, Steve Squyres says he tries to visit South Jersey often, noting his parents still live in Wenonah: "It will always be home on some level, even though I left many years ago."
Tim—also a married dad of two girls—agrees, saying South Jersey, was "a great place to grow up and someplace I still enjoy spending time."
Published (and copyrighted) in South Jersey Magazine, Volume 10, Issue 1 (April, 2013).
For more info on South Jersey Magazine, click here.
To subscribe to South Jersey Magazine, click here.
To advertise in South Jersey Magazine, click here.