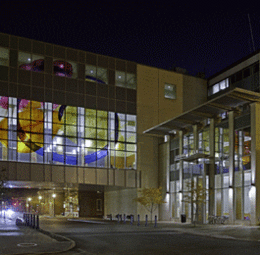 Back to School
Now that the merger flap is behind them, Rutgers-Camden renews its focus on education.
The message is on billboards, on signs at bus stops and on the sides of the Riverline and PATCO speedline—Rutgers-Camden is here to stay. But last year, when serious discussions got underway regarding a sweeping reorganization that would have merged the Camden campus into Rowan University, that message was far from clear.
For most of the year, the college faced uncertainty about its future. Original proposals called for Rowan University to absorb the Rutgers-Camden campus, home to the schools of business and law—as well as more than 6,500 students.
Tim Farrow, of Collingswood, a 1999 alumni of the Rutgers School of Law and currently the treasurer of the Rutgers University Alumni Association, says he and his former classmates feared the effects of losing their alma mater's name.
"The No. 1 thing was losing the Rutgers identity and what comes with that. It goes far beyond the name; it's the history behind it, dating back to the 1700s and being a premier research university. Just because it has Camden next to the name, it's still Rutgers University."
But on Aug. 22—after months of rallies and protests by students, faculty and alumni like Farrow—Gov. Chris Christie signed the finalized proposal that was introduced in June—the New Jersey Medical and Health Science Education Restructuring Act—that left Rutgers-Camden largely unscathed, and made the university, as a whole, even better. When the plan takes effect in July 2013, Rutgers University will be able to acquire nearly all of the University of Medicine and Dentistry of New Jersey, including its medical schools in Newark and Piscataway. Rowan, which opened the Cooper Medical School of Rowan University in the fall, will receive the research university status it was after, and will be allowed to take over UMDNJ's osteopathic medical school in Stratford.
Far from the initial idea of a merger, Rowan and Rutgers-Camden are merely encouraged to work together through the creation of a joint board with the purpose of promoting research and program development in the area of health sciences.
Most importantly, in the mind of Rutgers-Camden Chancellor Wendell Pritchett, the legislation creates a Rutgers–Camden Board of Directors and the Camden campus will receive its own specific appropriation on the university's budget.
"It was clear at that point [when Christie signed the bill] we were going to be Rutgers-Camden forever," Pritchett says. "The combination of those two things sets us on a great path for the future."
But there is work to be done, he admits. Most of New Jersey's residents with an interest in Rutgers University kept a keen eye on the legislation as it evolved and eventually was finalized. But not everyone understands the outcome. Pritchett says the college is driving home the same message it always has.
"We continue to talk about positive things. That strategy hasn't changed. What we're trying to communicate is we think we have a bright future and we expect the campus to grow significantly," he says.
It may take a bit to rebound, however. While the Camden campus' enrollment had been on an upward trajectory for the past few years, there was a dip in the fall of 2012—6,539 students compared to the previous year's 6,627. And the School of Law felt it even worse.
There were about 300 new students in 2011, but just 115 this past fall, according to Dean Rayman Solomon. The sharp decline isn't only because of the merger talks, Solomon says. About 80 percent of law schools across the country had a drop in enrollment this year and Rutgers-Camden's 2011 enrollment was abnormally high, making the two years hard to compare. He estimates the effect of the merger alone was about 100 less students. "Unlike other schools, we compete nationally for students," Solomon says. "The people locally had an understanding of the issues." But getting the message out to prospective law students across the country has proved to be a more challenging task.
Just one month before the legislation was signed, the college hosted a day for admitted students. Solomon says "we tried the best we could" and were honest to students about what they thought the outcome would be. "It was a volatile, political situation we couldn't control, so we couldn't make promises," he says. "A good number of them understood and they took a chance."
Next fall, he believes, will be more successful. In the next few months, Solomon and other law school faculty and alumni plan to travel across the country, to places such as Florida, Texas, southern California and Chicago, to speak to Rutgers alumni about the future of their alma mater, which includes improvements to the curriculum, more pro bono opportunities, clinical programs and practical education that students need to succeed.
The main message? "We are part of Rutgers and will be part of Rutgers," Solomon says. Alumni, like Farrow, play an important role in that. The fairly recent formation of the Rutgers University Alumni Association in 2008, which encompasses all of the campuses rather than a board for each one, is capable of reaching out to more than 400,000 alumni. And they're being more aggressive about doing so this year.
"We need to make people understand that, as far as we're concerned, we won," Farrow says. "We brought us from the brink of extinction to where we're still existing in the same capacity, just now we have the benefit of working with Rowan on the medical school and health sciences. Otherwise, we're in an even stronger position now."
Locally, the Camden campus is working to get the message out close to home. Communications Director Michael Sepanic says the college is about halfway into a six-month marketing campaign in South Jersey with billboards and other forms of advertisements to remind people that Rutgers is a research-intensive university with a vast array of opportunities.
Every once in a while, Sepanic says, the admissions office will still get the question from an interested student: "Whatever happened to that merger?" But those calls are becoming less and less frequent, he says.
"I think going forward, it's more about letting the world know we're here and what we're doing," Solomon offers. "In the course of this, we had amazing support, not just from students, faculty and alumni, but from the general public in South Jersey. It made people realize what the value of the school has come to be and will be and we want to build on that."
Photo by Robert J. Laramie: The Rutgers-Camden school of law, which will remain a part of Rutgers University under the state's higher education restructuring act.
Published (and copyrighted) in South Jersey Magazine, Volume 10, Issue 1 (April, 2013).
For more info on South Jersey Magazine, click here.
To subscribe to South Jersey Magazine, click here.
To advertise in South Jersey Magazine, click here.