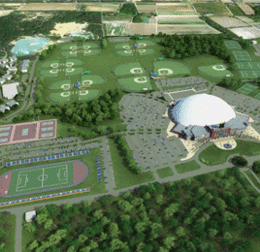 Fields of Dreams
The Magic Sports Complex of New Jersey is an ambitious $350 million project that could change the local youth sports landscape forever. The question remains though: If they build it, will they come?
When Ron Nametko was coaching his son's travel baseball team in the late 1990s, the whole process had always seemed a bit odd to him.
On summer weekends, Nametko would take his team—which drew players from New Jersey and Pennsylvania—to tournaments all along the East Coast. Also in the entourage were assistant coaches, as well as parents, siblings and sometimes even grandparents of the players.
Nametko was responsible for finding hotel rooms, restaurants and recreational activities for the whole group in each town they visited. It was a tedious and costly operation. Around that time, Nametko started developing a vision. What if there were a complex that had everything a youth team needed in one spot? Ball fields, obviously. Places for the kids to eat and sleep. Medical services. A hotel for their families, and even a water park for their little brothers and sisters.
Nametko got serious about that vision in 2001. Finally, 12 years later, he's getting close to turning it into a reality, and he's doing it right here in South Jersey.
The Magic Sports Complex of New Jersey is a massive undertaking that could make Cumberland County a destination for youth teams in many sports from across the country, and bring an economic boom to the region.
"We have a facility that we're building in Vineland that will be like none other in the country," says Nametko, the founder and president of Magic Sports. "I solved the problems that we were dealing with and brought everything to one location. It's always been about taking care of the kids, and also taking care of the people who travel with the athletes."
Magic Sports, along with Sora Northeast, the master developer of the $350-million project, has a purchase agreement in place for almost 290 acres in Vineland that borders Route 55 and Lincoln and Sheridan avenues. Their construction plans on the site include 12 baseball fields, eight softball fields, four soccer/lacrosse fields, seven tennis courts and an outdoor track.
There will also be a Magic Arena with 12 basketball courts and an indoor track, which will also have corporate offices, medical services and broadcasting facilities where kids can learn about careers in television and radio.
In addition, the Magic Village will provide housing for up to 3,000 athletes. And in the second phase of the project, a four-star hotel with adjacent indoor/outdoor water park is also planned for traveling families and the general public.
"I've been studying this concept for 14 years," says Nametko, a Manchester Township resident. "I've seen them all built, I've watched them and I've been to all of them. The best one in the country right now is Lou Presutti's Cooperstown Dreams Park. But he's just playing baseball. We've taken his model and expanded on it. Rather than one sport, we're playing eight or nine sports for the 13 weeks of summer. Then we're playing every sport that you can imagine for the 26 weekends that exist after that. We have tournaments, we have leagues, we have all the training facilities."
The complex won't just be for youth teams, or teams from other states, either. Nametko has been in contact with the New Jersey State Interscholastic Athletic Association and local colleges, and Magic Sports will be a membership-driven facility.
Nametko believes the project will also benefit South Jersey in other ways. The construction plans call for the creation of 200-400 temporary jobs, with hundreds if not thousands of permanent jobs once the complex is completed.
"We're going to create an economic impact for the region in excess of $200 million a year annually," Nametko says. "It's going to benefit so many people. We've been in the area since July and we've been watching the community and all the local businesses. Throughout the summer, it was slow. All the restaurants are slow, the whole area needs something to boost it up and help it. This is going to help it.
"All of those people are going to look for local restaurants, they're going to look for local shopping, they're going to look for things to do, activities for the kids. Everything is going to be packed."
Maria Tarzopoulos is a kindergarten teacher in Vineland, and her family has also owned General Custard's Last Stand, a restaurant in town, for the last 18 years. She thinks Magic Sports could be a perfect fit for the community.
"Business has been pretty slow because of the economy, especially down in Vineland," she says. "I definitely think this is going to boost the economy. I think it's a great opportunity for Vineland. We need some entertainment down there."
Of course, that leads to one of the major issues with the project—traffic. During a zoning board meeting in December, several residents expressed concerns over the traffic jams such a complex will bring to the area.
"In regard to the traffic, there was a traffic problem well before we even came into the picture," offers Bruce Farrell, a Woodbury resident and the director of development and design for Sora Northeast.
"But the advantages far outweigh the negative impact in this. We're fairly confident that we can control our traffic impact. At the same time, by doing that, I think we can fix the problems that were there before we even got there."
Other residents have made comparisons between this project and the New Jersey Motorsports Park in Millville. The race track is still operational despite filing for federal bankruptcy protection in 2011, but it hasn't quite lived up to the expectations surrounding its opening in 2008.
"(The race track) does come up, but I'm always a little confused as to why it comes up," Farrell says. "They are vastly dissimilar projects. We have no real connection or involvement to the race track people. … So I don't know why people are trying to draw a parallel. For the most part, we'll stick by our own financials, and I think they're completely separate from anything the race track did.
"I think the other thing of importance here is that we're doing this privately. To date, we haven't asked the town or the taxpayers for any help from a money standpoint, and we don't have any intention to. This is going to be all privately funded."
Greg Filipek, a Washington Township resident who heads Sora Northeast, has been involved in the project for about a year. He's aware of all of the concerns about Magic Sports, but he also believes youth sports is a booming industry, and he's betting on Nametko's vision.
"We didn't necessarily (have experience) in sports at the operational level," Filipek says. "From a real estate developer perspective, we looked at it and looked at the projected financials, the return. Where the numbers were, we thought that it was a project that made sense. The way we look at it is, even if the numbers are 50 percent off, it's still a good project. I like those odds."
The developers are hoping to get final approvals for the plan this spring from the city and county, and if so, they will break ground on the project sometime this summer. Nametko says Memorial Day 2014 would be an ideal date for the grand opening, but admitted that summer 2014 was a more realistic prediction.
Either way, he's ecstatic that his dream is almost complete.
"I am tremendously excited now that it's getting close," Nametko says. "This has been my life."
Photo Caption: This rendering shows an aerial view of the proposed Magic Sports Complex in Vineland. The $350 million project is closing in on final approval, with hopes to open in the summer of 2014.
Published (and copyrighted) in South Jersey Magazine, Volume 10, Issue 1 (April, 2013).
For more info on South Jersey Magazine, click here.
To subscribe to South Jersey Magazine, click here.
To advertise in South Jersey Magazine, click here.