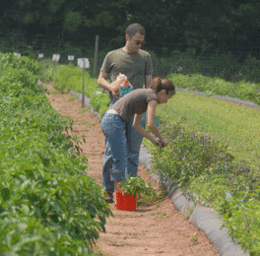 A Fresh Take
Community supported agriculture bridges the gap between farmers and consumers.
Community supported agriculture is a term few people are familiar with. Its acronym, CSA, may be more recognizable, but to most it is still a foreign concept. While CSA may not easily be associated with farm fresh food, the idea for such produce is not a new one, and more and more people are coming to realize this type of agriculture offers the green solution they're looking for.
CSA is an opportunity for a consumer to buy into a local farm, explains Edward Cuneo, owner of Spinella Farm in Waterford Works. After a consumer buys a "share," or pays a fee early in the year to be a part of the CSA, the farmer will use the money to prepare for, and plant, his crops. In turn, the consumer will receive, generally on a weekly basis once the famer begins picking, a share of the crops that are produced.
"Basically what it stands for is people in your community taking some ownership in the farm and the farm operation," he says. "Buying a share in a farm with a CSA allows you some input [into what the farmer is doing]. It allows you to make an investment in agriculture on a local level… and it allows the farmer to continue to do what he or she loves to do."
There are a number of different CSA options available, from organic to non-organic, and the products range from produce to grass-fed meat. The way the farmer opts to organize their CSA can also vary. It may be pick-your-own, or the member may be given a basket each week with a certain number of items in it. Some farmers also allow members to come to the farm and choose whatever produce they think they might like, while others deliver the shares to scheduled drop-off areas, or directly to the member's home.
However the CSA is designed, both the farmer and the member benefit from the partnership that develops. Carla Growney, president of 7th Heaven Farm in Tabernacle, says CSA is beneficial to farmers who utilize it because they are "hedging themselves against the inherent risks embedded in the industry."
Growney further explains that CSA is helpful for the farmer early in the season, when he is planning for the season ahead. "The CSA funds received by the farmer should cover his cost in preparing the soil, buying inputs, labor costs, etc., and there should be a few pennies left for his time," she says. "If his crop is good, he will make more money by selling more shares to other markets or consumers."
Offering a CSA is not ideal for every farmer, though, according to Bob Muth of Williamstown's Muth Farms. He says farming is an expensive trade, and while utilizing CSA to help offset costs may seem logical, it is not always reasonable.
"I would advise a fledgling farmer to stay away from CSA with a 10-foot pole," he says. "Instead, go to a farmers market. There are going to be a lot of failures initially [both with new crops and weather] and people will be forgiving to a certain degree, but in the end it's all about delivering the product."
Muth shares an example from his own farm, which in 2008 was devastated by a hail storm. He said the members were understandably upset about the potential to lose their shares, so he took it upon himself to replant and extend the season. But not all farmers will take that kind of initiative.
"We try to educate people that, yes, you're buying local in season, but you're buying it at a risk," he says, adding that if people expect a guaranteed return on their investment, they should not participate in CSAs. "If it's an act of God, you can't hold the farmer accountable."
What the member can guarantee is fresh, often organic, local produce that comes from a farmer they know and trust. While there are only a handful of farmers in southern New Jersey who currently participate in CSAs, the trend is one that is expected to grow.
"Every year we offer more and more shares," says Sherry Dudas, farm manager for Honey Brook Organic Farm in Pennington, which leads one of the largest CSA in the country with 3,000 members. "And every year we sell out."
Tiana Rosen, of Cherry Hill, is a member of the CSA at Honey Brook. As a huge supporter of the movement, she encourages others to try it.
"It's nice because I'm a bit of a foodie, and with the CSA you get to see heirloom veggies you wouldn't typically see in a grocery store," she says, adding she appreciates how CSA produce is received at the height of freshness and hasn't sat on a shelf for days. "It also gets you out of your rut, and instead of getting the same produce you always do, you get things like patty pan squash or kale that's not normally on your shopping list, and it's fun to design your meals around that."
With CSA growing in popularity, variations are inevitably going to pop up as well, much like the family share program (FSP) available through Growney, whose farm specializes in grass-fed meats. Through the FSP, members pay as they go, and only place an order when they need one. Other CSA variations are also currently available, including national companies Door to Door Organics and FreshDirect, which allow customers to order local produce online and have it delivered to their homes.
But the direct delivery services take away from the bonding relationships being formed between the farmer and consumer. "We enjoy the interaction that we have with CSA members," says Eric Buzby, of A. T. Buzby Farm in Woodstown. "They're all real positive about produce, especially local produce, and they want to know what's going on at the farm. We're glad to tell them."
Farms in the area with CSA
7th Heaven Farm LLC
Tabernacle
Contact: Carla Growney, SevHeavFarm@yahoo.com
Season: Year round
Grass-fed beef, pork, chicken, eggs
Share sizes vary, $50 membership fee
Pickup: at farm, delivery
A.T. Buzby Farm
Woodstown
Contact: Eric Buzby, (856) 297-1656
Season: May through September
Produce, cut-your-own flowers and herbs
Full share: $400; Half share: $250
Pickup: at farm, Collingswood Farmers Market
Honey Brook Organic Farm
Pennington
Contact: Sherry Dudas, (609) 737-8899
Season: May through November
Produce, herbs, flowers
Full and half share costs vary
Pickup: Pennington or Chesterfield farms, designated areas across the state
Muth Family Organic Farm
Williamstown
Contact: Bob and Leda Muth, (856) 582-0363
Season: June through October (16 weeks)
Produce, herbs
Large share: $725; Medium share: $437; Mini share: $295
Pickup: at farm
Spinella Farm
Waterford Works
Contact: Edward Cuneo, (609) 567-9082
Season: May through October
Produce
Full share: $250
Pickup: at farm, Burlington County Farmers Market (Moorestown)
Savoie Organic Farm
Williamstown
Contact: Barry Savoie, (856) 629-9020
Season: June through October (16 weeks)
Produce
Small share: $285; Medium share: $410; Large share: $695
Pickup: at farm
Third-Party CSA service
Growing Home Co-Op
Moorestown
Contact: Francis Leader, (609) 271-3613
Season: June through October (17 weeks)
Produce
Full share: $270
Pickup: Burlington County Community Agriculture Center, Moorestown
Published (and copyrighted) in South Jersey Magazine, Volume 10, Issue 1 (April, 2013).
For more info on South Jersey Magazine, click here.
To subscribe to South Jersey Magazine, click here.
To advertise in South Jersey Magazine, click here.