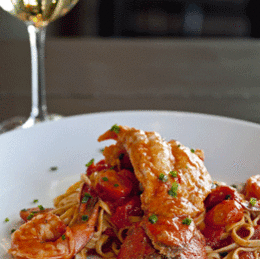 Catelli Duo
A New Approach: Catelli Duo
12101 Town Center Blvd.
Voorhees
(856) 751-6069
3 and a half forks
Voorhees Town Center has evolved into a bustling hub of shopping and dining almost overnight. Walking up to the entrance of Catelli Duo, where guests hang around waiting for a table and a valet runs back and forth between customers, one would never know this young eatery was an empty space just months before.
Catelli Duo serves as a modern revival of owners Jan Talamo, Linda Rosanio and chef Lou Imbesi's previous Voorhees location, Catelli Ristorante, where the doors closed in July 2011 after a 17-year run. The modern-yet-industrial setting, with an open kitchen and massive brick oven, plays off the reinvented Italian concept they have embraced. The menu is equally as inventive, with selections that change consistently with the seasons, and a variety of dishes designed to appeal to many featuring plate options for sharing, a raw bar, steakhouse picks, and of course pizzas and pastas.
The high energy jolts guests with the first step through the door. A large horseshoe bar stands at the forefront, surrounded by rustic wood dining tables and benches for a more casual crowd. The open dining areas sit adjacent to the bar, with only a narrow corridor separating diners from the bustling of bar customers and servers rushing back and forth. It's an exciting setting, but loses the intimacy one looks for during a dinner date or evening out with close friends.
A serving of clams casino was a bright start to the meal, and a perfect example of their contemporary concept. The traditional dish gets a pack of flavor with fresh bell pepper, which blended harmoniously with the cherrystone clam still sitting in the shell. Diced bacon and a broiled breadcrumb topping provided a nice finishing crunch, while still maintaining a fresh and light taste.
But the stuffed long hots, while generously portioned, fell a tad short. The melted aged provolone and braised short ribs, combined with an overcooked pepper casing, lacked any solid texture. Meanwhile, the overpowering heat of the long hots masked any flavors of its meat and cheese filling.
Heat was no problem in an entrée of lobster and shrimp fra diavolo. The traditionally spicy tomato-wine sauce packed an expected punch from the chilies it is cooked with, but nothing could overshadow the supremely rich shellfish topping their house-made linguine. Flavors were constantly changing: Large shrimp sat next to a whole lobster tail with the fin still attached, and both managed to retain their buttery-but-sweet essence through the chunks of cooked tomatoes and taste of red pepper and herbs.
Another entrée, veal and crab marsala, was much more traditional and very satisfying. Thinly sliced veal was smothered in a silky wine-and-mushroom sauce, with hearty chunks of lump crab meat throughout. The massive mound of mashed potatoes was run of the mill, but the pool of crab and marsala sauce ladled into the middle acted as a pleasant distraction. It was hearty and familiar, the kind of plate that warms you up and leaves you full.
Dessert options were playful but simple, channeling childhood memories with options like cookies and a root beer float, a bread pudding made from Krispy Kreme donuts, and an ice cream sundae with Nutella on a Belgian waffle. We went with our waitress' advice and settled on the baked Alaska. It was reinvented with a brownie crust and banana gelato center before being coated in Italian meringue, quickly broiled and drizzled with a banana-caramel sauce. The chocolate brownie, while a bit too chewy, blended well with the refreshing banana flavor, and the meringue was light and airy. It created a nice light ending to a fairly heavy meal.
At the end of the dinner it was clear that Catelli Duo wasn't just another Italian restaurant dotting the South Jersey landscape. The menu extends beyond just pastas and red sauce and instead explores flavors and cuisines that would appeal to a range of discerning palates. At times, the dining room may be loud, but the flavors are louder.
Published (and copyrighted) in South Jersey Magazine, Volume 10, Issue 1 (April, 2013).
For more info on South Jersey Magazine, click here.
To subscribe to South Jersey Magazine, click here.
To advertise in South Jersey Magazine, click here.