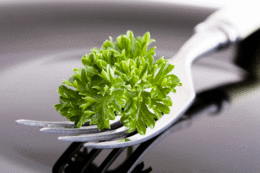 District 611
A Little Slice of the City: District 611
710 Broad St
Riverton
(856) 829-1552
2 and a half forks
It seems you can't go two miles in this area without encountering a decent Italian restaurant, either of the red gravy variety or more "old world" in nature. And that's certainly a good thing. But the trendiness of wood-fired pizza, a traditional dish from Naples, has yet to really catch on here in South Jersey, at least not as much as neighboring areas.
Though there are a handful of places that do it well, newcomer District 611 has brought a refined bistro concept that aims to master the art of pizza making, with some serious high standards.
Owners Brian Baglin, Catherine Piotrowski and chef David Perini have plenty of experience creating upscale ambiance, thanks to previous service alongside famous restaurateur Stephen Starr. (Piotrowski and Perini both came from roles at Continental; Baglin was GM at Pod.) Along with partner Jim Brandenburger, the crew has admirably brought some urban coolness and pizzaiolo credibility to a quiet South Jersey shopping plaza in Riverton.
When this BYO opened in mid-November, we were promised wood-fired pizzas and a new-American feel throughout brunch, lunch and dinner service, with a menu that ranges from pappardelle with rustic tomato sauce to a blue cheese-dusted filet mignon. At a recent dinner, we set out to see if District 611 has got more than just pizza cooking.
From our vantage point at a comfortable booth by the window, we enjoyed diving into a bowl of smoky grilled chicken wings, tossed in a sweet and spicy glaze of lime and jalapeño. Just the right portion for sharing, the wings come adorned with slices of tiny red chilies, green peppers and fresh limes, dark and crispy from the grill. At first, the smoky flavor was exciting—like a vision of summertime picnics in the middle of winter—but the intense charring became tiresome after two or three. The lack of any sort of wet napkins was disappointing for such a hands-on dish.
A more polished appetizer left us wanting more. Fried polenta cakes were great for snacking: three little pillars of crisp cornmeal arranged over a chunky tomato sauce, topped with a dollop of house-made ricotta. A nice balance of texture and flavors, with the gently crunchy cake pairing well with a forkful of the whipped and basil-speckled cheese.
District 611's interior is pretty and spacious, dressed with a palette of brick, poured concrete and rustic wood accents. Toward the back, glimmering black tiles outline the kitchen's crown jewel: a blazing dome-shaped pizza oven, custom built and weighing more than two tons. Owners say it's held together with mortar composed of volcanic ash from Italy's Mount Vesuvius.
The menu even touts its kitchen's adherence to strict regulations passed down by an official Italian pizza association: dough worked by hand and never with a rolling pin, exclusively San Marzano tomatoes in the sauce, imported mozzarella or fior di latte made in-house daily. Inside the oven, aromatic oak and birch woods reach temps up to 900 degrees, which allows the chef to cook the signature pizzas in mere seconds.
Traditional Neapolitan pizza is meant to be served whole and eaten with a fork and knife, to better preserve the many toppings and gently cooked crust. Our order of pizza Calabrese looked simple at first glance, but spilled over with fresh flavors. Warm chewy dough married with milky Buffalo mozzarella, the sweetness of the tomato sauce and surprise bites of fresh parmesan reggiano throughout.
The star of that show was the imported Calabrese salami. A dozen quarter-sized slices were scattered across our pie, but each bite brought intense meaty flavor and peppery spiciness that lingered long after the plates had cleared. It was a messy, chewy business to eat and unlike most pizzas enjoyed in the states, but altogether so enjoyable to share. A dish of unadulterated crab meat was shaped into five petite cakes and only just lightly browned on top. A side of lemony asparagus was complemented with sunny aioli and dots of bright green basil oil. We loved the vegetables for their tenderness and citrusy flavor, but wished the simple crab cakes had more seasoning and texture.
Service also needed some zip. On a night without crowds, no hostess greeted us at the door and courses dragged on. Dirty dishes sat longer than they should. Our server was friendly, just without much pep to her step.
And for as much as we adored some of the dishes, the menu just doesn't feel cohesive. Appetizers inspired by Thai barbecue or mini bahn mi? Tostadas with chili sauce? Some streamlining by Perini would do a lot to focus the offerings here, especially when so much visible care goes into the house's pizza process.
Dessert was a high mark. Try the s'mores cake, a layer of graham cracker blondie topped with dense chocolate crème, crowned with a piping of marshmallow that's torched for just the right amount of campfire toastiness. This dessert stood out, making it an utterly decadent end to the evening.
At less than six months old, District 611 is off to a solid start, but would improve with more time—I'd like to see the space get comfortable with its own Jersey personality, rather than one drawn from various across-the-bridge inspirations.
Published (and copyrighted) in South Jersey Magazine, Volume 10, Issue 1 (April, 2013).
For more info on South Jersey Magazine, click here.
To subscribe to South Jersey Magazine, click here.
To advertise in South Jersey Magazine, click here.