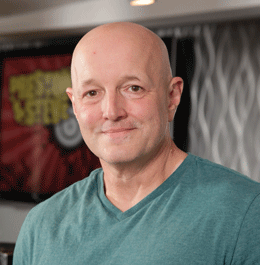 Anything for a Laugh
"Rattling the cage" with WMMR morning show crack-up Steve Morrison
Everyone has someone in their lives who makes them say, "I can't believe he just said that." For countless listeners in the South Jersey area, that someone is Steve Morrison, the side-splitting co-host of WMMR's "Preston & Steve" morning show. One might describe his humor as direct and irreverent, undergirded by a thoughtfulness that transcends the bawdy hijinx typically associated with morning-drive radio.
Although he was born in Manhattan and spent most of his formative years on Long Island, Morrison has been making the Delaware Valley laugh since the mid-1990s; with Preston Elliot, Morrison has co-anchored WMMR's morning show since 2005.
Morrison, whose team kicks off summer with a special Memorial Day event at Keenan's Irish Pub in North Wildwood, spoke with South Jersey Magazine recently about his thoughts on the roots of his style of humor, unleashing his "inner imbecile" and, of course, radio stunts gone horribly yet comically wrong.
SOUTH JERSEY MAGAZINE: What's the best perk of being on air for WMMR?
STEVE MORRISON: I'm surrounded by an entire staff of people that get along and I would hang with them in a heartbeat. This is an anomaly; you always hear stories about [other] top-rated shows with on-air staff that just can't stand each other.
SJM: What were you like growing up?
SM: I was the blend of two types of comedy, mostly from my parents. My mom passed away when I was 20, and she had a very esoteric sensibility, while my dad had a very biting and sarcastic deal. My humor was all over the place, and I learned it by watching everything from early Woody Allen movies to Bugs Bunny and Looney Tunes to George Carlin and Jerry Lewis.
SJM: Your job is essentially to make people laugh and get involved with the audience, but do you also need a certain amount of time to yourself?
SM: We consider the audience a huge group of friends that's all going to work together, shooting the proverbial [breeze]. With that, at the end of five hours on air, I just have to go and not talk for a little bit. I'm sort of exhausted afterward. Then again, I know people who get exhausted from their job of going into a burning building, so I'm OK.
SJM: I imagine you've had many memorable on-air moments. Tell me about a recent one.
SM: This year's Camp Out for Hunger blew us away. We had just shot a "nacho cannon" at our intern and it knocked the wind out of him, and we also had [film producer] Judd Apatow on site, and he donated $10,000. The chef Robert Irvine was there donating likewise. So we had members of the Flyers and Apatow—all these guys in our green room—while you had all these people coming by to drop off food. It was sort of surreal.
You've got to walk a fine line. We fired hot sauce into an intern's butt for spilling something on [on-air personality] Kathy Romano's pants, but that was before we found out he was allergic to whatever was in the hot sauce. … You've got to rattle the cage. You've got to get the water-cooler stuff going. In a way we are blessed because we're able to act on the thought that says, "I'd love to be able to blow that up." … It allows us to get in touch with our inner imbecile.
SJM: The show has made a habit of kicking off summer with a show in North Wildwood, and it has a reputation for getting pretty wild.
SM: We love getting into South Jersey as much as we can. We're typically down at Keenan's to kick it off, and basically we get 1,000-plus people in this bar. The bar is open by 6:30 or 7 a.m.; it's Memorial Day weekend, so people are ready to have a good time. We have professional-grade broadcast headphones cranked up, and it gets so loud in there that we can hardly hear each other [through the headphones]. We've had the Eagles come down. We've had some guys from New Kids on the Block coming in, and they thought they would be in a studio, but instead they were right there with people screaming and going nuts around them. It's a huge event, and we have a number of these large benchmark events where we're not sequestered behind nine levels of security. It's just, "Come out and hang with us." … We're there to have a good time with them.
Published (and copyrighted) in South Jersey Magazine, Volume 10, Issue 1 (April, 2013).
For more info on South Jersey Magazine, click here.
To subscribe to South Jersey Magazine, click here.
To advertise in South Jersey Magazine, click here.