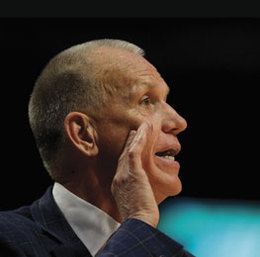 A Deep Sixer
Nearly four decades before he would coach the team, Doug Collins was the No. 1 overall pick by the 76ers and building lasting memories in South Jersey.
In the 1972 gold medal basketball game at the Munich Olympics, a skinny kid from little-known Illinois State University named Doug Collins calmly sank two of the biggest free throws in the history of the Games. Trailing the Soviet Union by a point with three seconds left, Collins sternly stepped to the line and stroked what could have/should have been the game's winning points.
After much controversy and two inbound opportunities, the Soviets scored at the buzzer on a full-court pass and layup to strip Collins and his American teammates of what seemed certain gold just moments earlier.
Though Collins didn't win the gold—and the team refused to accept the silver medal—his clutch free throws forever cemented him into basketball legendry.
Less than a year later, he was chosen by the Philadelphia 76ers with the first overall pick and for the first time in his young life he had to live somewhere besides the small town of Benton, Ill. He chose Marlton. And the same hand that had sweetly stroked those two free throws in West Germany was now trembling in fright as Collins signed the papers for his first house.
"Marlton Village, my hand was shaking, I thought I signed my life away," recalls Collins. "It was $30,000 for a little townhouse, just starting my life."
Now close to 40 years later, Collins is back where his adult life began, as head coach of the team that drafted for him. A deeply religious man, Collins insists it was his calling to come back home and coach the Sixers, to leave his cushy NBA analyst television seat that he ruled for so many years and get back into coaching after a seven-year hiatus.
The calling, he insists, was due to the unforgettable bonds he formed as a young man living in South Jersey, first in Marlton Village for a few years, then six more at the Alluvium Development in West Berlin.
"South Jersey just has so many fond memories for me; it's where my adult life began forming," says Collins, now 61 and in his third year at the helm for the Sixers. "I had just gotten married and, not long after we got there, we found out (my wife) Kathy was pregnant with Chris (now associate head basketball coach at Duke), so my life changed in a big way. I went from being a young guy at Illinois State, hadn't really been out of Illinois that much except to play basketball, and being drafted by Philadelphia and then coming to South Jersey. I remember right before we got there, I broke my foot in the Maurice Stokes All Star game in Boston. So all of our belongings were coming from Boston to New Jersey, we were moving in our place, I had a broken foot and two or three weeks later I found out that Kathy was pregnant. So here it is, NBA player in Philadelphia, moving to my first house in South Jersey, broken foot, my wife is pregnant and it's like 'Wow, did my life change quickly.' And I was only 22 years old."
He quickly found a support group. While injuries marred his all-too-short career, cutting it off after just eight seasons, Collins found solace in the life he was forming off the basketball court.
There were the neighbors in Alluvium that formed a tight-knit group; the high school kids Collins would play basketball with during the offseason at the Jewish Community Center in Cherry Hill on Route 70; and the knowledge that South Jersey offered everything he could ever imagine for his growing family.
"Ron Jaworski was my next door neighbor there on Silver Hill Lane, and in that development was Mike Schmidt and Garry Maddox and John Bunting from the Eagles, Gary Dornhoefer from the Flyers," says Collins. "It was a great little community that had just been built; they had beautiful homes and it was an easy ride across the Walt Whitman Bridge to get to where we wanted to go. It was very convenient.
"But we had a lot of friendships because we all lived so near each other. 'Jaws' lived next door to me so I got to know a lot of the Eagles. At one point in time, I was coaching their basketball team in the winter time. I would go with 'Jaws' to the game when I was playing for the Sixers and I would coach their team. I got to know a lot of the Flyers, Bob Dailey got to be a good friend of mine because he lived in that area. Bob Boone, Greg Luzinski, I got to know a lot of those guys. There were a lot of friendships that got to be born with players from different organizations because then you got a rooting interest in those other teams."
His friendships weren't limited to professional athletes. A constant visitor to the JCC, Collins often played with and against many of the local high school players—Tommy Love, Jeff Cohen, Al Nemore, Eddie Shaen, Joe O'Donnell and Mike Mascarelli—guys whose names and where they lived and went to school he still remembers today.
"Doug was one of the guys," says Cohen, 54, a Mount Laurel resident who is the postmaster in Medford and high school basketball referee assignor for the past eight years. "I mean, we all knew he was an All-Star in the NBA, but he just came and played ball with us like anyone else. Sometimes when we were done playing, he would pile us into his (pale blue) Corvette and we'd go to Weber's on Route 38 to get something to eat."
Ironically, that Weber's is now owned by Mascarelli.
"I went to the JCC right on Route 70 right near Bishop Eustace," says Collins. "I would go in there and play all the time. It's hard now for pro athletes to do that, times have changed, you can't put yourself in that position as a professional athlete. But at the JCC, we'd get together and play in there and it was great.
"To me it's like I've always been a big brother or mentor kind of guy. I've always liked to take these younger kids, kids in high school or whatever, and take them under my wing. Eddie Shaen used to follow me around and then he started working at a sneaker store, and then he got his own sneaker store and now has his business. My son-in-law, Paul Romanczuk (Archbishop Carroll's basketball coach) buys from him. I've always liked to take younger people and maybe give them the opportunity to taste things that maybe they couldn't get on their own and try to plant the seeds of being successful. I think that's something I've sort of been called to do and I've always enjoyed it."
As Collins stood on the floor listening to the National Anthem in Game 3 of the first round of the NBA playoffs against the Miami Heat his first season with the Sixers, he felt a wave of emotion come over him. In his first game as the Philadelphia coach, a packed house was on hand. Collins felt at that time that the fans were there to see LeBron James, Dwyane Wade and Chris Bosh of the Heat, not so much his team. But as he stood on the floor for that playoff game at the Wells Fargo Center, he knew the fans were there for his team.
In the stands that night were his wife, Kathy, his daughter Kelly and husband Paul, along with their two small boys. John Langel and his family were in their familiar seats behind the Sixers bench as were many other friends.
And in the southwest corner of the Wells Fargo Center sat 10 family members of Tommy Love, one of Collins' running mates from the old days at the JCC. Upon hearing that Love, just 51, had passed away from cancer only a few days earlier, Collins insisted on setting aside tickets for as many family members and friends who wanted to attend.
"Tommy Love was a great, great man," says Collins, vividly recalling memories from many years ago. "He is part of the wonderful memories I have of South Jersey. South Jersey is a big part of the foundation of my life. I grew up in Benton, Ill., for 18 years and then I went to Illinois State for four and then I was in South Jersey for nine. The people were so great; it was a community, the kids would all be out playing. My backyard had a sport court where you could play paddle tennis, basketball; I had a swimming pool, so it was sort of the gathering area. I had lights in my backyard. Ron Jaworski and my other neighbors, we would play until midnight, one in the morning. Competitive and fun. And then we would swim and talk. It was a fun time and it was other people's families. John Langel, who is my dearest of friends and who now takes care of my legal stuff, his son Matt and my daughter Kelly grew up together, were born about two weeks apart, and they've been lasting friends.
"I see people all the time who will tell me they used to buy their sneakers at Doug Collins' Sneaks 'N Seats (in Voorhees). Pete Schneider, who was with the Sixers for a long time, became a good friend of mine. When they let him go, he was out of work and we opened Doug Collins' Sneaks 'N Seats and he ran it. The Electric Factory used to provide us tickets. We had tickets that we got on consignment that we got from all the sporting teams so you could come in and buy them from us. It was incredible. Those nine years were wonderful, wonderful years. My children were born here, at Garden State Hospital. That's why 40 years later, one of the reasons I came back to the Sixers was because of how much I loved living here."
Published (and copyrighted) in South Jersey Magazine, Volume 9, Issue 9 (December, 2012).
For more info on South Jersey Magazine, click here.
To subscribe to South Jersey Magazine, click here.
To advertise in South Jersey Magazine, click here.