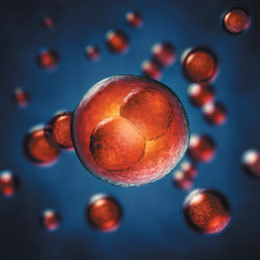 Fertile Ground
The world of fertility science has come a long way, providing women with more options than ever before.
For the one in eight American couples struggling with infertility, today's science is allowing for the miracles they have long awaited. Treatments are always being furthered studied and improved and have come such a long way in recent years. South Jersey Magazine took a closer look at some of the cutting edge advances in the field of fertility treatment and spoke to some of the leading area experts to find out more.
Egg Freezing
A huge advance in the world of fertility treatment came recently when the American Society of Reproductive Medicine (ASRM) said that egg freezing should no longer be considered experimental. After reviewing data from controlled trials and observational studies, it was determined that the technique can now be considered a standard for infertility treatment.
"The ability to freeze eggs has been difficult for many years but in the last five or so, the advances have come so far where we can freeze eggs without the high risk of damage that was once there," says Stephen Sawin, MD, of the South Jersey Fertility Center with offices in Marlton, Egg Harbor Township, and Sewell. "We now have a high success rate of freezing and thawing eggs as opposed to freezing and thawing [already fertilized] embryos. Therefore if a patient has a cancer diagnosis and know that they therapy they will receive could render them infertile, they can now freeze their eggs and then after beating cancer, use those eggs to have children."
Advances in IVF
In Vitro Fertilization, commonly referred to as IVF, has also made tremendous strides in recent years. IVF is the process of fertilization by manually combining an egg and sperm in a laboratory dish and then transferring the embryo directly into the uterus. Prior to placing the embryo, preimplantation genetic diagnosis (PGD) of that embryo can be performed—another major advancement in the field. This can be incredibly beneficial for a couple that already has a baby with a genetic disease or are known carriers of a genetic disease like Cystic Fibrosis as an example. "These days there's been a lot of emphasis for parents to get testing to find out whether they are a carrier," says Dr. Sawin. "So once people find out they do carry a risk of genetic disease we can use PGD to test the embryo and find out whether it carries the genetic abnormality or not prior to placing it into the uterus."
PGD is also proving incredibly useful in older patients who already have a higher risk of embryo abnormalities simply due to their age. "We can screen embryos for the correct number of chromosomes so that we can help decrease the risk of miscarrying and promote a healthy pregnancy," says Dr. Sawin. "That's certainly a huge area of advancement for this field."
Transferring Fewer Embryos
As the success rates of IVF continue to rise, doctors have also been able to implant fewer embryos. Today, the ASRM recommends that no more than two embryos be transferred in women under the age of 35 and that single-embryo transfer should be considered. "In the past, IVF success rates were not as good as they are today so to overcome that fact, multiple embryos were placed," says Dr. Sawin. "Now the success rate is so much better that we can offer a single embryo transfer, avoiding the potential for twins. A single embryo transfer is becoming the preferred treatment recommendation for patients under the age of 35. The risk of multiples is much higher with fertility medications."
"I'm really encouraging young, healthy patients to consider a single embryo transfer," adds Deanna R. Brasile, DO, of Fertility & Gynecology Associates in Philadelphia. "It allows us to have a singleton pregnancy which is obviously much less complicated than multiples."
Dr. Brasile says that it's a common misconception that multiples are inevitable with a procedure like IVF. But this misinformation may have kept couples from pursuing treatment sooner. "I've had patients say they don't want to do IVF because of their fear of multiples," she says. "But the truth is, with injectable fertility drugs you can ovulate multiple eggs and we have no control over how many become fertilized. With a young healthy patient the maximum eggs we implant during IVF is two—and it's increasingly common for us to just do one."
Louis R. Manara, MD, of the Center for Reproductive Medicine & Fertility in Voorhees, agrees that the control associated with IVF may make it preferential to other methods. "Twins do continue to be a problem in our field," he admits, "and we do consider twins a problem because they are complicated pregnancies with increased risks of complications. But we do have a level of control with IVF as opposed to medication which is a less-than-perfect science."
Amazing Opportunities
The advances being made in this field are creating opportunities for women who thought they didn't have any. "To me it's amazing because I deal with women every day whose biological clock has deprived them," says Dr. Manara. "Unfortunately I don't think enough women realize these options are out there. Today's technology offers us the opportunity to stop the clock and allow a woman the option of suspending their childbearing years—whether it's because they haven't found the right partner, are battling an illness like cancer, or simply aren't ready to have children yet, this opportunity is available to them."
Furthermore, Dr. Manara hopes that more patients would come to understand that even if the exact cause of infertility cannot be pinpointed, there are treatment options available. "Often the technology doesn't allow us to precisely identify the exact detailed cause of a couple's infertility," he says. "But even when we don't find an explanation, the treatments are typically very successful. We don't need to identify the cause of infertility to give you the option of overcoming it."
Many patients avoid an initial consultation with a fertility specialist because of perceived cost. While it's true that treatments can be expensive, typically initial consultations, testing, and work-ups are covered by many insurances. In addition, in New Jersey, because of the Family Building Act, the State mandates infertility coverage. Dr. Sawin says this is something that often doesn't get a lot of press but is a huge benefit to New Jersey residents. "There are certainly exclusions that have been written in, but it's still a huge benefit to many," adds Dr. Manara. "New Jersey is one of the best states to receive fertility treatments in because of this law on the books."
Dr. Brasile would also urge patients to seek out their options sooner rather than later. So many women wait to seek help—for a myriad of reasons—only to later wish they had talked to a doctor sooner. "I also want people to know that not everyone who comes to a fertility specialist winds up needing IVF," Brasile continues. "That's a very common misconception that they're going to automatically get sucked into doing something expensive. Many times a work-up and some monitoring can pinpoint the problem and there are less invasive and expensive approaches that do work for many patients. I would stress that patients shouldn't avoid having a consultation with a fertility specialist based on faulty assumptions."
Looking Good, Feeling Better
The experts leading the charge in women's health
A Special Advertising Section from the pages of South Jersey Magazine
Chiropractic
O'Keefe Chiropractic Center, P.A.
During pregnancy, weight gain and hormonal changes put added stress on the spine and pelvis. Chiropractic care is a safe and effective treatment for neck pain, back pain, and sciatica when you are pregnant. Chiropractic treatment uses no medication to manage your pain, thereby relieving both your pain and the concern of side effects from medication.
Medford
(609) 654-4299
OKeefeChiropractic.net
Dermatology
Aesthetic Dermatology
CoolSculpting is a revolutionary non-surgical, FDA-cleared fat reduction procedure that freezes stubborn fat. Developed by Harvard scientists, CoolSculpting involves no needles, special diets, supplements, or surgery, and it's totally safe with minimal downtime.
Marlton
(856) 586-3393
ElderDermatology.com
Appearance Dermatology
Dr. Toome devotes her life to the study of dermatology and the importance of skin care. Her practice consists of both general and cosmetic dermatology. She and her staff strive to make each patient feel that their treatment plan is designed uniquely for them.
Marlton, Vineland & Egg Harbor Twp.
(856) 751-9560
DrToome.com
Connolly Dermatology
The most important advice I can give to a woman is "have a dermatologist on your health care team who can perform annual skin cancer screening and recommend optimal treatments to keep you looking your best."
Cinnaminson (856) 772-1333
Linwood (609) 926-8899
Barnegat (609) 660-8002
Cape May Court House (609) 463-9933
ConnollyDermatology.com
South Jersey Skin Care & Laser Center
Marlton (856) 810-9888
SjSkinCare.com
Gastroenterology
Professional Gastroenterology Associates
Professional Gastroenterology Associates is a sensitive, innovative team of practitioners dedicated to providing a wide range of top quality GI Services specializing in cancer screenings.
Cherry Hill (856) 429-4433
Turnersville (856) 875-8040
ProfGastro.com
Infertility
Cooper General Obstetrics and Gynecology
Serving South Jersey
1.800.8.Cooper (1.800.826.6737)
CooperHealth.org
Fertility & Gynecology Associates
Philadelphia
(215) 829-6385
FertileNow.com
South Jersey Fertility Center
Marlton
Sewell
Egg Harbor Township
(856) 596-2233
SJFert.com
Dr. Louis R. Manara, The Center for Reproductive Medicine & Fertility
Voorhees
(856) 767-0009
LouisManara.com
Published (and copyrighted) in South Jersey Magazine, Volume 9, Issue 9 (December, 2012).
For more info on South Jersey Magazine, click here.
To subscribe to South Jersey Magazine, click here.
To advertise in South Jersey Magazine, click here.