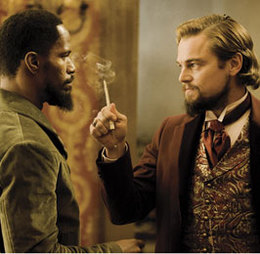 And the Award…
Holiday moviegoing offers a sneak peek at the Oscars—maybe.
As the calendar winds down, the Oscar races heat up. As in most years, 2012 is bottom-heavy with Academy Award contenders being released late in the year and remaining in theaters through the late winter, as Academy of Motion Picture Arts and Sciences voters start making their selections.
So what should you carve out time for and see or catch up with in anticipation of the high-profile Oscar races? When the nominations are announced on Jan. 10 and the countdown to the Feb. 24 Oscar ceremony begins, which movies and which performances are likely to dominate the races for Best Picture, Best Actress, Best Actor, and the rest?
Hey, anything can happen. Remember, The Artist came out of nowhere late last year to reign supreme. Still, we can make a few educated-guess predictions based on the Oscar credentials of the folks involved in the year's most prestigious-on-paper projects.
So here are the pedigreed flicks to see as 2012 turns into 2013:
Django Unchanged
Given the resume and trend-triggering influence of writer-director Quentin Tarantino—who won an Oscar for Best Original Screenplay in 1994 for Pulp Fiction, for which he was nominated for Best Director as well, then was nominated for the same two awards in 2009 for his glorious work on Inglourious Basterds—it was inevitable that there would be palpable anticipation for his subsequent projects.
His latest is a "southern"—that is, a western-like thriller set in the deep south—that was inspired by Django, a '60s spaghetti western starring Franco Nero that was followed by several stray sequels.
Two Oscar winners and a three-time nominee head the cast. Jamie Foxx—who won as Best Actor for Ray in 2004, the same year he was nominated as Best Supporting Actor for Collateral—plays a slave freed by a bounty hunter played by Christoph Waltz, who won for Best Supporting Actor for Inglourious Basterds in 2009.
And Leonardo DiCaprio, who was nominated as Best Supporting Actor in 1993 for What's Eating Gilbert Grape, as Best Actor in 2004 for The Aviator, and as Best Actor in 2007 for Blood Diamond, plays the conniving plantation owner who has captured the wife from whom Django is separated.
Tarantino unchained: always an intriguing option.
Zero Dark Thirty
This action thriller, its title a military term for thirty minutes after midnight, is a chronicle of the decade-long hunt for the architect of the 9/11 tragedy, Osama bin Laden.
It's been entrusted to director Kathryn Bigelow, who won the Oscar for Best Director in 2008 for The Hurt Locker.
Controversy has surrounded the developed-in-secrecy project, which is being released after the presidential election by producers who insist that the film has no political agenda.
Most of the more than 100 speaking roles are CIA operatives, Navy SEALS, field agents, case officers, spies and analysts in a script that was originally meant to be a drama about the failed effort, but that was rewritten as of the fateful day, now more satisfyingly depicted.
Argo
Ben Affleck started out as a screenwriter—sharing a Best Original Screenplay Oscar with buddy Matt Damon for Good Will Hunting in 1997—then became an actor, a tabloid object of off-screen ridicule, and finally a director.
His third time in the director's chair is his most ambitious undertaking yet, an absolute triumph.
It's a terrific suspense thriller about a real-life covert CIA mission that took place during the Iran hostage crisis in 1979-80, when a group of American diplomats impersonated a movie crew—for a movie project that didn't even exist—so they could be "exfiltrated" before what would have been an inevitable execution.
Highlighted by its affectionate sendup of Hollywood hucksterism and a riveting, brilliantly edited, race-against-time climax, this sparkling "stranger than fiction" audience pleaser is certainly one of the year's best. Populist entertainment doesn't get any better.
The Master
With two scintillating performances as its chief pleasure, this elusive psychological drama that certainly seems on the surface to be about L. Ron Hubbard and the Church of Scientology should have seemed more masterful.
But the merits of the script by director Paul Thomas Anderson, an Oscar nominee for his work on Boogie Nights, Magnolia, and There Will Be Blood, were vigorously debated when the film was released.
However, there seemed to be consensus on the quality of the work turned in by the two leads and the electricity generated by their scenes together. As the charismatic founder and leader of The Cause, a group of religious believers following his personal-improvement system following the Second World War, Philip Seymour Hoffman—a Best Supporting Actor Oscar nominee for Charlie Wilson's War in 2007 and Doubt in 2008 after winning for Best Actor in Capote in 2005—is superb, making his larger-than-life character absolutely life-sized.
And Joaquin Phoenix—Oscar-nominated as Best Supporting Actor in 2000 for Gladiator and as Best Actor in 2005 for Walk the Line—is right there with him, contributing a disturbingly intense portrait of a guy fighting a never-ending battle against his animalistic self. Look for both actors to be in the mix at nomination time.
Life of Pi
This one gets filed under Filming the Seemingly Unfilmable.
The movie adaptation of the complex 2001 best-seller of the same name by Yann Martel is in the accomplished hands of director Ang Lee, who won the Best Director Oscar in 2005 for Brokeback Mountain after being nominated for the same award in 2000 for Crouching Tiger, Hidden Dragon.
It's a survival adventure drama, shot in 3-D, about a 16-year-old Indian boy—"Pi" Patel, played by Suraj Sharma—who alone survives the sinking of a freighter on which his wealthy zoo-owning family is emigrating from India to Canada.
The boy finds himself adrift in the Pacific Ocean for more than seven months on a lifeboat with a Bengal tiger, an orangutan, a hyena and a zebra. Sounds like filming it—handling children, animals, and water, no less—was no piece of Pi.
The Sessions
Originally titled The Surrogate, this true story of Mark O'Brien, a writer with polio paralyzed from the neck down, who hires sex surrogate Cheryl Cohen Greene in an effort to lose his virginity.
The two highlighted performances will certainly have viewers talking. The breakthrough role here is that of John Hawkes as O'Brien. Hawkes was nominated for a Best Supporting Actor Oscar in 2010 for Winter's Bone. Look for his casting stock to soar.
And a hearty welcome back to Helen Hunt, whom Oscar voters were mad about in 1997, when they voted her the Best Actress winner for As Good As it Gets, and who's been relatively absent from the big screen of late.
Both of them disappear into their roles in this daringly frank, R-rated drama.
Anna Karenina
The 1877 Leo Tolstoy novel, an epic and timeless love story set in the lavish society that was imperial Russia in 1874, comes to the movie screen for what seems like the zillionth time, adapted by Tom Stoppard, who co-won the Oscar for Best Original Screenplay in 1998 for Shakespeare in Love.
Keira Knightley, Oscar-nominated as Best Actress in 2005 for Pride & Prejudice stars as the title character, married to an aristocrat, who questions her happiness and indulges in an extramarital affair with a cavalry officer with tragic consequences.
Knightley once again works with director Joe Wright, who directed her in Pride & Prejudice and Atonement, and who boasts in his cast Jude Law, Aaron Taylor-Johnson, Kelly Macdonald, Matthew Macfadyen, Olivia Williams and Emily Watson.
Flight
Director Robert Zemeckis—an Oscar winner as Best Director for Forrest Gump in 1994 after having been a nominee for Best Original Screenplay for Back to the Future in 1985—returns to live action after working for more than a decade on three successive motion-capture animation projects.
Oscar veteran Denzel Washington—who won as Best Actor for Training Day in 2001 after having been a nominee as Best Supporting Actor for Cry Freedom in 1987, the winner as Best Supporting Actor for Glory in 1989, a nominee as Best Actor for Malcolm X in 1992, and a nominee as Best Actor for The Hurricane in 1999—stars as a pilot who makes a heroic emergency landing before an investigation suggests that he had alcohol and traces of cocaine in his system at the time.
The mystery drama also features Don Cheadle, John Goodman, Melissa Leo and Bruce Greenwood, but it's Washington who flies high throughout this gripping portrait of addiction.
Lincoln
A biographical war drama examining the last four months of Abraham Lincoln's life, during which the Civil War ended and slavery was abolished, this project has an Oscar pedigree that immediately makes it an event movie.
Directed by Seven Spielberg— who has won two Best Director Oscars (for Schindler's List in 1994 and Saving Private Ryan in 1998) and been nominated in the same category five other times (for Close Encounters of the Third Kind in 1977, Raiders of the Lost Ark in 1981, E.T.: The Extra-Terrestrial in 1982, The Color Purple in 1985, and Munich in 2005) – it's based on the Doris Kearns Goodwin biography, Team of Rivals: The Political Genius of Abraham Lincoln.
Lincoln is played by two-time Oscar winner Daniel Day-Lewis, who was deemed Best Actor in 1989 for My Left Foot and again in 2007 for There Will Be Blood after having been nominated in the same category in 1993 for In the Name of the Father and in 2002 for Gangs of New York.
And most prominent among the supporting cast are two-time Best Actress Oscar winner Sally Field—for Norma Rae in 1980 and Place in the Heart in 1985—as First Lady Mary Todd Lincoln, and the Oscar-winning Best Supporting Actor of 1994, for The Fugitive, Tommy Lee Jones—who was also nominated as Best Supporting Actor in 1991 for JFK and for Best Actor in 2008 for In the Valley of Elah—as Congressman Thaddeus Stevens.
Hyde Park On Hudson
To understate the case, Bill Murray may not be the first name to come up when you think of casting the role of President Franklin D. Roosevelt. But that's who snared the coveted gig.
Murray—who, remember, received a Best Actor nomination for Lost in Translation in 2003—plays Roosevelt just before World War II when England's king and queen visited him, hoping to gain American support at his country estate in Hyde Park, N.Y.—the first time a British monarch had ever visited the United States.
Opposite Murray, playing his distant cousin and eventual mistress, Margaret Suckley, is Laura Linney, a three-time nominee—as Best Actress in 2000 for You Can Count On Me, as Best Supporting Actress in 2004 for Kinsey, and as Best Actress again in 2007 for The Savages.
Les Miserables
Based on the musical of the same name, this musical drama is based on the smash-hit, sung-through, 1980s stage musical, set in squalid revolutionary France, which was itself based on the Victor Hugo novel.
The film is directed by Tom Hooper, coming off his 2010 Best Director Oscar for The King's Speech, and stars High Jackman as prisoner-turned-politician Jean Valjean, Russell Crowe—a Best Actor nominee in 2001 for The Insider, a Best Actor winner in 2000 for Gladiator, and a Best Actor nominee again in 2001 for A Beautiful Mind—as ruthless Inspector Javert, and Anne Hathaway, nominated as Best Actress in 2008 for Rachel Getting Married, as struggling factory worker Fantine. Also in support as part of the large cast are Amanda Seyfried, Helena Bonham Carter, Sacha Baron Cohen and Eddie Redmayne. Don't Miz out.
Silver Linings Playbook
Straight out of the Oscar-nomination playbook comes this comedy-drama from director David O. Russell, nominated as Best Director in 2010 for The Fighter. It's an adaptation of a namesake seriocomic novel by Collingswood native Matthew Quick.
Bradley Cooper stars as an ex-mental hospital patient with bipolar disorder who moves back in with his parents.
His father, a Philadelphia Eagles fanatic, is played by Robert De Niro, who won the Best Supporting Actor Oscar in 1974 for The Godfather: Part II, was nominated as Best Actor in 1976 for Taxi Driver and in 1978 for The Deer Hunter, won as Best Actor in 1981 for Raging Bull, and then was nominated as Best Actor in 1990 for Awakenings and in 1991 for Cape Fear.
The female lead, Cooper's romantic interest, belongs to the busy Jennifer Lawrence, Oscar-nominated as Best Actress for Winter's Bone in 2010, while the protagonist's mother is portrayed by Aussie Jacki Weaver, an Oscar nominee for Best Supporting Actress in 2010 for Animal Kingdom.
It's no struggle to find the silver lining in this funny, boisterous, beautifully acted dramedy.
The Hobbit: An Unexpected Journey
As if The Lord of the Rings trilogy wasn't enough of an undertaking for director Peter Jackson, he's back with the start of another Middle Earth trilogy that serves as a prequel to it.
It's based on a J. R. R. Tolkien fantasy novel, to be followed by The Hobbit: The Desolation of Smaug next year and The Hobbit: There and Back Again the year after, and features a number of cast members reprising their roles from the earlier films, including Ian McKellen, Andy Serkis, Elijah Wood, Orlando Bloom and Cate Blanchett.
Don't bet against Jackson, who won Oscars for Best Direction and Best Adapted Screenplay for the Best Picture winner, The Lord of Rings: The Return of the King in 2003, after being nominated in the same two categories for The Lord of the Rings: Fellowship of the Ring in 2001 and being nominated for Best Original Screenplay for Heavenly Creatures in 1994.
Published (and copyrighted) in South Jersey Magazine, Volume 9, Issue 9 (December, 2012).
For more info on South Jersey Magazine, click here.
To subscribe to South Jersey Magazine, click here.
To advertise in South Jersey Magazine, click here.