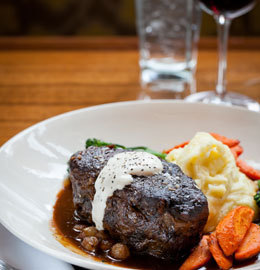 Grand Lux Café
High Expectations: Grand Lux Café
2000 Route 38
Cherry Hill
(856) 486-7232
Four Forks
The Grand Lux Café had been on my radar ever since I saw the massive building and subsequent construction begin to take shape. So, looking to hide from the sudden cold that took over our area, I headed over to the Cherry Hill Mall to warm up.
Once again, PREIT—the owner of the Cherry Hill Mall as well as many local shopping locations around us—manages to take guests out of the mall and into a high-end dining experience with this sister-restaurant of the Cheesecake Factory.
"Grand" does this building justice: Every installation—from the tiled pillars and sculpted drop ceiling to the inlaid leather seats and roaring fireplaces—shows the care that was put into this establishment.
At first glance, the menu was overwhelming. I flipped through page after page of meal options, from tapas and brunch to endless entrée options with confusing categories like "Big Small Plates" or "Almost Big Plates." And dishes seemed to touch down on every part of the planet: Burgers fell next to Indian fusion and pastas shared their space with American plates and stir-fry. And with such a mix, I had concerns. After all, with a heavy blend of unique meals, spices and preparations, how could a few chefs get it all right?
We started with tapas, Spanish chorizo and cheese croquettes, served on a bed of spicy aioli. The order came out larger than a standard tapas plate, and every flavor seemed independent of itself while still maintaining a uniformity that was simply satisfying. Gooey cheese melted into smoky and salty sausage and came together with the soft and starchy potatoes, then finished with a slight crunch from the barely there breading.
The crispy Thai shrimp and chicken spring rolls met the standards of that dish, with a salty, crispy filling and crispy outside. But the chef took this ordinary option and added his own flare, serving it with a side of fresh lettuce leaves to wrap around the roll, along with a sprig of mint and shredded carrots for garnish. The lettuce added a whole new, crispy bite. The fresh mint shone without overshadowing the other flavors. For me, it was a simple but appreciated twist on an old favorite.
With all the options, it was hard to decide what sounded the most appetizing. I settled on a classic, the rib eye with a side of pan-roasted Brussels sprouts that our waitress had raved about. It arrived cooked just right, at medium rare, with a crackling outer crust that supplied a nice bite of black pepper in every mouthful.
Meanwhile, Brussels sprouts—a personal favorite—came out unfortunately undercooked and onion rings that topped the steak completely lacked flavor.
My guest chose the braised pot roast with a horseradish sauce, fitting for the chilly season, and received a deconstructed version of the classic. The tender beef fell apart with just a glance, though the horseradish sauce could have used a snappier bite. Carrots arrived fresh and crispy, a nice change from the typical mess you get with a pot roast. But the mountain of mashed potatoes that sat in the middle was the true star. A buttery mix of lumpy and creamy hand-mashed potatoes set in rich, deep gravy. They were truly some of the best potatoes I've ever had, and I stole more than my fair share off of my guest's plate.
From the start, our waitress—one of the many friendly employees that stopped by to check on us during the evening—had us hooked on their made-to-order desserts, and directed us toward the warm rustic apple pie, ordered with our entrée to be prepared. What arrived was a non-traditional plate, more similar to an apple torte, with a scoop of vanilla bean ice cream. Slices of green apple were cooked to the perfect blend of crunchy and soft and sat in a light brown sugar sauce. The butter-rich crust was coated in granulated sugar, broiled to create a sweet shell on the edge with a soft inside. When the ice cream began to melt into the mix, it was over. My sweet tooth was in paradise.
The Grand Lux is somewhere I can see myself settling into after a day of holiday shopping, or dropping in with friends for a drink and a bite. While a little overwhelming, the selection appeals to anyone. And with parking during this hectic season evolving into a war, you can't beat the location.
Published (and copyrighted) in South Jersey Magazine, Volume 9, Issue 9 (December, 2012).
For more info on South Jersey Magazine, click here.
To subscribe to South Jersey Magazine, click here.
To advertise in South Jersey Magazine, click here.