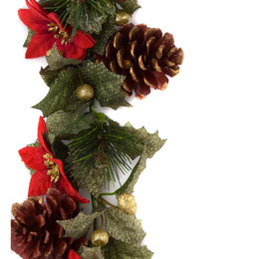 Southern Exposure: December, 2012
Go Figure
$1,650,000: The estimated damage to public property by Hurricane Sandy in Gloucester County alone.
83,300: Estimated number of Burlington, Camden and Gloucester county residents that went without power on Tuesday, Oct. 30 following Hurricane Sandy.
$50,000: Amount raised by Voorhees' Dave Girgenti's nonprofit Wish Upon a Hero, for four North Jersey siblings who lost both parents during Hurricane Sandy.
14,339: Number of signatures on the New Jersey petition to secede from the Union, filed by a Sewell resident in November. After news broke of the online petition, citizens from all 50 states created their own.
117,908: Number of signatures on the leading petition in the state of Texas. After 25,000 signatures in 30 days, the petition is taken into consideration by the Obama administration.
94: Total number of employees that will lose their jobs following the closing of Evesham's Genuardi's at the end of this year.
$150: Maximum fine for a first offense of smoking in public parks and property, in an ordinance approved by the Cherry Hill Township Council that will become law by the end of 2012.
300: Number of jobs that will relocate out of the Cherry Hill Lockheed Martin, in a cost-cutting measure that was announced by the company on Nov. 9.
2,000: Estimated number of Haddonfield oak trees that may need to be removed because of an outbreak of bacterial leaf scorch, a disease that eats away at the tree.
Hit Or Miss
Millville baseball star Mike Trout, the 21-year-old outfielder for the Los Angeles Angels, was chosen unanimously as the 2012 Rookie of the Year for the American League.
Gloucester County officials decided to name the county's three-mile bike trail that will be extended through Clayton after Autumn Pasquale, the 12-year-old Clayton resident who was murdered in October.
Riverton's new eatery District 611 opened at the end of November, becoming the first composting restaurant in Burlington County.
The New Jersey Economic Development Authority approved a $5.1 million grant for Rowan University to expand its downtown Camden campus.
Woodbury Heights residents are seeing stars, with locals claiming that '80s movie star Anthony Michael Hall has become a staple at the Hollywood Diner while reportedly visiting long-term in the area.
Ed Forchion, the politician known better as "NJ Weedman," lost yet again in his bid as Congressman for New Jersey's 3rd District under the Legalize Marijuana Party. He plans to run for public office in Burlington County in the coming years.
Daddy-O's Frozen Yogurt got an unwanted visitor when a deer leapt through the window of the Medford shop. Fortunately, the deer survived the incident.
Six students and one teacher from Eastern High School in Voorhees had to be transported to the hospital following a fire in one science classroom on Nov. 12.
Congressional candidate Shelley Adler had to pull a radio campaign just before the election comparing her competitor Jon Runyan to the destruction of Hurricane Sandy.
A Marlton man studying abroad in Rome for a semester is returning home with stitches after getting caught up in a large-scale riot involving armed Italian soccer hooligans on Nov. 22.
The number of drug and alcohol violations at Cherry Hill public schools is up, with the 26 violations coming in higher than the previous three school years.
Camden's murder rate has officially reached an all-time high, with the 59th murder on Nov. 16 breaking the previous record set in 1995.
How To: Deck the Halls
Don't let the task of holiday decorating turn into a headache. We asked some pros in the area for their top tips when it comes to outdoor holiday decorating to help ease the pain this year.
1. Go green
Pete Galantic, owner of Lawn Medic and Bright Ideas Christmas Lighting in Deptford, says eco-friendly options can lead to big savings. "You want to think green with LED lighting. It will save you 90 percent of your energy cost," Galantic says. "Aesthetically, it's every bit as good as the old incandescent lighting. It lasts almost seven to eight years, whereas old lighting will last one to two years and it will pay for itself."
2. Find your balance
"It is all about balance when lighting the outdoors for the holidays," explains Rob Dougherty, manager of Green Lea in Voorhees, a garden center that also specializes in outdoor lighting. "If you have shrubs on each side of your house, try to light the same amount on each side. Try to go for a uniform look rather than mixing different colored lights."
3. Freshen up
Add some life to the barren season with some fresh greenery. Pam Zielky, account manager and holiday coordinator for Elite Landscaping in Berlin, says to purchase all fresh greens closer to the holidays so they stay vibrant up to the big day. "Popular outdoor greens are the pine roping and artificial wreaths and can be used by accenting the window sills, highlighting center points of the home to draw the eye in."
4. Help never hurts
When it comes to hiring your own professional installation team, Kevin Eaise, owner of Eaise Snow Services, LLC, suggests starting sooner rather than later, with business starting as soon as the first of November. "We believe there is an art to designing a balanced Christmas light package that is beautiful and bright but also classy."
5. Stay safe
And, of course, safety should remain your top priority. Dougherty says to avoid ladder injuries by always having a second hand available. "If stringing lights on a high point, use a spotter when on the ladder."
Book It: Crime and Intrigue
Murder, mystery and crime are always excellent subjects for a novel, and Voorhees resident David Tanz combines all of them in his sophomore book, Silk on the Rocks, a follow-up to the local author's first non-fiction work, A Shot of Brandi.
When several attractive suburban women begin turning up dead in the Philadelphia area, the elite Organized Crime Task Force (OCTF) is called in to solve the case. On top of these murders, another series of seemingly unrelated homicides that appear mob related also begin piling up. While these events seem to have no connection, they may be more related than it seems, and the OCTF musters up their best minds to hunt down those responsible. Tanz weaves together the disturbing stories of two twisted criminal minds in his intriguing tale.
Computer geek Bruce Titell, who uses websites and technology to lure his victims, and Julian Gando, a mob hitman, are two relentless killers who are the top targets of the OCTF. Tanz hopes to have you on the edge of your seat as these two men gradually slip deeper and deeper into darkness and their body counts begin to climb.
Tanz's disturbing character development coupled with constant twists and turns make it an easy read for crime fans.
Names to Know
Local people making a difference in South Jersey and beyond
Kennedy University Hospital's Vice President for Patient Care Services Helene Burns was honored as one of the "Divas and Dons" at New Jersey Institute for Nursing's gala event. Burns was one of 19 people in the state awarded for her powerful impact in the nursing industry.
Lindenwold's Robert Wanton, a recently retired meteorologist with the National Weather Service, was awarded the American Meteorological Society's 2012 Distinguished Educator Award. During his 46-year career working in the area, Wanton presented more than 1,375 presentations on his craft to people of all ages as part of his own personal education outreach program. Though retired, he continues to teach.
Fitness equipment manufacturer Life Fitness named Riverside's Ryan Wilkins as one of their 11 Personal Trainers to Watch for 2012. Wilkins, a trainer at Endurance Fitness in Vincentown, was selected as one of 1,000 nominees internationally, based on fitness accomplishments, client motivation, community service and more.
To help children affected by Hurricane Sandy, Washington Township fifth-grader Stephanie Masapollo collected 150 Halloween costumes to distribute across the area. Thanks to her actions, another 1,000 costumes were donated across the state as people were inspired by her actions to start their own drives.
Richwood's Joe Robinette, a retired Rowan University professor and lifelong playwright, is bringing one of his works to Broadway just in time for the holidays. Robinette wrote a musical version of the classic holiday film A Christmas Story. After touring the country, "A Christmas Story, the Musical" hit Broadway at the start of November and will run until the end of December.
To help boost local children's interest in reading from a young age, Deb Bokas and her team out of Lourdes' Osborn Family Health Center in Camden established a special book drive for the health system's Reach Out and Read Program. Bokas helped organize a drive that gave a book to each patient aged 6 months to 5 years during their pediatric well visits. They are still collecting out of the Osborn health center.
West Deptford's Dan Baker—the public address announcer for both the Phillies and the Eagles—was inducted into the Philadelphia Sports Hall of Fame's ninth class in November. Baker has a combined 68 years of experience working in Philadelphia sports and joined Sixers coach Doug Collins, Flyers legend Eric Lindros, and others in the induction.
Tune your televisions to Disney XD to see the new show Crash & Bernstein. The children's show, which premiered in October, was created by Cherry Hill native Eric Friedman, currently of Los Angeles. The 1990 Cherry Hill East graduate is also the show's executive producer.
Do you know a local person who is doing great things? Let us know by e-mailing Erica@SouthJersey.com.
Did You Hear?
"I'd like to thank the Red Cross and first response. I'd also like to give a special thanks to my lovely wife Mary Pat Christie … who put up with a husband who has basically smelled like a wet fleece for the past three weeks. It's basically fused to my skin at this point … I'm going to die in this fleece."
—Gov. Chris Christie, who discussed Hurricane Sandy during a special Nov. 17 appearance on Saturday Night Live's "Weekend Update with Seth Meyers"
Street Level
Evesham Township
An unknown man posed as a utility worker checking a local 82-year-old woman's water post-hurricane, then went on to steal jewelry as well as money from the homeowner.
Maple Shade
A local man confessed to defrauding the Mount Laurel-based non-profit he worked for out of more than $101,000. He was charged officially with mail fraud.
Winslow Township
Police are on the hunt for a man who broke into the office of the local peach farm Pastore Orchards and stole more than $5,000.
Published (and copyrighted) in South Jersey Magazine, Volume 9, Issue 9 (December, 2012).
For more info on South Jersey Magazine, click here.
To subscribe to South Jersey Magazine, click here.
To advertise in South Jersey Magazine, click here.