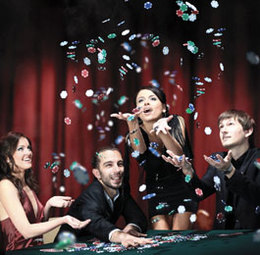 2012 Best of the Casinos
If you're like us, you are still waiting to hit that big jackpot at a casino. And while the big payday remains elusive, that's not to say that every time you walk through the door things are a lost cause. The dynamic dining options, amazing entertainment lineups, buzzing nightlife, and increasing retail options make the trip worthwhile on its own. Once again, we've traveled to the area casinos, both in Atlantic City and on the other side of the bridge, to find the best of the best. Here, we present the best dishes, cocktails, spa packages, nightlife options and retail therapy.
+ IRON CHEF JOSE GARCES • 5 REASONS TO LOVE CASINO NIGHTLIFE • HOW TO SPOT A GOOD POKER ROOM • WHAT'S NEW AND NOTABLE • 5 QUESTIONS WITH…DIRK SCHAVEMAKER, SVP, OPERATIONS FOR REVEL
Eat: The 25 Dishes You Should Be Eating Right Now
There was a time when casino dining evoked images of lengthy buffet lines and early bird specials. But an influx of celebrity chefs and quality menus have given a real boost to the scene. Here we give you the best plates we've tasted, from first course to dessert.
Appetizers
Sushi-Grade Tuna
American Cut, Revel
This modern American steakhouse by Iron Chef Marc Forgione is dressed to impress. Begin your meal with this starter from the raw menu, which features a delicate mound of sushi-grade tuna dressed with miso dashi, American caviar and calamansi lime juice, a rare ingredient for this continent. 500 Boardwalk, Revel Beach, (855) 348-0500
Fresh Ceviche
Pacific Prime, Valley Forge Casino Resort
At this dynamic steakhouse, which opened along with the $150 million casino resort in March, dinner is split into surf and turf options—or "Aqua" and "Terra." Here, raw scallops mingle with charred pineapple, papaya and mango in an avocado jalapeno vinaigrette. 1160 First Ave., King of Prussia, Pa., (610) 768-5003
Blue Crab Filo Pouch
Fin, Tropicana
In this tranquil seafood restaurant with beach views and outdoor oceanfront seating, diners opt for dishes "with fins" (think grilled Block Island swordfish) or "without fins" (like 28-day aged sirloin). Start off with this playful appetizer, featuring Blue Colossal lump crab meat and Kennett Square mushrooms spilling out of a filo pastry cup, dressed in Boursin herb cream sauce. 2831 Boardwalk, (800) 345-8767
Seared Scallops with Crisp Apple Slaw
Vic and Anthony's, Golden Nugget
Among a menu of fresh seafood entrees and prime steaks, you can also find solid starters like this one. Here, three plump sea scallops are seared and presented over a diced apple slaw, finished with applewood bacon and Tabasco vinaigrette with a peppercorn ranch dressing. Huron Avenue and Brigantine Blvd., (609) 441-8355
Edamame Dumplings
Izakaya, Borgata
Executive chef Michael Schulson brings his signature style of chic Japanese fare to this stylish restaurant, which draws its name from the Japanese term for a casual pub. Among a menu brimming with plenty of exotic seafood and sushi, don't miss Schulson's signature dish, the edamame dumplings: delicate packages filled with an edamame and cream mixture, floating in a pool of sweet sake, shallots and truffle. 1 Borgata Way, (609) 317-1000
Kobe Meatball
Old Homestead, Borgata
At this esteemed steakhouse, you'll find a menu that's nearly identical to the original, where it's operated from Manhattan's Meatpacking District for more than 137 years. As one of the only certified importers of authentic Japanese Kobe beef, Old Homestead offers this 8 oz. meatball appetizer made with hand-massaged Kobe beef, covered in bright tomato "gravy" and topped with a mound of fresh ricotta, served piping hot in a miniature skillet. 1 Borgata Way, (609) 317-1000
Pan Seared Pork Belly
Mussel Bar, Revel
Chef Robert Wiedmaier presents a Belgian alehouse with real style, from the 150+ brews on the menu to the bar embedded with mussels. To prepare for heaping bowls of steamed mussels and frites, try this starter: thick slices of smoked pork belly are pan seared and served with rounds of black pepper biscuit, hot pepper jelly and a cool salad of apples and peanuts. 500 Boardwalk, (855) 348-0500
Guacamole
Dos Caminos, Harrah's
We love this guacamole from Dos Caminos—made fresh to order for up to six people in two varieties: mango and papaya with spicy habanero or with jumbo lump crab and chipotle. Either way, you're also getting a trio of fresh salsa and warm corn tortilla chips, perfect for sharing. 777 Harrah's Blvd., (609) 441-5747
Japanese Hoagie Roll
Souzai Sushi and Sake, The Pier Shops at Caesars
There's plenty of authentic sushi, sashimi and Japanese dishes at this sake house at The Pier Shops. We prefer the specialty rolls for their creative vision, like the Japanese hoagie roll, where spicy blue crab meets shrimp tempura and tuna, rolled together with cucumber and avocado and topped with spicy mayo and eel sauce. 1 Atlantic Ocean, (609) 348-4443
Chef's Antipasti Sampler
Emeril's Italian Table, Sands Bethlehem
The TV chef known for kicking it up a notch is doing just that at Sands, where Emeril Lagasse presents rustic Italian fare at this casual restaurant, featuring cured meats and artisanal cheeses, pasta and wood-oven pizzas. Start off with the chef's antipasti sampler, for 2-4 or 4-6 people, featuring your choice of three meats (like mortadella or soppressata), three cheeses (like Burrata) and some surprise antipasti selections. 77 Sands Blvd., Bethlehem, Pa., (484) 777-7777
Entrees
Ravioli ai Porcini
Il Mulino New York, Trump Taj Mahal
This formal Italian restaurant sets the scene for fine dining with classical artwork, chandeliers and luxurious surroundings, reminiscent of the famous Greenwich Village flagship location. Among other classic pasta dishes, we recommend the hand-crafted mushroom ravioli dressed in champagne truffle cream sauce. 1000 Boardwalk, (609) 449-6006
Prosciutto-Wrapped Veal Tenderloin
Mia, Caesar's Palace
Situated right in the bustling and theatrical lobby of Caesar's Palace, this collaboration between chefs Georges Perrier and Chris Scarduzio features contemporary Italian and Mediterranean cuisine, like this prosciutto-wrapped veal, served over creamy lobster and leek orzo, with grilled asparagus and porcini mushrooms in a white wine sauce. 2100 Pacific Ave., (609) 441-2345
Revuelto
Amada, Revel
Iron Chef Jose Garces' Andalusian tapas bar, an outpost of the popular Philadelphia restaurant, is situated in an architecturally spectacular space with an open kitchen, accented by iron and wood elements throughout. Order up plates of tapas for the table, like this bright bowl composed of softly cooked eggs, smoked salmon and wild mushrooms, topped with shrimp and fresh sprouts. 500 Boardwalk, (855) 348-0500
Chicken Milanese
Luke Palladino, Harrah's
Jersey-centric chef Luke Palladino brings farm-fresh cuisine to the casinos with his eponymous restaurant, using local produce during the preparation of hand-crafted pastas, meats and fish. In this dish, juicy chicken breast is coated in crisp panko breadcrumbs, served with arugula and cherry tomatoes, topped in shaved parmesan and aged balsamic. 777 Harrah's Blvd., (609) 441-5576
Ahi Tuna
Sea Blue, Borgata
Chef Michael Mina's modern seafood is complimented by a plush and inviting formal dining room, where posh-looking guests sample anything from fresh terrines and charcuterie, to chilled oysters with caviar, to the baskets of complimentary buttered naan bread. The menu has selections of sustainable fish, shellfish, steaks and chops, all prepared over a wood-burning grill—like this dish of Ahi tuna served with basmati rice pilaf, preserved lemon and gourmet sauces. 1 Borgata Way, (609) 317-1000
Pappardelle alla Boscaiola
Il Verdi, Tropicana
Take a tour of northern Italy when you stop by this Tropicana dining room, revered for its extensive wine collection. Enjoy a tangle of snappy house-made pappardelle alla boscaiola, tossed with crimini mushrooms, sausage, broccoli rabe, roasted tomatoes and authentic Pecorio Romano "Locatelli," served in a rich marinara sauce. 2831 Boardwalk, (609) 340-4000
Braised Creekstone Farms Short Rib
Emeril's Chop House, Sands Bethlehem
One of several concepts by Emeril Lagasse at Sands Bethlehem, the Chop House is a modern American steakhouse with a casual feel. In this hearty autumnal dish, short ribs are braised until tender, and presented with cauliflower puree, Brussels sprouts and roasted root vegetables. 77 Sands Blvd., Bethlehem, Pa., (484) 777-7777
Lamb Osso Bucco
Parxgrill, Parx Casino
It takes a lot of preparation to create slow-cooked osso bucco, but Parxgrill doesn't skimp on this house specialty. Bone-in lamb shanks are slowly braised, then served with a parmesan herb risotto and gremolata, an Italian condiment of lemon, garlic and parsley. 2999 Street Road, Bensalem, Pa., (888) 588-7279
Macadamia-Crusted Mahi
Chart House, Golden Nugget
At this tranquil eatery, you get a side of waterfront views with your meal. Among a list of the day's freshly caught fish (available grilled, baked or blackened), one of the signature dishes here is a mahi-mahi crusted with macadamia nuts, drizzled in warm peanut-Frangelico sauce and soy sauce glaze, accompanied by mango relish and Asian-inspired green beans. Huron Avenue and Brigatine Boulevard, (609) 340-5030
Salmon ala Pepe
Patsy's Trattoria, Atlantic Club Casino
There's plenty to go around at this Italian trattoria, from pizzas and pastas to chicken and veal, all prepared "like Mama used to make." For something a little different, try the oven-roasted salmon filet, served in a light cream sauce with fennel and fresh tomatoes. Boston Avenue and The Boardwalk, (609) 340-7585
Desserts
Chocolate Mousse Cake
Luke's Kitchen & Marketplace, Revel
Though this fast-casual spot from chef Luke Palladino offers breakfast, lunch and dinner throughout the day, with options like stuffed gourmet hot dogs, pressed panini and their own prime rib cheesesteak, we were smitten with the dessert case. In particular, this rich chocolate mousse cake was dark, moist and addictive. If you're up for a late-night snack, the marketplace is open until midnight or (much) later every day, with a mini shop of artisan cheeses and gourmet items to make a picnic in your hotel room. 500 Boardwalk, (855) 348-0500
Pistachio Crème Brulee
Scarduzio's, Showboat
Pastry chef Deborah Pellegrino presents an out-of-the-ordinary flavor for this classic French sweet, pairing the nuttiness of pistachio with creamy custard, finished with a glassy caramel crust that's fired tableside. Don't forget the housemade shortbread cookie and vanilla bean ice cream on the side, too. 801 Boardwalk, (609) 343-4330
Zabaglione
Viviano, Valley Forge
At one of Pennsylvania's newest casinos you'll find Viviano, with a dinner menu inspired by rustic Italian fare – like this zabaglione, a boozy mixture of egg yolks, sugar and wine, served with with prosecco-spiked berries and caramelized figs. 1160 First Ave., King of Prussia, Pa., (610) 768-5005
Banana Split
Central Michel Richard, Revel
This isn't your ordinary banana split. Chef Michel Richard, a James Beard Award winner, is cooking up his signature playful food at this colorful, contemporary restaurant wrapping around the main corridor of Revel (perfect for people watching). Grab some friends to share this dessert: scoops of malted vanilla and chocolate ice creams and strawberry sorbet, alongside vanilla bean crème anglaise and chocolate sauce, and bananas topped with whipped cream, chopped pistachios, almonds and hazelnuts. 500 Boardwalk, (855) 348-0500
Dark Chocolate Budino
Fornelletto, Borgata
Don't underestimate the complexity of chocolate pudding—chocolate budino, that is. Chef Stephen Kalt's menu highlights this Italian dessert, a dreamy marriage of dark chocolate, hazelnuts and cream, accented by mascarpone cream and a hazelnut butter crunch topping. 1 Borgata Way, (609) 317-1000
Look Who's Cooking
The annual Savor Borgata culinary event will take place Saturday, Nov. 10 and will offer guests the chance to not only interact with the likes of Wolfgang Puck, Bobby Flay, Geoffrey Zakarian, Michael Schulson and the other notable Borgata chefs, but they'll also get to sample their food alongside a variety of wine, beer and spirit pairings. Tickets for the event, which also features live entertainment, are $125, or $195 for an early-admission VIP ticket.
On both Nov. 9 and 10, the chefs will hold various cooking demonstrations around the property, each individually priced and ranging from $29 to $39 per person. For more information, visit TheBorgata.com or call 1 (866) 900-4849.
Taste of the Action
With three restaurants in Atlantic City, famed chef Jose Garces hits it big once again.
Jose Garces is many things. Family man. Celebrated restaurateur. Iron Chef. And now for the second time, author.
The famed Philadelphia-based chef has just released his second cookbook, The Latin Road Home, filled with recipes and recollections from time spent in the five countries that have influenced his cooking the most—Cuba, Ecuador, Mexico, Spain and Peru. It's a travelogue that traces Garces' evolution from skilled cook to culinary mastermind, complete with anecdotes and homespun stories of inspiration.
Two years in the making, the book also gave the chef some time away from the kitchen to learn more about his heritage.
"There were a lot of personal stories that I had to dig in my past to pull out. I did travel specifically back to Ecuador to reconnect with my family and examine the roots of who I am and where I came from," says Garces.
Included in the book are also brief lessons on each country's cuisine and geographical makeup. "I wanted to give everyone a little backdrop, the basics of where we are talking about … the indigenous ingredients, and then delve into the recipes that are truly authentic," he says. For instance, "when you open the Cuba chapter, I want to transport you and give people that experience."
The owner of 15 restaurants (and one taco food truck) across the country, Garces' latest venture has been his introduction into the ever-evolving Altantic City dining scene. He's brought three of his Philadelphia concepts, Village Whiskey, Distrito and his signature Amada, to Revel. The chance to expand his empire to A.C., specifically to this lavish new property, was too tempting for Garces to ignore.
"When I saw the Revel project, it was so impressive in scale and size and it looked like such a dynamic place that it drew me to the project. I haven't been disappointed," he says.
While the casino crowd may be new for Garces, the approach to his food has not wavered. "We always have to adjust a little bit here and there, but we don't want to change the concept," he says.
And why would he? Given his track record and the other celebrity chef competition not only within Revel, but across town, it's been beneficial to stick with what got him there.
"We are happy to contribute [to the A.C. dining scene]. We bring a unique product and plan on fine dining and we are a nice addition; we enhance it," Garces offers.
Drink: 10 Signature Cocktails You'll Never Forget
If your idea of a signature cocktail is a Tom Collins or an Old Fashioned, you've been watching way too much Mad Men. It's time you give one of these carefully crafted drinks a taste.
Bonsai
Buddakan, The Pier Shops at Caesars
When entering this stunning Stephen Starr restaurant, veer right into the intimate bar space where skilled mixologists whip up fruity drinks with names like "Courage" and "Serenity," as well as a highly sippable seasonal "zen"gria. For something subtle, try the Bonsai, a shaken martini with Ketel One, fresh cilantro, lemon-lime juice, simple syrup and a sugar rim. 1 Atlantic Ocean, (609) 674-0100
Tiramisu Martini
Parxgrill, Parx Casino
No need for a fork when you can drink your dessert instead. After dinner, indulge in one of Parxgrill's premium cocktails, like this one with Stoli Vanilla vodka, Frangelico, butterscotch schnapps, espresso and cream. 2999 Street Road, Bensalem, Pa., (888) 588-7279
Guantanamo Bay
Cuba Libre, Tropicana
More than two dozen tropical cocktails dominate the menu here at the Quarter at Tropicana, from mojitos and caiparinhas to sangria and pisco sours. This one mixes Kraken Spiced Rum, fresh orange juice, pineapple juice, splashes of sour mix and POM pomegranate juice, finished with a float of Cuba Libre Dark Rum. 2801 Pacific Ave., (609) 348-6700
Gin and Sin
Long Bar at Borgata
Get in touch with your bad side at the Borgata when you order up this cheeky named specialty cocktail. Here, gin meets orange juice, simple syrup, lemon juice and a float of grenadine. 1 Borgata Way, (609) 317-1000
La Pantera En Fuego
Distrito
Belly up to the neon-lit bar at Chef Jose Garces' Distrito Cantina where, in between bites of goat tacos or loaded nachos, you can sample one of six margaritas. The sweet and spicy Pantera has chile-infused tequila, maraschino liqueur and grapefruit juice. 500 Boardwalk, Revel Beach, (855) 348-0500
Large Marge
Sammy D's, Harrah's
Chef Sam DeMarco, formerly of Manhattan's East Village, is known for his over the top cakes and hefty "sam-wiches," as demonstrated at this fast-casual upscale diner. One of his signature drinks is this extra-large cocktail, served in a goblet so you feel like a king or queen while sipping on Sauza Blanco tequila, fresh lime and triple sec. 777 Harrah's Blvd., (609) 441-5402
Liberty Bell
The Refinery, Sugar House
It's only fitting to have a cocktail named for a Philadelphia landmark when drinking at the city's riverfront casino. At this pub-like bar, the Liberty Bell is made of coconut vodka, orange juice, cranberry juice and pineapple juice. 1001 N. Delaware Ave., Philadelphia, Pa., (877) 477-3715
Ultimat21
21 Sports Bar, Caesars
At this sports bar/lounge, you can order from menu sections like "Rookie," "Pro Bowler" or Heisman" drinks. The latter features the Ultimat21, made with Bacardi Rum, Bombay Gin, Hiran Walker, Ultimat vodka, peach schnapps and Sprite. 2100 Pacific Ave., (609) 345-3875
Lean & Pink
Water Club at Borgata
A sparkling drink is the perfect accessory for poolside lounging—even better if it's pink. This Sun Room signature shakes together Pama liqueur, Stoli Blueberi vodka, low- calorie sour mix and Chandon sparkling wine. 1 Borgata Way, (609) 317-1000
Beast of Bourbon
American Cut, Revel
We love the clever cocktail list at chef Marc Forgione's steakhouse, with drink names riffing on classic rock songs. But for a place as masculine as this, one needs a strong drink in hand—such as the Beast of Bourbon, made with Maker's Mark, rich Italian Carpano Antica vermouth and orange bitters. 500 Boardwalk, Revel Beach, (855) 348-0500
NIGHTLIFE
In Atlantic City, the nightlife scene is dominated by dance clubs, each offering their own unique experience, catering to a trendy, yet sophisticated crowd. At the Borgata, mur.mur has long been regarded as one of A.C.'s hottest clubs, and that's not just because it can get crowded in the underground lair where a mix of celebrity guest DJs and an inviting environment make it easy to lose track of time. You can do bottle service right on the dance floor, but we love King's Row, the elevated row of banquettes that allow you to survey all the action. Revel's HQ is the newcomer in town, boasting a large and lavish space that undoubtedly makes a good first impression. Equipped with screens spanning 24 feet and a state-of-the-art lighting system, not to mention plenty of views of the ocean, HQ is quickly giving other spaces a run for their money. The Pool After Dark at Harrah's was looking to update their space, so the popular nightspot underwent a recent renovation project that included adding new water fixtures, upgraded lightshows and sound systems, and a plexiglass stage for live performances. They also installed banquettes around the pool's five hot tub areas, and refurbished the VIP cabanas. Caesar's Dusk is known as the place where red carpet celebrities regularly mingle with the crowd, and now they may have the best one-two punch in town thanks to new a concept located just outside the club. That's where you'll find 21 Sports Bar, a slick lounge that's the perfect place to start the night, or keep the party going after hours. Speaking of after hours, that's the ideal time to head over to Anthem, formerly 32 Degrees, at the Tropicana. A little cramped, though comfortable, this is our go-to spot for a relaxed and enjoyable nightlife experience. Over in Pennsylvania, Parx's Club 360 offers something for all ages, from oldies dance parties with Bob Pantano to resident DJs known for bringing an updated vibe to the late-night hours. Open less than a year, Seven at Valley Forge Casino is a destination for dancing where the "lights do down, and the music goes up." It's an upscale atmosphere that allows this new property to stake a claim in the area nightlife industry.
5 Reasons to Love A.C. Nightlife
Kevin Friel, V.P. Marketing and Operations, Dusk Management Group
1. In the course of the last few years, Atlantic City has morphed into a world-class nightlife destination; the best DJs, celebrities and performers have become regulars to the city.
2. A.C. nightlife is a seven-day a week event. There is a multi-million dollar nightclub open with international talent every night of the week.
3. The emergence of "Daylife" in Atlantic City; the beach bars, pool bars and the Boardwalk Beer Garden keep the party going from spring to fall.
4. Atlantic City is one of the few places in the country with a 24-hour liquor license. There is always something open and "happening" in A.C.
5. There is something for everybody: nightclubs, sports bars, lounges, fine dining, beer gardens, beach bars and more. You name it, Atlantic City has got it.
Pamper: The 15 Best Ways to treat Yourself
Looking to unwind after a day at the tables? Want to start the day supremely relaxed, balanced and uniquely refreshed? Indulge in one of these can't-miss treatments to soothe the mind, body and spirit.
BODY TREATMENT
Hanakasumi
Inspired by Japanese traditions, this relaxing body ritual begins with the application of a warm exfoliating cream with cherry blossom and rice powder, followed by an exfoliating towel massage to soften the skin and invigorate the body. The treatment also includes a unique foot massage, completed with a full body massage of melted aromatic shea butter. Price: $175. Vive Day Spa and Salon at Showboat Casino, 801 Boardwalk, (609) 343-4118, ViveDaySpa.com
Nourishing Aloe and Mint Indulgence
Pamper yourself with this moisturizing and restoring procedure. Starting with a hydrating vanilla mint soak, the therapy protects skin from damaging free-radical aging and drenches skin. After the soak, a fusion mask of dilo, aloe vera, peppermint and vitamin E is applied before cocooning the body to "super-hydrate," firm and soften the skin. A concluding body massage using dilo nut butter leaves the body feeling uniquely rejuvenated. Price: $240. Bluemercury Spa at the Tropicana, 2831 Boardwalk, (800) 345-8767, Tropicana.net
The Mermaid's Secret
Although this isn't technically within a casino, it's close enough to count—and nevertheless you'll leave glowing with improved circulation and energy. A combination of Dead Sea salts and algae and marine sediments (those with shellfish allergies might think twice) are applied to the body for a sensation that's both warm and cool. Price: $120. Sea Spa at the Chelsea, 111 S. Chelsea Ave., (800) 548-3030, TheChelsea-AC.com
HEAD TO TOE
A Moment at the Valley
One of the shorter massages, this Swedish massage is a quick fix perfect for stress relief or a first-time massage, targeting the high-stress areas of the back, neck and shoulders. Price: $55. Valley Spa at Valley Forge Casino Resort, 1160 First Ave., King of Prussia, Pa., (610) 783-3122, VFCasino.com
Moroccan Oil Hydration Ritual
From head to toe, this 80-minute treatment replenishes all the tired and stressed parts of your body. A Moroccan oil scalp treatment and hydrating hair mask revitalizes the hair and scalp while hot stones and massages soothe the neck and shoulders. Feet and hands are then treated to a citrus body buff, leaving them smooth and rejuvenated. Price: $195. Spa and Salon at the Golden Nugget, Huron and Brigantine Blvd., (609) 340-5001, GoldenNugget.com
Scalp and Foot Massage
Signature oil applied to the scalp, face, neck, shoulders and feet sends tingling sensations throughout your body. Guests will experience ultimate relaxation, increased circulation and relief for aching muscles, leaving the treatment floating with a restored sense of well-being. Price: $125. Spa at the Trump Plaza, The Boardwalk at Mississippi Ave., (609) 441-6710, TrumpPlaza.com
TOTAL PACKAGE
Chairman of the Board Package
Forget your worries and relax as you are pampered by a team of professionals for the ultimate in therapeutic relaxation. Including a deep-tissue massage, deep hydrating facial and a paraffin manicure, this package hits all the necessary bases, helping guests to look and feel their very best. Price: $310. Spa at the Taj at Trump Taj Mahal, 1000 Boardwalk, (609) 449-6388, TrumpTaj.com
Dieci Mani
With four massage artisans and one aesthetician healing the entire body—full body massage, mud wrap, hand and foot massages, Shirodarah treatment, facial and paraffin hand and foot treatments, a Chakra balancing—this extensive treatment fulfills every wish. Starting with the Roman baths and a full body exfoliation under the Vichy showers, guests will find themselves in a relaxed and balanced state of mind—restful and at peace after this transcendent experience. Price: $5,000. Qua Baths and Spa at Caesars, 2100 Pacific Ave., (609) 343-2400, CaesarsAC.com
Signature Package
Among the Taj Mahal's variety of packages, its signature package offers the most comprehensive and fulfilling treatment. Beginning with a hot-stone massage, guests then experience a holistic phyto-aromatic radiance facial, a wash and blow dry, manicure, pedicure and body scrub. In essence, this full-body makeover allows guests to leave feeling ready to take on whatever the day has in store. Price: $520. Spa at the Taj at Trump Taj Mahal, 1000 Boardwalk, (609) 449-6388, TrumpTaj.com
WRAPS
Espresso Limon Slimming Wrap
This slimming and beautifying experience features slimming oil infused with rich South American coffee oil, hints of Italian lemon and Madagascan cinnamon that all aid in purifying and toning the body. The treatment ends soothingly, with a refreshing enzyme body mist. Price: $130. Spa Tocarre at Borgata, 1 Borgata Way, (609) 317-7555, TheBorgata.com
Purifying Mud Wrap
Here, the body is enveloped in rich cream mud to eliminate impurities and replace minerals. Experience total skin rejuvenation with enhanced cell turnover and texture, leaving your body feeling silky smooth. Price: $135. Red Door Spa at Harrah's, 777 Harrah's Blvd., (609) 441-5333, HarrahsResort.com
UNIQUE EXPERIENCES
Acupuncture Massage
This tailored therapy combines two supremely restorative processes to rebalance both mind and body: acupuncture points chosen based on one's personal needs; and a relaxing massage that only enhances the success of the treatment. This is an ideal treatment for anyone looking to improve their overall well-being. Price: $165. BASK by exhale at Revel, 500 Boardwalk, (609) 225-9855, RevelResorts.com
Egyptian Milk and Honey Cocoon Float
During this deep moisturizing treatment, a sugar scrub and high-quality oils and goat milk-based moisturizing cream cover the body from head to toe as guests float weightlessly, cocooned in the warmth of the Soft-Pack-System flotation. Guests will leave with velvety smooth skin and an entirely new level of relaxation. Price: $140. Spa Tocarre at Borgata, 1 Borgata Way, (609) 317-7555, TheBorgata.com
Table Thai Body Work
Often described as assisted yoga, this Eastern-influenced modality is tailored to each individual guest. Stretching techniques and breath work are coupled with flowing rhythmic compressions to balance and harmonize the body's vital energy flow. At the end of the treatment, guests will be well rested with a newly invigorated spirit. Price: $150-$210. Immersion Spa at The Water Club at Borgata, 1 Renaissance Way, (609) 317-8888, TheWaterClubHotel.com
Vibrational Therapy
This innovative healing therapy leverages tuning forks to relieve pain, increase mental focus, and create a general sense of well-being. Whether focusing on targeted areas or the overall body, this gentle, noninvasive approach is a perfect complement to other forms of restorative therapy. Price: $165. BASK by exhale at Revel, 500 Boardwalk, (609) 225-9855, RevelResorts.com.
5 Ways to Spot a Good Poker Room
Beth Shak knows what it takes to be a winner. A professional poker player since 2004, Shak has nearly a half-million dollars in winnings to her name and a $1 million shoe collection in her closet. The 42-year old began playing online poker with "play money" until she honed her skills well enough to gamble with cash and turned pro. She placed eighth in a World Series of Poker Ladies' event in 2005 and second in a 2007 WSOP event against more than 800 players. Here are her suggestions for what to look for when choosing a poker room.
1. Good management and staff are important, though Shak says it can take a long time for a casino to develop a good poker room. "I love the Borgata," she says. "They have an amazing poker room and I know everybody there. It is run really well."
2. Competent dealers are crucial to the quality of hands played. Shak indentifies a dealer's skill by his or her ability to keep a decent pace, their understanding of each player's objective, and their accuracy. "You would be surprised how many dealers make mistakes," she says. A good dealer will make "the right calls on who wins or loses hands and not leaving up to players to point out mistakes," she says.
3. Shak says she also looks for a poker room that has a reasonable rake (the commission fee a casino takes to support operations) on cash games. It is generally 5 to 10 percent of the pot in each hand, up to a predetermined maximum amount, so it can have a significant effect on a player's winnings.
4. Comfort counts; Shak considers something as simple as the comfort of a casino's chairs—important when playing in a lengthy tournament—and its access to good food. "I like playing tournaments at Caesars," she says. "They have the Pier Shops and great food— The Continental, Buddakan, Scoop—where I can go grab a bite when I am on break."
5. Finally, there is nothing to help relieve the stress of a long game like a visit to a casino's spa, says Shak, who "loves to unwind with a decadent massage."
Shop: How to Splurge $10,000 Worth of Winnings
So you've just hit it big on the tables and now it's time to spend some cash. Here's our men and women's guide on exactly where to drop some coin for an unforgettable shopping spree.
Men's Shopping List
Paloma's Caliper cuff links,
Tiffany & Co., The Pier Shops at Caesars $425
Tiffany Classic Money Clip,
Tiffany & Co., The Pier Shops at Caesars $160
PVC Motor Jacket,
Armani Exchange, The Pier Shops at Caesars $150
Brown Kir Loafer,
Gucci, The Pier Shops at Caesars $565
Ricky Super T Jeans,
True Religion, The Pier Shops at Caesars $383
Sac Plat Damier bag,
Louis Vuitton, The Pier Shops at Caesars $1,240
Dr. Koffer Venetian Black Briefcase,
Leather and Fur Ranch, The Pier Shops at Caesars $340
Giant Check Cashmere Scarf,
Burberry, The Pier Shops at Caesars $395
Adams a12OS Hybrid Iron Set with Steel Shafts,
Whim, Borgata $825
Long Tailored Men's Coat in Graphite,
Just Cavalli, The Water Club Hotel at Borgata $995
Navy Tweed Blazer,
Just Cavalli, The Water Club Hotel at Borgata $825
BOSS Black "The James 4/Sharp 6' Suit Ensemble*
Hugo Boss, The Water Club Hotel at Borgata $1,655
Creed Royal Oud Cologne,
bluemercury, Tropicana $325
Diamond Crown Humidor,
A Time for Wine, Tropicana $247
Stainless Steal Master BBQ Tool Set,
Brookstone, Tropicana $94.99
Casio G-Shock Protek Watch,
Revolution Jewelers, Revel $480
CZ Diamond Nialaya Bead Bracelet,
Emporium at The Row at Revel $550
Maui Jim Cliffhouse aviator sunglasses,
Tint, Golden Nugget $279
TOTAL: $9,933.99
*Combined with shirt, tie, pocket square, belt and bag pictured above
Women's Shopping List
The Orchard handbag,
Burberry, The Pier Shops $1,295
Three Prong Stud earrings,
Hearts on Fire, The Water Club Hotel at the Borgata $895
Billy Super T Straight jean,
True Religion, The Pier Shops at Caesars $319
Jenna Leigh bra and panty set,
Emporium at The Row at Revel $158
Deborah Lippman's Cleopatra in New York nail polish,
bluemercury, Tropicana $18
Manduka yoga bag,
Bask by exhale, Revel $73
18k Heart Tag Bracelet,
Tiffany & Co., The Pier Shops at Caesars $2,900
Louis Vuitton Keep it Bandouliere 60 Luggage,
Louis Vuitton, The Pier Shops at Caesars $1,575
Bettie Bootie,
Gucci, The Pier Shops at Caesars $875
Crown Velour Hoodie and Velour Pant,
Juicy Couture, The Pier Shops at Caesars $228
Rebecca Minkoff Large Zip Wallet,
Emporium at The Row at Revel $225
Andrew Marc Vanity Jacket,
Leather and Fur Ranch, The Pier Shops at Caesars $1,399
Vince Camuto Pyramid Stud Belt,
Emporium at The Row at Revel $40
TOTAL: $10,000.00
What's new
A taste of the Big Apple has come to the Taj Mahal by way of Robert's Steakhouse of New York. Executive chef Will Savarese mans the kitchen, preparing fine cuts of beef as well as fresh seafood and poultry along with locally grown produce. Be sure to check out the extensive whiskey selection as well.
Have you ever wanted to have your very own bar of gold? Now you can. Golden Nugget Casino is featuring a "GOLD to go" ATM machine that dispenses the precious metal from five grams to one troy's worth.
Eat gourmet any time of the day at Luke's Kitchen and Marketplace located in the Revel Casino. The new dining experience from Luke Palladino is open from 6 a.m. until 2 a.m., with both dine-in and takeout available.
When planning your next Atlantic City getaway, don't overlook the $50 million room renovations at Borgata. The property's 1,566 "classic" rooms got a facelift with new furniture, carpeting, bedding and 46" flat screen televisions. They also include new oversized, glass-enclosed showers.
Be a part of the action at the newly renovated poker room at Borgata. The $1 million overhaul includes the new high-limit lounge, The Boardroom, where rounders will have to ante up a buy-in minimum of $10,000.
Need to satisfy your sweet tooth? Come December, Tropicana is opening a new candy shop experience that is sweet for all ages. LICK promises name brand goodies for everyone, offering sugar-free options as well.
Chopstick Asian cuisine opens this fall at Sands Bethlehem. Also at Sands, Emeril's Italian Table is now serving up a new menu of Italian staples like antipasti, pizza, cured meats, and desserts made from scratch.
The second floor of Trump Plaza is where you'll find Rice & Noodle Corner, serving up a variety of noodle dishes like shrimp pad Thai and beef chow fun, as well as plenty of soups and assorted appetizers, entrees and desserts. Entrée's range from $16 to $20.
Looking for a romantic getaway? Head to The Atlantic Club for their Executive Room Package. Enjoy a king size bed, $100 dining credit for any of the nine gourmet restaurants, a 50-minute, in-room massage for you and your guest, spa access and turn down service. The total package price is $400.
The SugarHouse has transformed its Refinery restaurant into a fully equipped venue for musical acts to rock the waterfront weekly, Wednesday through Saturday.
5 Questions with…Dirk Schavemaker, SVP Operations for Revel
1. How does it feel to be the new guy in town? It feels great. Since we opened, over 3.5 million people have visited and are really enjoying Revel. I think it's because we offer new experiences that appeal to those who enjoy our beautiful casino, as well as the guest who is here for a leisure visit as well as the group guest. Each aspect of the resort is designed for a particular guest experience. If you are a foodie, or fashionista, or want the best entertainment showcased in the best theater on the East Coast ... we have those elevated experiences.
2. Revel opened with much fanfare, how do you keep the excitement going? Each time you visit Revel, we hope you discover something new that, perhaps, you didn't see on your last visit. There are a lot of choices these days if someone wants to gamble. At Revel, we've built an amazingly beautiful resort with a state-of-the-art casino floor.
3. Atlantic City is in a revitalization period, how does Revel contribute to that? Indeed, Atlantic City is in a revitalization period and there are many new improvements to the city. From our point of view, in order for Atlantic City to continue to grow in a positive way, we need to diversify and attract guests who will stay longer as well as guests who want to return for distinct experiences. At Revel, we're focused on three core customers: casino guests, leisure guests and group or convention guests.
4. Do reports of early struggles give you cause for concern or are you looking at the big picture? We always focus on the big picture. Revel's business model is unique for Atlantic City in that we are not gaming-centric. We are equally focused on three distinct customer bases. With that said, it takes time for a resort of this size and scope to ramp up. Our economic model differs from the traditional gaming-dependent model and we remain absolutely confident that Revel will be as successful as we envisioned.
5. If you had to summarize Revel in five words, how would you do it? Immersive, inspiring, invigorating, enriching and engaging.
Published (and copyrighted) in South Jersey Magazine, Volume 9, Issue 8 (November, 2012).
For more info on South Jersey Magazine, click here.
To subscribe to South Jersey Magazine, click here.
To advertise in South Jersey Magazine, click here.