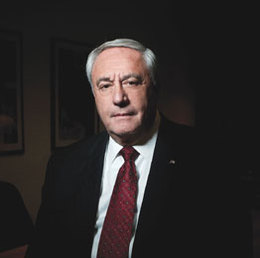 Men of the Year
It's easy to measure a man's success by the size of his bank account, but it's not always the most accurate indicator. For many, there is a great need to supplement that net worth with personal worth. Whether it's community service, charitable contributions or spearheading cutting-edge programs, there are a multitude of those whose life extends well beyond their office door. Once again, we've sought out to shine a spotlight on some of these men who are making a lasting impact in South Jersey, including our Man of the Year, Marvin Samson. These are individuals who use their accomplishments as a means to better the lives of others, doing so not for accolades or attention, but rather to help create a better vision for the future. And though they may not be looking for the recognition, we are going to give them what they deserve; the honor of being our Men of the Year.
Man of the year: Marvin Samson
Growing up poor, Marvin Samson now says he's lived the American dream a few times. "I feel extremely fortunate and blessed," he says. His first job was as a clerk in a neighborhood pharmacy, and he has worked in every phase of the pharmaceutical industry from sweeping floors to leading a large international operation. Now Samson is running Samson Medical Technologies in Cherry Hill, a company specializing in injectable drug delivery systems and programs for hospital and alternate site pharmacists, the third startup company he has founded in the town during his storied career. Impressively, Samson holds five U.S. patents pertaining to pharmaceutical manufacturing and serves as chairman of the Board of Trustees of the University of the Sciences in Philadelphia, where the College of Health Sciences is named after him. He's also a member of a number of committees of the Virtua Health System and serves on the board of directors of several companies, nationally and internationally, and is active in various other organizations in high level capacities.
The Moorestown resident has always made it a point to support the South Jersey community, but up until recently, he did so without much fanfare. Earlier this year, that changed when he donated $1 million to the Virtua Foundation. In return, Virtua named the Marvin Samson Foundation Pediatrics and Pediatric Intensive Care Units at the new Voorhees hospital in his honor. "I never wanted people to make a fuss over me; so most of the gifts I gave were anonymous," Samson says. "However, someone I very much respected said to me, 'If you are going to give something, you should put your name on it; it will encourage others to do the same.'"
While potentially inspiring others to give back, Samson cautions, "You don't give to see your name on a building or a wing of a hospital," he says. "You give because it is the right thing to do."
Although he has achieved success in his professional career, Samson always thinks back to his upbringing whenever he decides to donate to a cause. "I know what it is like to come from a poor, single parent family and to struggle to meet basic daily needs. I was fortunate to receive help and guidance from some amazing people who shaped my values and attitudes. Now it is my turn to help shape the lives of young people in similar situations," he says. Currently, Samson is taking that approach while working with The Franklin Institute to start a program that will encourage underserved elementary students in the School District of Philadelphia to have more of an interest in science through in- and out-of-school enrichment experiences on a year-round basis.
Albert A. Fox
Fox, holding a bachelor's degree in accounting and finance from Rutgers University, has been part of the financial management team at Merrill Lynch in Mount Laurel for almost 20 years, quickly garnering the reputation of a leader in his industry. In 1996, after just two years with the company, he was selected to teach fellow advisors the more advanced techniques of the trade, a duty he continues to fulfill with his certified financial planner and certified investment management analyst designations. But lately, it's community service that's getting this married Lumberton father noticed. Among his many civic duties, he serves on the development committee for Moorestown Friends School, which his three children attend. After his father was diagnosed with renal disease, Fox took a position on the board of the National Kidney Foundation of the Delaware Valley, serving from 1997 until this year, helping New Jersey become the first state to require all blood tests to include screenings for early-stage renal disease. For his work, he was recognized earlier this year by Registered Rep. magazine as one of just 10 advisors nationwide for their "Advisors with a Heart" award. "I think there will be periods of time when I'm more involved and periods of time where I'm less involved. But not until there is a cure for kidney disease will my work be done," Fox has said.
Curtis Bashaw
Growing up in Cherry Hill, Bashaw spent his summers on the beach in Cape May. Now, the attorney-turned-real estate developer is responsible for injecting a new energy into the once sleepy Shore town. A staunch advocate for Jersey Shore tourism, Bashaw now runs five Cape May hotels, including Congress Hall, the Virginia Hotel & Cottages, The Star, and The Sandpiper Beach Club. In 2009, Bashaw opened the Beach Shack, and he also is behind A.C.'s retro-chic Chelsea Hotel. Taking a sustainable approach, Bashaw's Cape Advisors group owns a large organic farm in West Cape May, which provides produce for his many hotel-based restaurants such as The Ebbitt Room as well as for his latest venture—a community food stand. He's also the former executive director of the state Casino Reinvestment Development Authority and, during his tenure, Bashaw implemented a $100-million Boardwalk Revitalization Fund and was involved in the development of The Walk, which greets visitors as they enter into town along the Atlantic City Expressway.
Stu Holloway
It's been a busy year for Haddonfield Police Cpl. Stu Holloway, starting on Jan. 4 when his fast response and CPR skills breathed life back into an unresponsive 8-month-old Azalea O'Hara, an action for which he soon became known as a hometown hero for; but it didn't end there. This past summer, he rescued some babies of a different sort—helping another officer rescue a brood of ducklings that had become trapped in a storm sewer. Saving wildlife may not be the reason this officer was recently promoted to corporal, but it sure has helped Holloway—who's in his seventh season as an assistant football coach at Haddonfield Memorial High School—reap quite a reputation in this small borough. Before serving at the high school, Holloway was also a youth football and baseball coach for several years. "I feel that as a police officer, one of my jobs is to help bridge the gap between today's youth, and what better way to do it than getting involved in their lives in some fashion or another," says Holloway, a married father with two kids under the age of 2. "I enjoy being able to let them see me in a different setting and not just in uniform. It lets them know that we care about them."
David Forward
Forward is a realtor by day—and a successful one at that, having been named Realtor of the Year last year by the Burlington Camden County Association of Realtors and receiving the Good Neighbor Award from the national association. But it's what happens when he goes home at night that defines him, he says. For Forward, it was an episode of 20/20 that changed his life in 1990—nightmare-inducing images of state orphanages in Romania plastered across the screen. Determined to do something, he rallied support from his church in Medford and the Medford Sunrise Rotary Club, collecting three tons of humanitarian supplies. He decided to deliver the goods himself, which only made him realize he needed to do more. He soon founded The International Children's Aid Foundation, which built its own orphanage in Romania, followed by the formation of early childhood development programs and job skill programs for Romanian children aging out of the system. Forward, a married father of one, has accomplished all this along with writing 11 books and traveling to India to help immunize children against polio. The lesson? "One person really can make a difference in the world," Forward says. "One person can't necessarily change the world by themselves, but they can change the lives of one or two or a hundred or even a thousand people."
Mark Friedenthal
Friedenthal worked with some heavy hitters in the financial industry (Citibank, GE Capital, Cendant) before opening his own money management firm, Friedenthal Financial, in Voorhees in 2009. Since then, the company has grown in over $40 million in assets, representing individuals, families and businesses. But more than just a successful businessman, Friedenthal is actively involved with the New Jersey chapter of the Leukemia and Lymphoma Society, a cause near and dear to his heart after losing family members who suffered from the diseases. His work has earned him a Man of the Year nomination from the group, but he is also passionately involved as a Silver Community Partner with the Jewish Federation of Southern New Jersey and as an active volunteer and board member of Temple Emanuel in Cherry Hill.
Ronald Lieberman
For more than 13 years, Lieberman has been a practicing attorney, specializing in family and divorce law. Last January, he became a name partner at Adinolfi & Lieberman in Haddonfield and he also chairs numerous family law committees on both county and statewide levels. The married father of two is also active in his native Cherry Hill, where he sits on the board of directors at the Katz JCC. In that role, he is responsible for event planning, service distribution, community outreach and much more. Lieberman also volunteers with the Jewish Federation of Southern New Jersey, which just honored him with a young leadership award. He works with the Federation as co-chair of the Steering Committee of the Young Adult Division; in 2013, he will become chair of the committee. "It's intensely gratifying," Lieberman says of his involvement in the community. "When you actually work on behalf of the community, you see the good deeds you can achieve together."
James Moyer
Still under 30 years old, Moyer has achieved quite a bit. A former U.S. Marine who spent seven months in Iraq, Moyer is now helping to protect people in South Jersey as a firefighter in Mount Laurel. It was in his role as a fireman that Moyer got to change one family's life forever. As a group of young boys played on a frozen pond on Valentine's Day in 2007, the ice broke and two fell into the freezing water below. When one of the youths was able to pull himself out and run home to call 9-1-1, it was Moyer and his company who were right across the street. Moyer entered the pond and pulled the young man out while the rest of the firefighters pulled the two of them off the ice to safety. CPR was performed and the child was resuscitated. After spending a year in the hospital and rehab facilities, the two gathered at Moyer's firehouse for an emotional reunion. "It's not often you get to meet the people you help, it was pretty gratifying," a modest Moyer says. Not satisfied with his credentials to date, Moyer is currently working to obtain his bachelor's degree in political science at Burlington County College and has aspirations of attending law school.
Tra Thomas
During his playing days with the Eagles, this former offensive lineman settled with his family in Medford—and he never left. Falling in love with the area, Thomas knew he wanted to make his life after football firmly planted in South Jersey. After seeing a former Blockbuster Video site vacant, Thomas had the vision to turn the space into his very own training and fitness operation. The result was 7 Deuce Sports, where Thomas and his team train clients ranging from those trying to simply stay in shape to rising high school and college athletes looking for a pro athlete's guidance and expertise. In some cases, the work he does with the kids is pro bono, like when he recently hosted an eight-week program for players from Camden High School. And to make sure the spirit of giving comes full circle, he asks any players who receive free training to dedicate their time to service organizations like Habitat for Humanity. Thomas also regularly donates proceeds to the Ronald McDonald House and the Food Bank of South Jersey.
Gary Farnesi
Farnesi's business experience is vast—including time with Scott Paper Company and Kerr Manufacturing, followed by his own company, Office Tech, Inc., which grew to become one of the largest copier dealers in the tri-state area. He sold the business in 1999 and found a new career in the banking industry, becoming vice president at Citizens Bank and Susquehanna Bank prior to his current post at Cape Bank, where he serves as senior vice president and regional manager. Though he's had a successful career, the community is what he's focused on, serving as vice chair of the Board of Trustees for Community Treatment Solutions in Moorestown, a social service agency for abused and neglected children. He's also involved with Friends of Elwyn, which fundraises for the human services organization for the disabled, and Lenny's Friends with Wings, a nonprofit in honor of his friends' son who passed away from pediatric brain cancer. For 15 years, the Cherry Hill resident also coached his local recreation sports leagues, including soccer and lacrosse, and Saint Peter's football, which is based in Merchantville. Currently he coaches lacrosse for Bishop Eustace athletes during the offseason. "For me, it's always about kids," says Farnesi, a married father of three himself. "I really think that's where you gotta win. That's where you have to help."
Arthur Seltzer
Seltzer, a World War II Army veteran of D-Day, the Battle of the Bulge, and the liberation of Dachau, was nearly silenced by all the tragedy he saw, but he began to open up to his family, and then the community, in recent years, bringing to light his actions during one of history's greatest battles. On Nov. 22, at the 9th Annual Feed the Troops Thanksgiving Day Celebration in Cherry Hill, he will receive an honor that's been 68 years in the making—the Bronze Star. Seltzer, 87, the former Jewish War Veterans New Jersey State and Post 126 commander, blew up radio equipment as the enemy advanced during the Battle of the Bulge, putting himself in danger before retreating, to ensure it wouldn't fall into the wrong hands. He was supposed to be bestowed the Bronze Star in 1966, but it never came. His former commander saw a recent news segment on Fox News, in which Seltzer described his harrowing experiences on Omaha Beach and throughout Europe, and was able to verify the missing information needed for Seltzer to receive this well-deserved honor.
Adam S. Malamut
This successful attorney finds plenty to keep him occupied as managing partner of a practice in Cherry Hill, but he also finds enough hours in the day to help out area children. "I'm a sucker for kids' causes," he says. So for the past five years, Malamut served as the president of the Board of Trustees of the Boys and Girls Club of Camden County, which serves approximately 3,000 at-risk youth in and around the city of Camden. Although no longer serving as president, Malamut remains committed to the group. "At many points in my life, someone has offered to lend me a hand, and here's young people that are the same as those growing up in the suburbs, but without that opportunity," he says. "You're giving a kid an opportunity to be successful and contributing members of society; it's been incredibly rewarding." In addition to his law practice and community service work, Malamut also is the chair of a technology company out of Virginia that owns patents in the area of radio-frequency identification (RFID), which helps hospitals, pharmacies and stores replace the bar code and better manage their assets and inventory.
Joseph Jefferson
Jefferson's professional career as a songwriter spans more than 30 years, having worked with artists like Patti LaBelle, Gladys Knight, Teddy Pendergrass, James Taylor, Eric Clapton and The O'Jays, to name a few. He's been nominated for two Grammys and his home studio is decorated in gold and platinum records. Despite all his achievements, Jefferson felt a void in his life and found just the way to remedy the situation through the gift of music. So, the Mount Laurel native created Play 4 Me, an organization that provides local schools with musical instruments through private donations. "I felt driven to give something back and Play 4 Me has become the vehicle to aid that longing," Jefferson says. And Jefferson is much more than just a gracious donor. He keeps tabs on the students, attending concerts and offering himself as a mentor when needed. "I am blessed and I am going to pay it forward," he says.
Jim Kehoe
Kehoe is the business manager of Local 322, overseeing union operations for numerous plumbers, pipefitter and HVAC technicians, and he also serves as president of the South Jersey Building Trades Council. In 2008, he was appointed by then-Gov. Jon Corzine as chairman of the Casino Reinvestment Development Authority and also serves on the board of trustees at Rowan University. Kehoe lends himself to many other organizations, serving on the boards of the Camden County United Way, Camden County Improvement Authority, and the South Jersey AFL-CIO, in addition to working with the American Diabetes Association and American Red Cross.
David V. Condoluci
The senior vice president and chief medical officer for Kennedy Health System, Condoluci has been a member of the staff since 1983. He is the former chief of staff and currently serves as chairman of the Department of Medicine and chairman of the Professional Affairs Committee. A founding member of both the Southern New Jersey Infectious Disease Society and the AIDS Coalition of Southern New Jersey, Condoluci leads the charge in the local fight against HIV and AIDS. In 2011, Condoluci received the Apple Award from the New Jersey Institute of Nursing, and he's also been the recipient of the Excellence in Medical Services award by the South Jersey Council on AIDS, the UMDNJ- SOM Golden Apple Award and the American Red Cross' Good Neighbor Award for his humanitarian efforts.
Tim Kerrihard
The president and CEO of the YMCA Burlington and Camden Counties, Kerrihard was recently chosen to the Joint Base McGuire-Dix-Lakehurst Honorary Commanders Program. Because of his track record for community and professional excellence, Kerrihard will get the chance to work alongside military personnel to get a better understanding of their abilities as future leaders. For the next year, the Moorestown resident will work with Col. Marty Chapin, commander of the 621st Contingency Response Wing, to become more in tune with military operations on the base. In addition to working with more than 10,000 members of the area community at the Y, the one-time camp director has spent time in Uruguay implementing leadership programs for those working with young children and teens and spearheaded a childhood obesity prevention campaign.
Tim Fox
When Fox was in high school, his parents were both diagnosed with terminal cancer. The tragic news led a teenage Fox to become immersed in the health care world. After graduating from Thomas Jefferson University and finding himself working in long-term care, Fox began to notice that the industry could use a fresh approach when it came to the elderly. It wasn't long after that Fox Rehabilitation was born, and the company that started with Fox working out of his basement has grown to the point where nearly 500 therapists now assist him in helping elderly patients achieve goals they previously deemed impossible. Outside of his business, Fox has been a contributor to the community, whether getting involved to help veterans or to raise money for Autism Speaks. In 2011, he was awarded the Clinical Excellence in Geriatrics Award for Outstanding Clinical Practice in Geriatric Physical Therapy by The American Physical Therapy Association and was once deemed "The Most Influential Physical Therapist in the Nation."
Adam Taliaferro
The struggles Taliaferro faced while a member of Penn State's football team have been well documented. After a brutal hit left him partially paralyzed, Taliaferro was faced with the notion that he may never walk again. Nowadays, the Woolwich resident is not only walking, he's walking tall. Taliaferro, who recently left his job as an attorney with Duane Morris to take on a post with biopharmaceutical company Bristol-Myers Squibb, has turned his former tragedy into a tale of inspiration as he offers advice and life lessons to others while serving as a motivational speaker. He also helped create the Adam Taliaferro Foundation to support others suffering from spinal cord injuries. A year ago this month, he was elected to the Gloucester County Board of Chosen Freeholders and, in the spring of 2012, he was named to Penn State's Board of Trustees.
Harris Legome
Growing up, Legome's parents exposed him to the arts and various museums in the area. As he grew older, he became a collector, traveling around the world obtaining pieces of fine art, some of which is on loan to institutions all across the world. With his own law practice in Haddonfield, Legome spends his spare time helping to promote his passion by working with several organizations like Vox Populi and Cerealart, designed to help promote local artists by giving them an outlet to showcase their work. This dedicated husband and father of two also supports local and national charities, and has spent time working at soup kitchens during the holiday season. "It's important for everyone to be involved in their communities," Legome says. "I've been very fortunate in my life and I try to give back. There's no other reason why anyone would want to help out."
Ron Jaworski
The man affectionately known as "Jaws" is not one to sit still. Come football season, you can see and hear him regularly on ESPN and on 97.5 FM, giving his insights on the finer points of the game. But, he's more than former jock who fell into broadcasting; rather he's a successful businessman who has parlayed a long stint in football into a career managing several golf courses. A hands-on executive, Jaworski gets daily status reports from his staff so that even when he's out of town, he knows the score. He has partnered with The United Way and his Jaws Youth Playbook works to promote health and wellness for at-risk youth. In addition being a co-owner of the Philadelphia Soul, Jaworski is also president of the Maxwell Football Club, which not only recognizes athletes from high school to the pros, but also works in communities across the country developing new programs and funding scholarships.
Published (and copyrighted) in South Jersey Magazine, Volume 9, Issue 8 (November, 2012).
For more info on South Jersey Magazine, click here.
To subscribe to South Jersey Magazine, click here.
To advertise in South Jersey Magazine, click here.