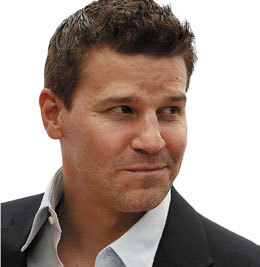 The Right Man for the Job
He's an actor, a director and a producer. If there's one thing that David Boreanaz has learned in his nearly two decades in television, it's versatility.
David Boreanaz is a little upset, but he's hiding it as best he can. As we converse, he seems to be in good spirits; his hit show on Fox, Bones, is enjoying its eighth season and he's just gotten back from dropping his 10-year-old son Jaden off at school. Unfortunately, for the Philadelphia native and huge sports fan, the NHL lockout is causing him great angst. Last night was supposed to be the first Flyers game of the new season and the void has been difficult for him to fill. "I'm not happy about it," he says. "It's not fun being a hockey fan right now; it sucks."
Boreanaz isn't just your typical fan of the Orange and Black; he's more like an extended member of the team. It's not uncommon for him to hit the ice with the players when they're out West or to find him at the Skate Zone in Voorhees taking part in practice when he's back home visiting. He calls them by their first names ("Claude and Danny") and he speaks on the phone regularly with the brass of the organization ("I know they're bored and people want to get the season going.").
It was his father, former longtime Channel 6 meterologist Dave Roberts, who took him to his first hockey game growing up. Now, with two children of his own, Boreanaz is taking lessons from his father on how to balance a career in television with a family life at home. His successful run in TV has lasted nearly two decades now, starting with turns on Buffy the Vampire Slayer and spinoff series Angel before landing a role as FBI special agent Seeley Booth on Bones. Last year, he starred in the biggest film of his career in The Mighty Macs, the Hollywood adaptation of how Immaculata College was able to win the first-ever women's basketball championship in 1971. The movie was shot locally, including at West Chester University, giving Boreanaz the rare chance to work on his home turf. It's something he wishes he could do more of. "I would love to shoot a movie in Philly. Bradley Cooper's from Philly and he shoots movies here," he quips.
But before he makes a full-time jump to the Silver Screen, we sat down with Boreanaz to talk about his career, growing up with a famous dad, and why, no matter what, life always comes back to sports.
SOUTH JERSEY MAGAZINE: Bones is currently in the midst of its eighth season. How excited are you this time around?
DAVID BOREANAZ: I couldn't be happier; we had the best season premiere we've had in a couple years and we have some really great shows lined up. We have exciting characters and we're in a great groove and the fans have been really supportive of the show. I'm happy to be back entertaining everyone, it's going great.
SJM: Now that it's the eighth season, how do you think the show has evolved and what are you most proud of?
DB: I'm proud just to be part of a show that really focuses on the relationship through the eight seasons. We struggled in the beginning with the network; they wanted a more serious drama, X Files-type take. But we were grinding out the relationships and they got on board, and I'm proud our characters stayed true to what we wanted in the beginning. Looking back to where we are now, it took a lot of work, we are fortunate. Going into the eighth season, it's opened the door to have fun with these episodes. We can have a serious show one time and come back with a bizarre episode; that's the blessing of our show. We are able to invest so much more into the characters. Seeing the development of the characters and to have them overcome the molds that can so often happen with a network show; we broke that mold.
SJM: When you're on a show that has had sustained success, what's the most difficult part of keeping things feeling fresh?
DB: You don't want to feel comfortable with the characters. Our writers are always accepting of our ideas and we are able to set a bit of a tone with the scripts. You want to constantly raise the bar, both professionally and personally. I do it because I love it, it's still challenging to me, it's not something that's a job that I have to do, I love playing the character. As long as we push ourselves and evolve and find new things, it will always be exciting.
SJM: On Angel, you got a taste for directing and on Bones you've also sat in the chair. Do you think the fact that you are an actor on the show gives you an advantage when it comes to helping shape an episode?
DB: Obviously you definitely understand the show because you are working it, but it's very tricky; you have to be on your game. There's a strong scientific intelligence to it and it's easy to fall down a tunnel and not get back up. With Angel, it was very different to shoot. There were special effects, green screens; it was like a small action film. But, it educated me and helped me understand the process of what directing is all about. I like to direct, I like to act, I like to produce and I like to play hockey with the Flyers!
SJM: And you are also co-producer of the show. Are you just interested in all aspects of television?
DB: I love it. I'm really creative and I enjoy the challenges of taking what's put on paper and really going after it.
SJM: How much of that was inspired by watching your father on TV?
DB: My father is a big influence in my life and he's been there for me through so much stuff. When you are around him in the working environment, it just rubs off. You kind of absorb all of that, you take it in and you listen and try to translate into your own world.
SJM: You once told me that growing up could be tough if your dad incorrectly predicted a snowstorm. What was it like growing up with a "famous," well-respected dad?
DB: He was grounding. When we first moved to Philly, I can remember going to the Italian Market to get cannolis and it was like my dad was the mayor of Philly. My dad, wherever we went, was really gracious. I admired my father for being so kind to other people. My dad is the nicest around; he's crazy cool. Getting to be there when he went to events, going to sports games, having access to certain areas that other kids didn't have … he always reminded me to count my blessings. My father and I are very close. I don't think there's day that goes by that I don't think of him or how he would handle a situation. [Now that he's retired], he can come out here [to L.A.] and spend a month with us instead of a week. My son enjoys that. He's 10 now and my little girl is 3 and it's those little moments, taking them to school or to play flag football. Being around my dad, he always seemed to maintain that. It was not put on, it was who he was. He wore his heart on his sleeve and that's what I do.
SJM: You also spent a lot of summers at the Shore. Where did your family like to vacation?
DB: Avalon and Ocean City. The time we spent at the Shore, it was great. There was one year, for Nights in Venice, it was my freshman year of college. I was on a float with 16 guys dressed in togas and we had two kegs and we were Mr. Nights in Venice [laughs]. It was one of those crazy moments, but all those memories as a kid growing up, it kind of grows and the memories get better.
SJM: For many actors, breaking into the business is far from easy, but you were discovered while walking your dog. Was it as peculiar an experience as it sounds?
DB: It was very peculiar. I was walking my dog and a talent scout saw me and set up a meeting. I still have the same manager and agent; I'm very loyal.
SJM: You've played some iconic characters in your time. When you've played someone like Angel, how hard was it to reinvent yourself into Booth? In other words, some actors, no matter what they would have gone on to do, would have been forever known as Angel. How'd you manage to avoid that?
DB: When I got my break, I did Buffy and the show broke out of nowhere and became a huge pop phenomenon. You get engrossed in it, but I don't think about those things. People say, "How are you going to do something now besides play a vampire?" Well, let me show you. There will be people who will remember me as Angel, I think you always have that. But as an actor, you have to constantly reinvent yourself. Give me the right role and let's have fun with it. You learn from each character and build from it. I've been in TV for 17 years and been really fortunate, I wouldn't change it. I've been blessed to do three TV shows and sustain the work. The most important thing my parents instilled in me was that you have to work. I love what I do, but it's about work. You can't take things for granted, you can't rest on your laurels. Bones is going to come to an end someday, but there will be something else. From the athlete perspective, you have to work harder and figure it out.
SJM: Your athletic analogy is an interesting one.
DB: Athletics is a big metaphor for me, that's why I love being around athletes. In Hollywood, it's so fast, they are not going to take time for you to get in shape. You have to constantly be working the body and mind. When you walk in the door, that is who you are to them. You can't be average because there are thousands of men and women behind you waiting to take your place. You have to take the athletic approach to it.
SJM: You act, produce, direct; is writing next?
DB: I like to write, but I'm not that guy. I like the production process, it's in me, but I need to kind of break that fear that comes with writing; it's very personal.
SJM: So once you overcome that fear, you would …
DB: Probably dive right into it.
SJM: Why not, right?
DB: Yeah, why not [laughs].
Published (and copyrighted) in South Jersey Magazine, Volume 9, Issue 8 (November, 2012).
For more info on South Jersey Magazine, click here.
To subscribe to South Jersey Magazine, click here.
To advertise in South Jersey Magazine, click here.