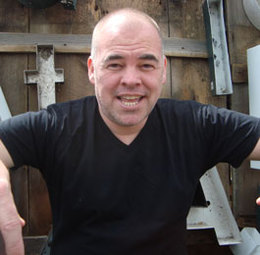 From Haddonfield to Hollywood
Former South Jersey high school teacher's novel becomes film with plenty of Oscar buzz.
Matthew Quick knows a thing or two about living your dreams. And he also knows what can happen when you don't.
That's why seeing his debut novel, The Silver Linings Playbook, come to the big screen later this month will be especially sweet for the former Haddonfield Memorial High School English teacher.
"Thinking you can do something and then realizing you've actually done it … it can be hard to wrap your head around," Quick said recently by phone from his Massachusetts home. "This is a tremendously exciting time for me."
It's been an interesting journey from the halls of Haddonfield Memorial to the unfinished New England basement where he spent months writing the book—to perhaps the red carpet if the film version of Silver Linings Playbook lives up to the increasing pre-release Oscar buzz.
Growing up in Oaklyn, the 38-year-old Quick—dubbed "Q" by his students—started writing fiction as a teenager and became enthralled with classic novels such as Hemingway's The Old Man and The Sea and A Tale of Two Cities by Charles Dickens: "I came to realize at a pretty young age that these people were speaking a language that I wanted to speak."
After graduating from Collings­wood High School in 1992, Quick headed to LaSalle University, where he majored in English/secondary education. Upon graduation, he worked at the Bancroft School in Haddonfield, mostly with kids diagnosed with autism and brain trauma—an experience that would later influence his fiction writing.
The personable Quick spent one year teaching at Eastern High School in Voorhees before joining the teaching staff at Haddonfield Memorial.
"I thought being an English teacher would be easy and afford me time to write, but little did I know that, to do it right, it's one of the hardest jobs in the world," Quick recalls. For the next six years, Quick taught 10th- and 12th-grade English, becoming a well-loved staff member and finding a niche working with high school kids.
"I coached basketball; I co-ran trips to South America—everything you could do as a teacher, I did," Quick says. "I was involved in all kinds of activities—I would go into school at 6:45 in the morning and sometimes wouldn't get home at night till 10:30 p.m. The writing was becoming more of a dream than a reality—I was just so busy."
Over time, Quick says, he started to feel like he was "playing a role"—one that left him feeling like "a huge hypocrite."
"I was encouraging my students to use all their talents, take risks, write, and here I was—totally stuck," he says. Conflicted by his enjoyment of teaching, a desire to "make a positive impact in the community," and his longstanding dream of becoming a published writer, "I felt like I was trapped in a prison of my own making."
Finally, Quick recalls, his wife, (now-fellow published novelist and international bestseller Alicia Bessette) told him he needed to either "follow his bliss or file for divorce," because she wanted the old, contented Q back.
"She said, 'What would you do if I could make these problems go away? Would you quit your job and write full time?'" Quick recalls. "I said, 'Sure,' but I figured that was impossible."
Instead, the couple quit their jobs, sold their Haddonfield house, and traveled to South America and Africa before relocating to New England, where they lived with Alicia's parents for three years in a move to save money and free up Quick to become a published writer.
During that time, he earned a master of fine arts degree in creative writing from Goddard College in Vermont and spent the bulk of his free time holed up in his in-laws' basement, where he wrote seven days a week for months on end.
"It was a rite of passage, to be sure," Quick says, adding that the decision to make a change was inevitable: "There's that thing inside of you that you have to follow at some point or the best part of you will die, and I knew that."
One day, when taking a jog, Quick noticed a beautiful silver lining around a cloud.
"I took it as a good omen, then started thinking that was ridiculous," he remembers. "But it stayed with me and I thought, 'Well, what's wrong with believing it's an omen?'" From there, The Silver Linings Playbook got its start.
"In a way, writing the book was like going home—I was able to use Philly and South Jersey as a backdrop and create characters like the ones I grew up with," says Quick.
Published to rave reviews in 2008, the book tells the story of Pat Peoples, a 30-something trying to rebuild his life after several years spent in a psychiatric facility. Pat has a theory that his life is a movie produced by God, and that if he becomes physically fit and more emotionally stable, God will ensure him a happy ending—name­ly, the return of his estranged wife. Things don't turn out quite as Pat has planned, but he does manage to attain a happy ending of sorts, even if his beloved Eagles keep losing.
The Silver Linings Playbook was optioned as a movie before the book was even published, something that left Quick "kind of feeling delusional."
"After I got off the phone, I was like, 'Did that really happen?' I couldn't get my head wrapped around it."
Quick—who spent one day on the set of the film—claims to be very pleased with David O. Russell's adaptation.
"If you filmed my whole book, scene by scene, it would be an eight-hour movie, but they made it work in two hours," Quick says. "David was very respectful of what I was trying to do and he did a great job. I'm extremely pleased with the end result." So are the critics, who are buzzing that the film—which opens on Nov. 21 and stars Robert De Niro, Jennifer Lawrence and Bradley Cooper (as Pat)—is decidedly Oscar-worthy.
In addition to The Silver Linings Playbook, Quick has also written three young-adult fiction books. "I resisted that at first, but because I worked with young people for so many years, my agent thought I would have something to say. I've discovered it's a way for me to almost teach again," says Quick, whose latest young-adult book, Boy21, came out in March. To coincide with its publication, Quick spoke before a packed auditorium at his alma mater, Collingswood High School, something he found "very rewarding and very welcoming."
Quick and his wife moved back to South Jersey for three years in 2007, but—because Quick needs a sense of solitude to write—are now again in New England. Still, he says, he loves to come back to South Jersey to visit: "It will always be home."
Published (and copyrighted) in South Jersey Magazine, Volume 9, Issue 8 (November, 2012).
For more info on South Jersey Magazine, click here.
To subscribe to South Jersey Magazine, click here.
To advertise in South Jersey Magazine, click here.