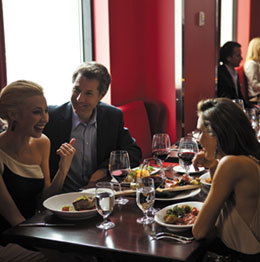 A Hot Hand
Area casinos have introduced lots of newcomers to the dining scene. Our advice? Book your table now.
Amada
The dining scene at Revel was carefully curated to include chefs from D.C., Philadelphia and New York, drawing diners from all along the eastern seaboard to taste what this collection of Iron Chefs, James Beard Award winners and other decorated chefs has to offer. This outpost of Iron Chef Jose Garces' Philadelphia tapas restaurant stays true to the Mediterranean feel, with an even more beautiful atmosphere thanks to sweeping views and plenty of sunlight. Munch on small plates of traditional tapas (like grilled Spanish octopus or clams and chorizo), saffron-yellow paella or order ahead with a group to experience the whole suckling pig, Cochinillo Asado, that's roasted for a whole day and a half just for you.
Revel, 500 Boardwalk, (855) 348-0500.
American Cut
Iron Chef Marc Forgione's American Cut has a theatric quality to its dining room, starting with the bronze statue of an eagle clutching a cleaver that greets guests as they enter. What follows is an expansive dining room comprised of Art Deco touches, dark wood and leather, with plush seating and a wrap-around bar. Forgione, the youngest American chef to receive Michelin stars for three consecutive years, has created a menu where "surf and turf" means a pairing of elegant Tomahawk Ribeye and chili lobster, but it could also mean Wagyu strip steak tartare and barbecue baked oysters. Even the steakhouse sides are inspired, like the wood fired creamed spinach or "brass knuckle" potatoes with aged cheddar and pork roll.
Revel, 500 Boardwalk, (855) 348-0500.
Azure by Allegretti
Directly across from American Cut is a restaurant that couldn't be more different, at least in appearances. With its coastal color palate, vibrant decor and airy feel, chef Alain Allegretti's Azure invokes images of the Riviera – fitting, since he's a master of both French and Italian cuisine, bringing Mediterranean flare to Revel's diners. The menu is heavy on seafood, including his famous Provençale fish soup, plus whole roasted fish and lobster. For those who prefer to stay on shore, an herb and pistachio crusted rack of lamb or hand-made spaghetti dressed in Rivera tomato sauce should please just as well.
Revel, 500 Boardwalk, (855) 348-0500.
Central Michel Richard
For something a bit more relaxed—while still upscale—head to Central Michel Richard, named for the chef who earned a James Beard Award two years in a row (including one for his Central location in Washington). Here you'll find a brunch menu served daily with gougères or crème brulée French toast, alongside savory options like Hangar steak au poivre. Dinner might mean a lobster burger with ginger aioli or 72-hour short ribs with pappardelle and Syrah sauce. Don't miss the desserts, which are an experience in themselves (like the house-made chocolate truffle bar that's like what a Kit Kat dreams of being).
Revel, 500 Boardwalk, (855) 348-0500.
Chart House
It's hard to believe this tranquil dining room, with views of million dollar boats in the marina and a calm, quiet atmosphere, is connected to a bustling casino floor by a mere elevated walkway. Known for its upscale seafood and award-winning prime rib, the Chart House has an easy to navigate menu with plenty of options: simply choose between signature fish dishes (like bronzed Swordfish), seafood (like tempura battered lobster tail), or meats (think blue cheese filet mignon). Executive chef Rodney Seeberger's restaurant was also the Atlantic City Seafood Festival Chowder Cook-Off champion this year, as well as the Rookie of the Year during the chowder cook-off classic.
Golden Nugget, Huron Avenue, (609) 340-5030.
Luke Palladino
Chef Luke Palladino is at the helm of another namesake restaurant, preparing his signature regional Italian, inspired by local farm-fresh ingredients in a 200-seat dining room. This year-old project is an outpost of his restaurant in Northfield, which received accolades from restaurant critics across the state and beyond. Palladino is staying busy crafting handmade pastas like rigatoni bolognese and classic dishes like osso buco or Roman veal saltimbocca. He also offers a "spontaneous" five-course tasting menu comprised of the chef's choice of antipasti, pasta, pesce; braised or grilled cuts of meat, followed by dolci or cheese selections.
Harrah's, 777 Harrah's Boulevard, (609) 441-5576.
Pacific Prime
Mediterranean influences are apparent on this menu, as in the clay pot grouper with fennel and oil cured olives, but there are also creative touches from elsewhere, as demonstrated by an Ahi tuna duo with soy reduction or Scottish salmon with melted leeks and cockles. The steak and seafood restaurant has plenty to choose from, including 30 different wines by the class. A new Sunday brunch menu features twists on all the sweet and savory favorites you crave, like a classic wedge salad, lavender buttermilk pancakes with caramelized bananas foster, and tea cured salmon eggs benedict.
Valley Forge Casino, 1160 First Avenue, King of Prussia, Penn., (610) 768-5003.
Robert's Steakhouse
One of New York's much-discussed steakhouses debuted in Atlantic City in late October, bringing with it the hearty menu that earned the praises of Zagat, Vogue and New York Times' critic Frank Bruni. This new restaurant, just steps off the casino floor at Trump Taj Mahal, boasts an 8,000-square foot upscale dining room that looks like a posh lounge. Executive chef Will Savarese cooks up favorites like the bone-in New York Strip, filet mignon and a dry-aged Porterhouse for two, plus options like rosemary and garlic grilled lamb, seared scallops and a truffled risotto.
Trump Taj Mahal, 1000 Boardwalk at Virginia Avenue, 1 (609) 449-1000.
Scarduzio's
Just steps off the casino floor, Scarduzio's presents USDA prime beef and lamb from New York's DeBragga butchers, alongside premium chicken, seafood and raw bar selections. Carnivores will love the center cut 8-ounce filet mignon or 14-ounch Berkshire pork rib chop, served with apple tart tartin and lavender honey gastrique (a classic sauce that's both sweet and sour). As the winner of this year's Open Table Diners Choice Award, Chef Chris Scarduzio prepares signature menu items in addition to prime chops, like the house-made cavatelli pasta with spicy tomato butter and sundried tomato pesto.
Golden Nugget, Huron Avenue, (609) 340-5030.
Viviano
Valley Forge
Open daily for dinner in this brand new casino, Viviano is the stop for home-style Italian, with a rustic vibe and plenty of wine to go around. Start off with antipasti selections like grilled artichokes or cannelini beans with crispy pancetta or order up a spread of roughly a dozen different salumi and cheeses. Dinner is likely to be one of the chef's pastas (try the pappardelle with lamb and wild mushroom ragu) or heartier plates like chicken parmesan or veal marsala with local mushrooms.
Valley Forge Casino, 1160 First Avenue, King of Prussia, Penn., (610) 768-5003.
Published (and copyrighted) in South Jersey Magazine, Volume 9, Issue 8 (November, 2012).
For more info on South Jersey Magazine, click here.
To subscribe to South Jersey Magazine, click here.
To advertise in South Jersey Magazine, click here.