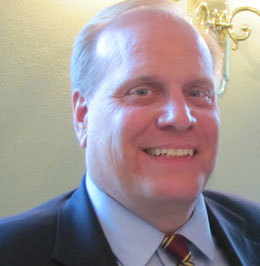 Southern Exposure: November, 2012
Names to Know
Local people making a difference in South Jersey and beyond
Cherry Hill native Daniel Amerman (pictured) made his grand debut on the small screen, with an appearance on the Oct. 25 episode of NBC's The Office. On the show, now in its ninth and final season, Amerman played a singer in the a cappella troupe Here Comes Treble, an ongoing joke with star Ed Helms on the show.
The New Jersey Council for Humanities named John Russell, a Burlington City High School social studies teacher, the Teacher of the Year for 2012. Russell was awarded for his ability to use modern comparisons to teach the importance of historical subjects that are often emotionally sensitive in a way that reaches to students.
Lourdes Medical Associates OB/GYN Sherrilynn Parrish was awarded the March of Dimes Foundation's Born to Shine award at an Oct. 20 banquet. Parrish, the chief medical officer at Our Lady of Lourdes Medical Center in Camden, was honored for her strong leadership as a role model for staff and patients. Kennedy ER pediatric physician Adam Richards was also honored with the March of Dimes Born to Shine award. Richards, who sees patients out of the Kennedy Hospital's Washington Township emergency department, also focuses his pediatric expertise in Cherry Hill as well as Stratford.
Andrea Green, a Cherry Hill composer, is ending a successful year. Green has written and produced more than 20 musicals in her career, and now her work is being honored with a documentary. The film will be based on her work in the music therapy community and her play, On the Other Side of the Fence.
For a community service project for his bar mitzvah, 12-year-old Jared Fisch of Cherry Hill donated his time to the Reach Out and Read program at the Children's Hospital of Philadelphia. Within the first month, Fisch collected more than 1,800 books, and he hopes to continue in the ongoing months.
Rowan University's William G. Rohrer College of Business recently presented its first-ever William G. Rohrer Business Leader of the Year Award to Gerald Shreiber, president and CEO of J&J Snack Foods Corp. in Pennsauken. Schreiber was awarded based on his success in business as well as with volunteer organizations in the community.
As a part of a community service project to work toward his bar mitzvah, 12-year-old Jared Fisch of Cherry Hill donated his time to the Reach Out and Read program at the Children's Hospital of Philadelphia. Within the first month, Fisch collected more than 1,800 books, and he hopes to continue in the ongoing months.
Go Figure
$63,600: The amount awarded to Logan Township's Fran Samper as a contestant on Who Wants to Be a Millionaire on Oct. 5.
$13,900,000: The total in fines collected by the New Jersey Turnpike and the Garden State Parkway in the last year by drivers who ignored the roads' toll booths.
$50: The fine for an unpaid toll.
100: Seasons that Collingswood High School's field hockey team has been competing.
4: No. of local schools that have reached 100 years in play in field hockey.
336: Patients at South Jersey health facilities that were injected with a medication linked to a deadly national outbreak of fungal meningitis, announced on Oct. 5.
16: Number of reported fungal meningitis cases recorded in New Jersey in October.
47%: Percent of New Jersey school buses that failed a state-mandated inspection.
$500: The maximum fine given to parents and public institutions under Senate President Stephen Sweeney's proposed ban on minors in hot tubs on commercial properties.
Hit or Miss
The Funplex in Mount Laurel is hoping to expand, with plans to add a 151-room hotel and two 5,000-square-foot restaurants to the amusement park.
Cherry Hill's Lauren Platt was selected as one of only 300 students at Hofstra University to attend the second presidential debate on Oct. 16.
Rowan University will be installing a seven-foot bronze statue of the school's namesake, Henry Rowan, on campus.
A 19-year-old Moorestown resident has hit it big, winning $1 million off a scratch-off lottery ticket in October.
Residents across South Jersey were a bit shaken up on Oct. 20 after reporting what seems to be a sonic boom that left the ground quaking across the area.
Three teachers and two administrators were arrested at Triton Regional High School in Runnemede. The teachers were charged with sexual misconduct with students and the administrators face charges for allegedly covering up the incidents.
Casino: Shuffle Up and Deal
The bright lights of Atlantic City have been keeping guests coming back for more than a century. Check out these fun A.C. facts before you head to the tables.
* The Trump Taj Mahal Casino and Resort has four and half times more steel than the Eiffel Tower in Paris.
* The Atlantic City Boardwalk was the first built in the country.
* All of the street names in the board game Monopoly are based on the streets of Atlantic City, except Marvin Gardens, which is actually Marven Gardens, located in Margate.
* The largest reported win at the Tropicana was $5.8 million in 2011 during a single night of blackjack.
* A woman won $10 million on a nickel slot at Harrah's in 2009, the city's largest single jackpot since 1978.
* The Borgata has been the highest grossing casino in Atlantic City since 2005 and offers gamblers the most gaming options on the East Coast; the casino features 3,475 slot machines and 300 table games.
Education: Spreading the Word
"People will never know how far a little kindness can go."
Those are the words of 17-­year-old Rachel Joy Scott, the first of the victims at the 1999 Columbine High School shooting that left 15 dead. After her death, Rachel's family found her personal essays and inspiring words, all focused on anti-bullying mentalities and kindness, and decided to continue spreading her hopeful message through Rachel's Challenge, a foundation that reaches out to schools to promote anti-bullying, acceptance and understanding.
Now, students, teachers, parents and guests are invited to join Bishop Eustace Preparatory School on Nov. 7 as they bring Rachel's Challenge to South Jersey. Bishop Eustace students have created Friends of Rachel, a club that promotes Rachel's message in school every day. Join these students and find out how one voice can help combat bullying in your own schools. Rachel's Challenge will be held on Nov. 7 from 7-8 p.m. at Bishop Eustace's Crusader Hall. For more information, visit Rachels-Challenge.org.
Community: Running for Her Life
Most adults in their 20s make a trip to experience the bright lights and big living of Las Vegas, but this winter, Mount Laurel's Stephanie Giunta will be heading to Sin City for a more personal reason.
Giunta is one of the 700,000 Americans suffering with an inflammatory bowel disease, which includes intestinal conditions like Crohn's and Colitis that largely affect young adults. She's also a coach for the Philadelphia/Delaware Chapter of Team Challenge, the Crohn's & Colitis Foundation's (CCFA) endurance training program. On Dec. 2, Giunta will lead her local team in Las Vegas to run in the CCFA Rock 'n' Roll Half Marathon, a national race aimed at spreading awareness and educating the public about a disease that is too often hidden away.
After having part of her intestines removed, Giunta says she finally found herself healthy enough to tackle the half-marathon, which has taken on a new meaning after recently losing a close friend to IBD-related complications—Drew Endicott of Mount Laurel, who was just 24. "Having someone I know pass away due to complications from the same disease I am suffering from was a big eye opener for me and a reminder to me how serious my situation can be," she says. "When I run in Vegas, I will not be running for myself. I will be running in honor of Drew and all those who are suffering in silence."
More information on the foundation and Team Challenge can be found at CCFA.org and CCTeamChallenge.com.
Published (and copyrighted) in South Jersey Magazine, Volume 9, Issue 8 (November, 2012).
For more info on South Jersey Magazine, click here.
To subscribe to South Jersey Magazine, click here.
To advertise in South Jersey Magazine, click here.