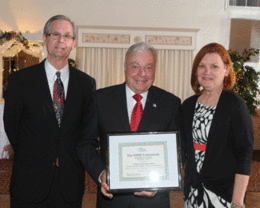 Scene: November, 2012
…From the pages of South Jersey Magazine…
Click here for all photos.
Chad Gunther Memorial Fundraiser at the E Lounge
Photo 1: Ronni Schrieber, Harry Starkman, Bernie Miller and Harvey Shapiro
Photo 2: Mayor Michael Mignogna, Mario DeNatle, Kurt Stromel and Senator James Beach
Photo 3: Chad Gunter Memorial fund Committee members Larry Winitsky, Sherry Berman Robinson, Leona Orielo, Sandi Noto, Jane Shulman and Bob Shulman
Modern Healthcare and the Healthcare Information and Management Systems Society (HIMSS) 2012 CEO Information Technology Achievement Awards
Photo 4: HIMSS Executive Vice President Carla Smith, Virtua President & CEO Richard P. Miller, Modern Healthcare Vice President and Publisher Fawn Lopez, CHOP President and CEO Steven M. Altschuler and Dr. Thomas Hale
Congressman Rob Andrews Visits 21st Century Oncology
Photo 5: Dr. Alexis Harvey, Dr. David Horvick, Congressman Rob Andrews, 21st Centure Oncology Regional Administrator Nicole Bodnar and Regional Director Lynn Bentliff
Knife & Fork Inn's 100th Anniversary Celebration
Photo 6: Knife & Fork Inn owners Frank Dougherty and Maureen Shay with Atlantic Cape Community College President Dr. Peter Mora
Photo 7: Dr. Peter Mora, Margate Schools Superintendent Dr. Theresa DeFranco, Frank Dougherty and Maureen Shay
17th Annual Moorestown Visiting Nurses & Hospice Benefit Golf Classic & Networking Party
Photo 8: Moorestown VNA President/CEO Chickie Holcombe with winners of the 2012 Benefit Golf Classic at Laurel Creek Country Club. The winning foursome from CareOne Senior Care included Nick Bilotta, Gary Holmes, Ron Applegate and Shiv Shah.
Photo 9: Rob and Denise Dunn with Carol and Gerry Haggerty
Photo 10: Moorestown VNA's Franki Turner, CareOne's Pat Pyne and Moorestown VNA's Maureen Councillor
Aesthetic Dermatology's Donna's Day Feat. True Hair Salon
Photo 11: Ruth Trotman, Joyce Russo, Linda Ezekiel and Peg Pastore
Photo 12: Donna Pouliot, Christina Orio, Lois MacNamara and Becca Dedja
Photo 13: Nicole Falcone, Raquel Alvarado and Dr. Sandra D. Elder
Tri-County Health Needs Assessment Kick-off Event
Photo 14: Lourdes Health System's Kimberly D. Barnes, Underwood Memorial Hospital President and CEO Dr. Eileen K. Cardile, Virtua's Alfred Campanella, Kennedy Health System President and CEO Martin A. Bieber, and Cooper Health System Senior Vice President and COO Dr. Adrienne Kirby
Burns Honda Anniversary Celebration
Photo 15: Larry Kull, special guest Ron Jaworski and Jim McCormick preview the new 2013 Honda Accord
Published (and copyrighted) in South Jersey Magazine, Volume 9, Issue 8 (November, 2012).
For more info on South Jersey Magazine, click here.
To subscribe to South Jersey Magazine, click here.
To advertise in South Jersey Magazine, click here.