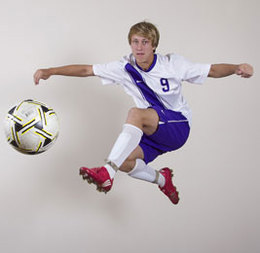 Major Players
These eight high school student-athletes rise above the competition
The big play, the perfect routine, the thrill of victory—when it comes to our local high school sports, we are lucky to have so many outstanding athletes competing at a high level in South Jersey. Here, we've gathered eight of these stellar performers to find out what makes them so successful and why they are just as impressive away from the playing field. With the fall sports season in full swing, be sure and keep an eye out for these rising stars destined for big moments ahead.
For all of the athletes' photos, click here
Eli Woodard, Eastern High School football
A senior wide receiver/defensive back, Woodard was recruited by some of the biggest college programs in the country to play defense. He has committed to Ohio State.
SOUTH JERSEY MAGAZINE: What is your outlook for your final season at Eastern?
ELI WOODARD: Well, our goal right now is making the playoffs, and then trying our best to win the first Group 5 championship. We have a great core of players on our team; we just have to put everything together and we'll be fine.
SJM: When did you start playing football?
EW: I probably started playing football in sixth grade, so I was about 11 when I started playing organized football. I was always playing with my friends before that.
SJM: Has it always been your favorite sport?
EW: Yeah, football and basketball are my favorite sports. I always liked to play them when I was younger.
SJM: Do you like playing offense or defense better?
EW: Probably defense, just because I like to hit people. I'd rather hit than get hit.
SJM: What kind of person does it take to play cornerback; seems like you have to have a short memory and a certain mentality, do you agree with that?
EW: Oh yeah, definitely. Playing cornerback takes a person that has a lot of confidence, someone who's patient and a smart guy. You're out on an island all by yourself. If you make a mistake, you're not looking at anybody but yourself. You have to be confident, patient and smart at the same time and have a short memory.
SJM: Any corners in the NFL who you really respect and try to model your game after?
EW: Yeah, a couple. I like Darrelle Revis, he's one of my favorites. I like Champ Bailey, Patrick Peterson, Joe Haden. I watch them a lot and try to pick up little tips from them.
SJM: Obviously Ohio State is a great program, but what made you pick the school?
EW: Just the whole family environment. I really like the coaching staff, and meeting the players, I felt like I fit in. From the first visit I took there, I felt welcomed.
SJM: What kind of guy is Urban Meyer?
EW: He's a great guy and a smart coach. He knows his stuff and he's been around football for a long time. He's definitely a confident coach, which I like about him, and he's a players' coach. A lot of guys like playing for him.
SJM: Will you be out there for any games this fall?
EW: Yeah, I'm trying to make it out for a couple. I'm trying to make it to the Michigan game and the Nebraska game as well.
SJM: You better start hating Michigan now.
EW: Oh yeah, definitely.
SJM: You were out there for the spring game, what was that atmosphere like?
EW: They had a lot of people at their spring game, I believed it was like 85,000. They take the spring game seriously. They were tailgating and everything. It was wild.
SJM: Can you picture playing in front of crowds like that?
EW: Yeah, definitely. It's exciting knowing that you might be involved in that in a couple years.
SJM: Are you trying to graduate from Eastern early so you can enroll at Ohio State and practice next spring?
EW: Yeah, I'm working all of that out. I have to finish some classes and I'll be ready to go.
SJM: Before that, what would be the perfect ending to your career at Eastern?
EW: Winning a championship with the guys I've been playing football with since I was 11. The first Group 5 championship would definitely be cool.
Olivia Blaber, Haddonfield High School girls' soccer
Known as one of the top defenders in South Jersey, the senior helped Haddonfield post a 25-2 record and win the South Jersey Group 2 Championship in 2011. She's in her third year as a varsity starter.
SOUTH JERSEY MAGAZINE: Is it exciting or depressing that this is your senior season at Haddonfield?
OLIVIA BLABER: It's definitely bittersweet. I've enjoyed my time here, we've had a good run every year. I'm just glad to be back and see if we can take it to the next step.
SJM: Do you see yourself as more of a leader this year?
OB: Well, I'm a senior and one of four captains on the team. I think I need to step up and be more of a leader. Every year we bring in some great players and great athletes, but I have to help bring the younger kids along. They just haven't been in the big games yet, so we have to help them get where they need to be.
SJM: I know defense is a big part of your game. What's it like playing with a freshman goalie in Taylor Sehdev?
OB: We were a little nervous, we weren't sure after last year who our goalie was going to be. They said that we had a freshman goalie coming in. She worked really hard over the summer and it's paid off. She came in a little nervous, but we did our best to make her feel comfortable and part of the team. I think it helped knowing that she had an experienced defense in front of her. We trust her and we want her to know that.
SJM: You really take pride in your defense as a team. Is that the defining characteristic of the team?
OB: Yeah, I think Coach [Glenn] Gess kind of builds from the back every year. He always says, 'Bend, don't break.' We play team defense, everyone just works really hard. Every player on the field, whether they're a sweeper or a forward, they're thinking about defense. We're all helping each other out and we have that defensive mindset. Even if someone does get beat, we have someone there to have their back.
SJM: Have you always had that defensive mentality?
OB: Yeah, I'm a defensive-minded player and I play defense for my club team. I think it's a hard-working mentality, that's what makes our defense so strong. Good work ethic and experience as a defender really helps.
SJM: But you're actually playing more in the midfield this year than on the back line, right?
OB: Yeah, I've been playing some stopper and center mid, which is fun because I like to get up on the attack sometimes. It's nice to be able to play some different positions and get in for some crosses and set pieces and things like that.
SJM: Last year was such a special season with the South Jersey title and just two losses all year. What will it take to make the next step and bring home a state championship?
OB: That's our goal and we take it game by game. Every game we find things we can improve on. I think it just takes everyone having that common goal and working toward it. Just knowing that even if we have a big win or a shutout, there's always little things we can do better.
SJM: The tradition in the program is so strong and I'm sure you grew up hearing about it. What's it like to be part of it?
OB: I can remember for so long going to the games and being a ball girl and knowing that I wanted to be here someday. I wanted to play in the big games against West Deptford and Haddon Heights and play under the lights and play for a state championship. Being able to actually be here and having success over the years has been amazing. Those are the things I dreamed about. I want to make my senior year count and fulfill those dreams I've been thinking about since I was a little kid.
SJM: Haddonfield is such a great supporter of its high school sports; the town really seems to get behind its teams. Is that a cool thing to be part of?
OB: It's definitely a cool thing to go to other teams and support them and have the other sports teams support our team. And you can look out in the crowd and see people who don't have kids on the team, or parents whose kids graduated years ago and they still come out and support the team. We just get a lot of support from the community and other kids in the school. It's been really great. It makes you feel like you're playing for more than your team, you're playing for your town.
SJM: Have you made a decision about college yet?
OB: I haven't made a decision yet, I kind of got in late in the recruiting process. Right now I do have some options; I'm being recruited for soccer and track. I'll probably make a decision by mid- to late-October.
SJM: Do you want to play both sports in college?
OB: I haven't quite decided and it kind of depends on what school I choose. I've done both my whole high school career, and obviously it would be tougher to manage in college. I've been an athlete and a competitor my whole life and I love to compete. To be able to compete on both stages would be really cool.
SJM: Do you know what you want to study in college?
OB: I've always leaned toward the sciences. I'm thinking about going into medicine or maybe environmental science. I'm not sure yet, but definitely something in the sciences.
SJM: How would you describe the perfect ending to your high school soccer career?
OB: Every year we want to go for a state championship, so if we can get that it would be the absolute perfect ending. I want to ride back into town on the fire truck and go down Kings Highway, that's always something I've dreamed of doing.
SJM: After a 1-0 shutout, right?
OB: Yep. We love the shutouts, so that would make it even better.
Gabe Watkins, Cherry Hill West High School boys' soccer (pictured)
This forward, known as a talented scorer, was an all-conference selection as a sophomore and helped lead Cherry Hill West to a division championship.
SOUTH JERSEY MAGAZINE: What's your outlook for the season and what are your main goals?
GABE WATKINS: Obviously the main goal is a state championship. I think we can do that if we stay committed and stay focused on our goal. We definitely want to make the Coaches Tournament; we think that's possible. And we definitely want to go far in the state tournament.
SJM: Who do you see as the top competition in your division at South Jersey?
GW: You have to look at all the big schools. They're all tough, but we think we can take down some of the tougher teams.
SJM: Is it hard to get noticed at Cherry Hill West when you're competing with all of those powerhouses?
GW: Well, that's not what I'm trying to do, make a name for myself. I'm just trying to play and make myself better and win the game, really.
SJM: Having said that, last year was a breakout season for you as a sophomore, don't you think?
GW: Yeah, last year I got to start on varsity. I didn't even play varsity as a freshman. I can't remember, I think I had seven goals.
SJM: You have a reputation as a goal scorer; has that always been a talent of yours?
GW: Yeah, I've been playing striker ever since I was 5 years old. That's what I've always been told to do, that's what I like to do and that's what I'm going to try to do this season again.
SJM: What at the skills that you think make you the ideal striker?
GW: One thing is speed, I think that's really important for a striker, to get behind the defense. And also composure when you're in front of the goal. You don't have to have the best shot, but be a good finisher and stay composed in front of the net, that's all you need.
SJM: What was the biggest adjustment for you last year playing varsity for the first time?
GW: The biggest change really was just how aggressive it was. It's aggressive on my club team too, but I wasn't expecting these giant seniors to come at me.
SJM: Are you better prepared for that this year? Did you do any weightlifting in the offseason?
GW: Yeah, I did some lifting; my coach wanted me to do anything I could there. I'm definitely going to be listening to him as I try to get bigger.
SJM: What club team do you play for and what does that do for your game?
GW: I play for Cherry Hill FC Phoenix 95. I think it's been two years now I've been playing with them. Club ball is really important for me. I get training two or three times a week and we work on a lot of the things we work on during high school season.
SJM: Is soccer the only sport you play?
GW: I also swim, but it's not as important. Soccer has always been my favorite. I've been playing since I was 4 years old. My older brother (Rory) was into it, he also played at West.
SJM: Do you have aspirations of playing in college?
GW: I definitely want to try and play at the next level, but I'm not sure where yet.
SJM: Are you a big student of the game?
GW: Yeah, I love the game, I love watching it. My favorite team is Arsenal, I watch them every weekend and I enjoy watching other Premier League teams too.
SJM: Do you have a favorite player or is there anyone whose moves you try to copy?
GW: I guess most would say (Lionel) Messi, he's the best striker in the world. But I don't know, I like a lot of players. Robin van Persie was one of my favorites until he left Arsenal.
SJM: What about around South Jersey — is there anyone in particular from another team that you admire?
GW: I don't know too many players from other teams, but I know some of the guys who graduated, like Mike Ryan from Cherokee and Greg Biggiani.
SJM: What do you take from going up against guys like Mike Ryan?
GW: He's just awesome to watch. Not the part when he's going through our defense, but just the way he does it. He's a very good player.
SJM: What are the team's strengths this year?
GW: We're always defensive first, but we know once we get to the attacking third, we're very creative and we definitely can put the ball in the back of the net.
SJM: What are your individual goals?
GW: I don't really pinpoint a number for goals I want to score, but I want to be one of the best scorers in South Jersey.
Shawn Wilson, Cherokee High School cross country
In his first season of cross country last year, the former soccer player was the South Jersey Runner of the Year and took fifth at the Meet of Champions. He's expecting even bigger things as a senior.
SOUTH JERSEY MAGAZINE: How do you top your amazing first season of cross country?
SHAWN WILSON: I want to take it to the next level. I made it all the way to the national qualifier last year. I would like to actually qualify this year and go out to nationals.
SJM: What about for the high school season here in New Jersey?
SW: I would like to go undefeated, win states and hopefully win Meet of Champions.
SJM: Did you surprise yourself with what you were able to accomplish in your first season?
SW: At first I was surprised, in the beginning of the season. But by the end, based on what my coaches were telling me, I kind of expected it.
SJM: Is your approach to build up your strength so you're peaking at the end of the season?
SW: Yeah, my coaches aren't having me race much in conference meets. I won't really race until like mid-November, so I'll be fully rested and able to peak when I need to.
SJM: What did you learn from last year's Meet of Champions?
SW: I learned a lot. It's nerve-racking, and I learned that you can't get so excited when you're with the front group. Most of them just stay calm, but I got too excited and tried to take the lead and burned myself out before I had a chance to win the race.
SJM: Is it important that you know the course now?
SW: Definitely. If you just show up to Holmdel never having raced it before and you don't know where to work or where you can cruise, I don't think you're going to race well. I think you need to practice that at least four or five times a season. The first 1,000 meters is all uphill, then when you get to the 2-mile mark it's a giant hill. At one point you're almost crawling up it.
SJM: Was giving up your spot on the Cherokee soccer team so you could run cross country a difficult decision?
SW: Yeah, soccer was basically my whole childhood, and no matter what happens I'll always love the sport. I still play in my travel league, so it's not like I had to completely drop it. But there's definitely days when I see the soccer players out there and I get jealous.
SJM: Plus, Cherokee has such a great program.
SW: Yeah, three-time state champs.
SJM: You played on a state championship team as a sophomore. Does that help make up for things at all?
SW: It helps, but you always wonder how the next year could've been if you were there.
SJM: How did that decision come about?
SW: My parents saw me progress through track so well and they kind of helped me lean toward cross country. They said that high school soccer is important, but if you stick with travel soccer, you won't miss it as much. It made sense.
SJM: Have you always been a strong distance runner?
SW: Actually, when I was 10 and younger, I had really bad asthma. I couldn't run more than a half-mile without dying. In fifth grade I started developing where I could run longer. Then middle school came and I stuck with most of the distance events.
SJM: What kind of things do you think about during a race?
SW: The best thing to do is just stare at the guy in front of you, if there is one, and just focus on his back. But if no one's around, it gets real hard. Your mind wanders and you end up slowing down when you don't want to. The hardest part is trying to stay focused on the race when you're by yourself.
SJM: Is it a struggle for you or is it kind of relaxing in a way?
SW: When you hit around 15 miles, it's kind of a struggle. But up until then, it's just another thing I have to do. It's kind of basic for me.
SJM: Are you hoping to run at the next level?
SW: It would be awesome if I could run in college. I'm looking at everybody who contacts me, but it's hard to hone in on who you like and what you really want to do. It's definitely a hassle. It's fun when you get calls from coaches ... but other times it's just mountains of paperwork.
SJM: So you could end up far from home. What will you miss about South Jersey?
SW: It's a friendly area. You can walk around at night and not be worried, and everything is so close. When you're younger and don't have a car, you can bike places or walk places and always meet up with friends.
SJM: Are you enjoying Cherokee or are you ready for a new challenge?
SW: I'm ready for the challenge but I'm definitely going to miss it when I'm gone.
Breezy Maravich, Moorestown High School girls' tennis
As a sophomore last year, Maravich went 29-6 and won titles in South Jersey Group 3 and Burlington County. This year, she's looking to lead Moorestown to its 24th straight South Jersey championship.
SJM: The U.S. Open just finished as your season was beginning. Did you watch?
BM: Yeah, I watched. It was really sad, I wanted (Novak) Djokovic to win. He's my favorite — I'm Serbian, so I'm a huge Djokovic fan. I'm Serbian from my dad's side, Italian from my mom's side.
SJM: So are you a big fan of professional tennis?
BM: I am. I've been watching ever since I was little. My parents are both in love with it, so I kind of grew up with it.
SJM: When you're watching the pros, do you do watch it differently than the average fan and really try to learn something?
BM: I definitely do look and try to see if I can take a certain shot, maybe practice it the next day. I can definitely understand to an extent what they're experiencing. It makes me cringe when I feel like they're getting nervous or miss a shot.
SJM: Have you ever been to a tournament?
BM: I have. I've been going to the U.S. Open since I was like 7 years old. I went two times this year, to the qualifying rounds and on opening day. I've also been to the Sony Ericsson (Open) in Miami.
SJM: So your parents got you into tennis?
BM: Yeah, my dad started when he was in college and got really into it; he played for a while. I have an older sister (Lexie) who he kind of got started with before me. She played in tournaments and she also played for Moorestown. She was actually No. 1 singles and went and played for two years at Emory University in Atlanta.
SJM: Has your sister also had a big influence on your tennis career?
BM: She has. She has a good a mind for tennis. Apart from my dad being my coach and telling me all the mechanical things to do, she kind of keeps me level-headed.
SJM: What are your individual goals for your junior season?
BM: Individually, I really want to try my hardest in the state singles tournament. I want to see how far I can go in that. If we make it to states as a team, I really want to fight for my match, no matter who we play.
SJM: As a team, you have that incredible streak of 23 straight sectional championships. Does that put a lot of pressure on you, or do you really embrace that streak as a team?
BM: It's an honor to try and keep that going. We stick together and we're a good team. It doesn't really affect us, we just try our best.
SJM: If you are able to extend that streak, what can you do differently to take the next step and bring home the first state championship since you've been at Moorestown?
BM: We've been to the (state) semis the last couple of years and lost to good teams. I just want to try and encourage every girl on our team to fight as hard as they can for every point. Every point counts. I don't want to put too much pressure on anybody, because it's still just a game. But we would be the first ones in a while to win states. And the team we lost to last year, Millburn, actually got moved to Group 4, and we're Group 3. So I think we would have a good chance.
SJM: Last year you really broke out in your first season at first singles, winning the Burlington County title. Is it important to repeat in that tournament?
BM: Definitely, that's a really good tournament. I think last year it was a big honor to be Burlington County Player of the Year, because there's so many good players in our county. It was nice because of how hard I worked to get there.
SJM: Is there anybody in South Jersey or the state who you really admire as a player?
BM: Definitely Taylor Ng from Haddonfield. She's been the state singles champion, she has an amazing game and she's really focused. I think we've been playing each other since I was 12 in (USTA) Middle States and it's been tough every time. It's kind of gone back and forth. We split sets once, but I haven't beaten her yet.
SJM: How else do you stay involved in tennis aside from the high school season?
BM: I have one coach at the Cherry Hill Racquet Club, his name is Rick Hoffmann. I've been meeting with him since I was 7 years old and he also taught my sister before me. So I hit with him twice a week in the offseason. I also have a coach at the Moorestown Tennis Club, his name is Andres (Mejia). He's from Colombia and he's been my coach for the last five years. He's helped me improve so much, and they're both huge influences on my tennis. I also play in as many tournaments as I can and try to get my ranking up.
SJM: How would you describe your style?
BM: My style is definitely more aggressive. I like to go for shots when I have them. I'm not really a net player, I don't stay in long, long points. When I see the opening, I go for it.
SJM: Do you have a dream college you'd like to play for?
BM: My top option right now that I'm hoping for is the College of Charleston in South Carolina. I was born in Charleston and the school is an amazing location. They're D-I and it would be amazing to play there.
SJM: When did you move to New Jersey?
BM: When I was 2 or 3. My dad was a doctor in the Navy in South Carolina, but then he got a job up here and we moved to Moorestown.
SJM: What do you like best about growing up around here?
BM: I think it's a friendly area. There's a lot to do. All my friends live fairly close, the school system is great. It's five minutes from Philly, an hour and a half from New York and an hour from the beach. You can really do anything.
SJM: What are your hobbies aside from tennis?
BM: I like to go to the beach, spend time with friends. I'm definitely big on art. My mom has been an artist her whole life and she's kind of brought that upon me. I actually want to pursue art when I go to college.
SJM: Briana is your given name — how did you get the nickname Breezy?
BM: When I lived in South Carolina I had a huge, curly afro and I was only 2 years old. We lived on the beach and it was always windy. So my parents called me 'Easy, Breezy Cover Girl,' and then it just became Breezy.
SJM: Does anyone ever call you Briana?
BM: New teachers in school or my parents when they're mad at me.
Victoria Adriano, Washington Township High School gymnastics
As a sophomore last year, she was a sectional qualifier in the all-around and a state qualifier for floor and bars. As a team captain this year, Adriano's hoping to return to states.
SOUTH JERSEY MAGAZINE: What did you do in the summer to prepare for this season?
VICTORIA ADRIANO: I trained 20 hours a week at Atlantic Coast Gymnastics. I train all year-round.
SJM: How long have you been doing gymnastics?
VA: I've been doing it since I was about 2 years old. I started out doing a bunch of different sports, but it just kind of narrowed down to just gymnastics. My mom liked it, but ultimately it was my decision to focus on it.
SJM: Was the sport in your family, do you have any relatives who did gymnastics?
VA: No, not at all. I have two brothers and they both played lacrosse and football. I'm the only one who did gymnastics.
SJM: What do you like about the sport?
VA: It keeps me focused, it keeps me on track. I've spent so much time with it, I just love it.
SJM: Did you have a natural ability in gymnastics?
VA: Yeah, I was always tiny and I was always bouncing around. Gymnastics just focused my energy. It came to me naturally.
SJM: After making it to the individual state championship meet last year, what are your goals for this season?
VA: Hopefully to do better than I ever have. It's my junior year so it's a very big year. I just want to go out and have fun and do the best I can.
SJM: What was it like competing at the state championship meet last year?
VA: It was nerve-racking, but at the same time, it was exciting. There were a lot more people than I expected, but I like having a big crowd.
SJM: What are your chances of getting back there this season?
VA: Since I just suffered a shoulder injury, I'm not sure about bars. But I'm definitely trying for the other three events.
SJM: Your coach, Glinnie Elmore, thinks you can make it to states in the all-around if you improve on vault. Do you agree with that?
VA: Over the summer, something about vault just clicked, so I definitely improved. I think he's right about me having a shot at all-around. I always struggled on vault, but between all my coaches and my private lessons, it eventually just clicked.
SJM: Do you hope to continue gymnastics in college?
VA: Definitely, I would love to compete in college. Recruiting really starts in your junior year, so like I said, this is a big year for me. I would love to go to a Division I school, because I love big schools. I've been looking at Maryland and Rutgers.
SJM: During the Olympics this summer, the U.S. women's team was obviously very successful and captured the country's attention. Did you follow them closely?
VA: I was a very big fan; I watched every second of it. They were very inspirational.
SJM: Is it different for you as a gymnast compared to the average fan? Were you really studying the Olympians and trying to pick up tips?
VA: Yeah, I like to watch the different skills they have during routines. It definitely gives you more of a drive heading into the season.
SJM: Do you have any favorites from that team?
VA: Aly Raisman and Gabby Douglas.
SJM: Are your parents like their parents when they're watching you compete?
VA: (Laughing) Yes they are. They're biting their nails and freaking out. But I don't really notice, I'm in my own little world.
SJM: What do you like about growing up in Washington Township?
VA: I like how we're a big family at Township. We're definitely family-oriented and we come together when we need to. I love being part of a big school.
SJM: What do you do for fun away from the gym?
VA: I just hang out with my friends. We're all very close (on the team), we're a big family. We're there for each other through thick and thin.
Marissa Cutry, Shawnee High School field hockey
A four-year varsity player and three-year starter, Cutry was named Second Team All-South Jersey in 2011. She will continue her careeer at the University of Maryland.
SOUTH JERSEY MAGAZINE: What is your outlook for the season and what are the goals for the team?
MARISSA CUTRY: We have a young team, so I think our goals would be catching everyone up to speed and really working together. Miss (Renee) Phelps has been talking about team unity a lot and connecting this year.
SJM: Do you find yourself in more of a leadership role as a senior?
MC: Yeah, especially as a senior and a captain. Elina (Pereira) and I have been stepping up, along with all of the other seniors.
SJM: Is that a role you're comfortable with?
MC: Yeah, I love showing everyone new things that I have learned and keeping everyone in line, of course.
SJM: You always look forward to your senior year, but how are you handling the fact that your high school career is almost over?
MC: It's definitely bittersweet. This is my fourth year, and everything about Shawnee, with school and the team, has brought me so much. I'm excited to move on, but I will miss this a lot.
SJM: Looking back, what has been the highlight so far of your high school career?
MC: I don't know. Probably that every year toward the end of the season, our team just pushed to get better. In think my freshman year we went to the semis and sophomore year we did really well toward the end of the season and it made the seniors so happy.
SJM: How long have you been playing hockey?
MC: I've been playing since fourth grade. That was just rec, and it led to middle school and club hockey.
SJM: What is it about the sport that you love?
MC: There are two aspects, the individual and the team. You can bring whatever you want to the table yourself, but at the end of the day you have to rely on your team. You have to trust people on the field, and I like that about it.
SJM: Have you usually been a defender?
MC: When I was in middle school I played forward a little bit. For my club team I play defense and for school I play midfield.
SJM: What position do you enjoy the most?
MC: That's tough. I love going up on offense and playing midfield, but I've always loved defense. When I do play defense it's awesome and I love it so much. But in the midfield, I get to shoot and play defense. Both kind of suit me.
SJM: Do you know what position you'll be playing in college?
MC: I don't. I'll be going in as a defender, but my coach always says to keep an open mind.
SJM: You'll be heading to the University of Maryland to continue your career. What did you like about the school and the program?
MC: Ever since I was in, like, sixth grade, you always hear about Maryland field hockey. My sister went to the University of Massachusetts for field hockey, and their assistant coach at the time, Dina Rizzo, had played for Maryland. She was kind of a role model and now she's an assistant at Maryland, so I followed her. Plus, just the reputation of Maryland was something I loved.
SJM: Do you know what you're going to study in college?
MC: I'm pretty set on architecture. My dad is a general contractor and my sister (Christine) also studied it in college. I've kind of grown up around it and I've always liked it.
SJM: Was your sister a big influence on you?
MC: Yes. She graduated (college) last year and is going to grad school at Northeastern. I always played the same sports as her and tried to follow in my sister's footsteps. She's definitely been a role model.
SJM: Are there any field hockey players you look up to?
MC: That's hard. I always follow the national players and try to watch them once or twice a year, and our coaches are always telling us to pay attention to what they do. So I would say the national team.
SJM: Are there any players in South Jersey that you really admire?
MC: Tara Vittese from Camden Catholic. We play on the same club team and we've kind of grown up together. She's a great player.
SJM: How important is it to play on a club team?
MC: It's extremely important. It's definitely improved my play. You're constantly playing in showcases and tournaments, and that's how you get exposure. That's how you show off, I guess you could say, for the college coaches.
Arkemus Baskerville, Lenape High School football
This senior running back/safety and three-year starter was an all-conference selection on defense last year and also scored 10 touchdowns.
SOUTH JERSEY MAGAZINE: What are your thoughts about this season for the team?
ARKEMUS BASKERVILLE: I think it's probably going to be the first time we go to the playoffs in a long time, and the first time we win a playoff game.
SJM: Last year, it seemed like you had a lot of close losses that could have gone your way. What's the difference between turning some of those losses into wins?
AB: I guess we weren't really ready. We finally got a wakeup call in a game against Washington Township, and after that guys, were more lively, practices were more intense. I think that's why we went 4-2 at the end of the season after starting the year 0-4.
SJM: So have you really been stressing a stronger start to this season?
AB: Definitely. In the offseason, the commitment in the weight room and working out with the trainer was great. There was more people there, it was a packed weight room. Instead of two people in a group, we had three or four. That's how you knew the commitment level on our team was a lot stronger.
SJM: Are you more of a leader this year?
AB: Definitely. Last year I was, but I wasn't a senior. Now I feel like everybody's looking at me.
SJM: Are you the kind of guy that would yell and get in somebody's face if you have to, or are you more of a laid-back leader?
AB: I haven't had to yet, but if I have to I will (get loud). Most of the time I don't try to bash somebody, I just pull them to the side and let them know we're not going to have that on the team if I feel they're doing something wrong.
SJM: Do you set personal goals for yourself?
AB: Oh yeah. Last year, I wanted to be all-conference and I got that. This year, I'm working on all-state.
SJM: What do you like playing better, offense or defense?
AB: I can't really answer that question, I like them both evenly. I like certain aspects of both sides.
SJM: Did you grow up playing running back and safety?
AB: Actually I was a receiver when I was younger, I never played running back until I got to high school. And I also played corner.
SJM: What do you like about each position?
AB: On defense, I like the intensity and the hitting. I love to hit. And I feel like on defense, there's a lot of game-changing (plays) and the tempo is set. On offense, I like getting the ball and scoring.
SJM: There's so many great players at the safety position. Is there anybody you looked up to or tried to model yourself after?
AB: My favorite player is (former NFL star) Steve Atwater. I like how he played. He wasn't the biggest, like me, but he was fearless and he went after the ball no matter where it was. I'm not a Broncos fan, but my mom bought me his jersey when I was younger. I didn't know who he was, but I looked him up and I loved how he played.
SJM: How has the recruiting process gone for you?
AB: I'm thinking after this season there will be bigger schools, but right now I have a lot of D-I-AA schools like Towson, Richmond, Maine, Delaware, Stony Brook looking at me. We'll see if more come, but right now I have a general idea.
SJM: What are most of them recruiting you for, offense or defense?
AB: I believe I'm being recruited as an athlete, I can play both ways. They don't really specify whether they want me at running back or safety. Wherever they want to put me, it doesn't matter to me.
SJM: I saw your recruiting videos online. Is that becoming more important in this process?
AB: Definitely, they love to see film. That one on (hudl.com), I put that together. My coach put the videos on there, then I chose the clips.
SJM: So before you get to college, what would be the perfect ending to your high school career?
AB: Of course everybody wants to go all the way. But honestly, I just want to turn around the program. Last year, I felt like that was the building block. This year I feel like we can start a winning tradition. I want the juniors and sophomores to be looked at like a better team and not the underdogs.
Published (and copyrighted) in South Jersey Magazine, Volume 9, Issue 7 (October, 2012).
For more info on South Jersey Magazine, click here.
To subscribe to South Jersey Magazine, click here.
To advertise in South Jersey Magazine, click here.