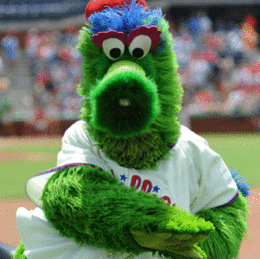 Unmasked
What's it take to be one of the lovable mascots earning their South Jersey celebrity? We dug deep to get the real answers.
F or most South Jersey college students, the weekend is time to kick back and relax. When Friday night rolls around, the work gets put on the back burner. But for Rowan University freshman Shane Karolyi, the weekend is usually a sign that his job has just begun.
After all, that's when Whoo RU comes to life.
Karolyi is the man behind Whoo RU, the Rowan University mascot, a larger-than-life owl decked out in Rowan's school colors of brown and gold. And while his peers are cheering on the Profs, this psychology major can be found running up and down bleachers, jumping along the sidelines, and flapping his wings at every pass and tackle. "It's great that I can get that crowd motivated and I can be the one pumping everyone up," Karolyi says.
The Right Fit
Every sports team needs a dedicated fan like Karolyi to step in the suit and do the job that brings spectators to their feet, but who has the guts to answer such an unusual calling?
You've probably never heard of Tom Burgoyne, but you've definitely seen his closest ac­quaintance at some point or another. As the "Phil­lie Phanat­ic's best friend," Burgoyne dresses as the guy in green; you can find him and his massive furry belly all around Citizens Bank Park, playfully taunting fans, zipping around the outfield on his quad, and dancing on the Phillies' dugout. But before Burgoyne found his calling, he was just another Phillies fan.
After graduating from Drexel University in Philadelphia and working as a computer supplies salesman, Burgoyne says he found himself looking through the help wanted ads.
"I found an ad that said they were looking for mascots," Burgoyne says. "I had no idea it was for the Phillies, but I sent in a resume and now I've been doing it for 24 years."
Dropping a line for a mascot listing may not sound like the every-day job application, but Burgoyne—who had dressed as the legendary Hawk for his high school, St. Joe's Preparatory School in Phila­delphia—drew from past ex­perience.
"I loved it in high school," he says. "I was the class clown. … In the classroom, the teachers are yelling at you for making kids laugh, but in the costume, I was encouraged.
Even to this day, I kind of feel like a class clown."
Washington Township High School senior Garrett Miller felt the same impulses to don the school's Minuteman costume. "At WTHS, the mascot means a lot," Miller says. "Ever since I was a freshman, I was fascinated by the idea of being the goofball that got the crowd going."
The 18-year-old got the opportunity at the start of this school year after the past mascot graduated, leaving the school's suit in his capable hands.
And as for Karolyi? Well, being a mascot isn't necessarily a calling for everyone. In fact, a few years before he would become Rowan's mascot, the Clearview Regional High School graduate originally had no interest in taking over the role of his school's Pioneer.
"I was the class vice president through high school, and my advisor—who is also the athletic director—came to me my junior year asking me to help out and be the mascot. I said 'absolutely not.' I didn't have any experience in that and had no interest," Karolyi remembers, with a laugh. "Then they came to me again when they got a little bit desperate and I agreed to it finally."
What some saw as a chance to goof off, Karolyi saw as an opportunity. "Being a mascot kind of set me apart when it came to putting something on my resume for college. I'm the only kid in my school that could say that when it came time to apply." His desire to stand out grew into a love of entertaining, and when it came time to prepare for college, Karolyi found himself seeking out the spot for Whoo RU.
"I love getting the kids in my school motivated about sports; I've always been interested in getting the crowd going." Recently, Rowan's mascot was ranked in the top 25 most unique mascots in college football by Yahoo.
Life's a Stage
For most mascots, the biggest challenge can be communicating to a crowd watching the costume and not the performer. When Dave Raymond helped create the original Phillie Phanatic in 1978, his hardest job was finding a voice for his voiceless character.
"No one told me what to do and what not to do back in 1978," he says. "I was given a blank slate to just go and do what I wanted to do, and over trial and error, I learned through people's responses what to do.
"The people who are good at it and are naturally good at it, they can do something completely non-verbally so the audience knows what is happening. That's a skill set that isn't easy to obtain."
When Burgoyne stepped in to replace Raymond, he was faced with the task of reaching fans and preserving the Phanatic's personality. "Tom has kept the spirit of the Phanatic and has taken the Phanatic's back story that has made the character so much deeper in terms of value," Raymond says. "I was lucky to have him as a backup, because we worked together so well, so really the Phanatic has been a combination of our joint efforts. We came together to build what I think is the best entertainer in sports."
WTHS' Miller says that grabbing the attention of cheering fans without a voice or noise can be the hardest task. "Not being able to speak or having people not being able to hear you, makes it very hard to be noticed at times." Luckily for him, the school's cheerleading program has been a huge help in learning the right moves to motivate fans, and he's repaid the cheerleading team's courtesy by joining them in cheers on the sidelines, dressed in his blue Revolutionary Minuteman military uniform and oversized fiberglass head all while executing moves with his own precision to draw laughs from the crowd.
And then there's always the pounds of fur, fiberglass and fabric that these performers are lifting with every jump and turn, no matter how hot or humid it may get.
"The heat is there," says Burgoyne, who shines during some of the most unbearable months of the year. "It does get very, very hot. It gets smelly and sweaty, and you get used to it. You have to take breaks; go in the break room to drink water, sit in front of the fans. If you're out there to be out there, next thing you know you're just moving around, and the Phanatic has to always be energetic, or the fans will feel that."
The Business of Being Funny
When the suit comes off, it's back to business for Karolyi and Miller, who return to regular lessons, homework and study sessions in their free time. Karolyi says transitioning from high school to college has its natural difficulties, but adjusting to Whoo RU has made no impact on his course load. For Miller, he says the stress of high school's senior year is barely impacted by the new responsibilities of the Minuteman.
"I'm taking a whole lot of classes this year and now I get to go to cheerleading practice. The only time I would miss any class is for a pep rally or in-school event that students are already attending, so in all reality, I'm treated like any other student; my work is still due on time and it doesn't affect my grades at all."
But for Burgoyne, the Phillie Phanatic is a full-time job, with baseball games, special appearances and a franchise that requires round-the-clock supervision. Though the season is over for the Phillies, Burgoyne has other plans, including publishing an 11th book in his Phillie Phanatic reading series and keeping the Phanatic up-to-date on pop culture.
Raymond traded in his Phanatic gear for a suit and tie, opening up his own mascot company, Raymond Entertainment Group. The Delaware-based company creates mascots for East Coast high school, college, corporate and professional teams from the ground up.
"We have an open boot camp, where we teach people how to communicate with your body and how to get to know your costume so you're communicating to match your costume."
One of Raymond's newest clients lands him back in Philadelphia, as he collaborates with the Philadelphia 76ers to find their new mascot. "We held a mascot intervention," Raymond explains. "They said 'Tell us what we need to do right.' I was thrilled to be asked to give my advice and they took that advice and I think they've done a fantastic job. This is hopefully a character they're going to keep for a long, long time and will be there forever so they've got to get it right."
And with a goal of creating lasting memories for fans, it seems like the life of a mascot isn't a bad deal.
"That last pitch in [the World Series-winning game in] 2008, I was standing right behind Charlie Manuel with the championship flag just waiting to run out on the field," Burgoyne says. "I'm a Philly sports nut, I grew up a fan, and sometimes its like 'Oh my gosh, I can't believe I just did that.' It's not just a job for me."
Published (and copyrighted) in South Jersey Magazine, Volume 9, Issue 7 (October, 2012).
For more info on South Jersey Magazine, click here.
To subscribe to South Jersey Magazine, click here.
To advertise in South Jersey Magazine, click here.